Even though food processors and blenders perform similar tasks, they are not interchangeable. A blender is primarily used to puree or crush ice. Use a blender if the final product is a beverage, such as a mocktail, drizzle, or dip. Besides pureeing, a food processor can also slice, grate, shred, and dice. Use a food processor if the final product is eaten with a fork or spoon. 
Food Processor Vs Blender Comparison Chart 
Every blender and food processor are unique and may include various accessories depending on the model. When comparing blenders and food processors, however, you can typically rely on the following: 
WHAT CAN A BLENDER VS FOOD CHOPPER DO? 
| | | |
| --- | --- | --- |
|    | BLENDER  | FOOD PROCESSOR  |
| SLICE, SHRED, CHOP  |    |   |
| CRUSH ICE  |   |    |
| FINELY PUREE OR LIQUIFY  |   |   |
WHAT DOES A BLENDER VS FOOD PROCESSOR HAVE? 
| | | |
| --- | --- | --- |
|    | BLENDER  | FOOD PROCESSOR  |
| Multiple blades and discs  |    |   |
| Features a fixed blade  |   |    |
| A tall jar great for pouring  |   |    |
| A wide work bowl to process large or wide ingredients  |    |   |
| | |
| --- | --- |
| WHAT TO MAKE IN A BLENDER VS FOOD PROCESSOR  |   |
| | | |
| --- | --- | --- |
|    | BLENDER  | FOOD PROCESSOR  |
| Best for liquid recipes or silky-smooth results like coulis  |   |    |
| Best for chunky results like riced cauliflower or tabbouleh  |    |   |
| Great for pureed dips like hummus and smooth salsa  |   |   |
| Great for emulsified dressings and condiments like aioli  |   |   |
| Great for thicker or dry mixtures  |   |   |
| Great for a whole range or recipes and tasks  |   |   |
What Are The Differences Between A Food Processor And A Blender? 
Blenders have a single blade and tall jars and are typically used for wetter recipes. Food processors, on the other hand, usually have multiple edges and large work bowls and can shred, slice, and puree in addition to chopping. 
In the following sections, learn more about the distinctions between a food processor and a blender. 
1. Blades 
Blenders Have Fixed Blades 
Traditional blenders typically have a single, non-replaceable blade at the bottom of the jar. This blade may be equipped with multiple points at varying angles to blend ingredients thoroughly. This single blade is ideal for ice-crushing, finely pureeing, and even emulsifying ingredients. 
Select KitchenAid® blenders feature a distinctive asymmetric blade that blends at four distinct angles to pull ice into the center and pulverize the toughest ingredients. 
Food Processors Have Multiple Discs Or Blades 
Numerous food processors include multiple blades and discs. The work bowl uses the edges to puree, chop, mix, and occasionally knead. Some food processors have a whisk accessory for whisking, whipping, and stirring. Typically, in-bowl blades and accessories slide over a drive adapter and a drive pin at the bowl's base. As ingredients are pushed into the disc through the feed tube, food processor discs allow you to slice, shred, and sometimes dice. 
2. Work Bowls Vs. Jars 
Blenders Have Tall Jars 
The tall sides of a blender jar help to contain liquid ingredients during blending. For even blending, the height and shape of the jar and blades ensure that the ingredients circulate throughout the jar and blades. The pitcher-shaped jar typically has a handle and a pouring lip or beveled edges, making it ideal for transporting liquid ingredients. 
A select number of KitchenAid® blenders have a ribbed jar design that folds the contents back into the blade to create a powerful blending vortex. 
Food Processors Have Wide Work Bowls 
Food processors have broad, flat blades and discs to make precise cuts such as slices and shreds. A larger work bowl allows for processing whole or more prominent ingredients, such as sweet potatoes, mashed potatoes, cucumbers, and graham crackers for graham cracker crust. Additionally, more giant food processor bowls have a greater capacity for large batches. 
Sizes And Capacity 
Typically, the capacity of a food processor ranges from 6 to 14 cups, though it can occasionally be more considerable. Blenders range in size from 2 cups for personal blenders to approximately 14 cups for large commercial models. Select a blender or food processor whose size best suits your lifestyle. 
Similarities Between A Food Processor And A Blender 
The construction of blenders and food processors is surprisingly comparable. Blenders and food processors typically include a motor housed in the base. The container containing your ingredients, such as a jar or work bowl, rests atop the motor base, which consists of the blades or discs that process or blend your food. There are some recipes in which the two appliances can be used interchangeably; however, each device excels at specific tasks. 
What To Make In A Blender 
Blenders are ideal for liquid or silky-smooth ingredients. The blender's jar is tall and skinny, creating a vortex that pulls elements toward the blades. Some blenders have greater power than food processors. This allows for faster blade rotation, which breaks down harsh ingredients for a smoother final product. Learn how to use a blender for a variety of different recipes. 
Consider some common ingredients and recipes that blend well in a blender. 
If your recipe calls for liquid or soft ingredients, such as a smoothie, Sriracha sauce, or pureed soup, a blender is your best option. Moreover, if you are preparing something that can be consumed without chewing, use a blender rather than a food processor. 
If you want to warm and froth milk for your coffee, tea, or hot chocolate, or if you're going to blend rice milk and spices for horchata, use your blender. The blades' friction will warm the milk, and the aeration created by the spinning blades and downward draw will produce delightful bubbles and a light foam. 
When you use a blender to combine the ingredients for puddings, custards, and mousse, you'll master their silky, airy consistency. Make a refreshing lemon mousse or give an old favorite a new spin with a pear clafouti. 
Soups, sauces, and bisques: For silky-smooth tomato soup, lobster bisque, and unique cantaloupe gazpacho, use your blender. A blender makes quick work of homemade apple sauce and chutney. Add cinnamon, berries, strawberries, carrots, or mango chunks to create an original fruit puree. 
If frapped frozen coffee drinks or cocktails such as watermelon sangria, daiquiris, or frozen coconut margaritas are on the menu, a blender is the choice.  
Nut milk and flour: Grind almonds in a high-powered blender to make gluten-free flour, or soak and blend raw almonds or cashews for delicious and nutritious homemade nut milk. 
Using a powerful blender, you can make your own peanut, almond, cashew, and sunflower seed butter. If you have a blender, spatula, or tamper, it will be easier to make the nut butter in smaller batches. To grind harsh ingredients, such as nuts, you will need a blender with a powerful motor. 
For these frozen confections, blenders are ideally suited. You can create frothy shakes to drink through a straw or thicker blends with chunks of fruit, cookies, or candy to eat with a spoon by varying the ingredients and the amount of milk. Use a simple immersion blender for single servings or your countertop for multiple servings. 
Coconut oil: Place a bag of unsweetened coconut flakes in a blender, and in a few minutes, you will have coconut oil that can be used for cooking. No preservatives or additives! 
With granulated sugar and a little cornstarch, it is possible to make fresh baker's or confectioner's sugar. If you realize you're out of powdered sugar in the middle of a recipe, you can make some in minutes and continue cooking. 
You may want to pour your lemonade or iced tea over crushed ice. Your powerful blender can handle the task at hand. 
Smoothies and protein shake: if you are a smoothie connoisseur who enjoys experimenting with different flavors and textures, a blender will help you create the most delicious concoctions. If you're making smoothies with fibrous ingredients, such as kale or frozen fruits, a heavy-duty blender will help you blend these ingredients more efficiently. 
Use a blender to puree roasted vegetables and fresh fruits for your infant who is just beginning to try new foods. A blender will allow you to create smooth flavor combinations and teach your baby to appreciate fresh, healthy ingredients. And when you make it yourself, you have complete control over the type and quality of ingredients.  
A blender will create a smoother, more liquid texture if you want your salsa to have a runny consistency. 
What To Make In A Food Processor 
As the blades of a food processor rotate more slowly than those of a blender, they are ideal for producing chunky food. At slower speeds, the more prominent s-shaped edges make precise cuts. 
Food processors have multiple blades for a variety of functions. The feeder tube enables you to add a small amount at a time and press or tamp the ingredients toward the edges. Learn how to use a food processor for various tasks and recipes. 
Examine common ingredients and best recipes when prepared using a food processor. 
Food processors can chop, slice, and grate dry ingredients without adding liquid. 
Dry or stale bread can be ground into coarse or fine crumbs in seconds. Try adding herbs to create a unique blend. 
Numerous food processors include a dough blade for kneading without adding heat. Utilize the pulse setting with caution. An overworked dough will have tough gluten strands and will not rise properly. 
Use the shredding disc to obtain freshly shredded cheese for sauces and casseroles in a matter of minutes. Fresh cheese melts more evenly and has more flavor than store-bought pre-shredded cheese. 
Shredding vegetables: The shredding disc can also be used to slice various vegetables, including Brussels sprouts and lettuce for salads, hash brown potatoes, and coleslaw. 
Vegetable chopping, dicing, and slicing: Use the multi-purpose blade to quickly chop or mince onions, peppers, carrots, celery, and other vegetables. Use the slicing disc to make sliced cucumbers, carrots, cheese, or charcuterie. Get perfect slices for a sweet and savory sweet potato gratin with vanilla bean. Although a blender is technically capable of chopping vegetables in small batches, it will produce more liquid as it operates, altering the texture and appearance of your vegetables. Due to a much faster blade speed (even at low settings), it is more challenging to monitor the progress of the chopping process. However, if you have this KitchenAid immersion blender with a food chopper attachment, you can chop vegetables with the extension. Nonetheless, food processors with slicing disc blades can create slices. 
A food processor makes it possible to prepare pesto sauces, patés, and olive tapenades quickly. Quickly combine roasted garlic, spinach, lemon, and cashews to create an adaptable spread or topping. You determine the size of the pieces in your sauce or spread to achieve the desired texture. You can also use a food processor to make peanut butter at home. 
Riced cauliflower or other vegetables: Ricing vegetables is a straightforward way to reduce carbohydrate intake or add versatility to a dish. The food processor's sharp blades finely chop florets for cauliflower rice or a broccoli-cauliflower mixture, and you can choose the size of the florets. 
Meat mincing: If you lack a meat grinder or the food grinder attachment for your KitchenAid® stand mixer, you can simulate grinding by mincing your preferred meats in a food processor. Use short pulses until the meat reaches the desired texture. Raw cuts of beef cannot be chopped in a blender because they would wrap around the blades. 
Using a food processor to prepare fresh fruits, vegetables, and more, you can gradually introduce young children to more solid foods. As you transition from smooth purees to sliced carrots and beyond, you can pulse ingredients to achieve chunkier results. 
If you desire chunky salsa, use a food processor to prepare it. However, if your salsa or sauce is a smooth liquid, you can use either a blender or a food processor to puree the vegetables, herbs, and spices. Both devices are capable of blending chickpeas, olive oil, tahini, and garlic. 
Options for Blenders and Food Processors for All Your Culinary Creations 
Blenders and food processors facilitate the exploration of new recipes, flavors, and textures. Each offers specialized features that make it the optimal option for specific tasks. It is essential to have the optimal small kitchen appliance to bring your recipes to life. Want to find out more? Learn the best ways to use a food processor or let us assist you in selecting the best blender for your kitchen. 
All Post

Air Fryer

Baby Food Maker

Best Lists

Blender

Bread Maker Machine

Bread Slicer

Cake pop maker

Cooking Tips

Deals

Deep Fryer

Electric Mixer

food dehydrator

Food Processor

Food Slicer

Food Steamer

Grain Mill Grinder

Grill

Guides

ice cream maker

Instant Pot

Kitchen Gadget

Knive

Meat Slicer

Microwave Oven

Pasta Maker

Recipes

Reviews

Sandwich maker

Slow Cooker

Toaster

Toaster Oven

Waffle maker
There are a lot of reasons why you might want to make your own nut butter. You're trying to avoid…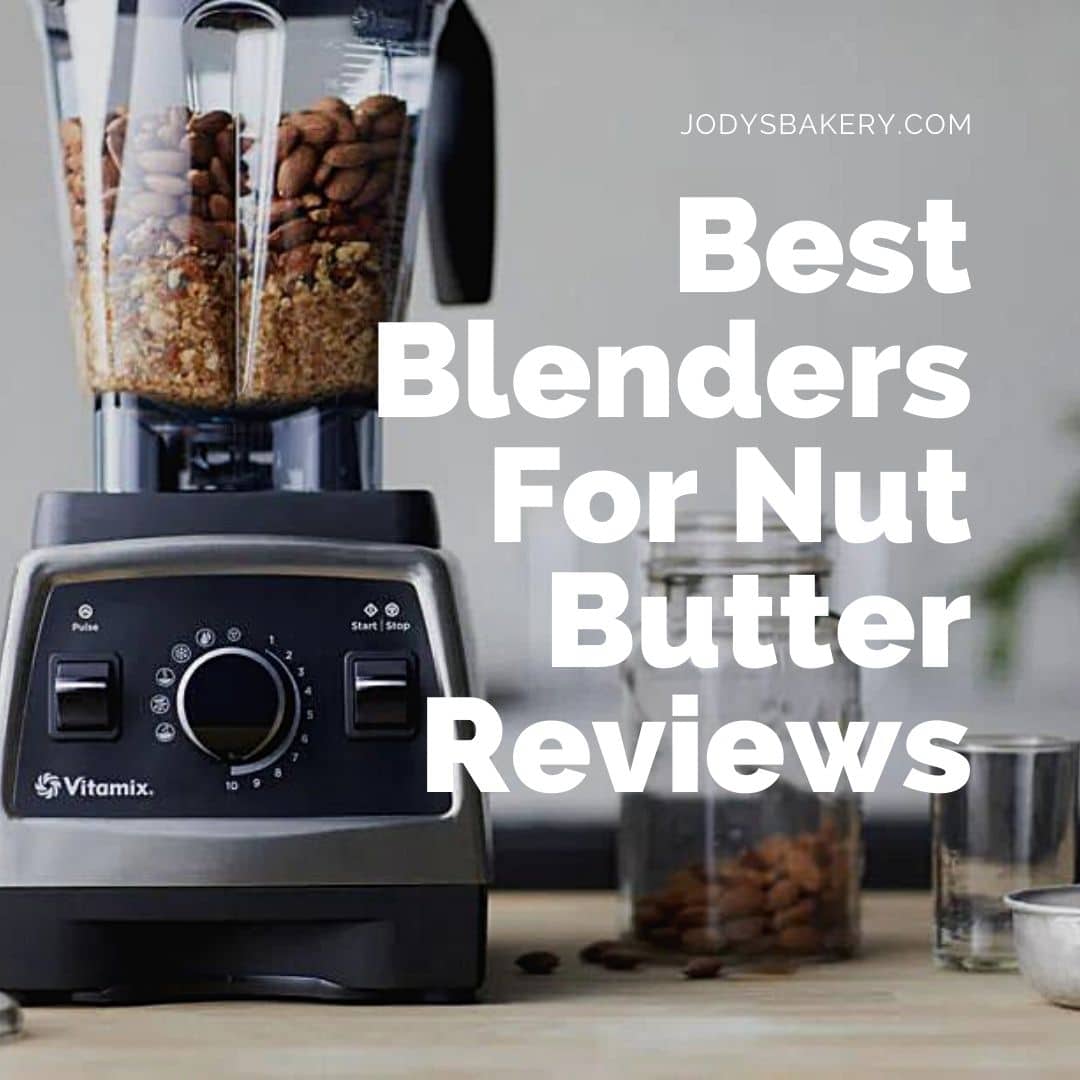 If you are a fan of nut butter, then you know that it is not the easiest thing to make…
No matter if you're blending bananas and berries for smoothies or whipping up a pitcher of frozen margaritas, a good…
Why Trust Us
You will find what you are looking for at Jody's Bakery. From classic to luxury brands, you'll find both. We will help you to select appliances that fit your needs, budget and lifestyle. Whether you want to stop by to learn more — or plan to make a major purchase — we'll treat you like family and assist you every step of the way. Shop with us today to receive friendly and experienced help along the way.