KitchenAid sells a complete line of stand mixers that vary in price, features, and mixing capacities, but all serve the same purpose. The design philosophy of KitchenAid is "If it works, don't change it," which is reflected in their products. 
Interestingly, the Artisan Series 5-Quart Tilt-Head is not their most expensive stand mixer (4.9 out of 5 stars from over 5,600 reviews). This also demonstrates that KitchenAid prioritizes simplicity over flashy technology in its product designs, which many consumers value. 
Below, we detail the numerous ways KitchenAid dominates the stand mixer market. 
1. Types of Mixers 
KitchenAid combines simplicity and variety but does not feel compelled to alter a successful stand mixer's fundamental design. Slight differences exist, such as mixing bowl capacity and functionality, but KitchenAid offers a standard, high-quality stand mixer regardless of the model. The two fundamental types of stand mixers are "bowl-lift" and "tilt-head," although there are numerous series with significant distinctions. 
The KitchenAid Lineup:  
Architect Series 
Artisan Design Series 
Artisan Series 
Classic Series 
Custom Metallic Series 
Professional 600 Series 
Professional Heavy-Duty Series 
Ultra-Power Series 
2. Features and Advantages of KitchenAid Mixers 
KitchenAid mixers are well-known for their adaptability and dependability. They enable simple culinary creations using doughs, batters, mixes, and even ice cream and homemade pasta, resulting in a variety of high-quality dishes. Notable additions are the power hubs for optional accessories, which transform your mixer into an all-in-one electronic chef. 
KitchenAid mixers are for those who desire a mixer's traditional appearance and feel combined with modern adaptability. You have numerous options depending on the type of performance you anticipate from your mixer. The bowl capacities range from 4.5 quarts to 7 quarts, and a vast array of color options are available. Stand mixers offer ten speeds and twelve attachments. For specific mixing requirements, there are burnished and coated beater types. 
With a KitchenAid mixer, those who excel in the kitchen can expand their culinary ambitions significantly. KitchenAid appears to go much further than most kitchen appliance manufacturers in providing customers with innovative cooking ideas and dependable equipment. 
Reliable Brand-Name Quality 
It is evident from the tens of thousands of four- and five-star reviews on the Internet that KitchenAid has achieved the brand recognition and trust they so richly deserve. The company's history dates to 1919 when its signature stand mixer was created. 
KitchenAid has been the only manufacturer of kitchen-specific appliances for a century. As a result, they have concentrated their niche marketing efforts on the hearts of home cooks everywhere. 
The Advantages of Purchasing a KitchenAid Mixer 
Here are the six most important benefits of owning a KitchenAid mixer: 
For the price of an iPad or less, you can purchase a kitchen appliance with numerous features, a high degree of adaptability, and a long lifespan that will provide you with years of enjoyable cooking experiences. 
KitchenAid practically coined the phrase "user-friendly" about kitchen appliances. This is where simplicity and utility meet. 
They sell online and in physical stores, which allows them to keep costs low. 
KitchenAid has been in business for a century because of its superior service plans and customer support. 
Full-service product support increases the product's owner's accessibility. 
The stand mixer is a space-saving, affordable, and aesthetically pleasing countertop appliance option. 
3. Cost vs. Value 
In your search for the ideal KitchenAid mixer, you must consider numerous factors, including price. One could say that the overall value of KitchenAid mixers is indicative rather than prohibitive. Because it has been such a trusted brand name for a century and has some of the highest customer ratings of any product sold online, its mixer product line remains affordable. This is an example of a highly valued, highly rated product accessible to any home chef and professional chefs, bakers, and foodies who have purchased a KitchenAid appliance. 
A Cost vs. Value Comparison 
When researching the best stand mixers, KitchenAid products rank first. Several other brand names, such as Hamilton Beach, Oster, Kenmore, Breville, Sunbeam, and Cuisinart, are priced very competitively on a website featuring the Top 10 Best 2016 Mixer Reviews. 
Despite being $124 more expensive than the next most costly brand, Cuisinart, KitchenAid was awarded the gold medal among all competing mixer brands. This demonstrates that the quality and value of a versatile, dependable machine trump price. 
4. Evaluations and Ratings 
When evaluating mixers, you must consider the standard guidelines and criteria for judging. This includes functionality, convenience, various specifications, accessories/attachments, warranties, and support. 
Top 10 Reviews ranks the KitchenAid Artisan stand mixer highest in these categories. We also rated the Artisan Series Stand Mixer as number one. They sing its praises, noting that KitchenAid mixers are available in 25 colors and have many other benefits. 
The "cons" list is extremely brief, mentioning that it may splatter at high speeds, the whisk must be hand-washed, and the mixer has some difficult-to-clean crevices. 
The Pros & Cons: 
On the lengthy list of "pros" for the Artisan Series Stand Mixer, the following are highlighted: 
A "superb" manual containing recipes 
Superior efficiency for all mixing tasks 
An enormous mixing bowls 
The bowl's ergonomic handle facilitates its use. 
The head will not budge from its position 
Click-in speed settings that are simple to read. 
The mixing bowl, beater, and dough hook are dishwasher safe. 
Kitchen appliances such as the blender, pasta maker, and grinder connect to the power hub. 
The only possible "con" is the price, but as previously stated, this is irrelevant to KitchenAid devotees. 
5. Variety and Customization 
Numerous online videos discuss KitchenAid mixers' quality and various features. Many KitchenAid models are incomparable to other brands, prompting some to draw comparisons. Many dissect and analyze the multiple parts of KitchenAid mixers, performing the same function as this article. Some demonstrate how to prepare specific recipes, others show how to operate the mixers, and others explain how to use the various accessories and attachments. KitchenAid mixers are unquestionably camera-ready! 
Many Sizes Fit All 
With a J-Hook handle bowl accessory, the mixing bowl capacity of these mixers can range from 4.5 to 8 quarts. This is one of the mixers' most attractive features. This brand has genuinely covered the spectrum of home chefs by offering various mixing bowl sizes. This is suitable for both novice bakers and professionals with high-capacity requirements. 
Accessories and Attachments 
Accessories and attachments for stand mixers provide a full complement of helping hands for home chefs, including: 
Precise Heat Mixing Bowl 
Kit for Food Processor Attachments 
3-Part Mixer Attachment Pack 
Stainless Steel Mixing Bowl with J-Hook Handle, 8 Quart 
Five-Quart Glass Bowls with Measurement Markings and Covers. 
Elliptical Whips, Pasta Drying Racks, and Dough Hooks 
Grain Mill, Food Grinder, Pasta Excellence Kit, and much more! 
The vast array of available accessories for KitchenAid mixers enables users to create a wide variety of cooking options. From cookies and ice cream to cakes, blended treats, and pasta, your KitchenAid stand mixer can transform into a gourmet culinary hub suitable for professionals and amateurs. Your KitchenAid mixer is a professional, restaurant-grade cooking center for under a thousand dollars. 
In Conclusion 
KitchenAid stand mixers and their many accessories and attachments are amazingly simple to purchase, have delivered to your door, assemble, and begin using. The evidence is in, and tens of thousands of testimonials demonstrate that KitchenAid mixers are the most reliable and versatile way for amateur and professional chefs to prepare food. KitchenAid makes it simple to prepare ice cream, sorbets, bread, omelet mix, pasta, cake batter, confections, and mixes of all types. They even include a recipe book in the user manual, and with the variable 10-speed functionality, you can mix any necessary ingredients while strictly adhering to the recipe's instructions. 
The KitchenAid Stand Mixer, invented in 1919, is a true classic requiring few modifications since its introduction. They are available in various appealing colors and finishes and are simple. These mixers have a knack for pleasing most food lovers, prep cooks, and home chefs, from the young, eager chefs to the old-timers who desire quality that has remained unchanged and uncontaminated by technological fashion. This broad appeal helps distinguish KitchenAid mixers from other mixing appliances. 
All Post

Air Fryer

Baby Food Maker

Best Lists

Blender

Bread Maker Machine

Bread Slicer

Cooking Tips

Deals

Electric Mixer

Food Processor

Food Slicer

Food Steamer

Grain Mill Grinder

Guides

Instant Pot

Kitchen Gadget

Knive

Meat Slicer

Microwave Oven

Recipes

Reviews

Slow Cooker

Toaster
If you're looking to buy a stand mixer, you may be feeling overwhelmed by the sheer number of options available.…
Although KitchenAid is linked with some of the best kitchen equipment, its premium models are frequently prohibitively expensive until you…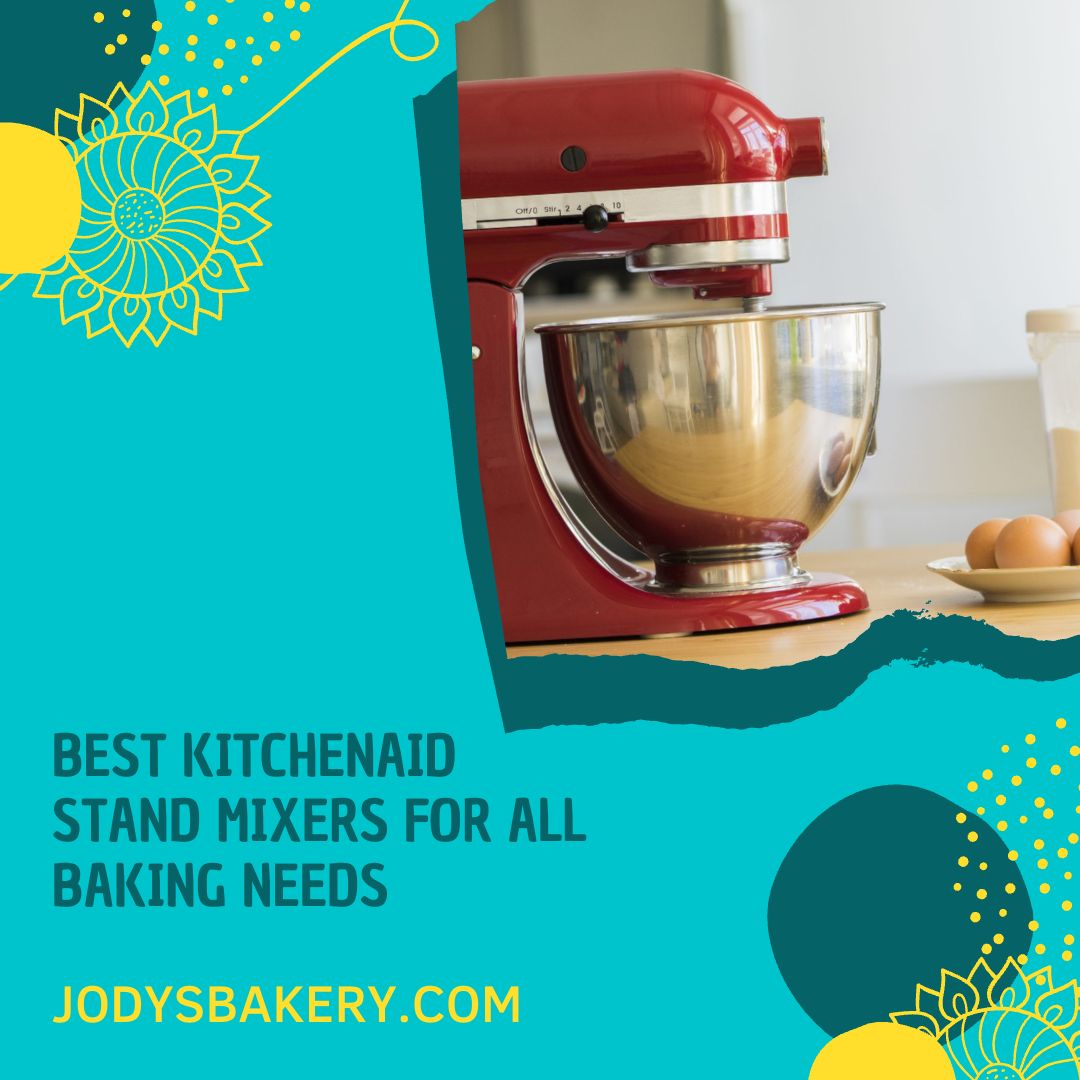 KitchenAid is a well-known brand in baking appliances with many innovative and outstanding products. This manufacturer has produced numerous durable…
Why Trust Us
You will find what you are looking for at Jody's Bakery. From classic to luxury brands, you'll find both. We will help you to select appliances that fit your needs, budget and lifestyle. Whether you want to stop by to learn more — or plan to make a major purchase — we'll treat you like family and assist you every step of the way. Shop with us today to receive friendly and experienced help along the way.