Features
Powerful steam system and glass lid with stainless steel rim
5L dishwasher-safe glass pot
5 preprogrammed food settings: seafood, poultry, grains, vegetables, and manual
60-minute countdown timer, LCD control panel, audible alert and start/stop, pause & reheat buttons
1L removable water tank and stainless steel steaming tray flips to hold different types of food
| | |
| --- | --- |
| Color | Stainless Steel |
| Material | Stainless Steel |
| Brand | Cuisinart |
| Item Dimensions LxWxH | 13.74 x 13.23 x 9.37 inches |
| Item Weight | 15.75 Pounds |
Pros
Glass steaming basket is dishwasher-safe
Reservoir holds 1 liter of water
Presets for different types of food
Steams food evenly
Cons
Expensive
Only comes with one steamer basket
The new Cook Fresh Digital Glass Steamer from Cuisinart will appeal to consumers seeking a healthier cooking method. A powerful steam system delivers steam from the top-down, allowing the food to be cooked rapidly and evenly.
The capacity of the 5-liter glass cooking pot is sufficient for family-sized portions of vegetables, fish, chicken, rice, and other foods. The 1-liter water tank of the steamer is also easily removable for refilling. Cuisinart's new glass steamer makes healthy cooking simple and convenient.
$159.95
as of March 23, 2023 7:07 pm
Last updated on March 23, 2023 7:07 pm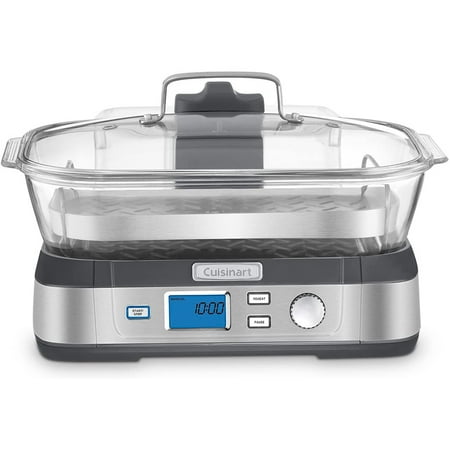 Features
Powerful steam system and glass lid with stainless steel rim
5L dishwasher-safe glass pot
5 preprogrammed food settings: seafood, poultry, grains, vegetables, and manual
60-minute countdown timer, LCD control panel, audible alert and start/stop, pause & reheat buttons
1L removable water tank and stainless steel steaming tray flips to hold different types of food
| | |
| --- | --- |
| Color | Stainless Steel |
| Material | Stainless Steel |
| Brand | Cuisinart |
| Item Dimensions LxWxH | 13.74 x 13.23 x 9.37 inches |
| Item Weight | 15.75 Pounds |
Design
This steamer has a five-liter glass cooking pot, a stainless steel steaming tray, and a glass lid with stainless steel trim if you dislike cooking in plastic. All components are dishwasher-safe for simple cleanup.
The LCD control panel's start/stop, pause, and reheat buttons and its pre-programmed food settings make cooking simple. You can also manually set the controls for customized cooking.
The steaming system surrounds the food with steam from the top-down, cooking it quickly and evenly. The water tank is detachable to facilitate filling. The steamer tray's two handles make it simple to remove the cooked food.
Performance
I've steamed tilapia, cod, rainbow trout, shrimp, scallops, and lobster, and they've all turned out PERFECT! The flavor is incomparably superior to frying, grilling, or baking, and the food is never dry or greasy.
The delicate flavor of the tilapia remains in the steam, which is so flaky. Scallops are tricky for me to pan fry and get perfect every time, but I've steamed them three times in this steamer, and they've come out perfect every time, with a sweet flavor and without being greasy complex or dry.
I tried lobster on the grill and in the oven. Again, it is difficult to be consistent (and it makes me cry if I mess it up, as lobster is not the cheapest seafood), and the grill takes away some sweetness with smokiness…but in the steamer…turn it on, dial to seafood, press start, and in 10 minutes it is PERFECT!All seafood can be cooked in 10 minutes (thin fish fillets may require 8 minutes, but a quick reference guide is provided for various food types).
Cleaning
It's also a cinch to tidy up! For the most part, it consists of just a metal tray on which food is placed, a bowl, and a glass lid. Once the steaming is done, I turn the water tank upside down and put foil over the connector.
So I can use the remaining distilled water later (though I'm not sure I'm supposed to, it has no smell, and I've been steaming every few days) and then rinse it out thoroughly when it's time to refill it.
Should you buy Cuisinart Digital Glass Steamer?
Thanks to this steamer, I can now consistently prepare food. It is incredibly well-made, and the large water reservoir is handy. I use bottled water rather than tap water because the water where I live is "harder." The presets adequately functioned, and the stainless grating is rust-free and easy to clean. The base and lid are constructed primarily of sturdy glass. Oh, and the vegetables are so crisp and flavorful. Oh, and steamed dumplings in this dish are fantastic.
I am delighted with my purchase and its performance. A bit pricey but significantly superior to plastic alternatives. In addition, be sure to drain your reservoir and leave it upside down by the sink for a couple of minutes before storing it. Take your base to the sink and dump it to drain the water.
PROS
Glass steaming basket is dishwasher-safe
Reservoir holds 1 liter of water
Presets for different types of food
Steams food evenly
CONS
Expensive
Only comes with one steamer basket
The OXO GG Silicone Steamer makes steaming easy in the microwave and stovetop. High walls prevent food from falling into…
BELLA Two Tier Food Steamer is the optimal and healthiest method for preparing your favorite foods. This health-oriented cooking method…
The new Cook Fresh Digital Glass Steamer from Cuisinart will appeal to consumers seeking a healthier cooking method. A powerful…
Why Trust Us
You will find what you are looking for at Jody's Bakery. From classic to luxury brands, you'll find both. We will help you to select appliances that fit your needs, budget and lifestyle. Whether you want to stop by to learn more — or plan to make a major purchase — we'll treat you like family and assist you every step of the way. Shop with us today to receive friendly and experienced help along the way.