Ingredients:
4 boneless/skinless chicken breast halves
1 can cream of celery soup or cream of mushroom soup
1/3 cup milk
1 package seasoned stuffing mix with seasoning packet (we use Stove Top)
1 1/2 cups water
Salt and pepper to taste
Directions:
Place chicken in crock pot.  Combine soup of choice and milk and pour over chicken.
Combine stuffing, seasoning packet, salt and pepper (is using) and water.
Mix well. Spoon the mixture the over the chicken and soup.
Cover and cook on low for 6-8 hours.
7 Quick and Easy Dinner Time Ideas
It's 6:00 p.m. the kids are hungry, homework needs to be done, you're stressed and then they ask… "Mom, what's for dinner?"
It's not easy juggling our busy lives while trying to feed our families a hot nutritious dinner everyday.  These 7 quick and easy dinner ideas will help take the stress out of family meal times.
Plan a Menu – This does take a little organizing ahead of time but it's definitely worth the effort.  Find a few minutes during the weekend and plan your meals for the upcoming week.  Write a quick menu, do your shopping and stick the menu on your fridge.  Every morning quickly glance at it and take out the foods that need thawing and plan ahead how much time you need to prepare the meal.
Befriend the Crockpot – Okay, this little invention may not be the coolest kitchen gadget around but it can definitely be a lifesaver.  With a little planning you can have a nutritious dinner ready before the kids can even say "mom…"
The Casserole is Back – Similar to the crockpot but great for days when you forget to plan ahead.  Casseroles work great with leftovers or just about any items you can find in your pantry.  Throw together some pasta, tuna, corn kernels, peas and cream for a quick meal.  Casseroles made with rice or potatoes are just as easy.  Keep a few easy recipes on hand and add or omit ingredients according to what you have in your pantry.
Easy, Versatile, Pasta – By far the easiest way to quickly throw together a healthy family dinner.  To avoid boredom try to avoid the usual jar of sauce and pasta dinner.  Try this, heat two tablespoons of olive oil over very low heat and add one crushed garlic bulb, stir for about a minute and add a can of drained crab meat, the juice of one lemon and a little salt and pepper to taste, and finally add a little chopped cilantro or parsley.  Serve over your pasta with some garlic bread on the side for a delicious meal in minutes.
Eggs Incredible Eggs – Eggs aren't only for breakfast, they're also great for quick dinners.  Make an omelet and fill with a little ham and cheese, you can also add some chopped tomato, onions or mushrooms.  Serve along with a salad and some bread.  Or make a Spanish tortilla.  Scrub, peel and thinly slice a couple of new or small potatoes.  Add to a sauce pan with a little water and boil until soft, about 8 minutes.  Add a little oil to a nonstick frying pan, add the potatoes, scramble eggs and a little chopped onion (optional) cook on low until the bottom starts to set.  Then stick the frying pan under a hot grill until the top of the tortilla sets.  Serve with a side salad.
Sandwich Bar – Some days you just don't have the time or energy to cook a hot meal, but you can still feed your family a nutritious meal in the way of sandwiches. Put out some bread rolls (whole wheat is best), add a platter of cheese, ham, turkey, tuna or any other favorite fillings.  Add another platter of chopped lettuce, tomatoes, cucumbers and any other favorite veggies. Now let your kids put together their own sandwiches.  Serve with some pretzels, a salad or cut up veggies and dip, a little hopeful but worth a try.
Wrap It – Wraps are great for quick dinners.  You fill them with just about anything.  For a Mexican wrap cook a little ground beef, drain and fill wrap.  Add some chopped tomatoes, grated cheese, sour cream or guacamole.   You can also fill it with a little heated tuna with some corn kernels and a little mayonnaise or try scrambled eggs, chopped ham and tomatoes. Leftover chicken with cheese and lettuce works great too. 
All Post

Air Fryer

Baby Food Maker

Best Lists

Blender

Bread Maker Machine

Bread Slicer

Cake pop maker

Cooking Tips

Deals

Electric Mixer

food dehydrator

Food Processor

Food Slicer

Food Steamer

Grain Mill Grinder

Guides

Instant Pot

Kitchen Gadget

Knive

Meat Slicer

Microwave Oven

Pasta Maker

Recipes

Reviews

Slow Cooker

Toaster

Toaster Oven

Waffle maker
These crock pot recipes with chicken are quick, easy and delicious. Just check these out and I'm sure you'll be…
Slow Cooker Chicken and Corn Chili is so easy and delicious. You can top it with grated cheese, sour cream,…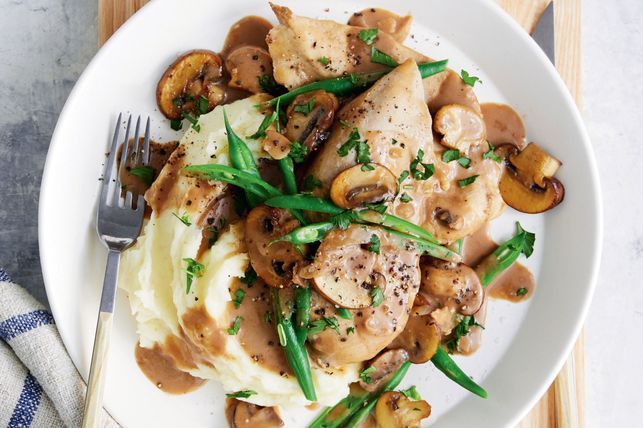 Is it even winter without a multitude of chicken slow cooker recipes? From chilis and soups to pasta and casseroles,…
Why Trust Us
You will find what you are looking for at Jody's Bakery. From classic to luxury brands, you'll find both. We will help you to select appliances that fit your needs, budget and lifestyle. Whether you want to stop by to learn more — or plan to make a major purchase — we'll treat you like family and assist you every step of the way. Shop with us today to receive friendly and experienced help along the way.