Features
5.5 quarts of cooking capacity
Includes 2 steaming bowls plus rice basket for rice or small foods
Stackable 2-tier steaming
DIGITAL TOUCHPAD
FITS NEATLY IN CABINETS
DELAY START timer

Rice bowl and drip tray are dishwasher safe
| | |
| --- | --- |
| Color | Black & Stainless Steel |
| Material | Plastic |
| Brand | Hamilton Beach |
| Item Dimensions LxWxH | 13.7 x 7.28 x 12.6 inches |
| Item Weight | 3.97 Pounds |
Pros
Includes two steaming trays
Can steam taller items
Steam delay setting
Easy-to-use timer
Cons
Trays are made of plastic
Warm mode continues to cook food
It's satisfying to consume a home-cooked meal, but using multiple pots and complicated ingredients can take time and effort. Thankfully, food steamers facilitate healthy eating for individuals and families. To determine if this popular 5.5-quart model from Hamilton Beach was up to the task, we tested it at home by steaming meats, vegetables, and more and then evaluating design and performance features. Read on to discover our insights.
$52.99
$59.99
as of June 1, 2023 9:09 pm
Last updated on June 1, 2023 9:09 pm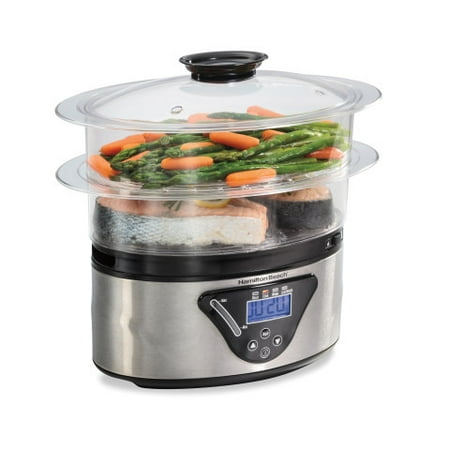 Features
5.5 quarts of cooking capacity
Includes 2 steaming bowls plus rice basket for rice or small foods
Stackable 2-tier steaming
DIGITAL TOUCHPAD
FITS NEATLY IN CABINETS
DELAY START timer

Rice bowl and drip tray are dishwasher safe
| | |
| --- | --- |
| Color | Black & Stainless Steel |
| Material | Plastic |
| Brand | Hamilton Beach |
| Item Dimensions LxWxH | 13.7 x 7.28 x 12.6 inches |
| Item Weight | 3.97 Pounds |
Design
Even though this item has a capacity of 5.5 quarts, its dimensions of 13.7 x 7.28 x 12.2 inches do not require much counter space. We love that the steamer has two separate baskets so we can cook meats and vegetables at the same time and that the base of the top basket can be removed to accommodate taller foods such as corn on the cob.
We also think it's cool that you can steam eggs in the baskets' indentations. In addition, a drip tray and rice bowl are provided.
We found this steamer to be easy to store when not in use due to its small footprint. In addition, for added efficiency, the rice bowl can be stored within the top steamer basket.
However, it is essential to note that the steaming baskets are made entirely of plastic, so if you dislike cooking food in plastic, this steamer may not be for you (though the plastic itself is food safe).
Performance
This digital steamer has a delay start timer that I can set from 30 minutes to 24 hours in the future. The maximum steam time is one hour, but I just added water and reset the timer because tamales can take up to two hours to steam. When the timer expires, the unit enters "warm" mode for up to one hour.
If I am not vigilant and the water level drops too low, the unit will sound an alarm and display "Lo." To add water, merely pull out the water drawer and fill it. There is a viewing window so I can constantly observe the water level.
To help users determine how long to steam specific foods, Hamilton Beach includes suggested steaming times in the instruction manual. Following the manufacturer's instructions, we steamed broccoli, a household favorite, and green beans in the upper basket while simultaneously steaming salmon in the lower basket.
We believed that this steamer performed flawlessly. The broccoli was tender, the green beans had the ideal balance of tenderness and crunch, and the roasted salmon was flaky and cooked to perfection. We also enjoyed steamed rice (using the included insert), carrots and potatoes, and even pears that had been steamed.
Before testing this steamer, we steamed food using a stovetop basket, but this product won us over. We discovered that it provided the same level of cooking quality while consuming significantly less energy and being easier to clean.
Cleaning
Cleaning the Hamilton Beach 5.5-Quart Digital Steamer is relatively simple. The drip tray and rice basket are dishwasher safe, while the bottoms of the steamer baskets are removable, making them particularly easy to clean. We recommend cleaning the steamer basket immediately after cooking food, especially when steaming protein, as these items can adhere and become more difficult to clean over time.
Should you buy Hamilton Beach Digital Food Steamer?
The Hamilton Beach 5.5-Quart Digital Steamer is the ideal solution if you're interested in preparing meals without spending a great deal of money on appliances or time on cleanup. This is precisely what you need for basic steaming, and the budget-friendly price is unbeatable.
PROS
Includes two steaming trays
Can steam taller items
Steam delay setting
Easy-to-use timer
CONS
Trays are made of plastic
Warm mode continues to cook food
The OXO GG Silicone Steamer makes steaming easy in the microwave and stovetop. High walls prevent food from falling into…
BELLA Two Tier Food Steamer is the optimal and healthiest method for preparing your favorite foods. This health-oriented cooking method…
The new Cook Fresh Digital Glass Steamer from Cuisinart will appeal to consumers seeking a healthier cooking method. A powerful…
Why Trust Us
You will find what you are looking for at Jody's Bakery. From classic to luxury brands, you'll find both. We will help you to select appliances that fit your needs, budget and lifestyle. Whether you want to stop by to learn more — or plan to make a major purchase — we'll treat you like family and assist you every step of the way. Shop with us today to receive friendly and experienced help along the way.