There is a lot preparation work to be done before starting the actual process of how to make bread. The dishes or utensils that you will need are a measuring cup, one small mixing bowl, one large mixing bowl, a whisk, measuring spoons, two eight and a half by four and a half inch loaf pans, saran wrap, a thermometer, and of course a cooling rack for your loafs after they have baked. You can also use a butter knife to help even out when measuring.
For making bread, the materials that you use to make it normally are more numerous than the amount of ingredients needed. In this case you will need at least eight cups of flour whether it is all purpose or bread flour, two and a half cups of water that is at least one hundred and five degrees Fahrenheit as this is the best temperature to help with mixing up the yeast. You will also need a tablespoon of sugar, a tablespoon of active dry yeast, tablespoon of sugar, a half stick of room temperature butter that is unsalted, and enough butter or spray to coat the two breading pans in order to prep for baking. Before starting this mixing process you must make sure that you have the entire list ingredients ready for use and in a place that can be easily located.
This video gives a good overview on  how to make your own bread from scratch.
Step One
In the beginning step is where you would make sure that the yeast is good and ready to use for your baking desires. In this step you will combine one tablespoon of dry yeast, one tablespoon of sugar and a half of cup of the Luke warm water. Stirring this together for a minute or so and then letting it sit for fifteen minutes is normally called proofing the yeast. You will notice it will start to bubble and expand letting you know that the yeast is ready for the rest of the mixing process.
Step Two
After the proofing of the yeast is complete, it is then time to add two cups of luke warm water to the mixture, if the proofing went well. Before adding these cups it is advised that you check to make sure that the temperature is at least one hundred and five degrees Fahrenheit. While you add each ingredient it is suggested that you stir continually to get the best results.
Step Three
With the bowl set flat on the counter add in three and a half cups of all-purpose flour. Add one cup at a time and mix along the process. When adding flour or any other ingredient that is measured be sure that you do not heap, meaning make sure that you have an even level in each measurement so that it does not create a dense or heavy loaf.
Step Four
Mixing everything together, add a level tablespoon of salt and a half stick of room temperature butter. It is best if the butter is unsalted. After mixing those two ingredients in, you can continue adding the bread or all-purpose flour, but this time you will only add about three level cups. Leave the other half of a cup in case you might not need it. By assessing the dough for stickiness you will be able to tell if it needs any more flour or not. The dough should not be very sticky at this point.
Step Five
This is where the fun starts to begin. After sprinkling flour on a clean and sanitized counter take the dough out of the bowl and place it on the floured counter. It is thick enough that you can use your hands to mix it from this point on. You can use your hands for the whole process if you choose to do so. Once the dough is on the counter, you will begin to knead it for about ten to fifteen minutes. Kneading dough is easy you simple push the dough, fold one side of it, turn it a little, then push it again and begin the process over. The flour that is on the counter should start to disappear as the dough becomes less sticky. You might need to add a little more flour to the dough or the counter top. This step is complete when the dough is smooth and no longer sticky to your hands or the counter top.
Step Six
Prepare a bowl so that the dough can rest in. The easiest way to do this is to take the larger mixing bowl that is at least double the size of the dough if not triple and put a little vegetable oil in the bottom of it. Then take the dough and flip it in the oil so that it is completely covered. Saran wrap should be placed over the bowl and the bowl should be put in a dry area so that it can rest and rise. The dough normally doubles in size during the next forty five minutes to an hour. During this time you can choose to take a break yourself or you can clean up the kitchen from the progress of the first stages of making your own bread from scratch.
Step Seven
Take your two eight and a half by four and a half inch loaf pans and butter them. This should be done about five to ten minutes before you are ready to pull out the dough. Take the dough out of the dry area and unwrap it. The fun part of the whole process is beating up the dough. Punch the dough to help deflate it, removing any air pockets that are present. After putting a little more flour on the counter, take the dough out and mold it into a loaf like oval, then cut it at the halfway mark. You can choose to measure each end to get it perfectly even in weight. Once you have both halves, take your hand or a rolling pin and flatten both pieces to about twelve by nine being sure not to press to hard.
Step Eight
After both pieces are flattened into a twelve by nine, take the top two thirds portion of one of the pieces and fold it down over the middle like a letter. Do the same with the bottom two thirds and then tuck in the sides and pinch the seams. Then you can flip it over and put it in one of the buttered loaf pans. The exact same process should be administered to the other piece of dough. Take the saran wrap and put a little vegetable oil on one side then place the oil side down towards the dough in the loaf man and wrap it around the pan. Leave the loaf pans on the counter at room temperature for one hour. This is the second rising or rest period.
Step Nine
About fifteen minutes before the hour resting period is up, preheat the oven to three hundred and seventy five degrees Fahrenheit. Once the hour is up the dough should have doubled in size. Place both loaf pans in the over on the center rack spaced evenly away from each other and the walls of the oven so that they can be evenly baked. The dough will bake for about thirty five minutes. Ten minutes before the bread is finished, you can choose to take it out of the loaf pans and put it on a baking rack so that the sides and bottom can get golden brown, but this is optional.
Step Ten
When the time is up, the finished bread should have a hollow sound when you knock on it or you can choose to check the temperature which should be right around two hundred degrees Fahrenheit. Take the bread and put it on a cooling rack away from the stove and the heat. It is advised that you wait until the bread is almost completely cooled before cutting it because if you cut it too early you could cause the moisture to escape out of the bread leaving it dry and undesirable.
The last thing to do is to cut the bread and enjoy it. You can use any type of cutting knife but the recommended one is a serrated edged knife. You can also choose the size of each slice according to what you and your family likes. After you have cut the bread, storage can be done in a sealed container and placed in a dry area. Making bread from scratch can save you money and leave you feeling as if you have conquered the toughest feat of the baking world.
All Post

Air Fryer

Baby Food Maker

Best Lists

Blender

Bread Maker Machine

Bread Slicer

Cake pop maker

Cooking Tips

Deals

Electric Mixer

food dehydrator

Food Processor

Food Slicer

Food Steamer

Grain Mill Grinder

Guides

Instant Pot

Kitchen Gadget

Knive

Meat Slicer

Microwave Oven

Pasta Maker

Recipes

Reviews

Slow Cooker

Toaster

Toaster Oven

Waffle maker
Paddle removal is an important step in the bread making process. When should you remove the paddle? What happens if…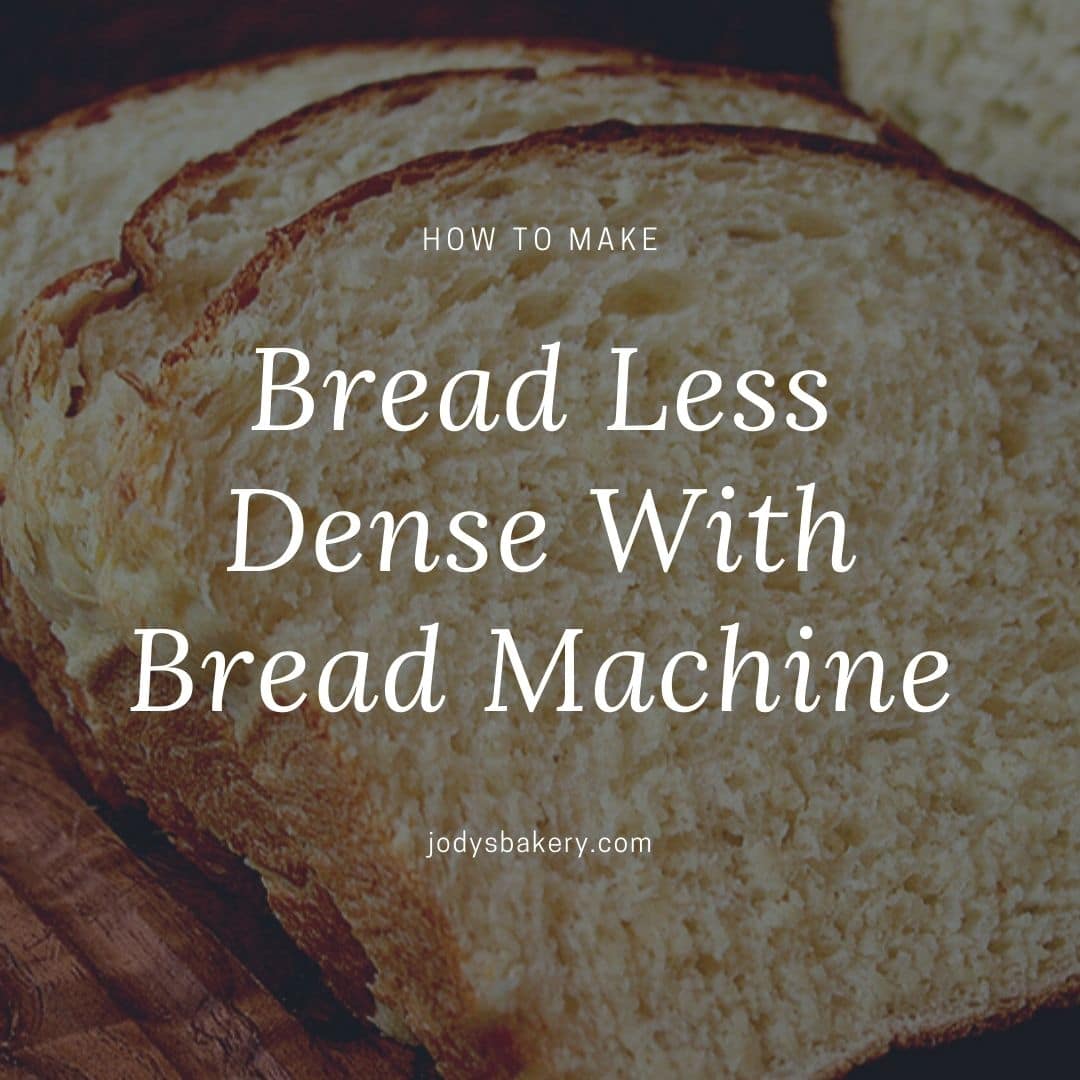 Is your bread coming out too dense? There are a few things you can do to fix this. First, check…
When it comes to baking bread, there is a lot that goes into it – from the ingredients you use…
Why Trust Us
You will find what you are looking for at Jody's Bakery. From classic to luxury brands, you'll find both. We will help you to select appliances that fit your needs, budget and lifestyle. Whether you want to stop by to learn more — or plan to make a major purchase — we'll treat you like family and assist you every step of the way. Shop with us today to receive friendly and experienced help along the way.