We adore homemade bread and biscuits, but we despise having to spend the time kneading the dough by hand. We're forced to keep a sink full of soapy water and flour sprinkled across the floor, but if there was a method to avoid the mess while keeping your beautiful biscuits, would you want to do it?
A hand mixer is a multipurpose kitchen appliance that can be used for making many different types of doughs and baked goods. These mixers have different speed settings, which are essential when making cakes, biscuits, and whipped creams. Some mixers also have a large mixing bowl that is perfect for whipping.
Having said that, a hand-held mixer is a must-have for any kitchen, as it can be used in various ways. To bake bread, biscuits, and other baked goods, you will need a hand mixer with a dough hook on the attachments.
A dough hook is an excellent substitute for hand kneading and preparing the dough. However, you must understand how to use these products properly. The dough hook is available in a variety of sizes and styles. Some are designed specifically for use with a stand mixer, while others are compact enough to be used with standard hand mixers.
Here, we'll go over a few different aspects; you should know how to use dough hooks on a hand mixer to accomplish all kinds of bread, pizza dough, and even pastry.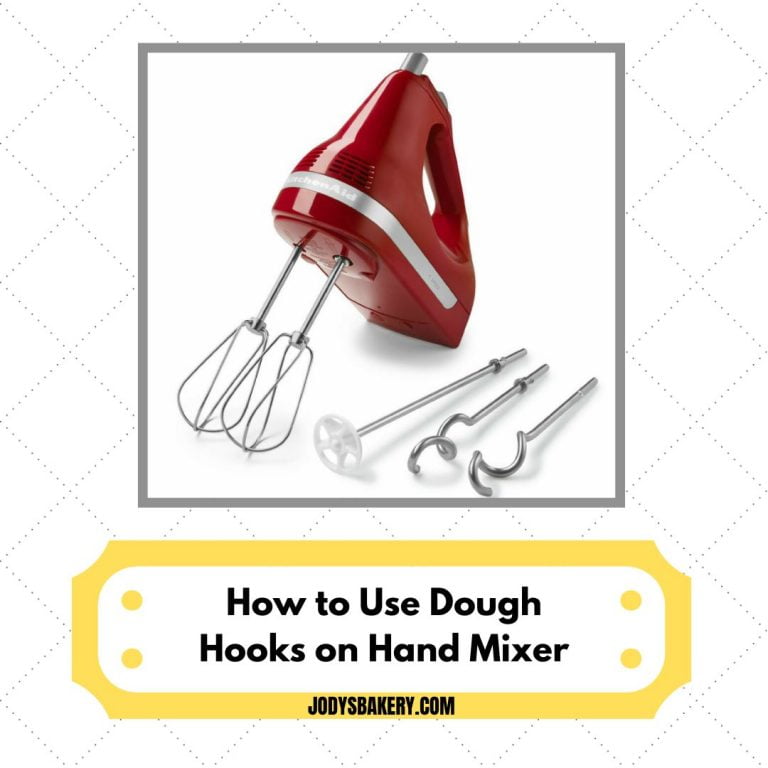 How to Use Dough Hooks on Hand Mixer

What you'll need is the following:

1. Hand mixer
Our favorite hand mixers are either by Bosch or KitchenAid, and they are both very affordable. KitchenAid is a brand that we have always trusted, and the same can be said for Bosch. Just keep in mind that you don't have to spend a fortune on a high-quality hand mixer. These are the best hand-held mixers we've ever used in our life.
2. Dough Hooks
Occasionally, dough hooks are included with the hand mixer, but if not, you can always purchase the attachment separately. They are a fantastic investment for those who enjoy baking their bread at home.
3. Mixing bowl
Our favorite mixing bowl is made of bamboo. It has a modern and sleek appearance, and it is also highly environmentally friendly.
4. Spatula
To check the dough's elasticity and make sure it doesn't stick to the side of the bowl or your fingers, use a spatula with a rubber or plastic tip.
5. Flour
Because baking soda will be added to the recipe, you can use either all-purpose or non-raising flour in this recipe. It is not necessary to use a well-known brand name.
6. Spices
It is irrelevant whether the sugar is a caster or granulated; avoid powdered or icing sugar. About salinity, if you use salted butter, you do not need to use salt.
7. Other ingredients
Other ingredients for bread, scones, or biscuits could include raisins, cinnamon, black or red currants, and so on. The list is endless.
Let's see if these dough hooks are effective.
Step 1: Using Your Hand Mixer
Attach the dough hooks to your mixer once you've gathered all of the ingredients for your chosen recipes and are ready to begin mixing. Crucially, you can refer to the instructions included with your mixer's user manual if you're unsure how to attach the hooks. Typically, you slide them into the mixer's open holes and press firmly until they click into place.
Once your hooks are in place safely and securely, position your mixer beside your mixing bowl and plug it into an outlet. Not until you're ready to begin preparing your recipe, turn on the motor. Typically, most recipes will direct you to start by adding the butter and wet ingredients to your mixing bowl. Then, using a sieve, add any baking powder, salt, spices, or flower.
Once you've combined all of the dry ingredients in a mixing bowl, start the mixer on a low setting. Gently place the mixer hooks into the bowl and allow them to begin kneading the bread, pizza, or other doughs you are preparing.
Step 2: Check your dough
If necessary, you can add milk and water to the mixture to make the dough more malleable. Some people add it all at once, while others add it in small amounts over time. To knead the dough, keep using the dough hooks, but increase the speed to high to ensure a smooth texture.
Isn't this fantastic for keeping your hands free of dough? Once you believe the dough is well combined, check to see if it is sufficiently "springy" and bounces back when your finger touches it. If it does bounce back, your dough has already been done.
Note:
As you make your dough, try to adhere to the recipe's instructions and avoid adding too many ingredients.
Maintaining the firmness and springiness of the dough is essential when making something as delicate as bread or pastries.
Bread doughs should not be overly moist, making it difficult for the yeast to rise properly.
Step 3: Baking Your Dough
After mixing with the dough hook and hand mixer, turn off the mixer and unplug it from the wall. When you're finished with the dough hook, most hand mixers include a button that you can press to release it. This makes cleaning the mixer much easier.
To clean your dough hooks, remove them and place them in a bowl of hot water with dish soap. You should be able to accomplish the same thing using a stand mixer.
After soaking your mixer components, you can concentrate on your bread or dough recipe. What are you going to do with the dough?
If you're making biscuits, all you have to do is roll out the dough and cut the shapes out of it.
If you're baking bread dough, you'll need to prove it and let it rise before cooking. Consult your bread recipe to determine how long the mixture should rest before baking. If desired, you may add additional flour to the bread dough and knead it again before placing it in the bread loaf tin.
If making pizza dough, roll it out and begin adding the toppings. Before placing the dough in the oven, check to ensure it is not too warm.
If you're baking scones, you can add currants or raisins to the batter to give them a little extra flavor.
Is Kneading the Same As Using a Dough Hook?
If you're the type who experiments with kneading dough for bread, pizza, and other foods at home on a regular basis, a dough hook can save you a lot of time. For the most part, dough hooks on a hand or stand mixer produce the same results as hand kneading. However, you may discover that kneading certain types of bread and doughs by hand produces superior results.
With a hand mixer, it's challenging to maintain control over the way you knead. If you're not careful, it's easy to end up adding too much flour in an attempt to smooth out the dough.
You can search the internet for advice on how to improve your dough the next time you cook, but getting the process perfect-frequently requires practice.
Choosing to knead with a mixer will allow you to save time while also providing rest for your hands. Some people prefer to use dough hooks and mix their ingredients before hand-kneading to produce a smooth dough. Once more, you can search on Google to find tips on performing this task properly.
The more free time you devote to developing the optimal combination of manual and machine mixing, the better your batch will become. Ensure that you conduct an online search for free guidance on preparing your dough before cooking it. It would help if you were confident in your ability to determine when your recipe is entirely mixed and when it is ready to go into the oven.
How to Make Your Own Dough
Whatever your baking needs are, whether you're making your own dough one sprinkle of salt and flour at a time or experimenting with new recipes every week, a quality hand mixer is a worthwhile investment. Additionally, learning how to use dough hooks on a hand mixer can be highly beneficial. You can experiment with half-hand kneading and half-machine mixing for a different texture, or you can change the surface by allowing your dough to absorb more hydration during the baking process.
While most bread doughs can be kneaded by hand or in a hand mixer, the process will take more time if done by hand. Hand mixing is a satisfying experience, but we recommend using a hand mixer fitted with the dough hook attachment to produce great results.
Once the dry and wet ingredients have been combined in the mixing bowl, grip the dough hook and pull it downwards and across the bottom of the bowl. When the mix has just started to come together, scrape the sides and bottom to ensure the ingredients are thoroughly mixed.
For the most part, dough hooks on a hand or stand mixer produce the same results as hand kneading. However, you may discover that kneading certain types of bread and doughs by hand makes superior results. With a hand mixer, it's challenging to maintain control over the way you knead.
Conclusion
So, what were your thoughts on the tutorial? These dough hooks make it much easier to make bread and dough for other products without making a huge mess. You can immediately start mixing with the hand mixer once you place them in.
Your worries about cleaning up the mess you made are now entirely gone because no more bits of dough are all over the kitchen. To think, it once took me a week to figure out how to use the dough hook on my hand mixer because I was completely inexperienced with it!
However, don't worry so much as hand mixers usually come with an instruction booklet or DVD, which will help beginners use them.
Some brands of hand mixers even have video guides on their websites to get an idea of using the equipment easily. A hand mixer needs the least storage space available and is often kept in a drawer or a small cabinet.
The appliance may look complicated, but once you have learned how to use it, you will wonder how you ever did without it! The main components of the hand mixer work on an electric motor, which is then controlled by a paddle or handle.
The mixing bowl sits on the engine and is adjusted by turning the handle or paddle. The whisk attached to the motor is used to whip the ingredients. The hand mixer works on the principle of high speed for whipping and low speed for mixing.
The motor is equipped with two speeds: low and high. Adjusting the speed causes a beater bar to vibrate at the same rate as the bowl. This vibration assists in the disintegration of the gluten in the flour.
Additionally, it aids in aerating the mixture. All of these actions result in the ingredients being extracted cleanly from the mixture.
Are there any other ideas you have for this? Generally, what dough do you often knead with dough hooks? What was your whole experience like? In the comments section, please let us know what you think!
Talented home cooks and budding bakers typically have a stand...
Read More
Baking is a passion and an art to be created...
Read More
Why Trust Us
You will find what you are looking for at Jody's Bakery. From classic to luxury brands, you'll find both. We will help you to select appliances that fit your needs, budget and lifestyle. Whether you want to stop by to learn more — or plan to make a major purchase — we'll treat you like family and assist you every step of the way. Shop with us today to receive friendly and experienced help along the way.