The KitchenAid hand mixer is an excellent product.
After a lifetime of using both the hand mixer and the stand mixer for mixing batters, doughs, frostings, egg whites, and everything in between, I'm convinced the KitchenAid hand mixer is an excellent addition to any kitchen.
The hand mixer is like the workhorse younger sibling of KitchenAid's iconic stand mixer. It doesn't have the glitz and romance the stand mixer has. It doesn't come in a sparkly gold finish or adorn the sets of cable cooking shows. But it does its job, and it does it well.
The stand mixer is all about nostalgia. It's retro; its design has been unchanged since 1937, and it reminds people of making cookies with grandma. But if you're anything like me, the real homemade memories feature an electric hand mixer. Growing up in the '90s, I didn't know what a stand mixer was. 
Maybe I saw one at the mall, but nobody I knew had one. But fire up the whirring beater blades on our family hand mixer, and I'd come running. I knew I was minutes away from scraping the last few ounces of batter out of a bowl. Next up was the satisfying click of the mixer's release mechanism, and I was all over the remnants on the beater attachments.
These are the real mixer memories of me and millions of others.
What is a hand mixer?
A hand mixer is a handheld device, typically electric-powered, that rotates a set of beaters to mix ingredients, usually for baking. The mixer is light; most are less than 10 pounds and can be used in any bowl (although more bottomless bowls are recommended to prevent splashing).
Another option is a mixer powered by a hand crank mechanism, typically called an egg beater.
The largest and most expensive mixer type, a stand mixer, has beater mechanisms held up by a stand and a mixing bowl attached to its base.
Benefits of a hand mixer
Many people assume a stand mixer is entirely superior to a hand mixer. That's only sometimes the case. There are pros and cons to each one. And in many cases, the hand mixer makes more sense. Here are some categories where the hand mixer comes out on top.
Lower cost
A good hand mixer will always be more affordable than a stand mixer. A KitchenAid hand mixer typically costs $30-50, with top-of-the-line models for less than $200. For a new KitchenAid stand mixer, you're likely to spend at least $200 and, more commonly, can expect to drop $300-$400.
More portable and easier to store
A complete hand mixer kit with all the attachments will weigh less than half of a stand mixer and take up a fraction of the space. You can tuck it into a cabinet or drawer, and it's out of the way until you need it. This is a significant benefit if you have a smaller kitchen, less counter space, or less storage space. And if you plan to travel with your mixer, it's no problem to throw a hand mixer in a bag or purse.
More convenience
Thanks to this smaller footprint, the hand mixer is often more convenient. Set-up time is usually faster, so you can start mixing more quickly than you could with a stand mixer. You can also use the mixer in any regular bowl rather than just the bowl that locks into your stand mixer.
Easy cleanup
Hand mixer cleanup is a breeze. Just unsnap the beaters and wash them. That is, if some family member or pet still needs to lick them clean.
Downsides of a hand mixer
For all its benefits, there's a reason stand mixers are more coveted than hand mixers. The hand mixer does come with some disadvantages.
Less power
Hand mixers have less power under the hood. This is relatively easy for most batters needing quick mixing. But less power means longer mixing times for thicker doughs and whipping liquids into a foam.
More manual effort
A hand mixer needs to be operated by hand. That means the entire time you're mixing; you're standing over your bowl, one hand on the mixer and the other on the bowl. This can be tiring for long mixing sessions. And it limits your multitasking abilities. Again, not much of an issue for quick batters, but for ingredients that take a few minutes of mixing time, it can be a nuisance.
Fewer attachments
With a KitchenAid stand mixer, you have a universe of attachments available, from spiralizers to pasta cutters to meat grinders. With the hand mixer, your options are much more limited.
Why you should have both a hand mixer and a stand mixer
I hope I've shown here that there are pros and cons to both the hand mixer and the stand mixer. It can be hard to know which is best for you, so let me make the choice easier: get both.
If you don't have the space for a stand mixer, you're in sticker shock over it, or maybe you imagine it being a wedding gift someday, get the hand mixer. And upgrade to a stand mixer down the road.
But please, whatever you do, keep your hand mixer even if you got a stand mixer. If you're the kind of person who needs a KitchenAid stand mixer, you also need an elegant hand mixer on standby. There will be days when you need help to lug your stand mixer out of the pantry. There will be days when you're kneading dough in the stand mixer while whipping cream with your hand mixer. You'll be glad you have both.
Just take it from the experts at Wirecutter:
"A hand mixer will be best for whipping up smaller batches of creams, sauces, or fillings, while a stand mixer's larger paddle and extra power will more efficiently knead large batches of thick dough or pastries (and save your arms some effort)."
KitchenAid hand mixer models
KitchenAid offers several different hand mixer models, organized by speed (from 3 speeds to 9 speeds). The more speeds available, the higher the price. In this section, I'll explain each hand mixer product line, each feature and option, and available colors and pricing.
3-speed hand mixers
The simplest and most affordable is the 3-speed hand mixer. You will get no frills or extras here, just a basic mixer. It only comes in white and only includes one set of stainless steel beater attachments.
5-speed hand mixers
KitchenAid is known for giving customers a galaxy of color options. With the 5-Speed Ultra Power Hand Mixer, you get more than 20 color choices, the most of any hand mixer they produce. If picking a unique color is your priority, this is the one to get. These are also some of the same popular colors you'll find in the stand mixer lineup. So if you're trying to color-coordinate, here's where you'll want to look.
6-speed hand mixers
The 6-speed mixer is something of an anomaly. It only comes in two colors. It doesn't follow the convention of skipping right from 5- to 7-speed mixers. But it's still a great mixer.
7-speed hand mixers
We start getting into the high-end territory with the 7-speed mixers. These have digital displays, a few more color options, and come with a whisk attachment as well as beaters.
9-speed hand mixers
KitchenAid's 9-speed hand mixer is the top of the line option. On top of being more powerful, the more-expensive Architect Series mixer comes with several extra attachments like dough hooks for kneading dough.
Hand mixer attachments and accessories
The hand mixer comes with several different available accessories. Again, it's nothing like the world of attachments and add-ons available for the stand mixer. But this is a great lineup of important tools.
Beaters
Any hand mixer will come with beaters. A hand mixer without beaters is like a car without tires. These are your workhorse tools for blending, mixing, and stirring.
Whisk
A whisk, whether it's handheld or attached to an electric tool, is for whipping air into liquids. This increases volume, think whipped cream or fluffy whipped egg whites.
Dough hook
Dough hooks are helpful for kneading dough for break making. Kneading is typically done by hand and creates gluten strands that give bread its light and airy structure. Kneading typically takes at least a few minutes, so keep that in mind if you're thinking about using a hand mixer. Understandably, many people prefer a stand mixer for kneading.
Blending rod
A blending rod is submerged into a liquid, similar to the way you would use an immersion blender. It can help make recipes like shakes, soups, and smoothies.
All Post

Air Fryer

Baby Food Maker

Best Lists

Blender

Bread Maker Machine

Bread Slicer

Cake pop maker

Cooking Tips

Crepe maker

Deals

Deep Fryer

Electric Mixer

food dehydrator

Food Processor

Food Slicer

Food Steamer

Grain Mill Grinder

Grill

Guides

ice cream maker

Instant Pot

Kitchen Gadget

Knive

Meat Slicer

Microwave Oven

Pasta Maker

Recipes

Reviews

Sandwich maker

Slow Cooker

Toaster

Toaster Oven

Waffle maker
For many years now, KitchenAid mixers have been preferred as kitchen appliances both at home and professionally. However, when you…
KitchenAid sells a complete line of stand mixers that vary in price, features, and mixing capacities, but all serve the…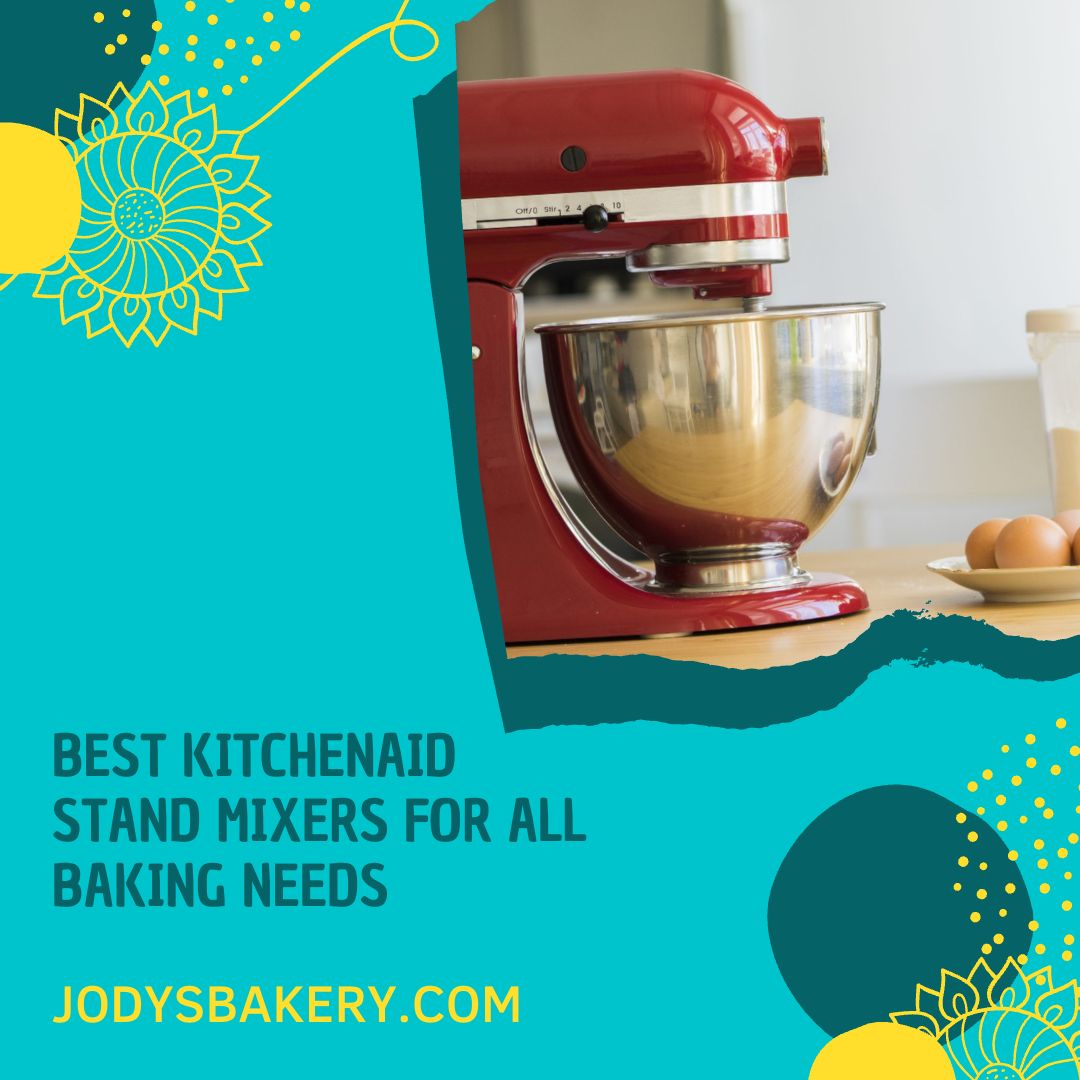 KitchenAid is a well-known brand in baking appliances with many innovative and outstanding products. This manufacturer has produced numerous durable…
Why Trust Us
You will find what you are looking for at Jody's Bakery. From classic to luxury brands, you'll find both. We will help you to select appliances that fit your needs, budget and lifestyle. Whether you want to stop by to learn more — or plan to make a major purchase — we'll treat you like family and assist you every step of the way. Shop with us today to receive friendly and experienced help along the way.