It can be really hard for people to look for the right low carb crock pot recipes that will allow people to enjoy the food they love and still keep it low carb, delicious and easy.  Crock pots are the perfect tool for making amazing home cooked meals no matter how busy a person's schedule may be.  A person can be assured of a home cooked meal when they decide to use a crock pot and it will allow them to add the ingredients that are needed and simply walk away and let it cook all day long until they get home.  There are also lots of pros to eating food that is cooked in a crock pot. 
Many nutritionists will tell people that crock pots and slow cookers are the best way for a person to eat their food.  Slow cookers and crock pots will cook food at a steady temperature of around a hundred degrees for the entire time.  This will allow food to not only preserve the natural taste of the food but it will also lock in the nutrients that are found in food.,  When food is fried, baked, broiled or even grilled at temperatures that go well over a hundred degrees, the nutrients will begin to cook out of the food at those high temperatures. 
Therefore, crock pot recipes will allow food to stay preserved with all of the nutrients to allow a person to eat healthy and more nutrient rich foods.  Crock pots will also allow people to cook up some of the best meals, with the best flavors and you really do not need to do anything.  A person can simply cook up their desired dishes and then leave for work or for a day of running errands. This will allow a person to have peace of mind and know that when they return home they will have a great home cooked meal waiting for them. 
In this article I will provide those of you with tons of amazing low carb crock pot recipes that will have your mouths watering and rushing to the store to get the ingredients that you need.  These low car crock pot recipes will have people in awe of all the amazing foods that are available and at their fingertips. 
Beef Stew
One of the first recipes I will discuss is this amazing beef stew. Not only is this beef stew super tasty it is also low in carbs, calories and fat. For this beef stew all a person will need is the following
Ingredients:
2 pounds of stew meat
3 cups of bottled water
2 tablespoons of extra virgin olive oil
1 cup of chopped onions
1 cup of chopped celery
1 large carrot
1 10 ounce package of frozen peas or for those of you who would prefer green beans
16 ounc can of tomato sauce
Spices :
Garlic powder
Onion powder
Oregano
Salt
Pepper
Red pepper flakes (i love heat, so if you do, go ahead and add it!)
Directions:
All that a person will need to do turn the crock pot on high and begin with adding the water, onions, celery, chopped up carrot, peas and the tomato sauce. 
Before adding the meat it is always nice to brown the outside of it to add some extra flavor to the meat. Therefore take the stew meat and place them in a skillet with the extra virgin olive oil and set the range to about medium heat. 
Make sure that all the sides of the meat brown up nicely and then you will need to drain the excess oil and fat that is left in the pan.
Once that has drained, take the meat and toss it in the crock pot and then take the spices and add as much as you would like tasting them as you go along. 
Chicken Paprika
This chicken paprika is a great recipe and a phenomenal crock pot sensation that is sure to keep you coming back for more.
Ingredients:
4 boneless and skinless chicken breasts
4 medium zucchinis sliced up
I medium onion sliced
1/2 a cup water
1/2 a cup chicken stock
3 tablespoons of olive oil
2 tablespoons paprika
Spices:
Salt
Pepper
Garlic
Red pepper flakes
Directions:
Make sure to season the chicken breast with some salt, pepper, garlic and some red pepper flakes (for some added heat, if you would like).  Then place the chicken at the bottom of the crock pot. 
Sprinkle on a tablespoon of paprika over the chicken and then cover it with a layer of zucchini and onions. Then add the three tablespoons of the extra virgin olive oil and then pour the rest of the paprika over the vegetables. 
Then pour the mixture of water and chicken stock into the crock pot and make sure to try to miss the paprika so it can soak into the vegetables and chicken.  I would also suggest adding some extra garlic, salt, pepper and red pepper flakes for some flavor and then turn the crock pot on low for about about six to eight hours. 
All Post

Air Fryer

Baby Food Maker

Best Lists

Blender

Bread Maker Machine

Bread Slicer

Cake pop maker

Cooking Tips

Deals

Electric Mixer

food dehydrator

Food Processor

Food Slicer

Food Steamer

Grain Mill Grinder

Guides

Instant Pot

Kitchen Gadget

Knive

Meat Slicer

Microwave Oven

Pasta Maker

Recipes

Reviews

Slow Cooker

Toaster

Toaster Oven

Waffle maker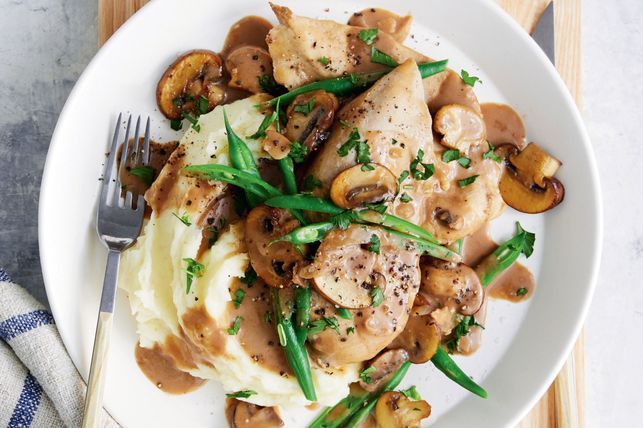 Is it even winter without a multitude of chicken slow cooker recipes? From chilis and soups to pasta and casseroles,…
We all lead hectic lives, which is why slow cookers' "set it and forget it" feature is so appealing. To…
Anyone who shops for meat knows that tender, juicy steaks are more expensive than tough, fibrous chuck roasts. Collagen, a…
Why Trust Us
You will find what you are looking for at Jody's Bakery. From classic to luxury brands, you'll find both. We will help you to select appliances that fit your needs, budget and lifestyle. Whether you want to stop by to learn more — or plan to make a major purchase — we'll treat you like family and assist you every step of the way. Shop with us today to receive friendly and experienced help along the way.