Yield: 8 servings
Cook Time: 25-30 minutes
Okay, I have to be totally honest. Up until a few weeks ago, I didn't know any chicken curry pressure cooker recipes. And even though I had heard of curry dishes, I had never tried one for myself. Then I went over to a friend's house to learn how to make an Indian flat bread called Naan and that is when I had my first curry.
My friend Anne made a marvelous pressure cooked chicken curry. One which she called "Savory Chicken Curry." But she didn't make hers in a pressure cooker. Instead, she had made hers on the stove top. I wanted to see if I could replicate her recipe but instead of cooking on top of my stove, I wanted to cook it in a cooker, so I asked for the recipe and headed home to practice for a little while and maybe convert it into a pressure cooker recipe. And let me tell you, it took quite a bit of practice to get the recipe just perfect—just like Anne's! It took me some time but I think I finally have it down to a science.
Today, I am going to share this recipe with all of you today. I suggest that you make a good Naan to go with this recipe. Of course, as good as Anne's original recipe was, I decided to go ahead and make a few alterations of my own. After all, I feel that each person should customize a recipe to fit their family's taste and personal preferences. Try to make this Savory Chicken Curry the way I did the first time, just so you have the basics down, then you can alter it to suit your tastes. Let's get on with it and make some nice curry, shall we?
Ingredients:
10 boneless & skinless chicken thighs
2 14-ounce cans of tomatoes (diced)
2 jalapeno peppers (seeded, chopped)
2 tablespoons ginger root (fresh, peeled and chopped)
2 teaspoons cumin (ground)
1 tablespoon paprika
2 teaspoons sea salt
2 teaspoons garam masala
2 teaspoons ground roasted cumin seeds
2 tablespoons cornstarch
2 tablespoons water
1 teaspoon turmeric
½ teaspoon black pepper
½ teaspoon nutmeg
1/2 cup (1 stick) unsalted butter
3/4 cup Greek yogurt (plain)
3/4 cup heavy cream
1/4 cup firmly packed minced cilantro
Instructions:
Rinse the chicken thighs and quarter them.
Place the can of tomatoes, the ginger, the turmeric and the jalapeno in a blender or food processor and process them into a fine puree.
Place the butter into your pressure cooking pot and select the saute or browning mode. When the butter has thoroughly melted, toss the chicken into the pot and sear them until they are a nice golden brown. This will usually take about 3 minutes. When they're done, use a slotted spoon and remove them from the cooker and set them aside. Do not remove the butter or the chicken juices from the pressure cooker.
Add paprika and the ground cumin to the butter in the pot and cook for about 15 seconds—making sure that you stir rapidly. Now you can add the tomato sauce mixture and also add salt, cream, the chicken pieces and the Greek yogurt.
Gently stir the chicken to ensure that it is thoroughly coated. When that's done, place the lid on the cooker and lock in place. Cook on high pressure for about 5 minutes.
When the 5 minutes has elapsed, allow the pot to depressurize naturally for the next 10 minutes. After that time is over, you can then use the cooker's quick release to remove any pressure that remains.
Remove the lid and add the roasted cumin, the garam masala, black pepper and nutmeg to the pressure cooker chicken curry.
Whisk together cornstarch and water in a small bowl. Once it's smooth, add it to the pot. This will act as a thickener and bring the whole dish together.
Place the cooker on saute and bring it to a boil. When it has reached the boiling point, turn off the cooker and stir in the cilantro.
Serve:
I like to serve my pressure cooker chicken curry over rice and serve up some nice warm Naan to go with it. I think it's more traditional that way. However, you can also serve it with some cornbread or maybe even with tortilla.
Final Thoughts
Well, I hope that you enjoy my little pressure cooker recipe today. It might be a little spicy for some people's taste but it can always cut back on the black pepper or jalapeno peppers to make it a little milder. Just be sure to not to remove too much of its kick. That's what makes it the dish it is.  I think that it's a great "beginner" curry dish for people who might not be familiar with Indian food.
All Post

Air Fryer

Baby Food Maker

Best Lists

Blender

Bread Maker Machine

Bread Slicer

Cake pop maker

Cooking Tips

Deals

Electric Mixer

food dehydrator

Food Processor

Food Slicer

Food Steamer

Grain Mill Grinder

Guides

Instant Pot

Kitchen Gadget

Knive

Meat Slicer

Microwave Oven

Pasta Maker

Recipes

Reviews

Slow Cooker

Toaster

Toaster Oven

Waffle maker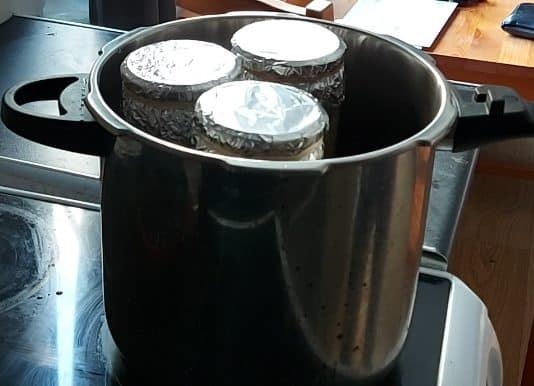 First, can a pressure cooker be used to sterilize? Unbelievably, pressure cookers are a tool for mushroom cultivators because they…
If you're like most people, you probably have a few appliances in your kitchen that you can't live without. For…
If you decide which Ninja Pressure Cooker to purchase, you are in the right place.  Here's how it works:  The…
Why Trust Us
You will find what you are looking for at Jody's Bakery. From classic to luxury brands, you'll find both. We will help you to select appliances that fit your needs, budget and lifestyle. Whether you want to stop by to learn more — or plan to make a major purchase — we'll treat you like family and assist you every step of the way. Shop with us today to receive friendly and experienced help along the way.