At one time, pressure cookers were regarded as dangerous kitchen utensils that our grandmothers used to make dinner or to can her homegrown vegetables. They were considered old fashioned by some people and downright dangerous by others. However, over the past few years, pressure cookers have undergone somewhat of a renaissance period. More and more households are trying these devices out and as a result, more and more people are singing these devices praises. They are not only seen as safe and modern devices but are also are considered to be machines capable of producing incredible culinary results.
This popularity has produced a rise in the number of pressure cookers available. Which is both good and bad news for those consumers looking to buy the best stovetop pressure cooker. An uptick in units manufactured and competition means there are more options available among pressure cookers. However, it also means that the average person is going to have to comb through more stovetop pressure cooker reviews to find exactly what they're looking for.
Of course, the number of stovetop pressure cooker reviews you'll have to comb through is greatly diminished if you separate stove top models from electric models. Which a lot of people don't do because they figure the best electric cooker is roughly equivalent to the best stainless steel pressure cooker—which it is not. Stove top and electric cookers differ in the way they operate and how they cook your food, so it's best to know the pros and cons of these devices so you know which one will suite your particular cooking needs.
Which is why I decided to write this article. I wanted to let you know what to look for in the best stovetop pressure cooker and how they differ from electric models. I also wanted to give you some hints and tips about using these devices. So without further delay, let's get right down to business.
The Advantages of Using A Stove Top Pressure Cooker
They have more power — Stove top models are generally faster and more powerful than electric models. While electric models can cook food twice as fast as conventional cooking methods, stovetop cookers can cook three times faster. That also means that these models can produce higher cooking pressures than electric models can as well.
They're more durable — Let's face facts, stovetop pressure cookers are a whole lot more durable than electric ones. Sure, electric cookers can last many, many years before they need to be replaced. Probably a lot longer than one would expect. Stovetop models, on the other hand, not only can last years but they can last for generations. In fact, my brother is still using the same stovetop model that my grandmother used and he loves it.
Can cool down faster — Stovetop models often have quick release valves that allow them to depressurize very quickly. And this results in a cooker that can cool down very quickly. While not every model of pressure cooker is comparable to each other, most stove top models will cool down faster than most electric ones.
They're Great for Searing — A bid advantage of a stove top pressure cooker is that they can really sear food well. Without the lid on, you can use them like you would any other pan and sear those pieces of meat or veggies before you pressure cook them. That isn't possible with electric models.
Come in a Variety of Sizes — There always seems to be a great variety of sizes with stove top models than there seem to be with electric models. Electric ones are usually between 5 and 8 quarts, but stove top ones can be as small as 2-person models all the way to huge family sized models.
The Disadvantages of a Stove Top Pressure Cooker
They require more attention — These cookers tend to need the user to be present while they're running to make sure that the pressure stays within the limits the user want it to stay. With electric models, you can pretty much set them and forget them.
They're less energy efficient — On average, electric models use less energy than the ones you use on the stove.
Less places they can be used — While electric models can be used anywhere there is an outlet, stove top models require a stove to work.
Getting the Most out of Your Stove Top Pressure Cooker
Since a stove top pressure cooker has unique qualities that distinguish it from electric models, there are ways that you can use it to get the most out of it. Here are a few things to consider when using a stove top pressure cooker.
Take Advantage of its Versatility
Stove top pressure cookers are great for turning that tough cut of pork shoulder or that cheap cut of beef into something mouth watering delicious. However, it can over cook delicate cuts of meat, fish or vegetables if you're not careful. Fortunately, there's a way around that.
If you dish requires vegetables as well as meat, then you can always pressure cook the meat and then release the pressure and saute the vegetables or fish in it afterwards. Which is actually one of the advantages of using a stove top model. Once it's depressurized and the lid is removed, it can be used like any other pan. Which provides you with a great deal of versatility while cooking.
What if you have a beef stew that has beef, potatoes and vegetables? Well, you can always begin by cooking the meat about halfway, then by releasing the pressure and adding the potatoes. When the potatoes are about 70% through their recommended cooking time, you can then add the vegetables. Usually this will result in everything being done perfectly at the same time, although you may have to make adjustments to each recipe.
Adjust Your Heat
When using a stove top model, you should give some thought to how exactly you use it. These type of pressure cookers work best when you heat them on a burner over high until they come to the correct pressure and then lower the burner to maintain pressure in the cooker. Which is fairly easy to do when you're using a gas burner. All you have to do is turn it down. However, electric burners can be trickier because their temperature doesn't automatically decrease when you lower the temperature. You can overcome this though by using the two burner method for electric stoves.
The two burner method, as you might suspect, uses two burners. One burner is set all the way to high and that burner is used to bring the pressure cooker to temperature. Once it has reached the pressure you want, you then switch it to another burner that is preset at a lower temperature designed to maintain the cooker's pressure. While this method may require a bit of practice, I've found that it does a good job of giving me control over my stove top pressure cooker on electric stoves.
Don't Forget to Brown
Just because you're using a pressure cooker that doesn't mean that you can't brown or sauté your food to give them that extra flavor. I like to brown the meats I use for a stew before I pressure cook them. I do this by browning them and then using wine, water, broth or even coffee to deglaze the bottom of the pot – giving them a good scrape with a spatula to remove those little bits of meat from the bottom. I then finish off the recipe, put on the lid and pressure cook the stew like I normally would. And it always turns out great.
Adjust For High Altitude Cooking
Most recipes designed for pressure cookers are designed for use at sea level. However, not all of us live at sea level so sometimes adjustments have to be made and these adjustments can confuse people. If you live at sea level or about 2000-feet above sea level, then you most likely won't have to make any adjustments. If you live above 2000-feet above sea level, then you are going to have make some adjustments. As a general rule of thumb, you're supposed to increase cooking time by 5% for every 1000-feet above this 2000-foot base. For instance, if you live at 3000-feet above sea level, then you should raise your cooking time by about 5%. However, please keep in mind that you should always follow the instructions provided in your pressure cooker's instruction manual first and foremost.
Overfilling Should Always be Avoided
One of the main things you need to avoid while cooking with a stove top pressure cooker is to avoid overfilling it. Steam in your cooker needs rooms and if your overfill your cooker it can cause an increase in pressure. This pressure increase can have disastrous implications.
Overfilling your cooker can not only lead to a loss of flavor and texture due to the increased pressure but it can also cause a safety concern. Overfilling can cause the pressure vents in the lid to become clogged which in turn leads to an increase in pressure – an increase in pressure that can soon become very dangerous. You can avoid this situation by never filling your pressure cooker more than 1/2 full with liquid or more than 2/3rds full with food.
Use the Appropriate Pressure Release Method
I've covered it in other articles on this site but I think it bears repeating that there are 3 different pressure release methods you can use with a stove top pressure cooker. Each method is best used for a certain type of food, as you'll soon see:
The natural release method is a method of pressure release where you remove the cooker from the heat and allow it to release pressure naturally. This method takes around 20 minutes and is best used for dishes that are mostly liquids, for meats or for dishes that tend to froth.
Quick Release Method
The quick release method is a good technique to use when you have to cook different ingredients at different times. For instance, such as when you are making a stew and need to cook the meat partway through before you add the veggies so you don't overcook them. Using the valve on top of the cooker, you simply release all of the pressure all at once. This method allows you to get into the cooker quickly but shouldn't be used with some foods. For example, don't try to use this method with foods that are mainly liquid or may froth (they may clog the pressure valve) or with meat (it may toughen it up).
Cold Water Release Method
The cold water release method involves removing the cooker from the heat, opening up the quick release valve and holding the cooker at a slight angle under cold water in the sink. This allows water to flow over the edge of the lid and down the sides. While using this method, be sure not to let water run directly over the valve or the vent. You can use this method to prevent sensitive foods such as vegetables from overcooking
Taking Care of Your Pressure Cooker
You should always make sure that you clean your pressure cooker well and store it right when you are done. If you don't, then you may risk damaging the cooker or at least limiting its lifespan. After all, even the best stainless steel pressure cooker is subject to corrosion if it's not properly taken care of in the kitchen, so be sure to follow these basic steps.
Always make sure that you wash not only the pot but also the rubber gasket and the lid of the pressure cooker with warm, soapy water. Make sure after it's washed, that you dry it well. Before you put it away, make sure that the safety valves are clean and are unobstructed. Also, check the rubber gasket and make sure that it's still flexible. Make sure that you store your cooker in a dry place.
Conclusion
Well, this concludes my article on stove top pressure cookers. Hopefully, it provided you with the information you needed to decide if one of these pressure cookers was right for you or if you already own one, the information you need to get the most out of it.
All Post

Air Fryer

Baby Food Maker

Best Lists

Blender

Bread Maker Machine

Bread Slicer

Cake pop maker

Cooking Tips

Deals

Electric Mixer

food dehydrator

Food Processor

Food Slicer

Food Steamer

Grain Mill Grinder

Guides

Instant Pot

Kitchen Gadget

Knive

Meat Slicer

Microwave Oven

Pasta Maker

Recipes

Reviews

Slow Cooker

Toaster

Toaster Oven

Waffle maker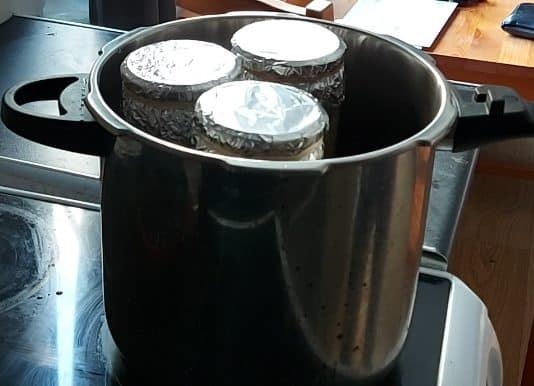 First, can a pressure cooker be used to sterilize? Unbelievably, pressure cookers are a tool for mushroom cultivators because they…
Nobody can dispute the necessity of a pressure cooker in the kitchen. A must-have in every home, the pressure cooker…
I realized I needed to address the issue of canning on a glass-top stove because I get so many questions…
Why Trust Us
You will find what you are looking for at Jody's Bakery. From classic to luxury brands, you'll find both. We will help you to select appliances that fit your needs, budget and lifestyle. Whether you want to stop by to learn more — or plan to make a major purchase — we'll treat you like family and assist you every step of the way. Shop with us today to receive friendly and experienced help along the way.