A chef's knife, serrated knife, and paring knife are the three essential knives in a quality knife set. 
Every knife set should include a chef's, paring, and serrated knife.

 

A knife set can contain between 3 and 18 pieces.

 

If a knife set is appropriate for you, each piece will be functional in the kitchen.

 
Consider a set of kitchen knives as your everyday carry (or EDC for those familiar with the minimalist movement). The essential items that fill your bag, tote, or pockets daily constitute your everyday carry. It includes the essentials (phone, keys, and wallet) and a few lifestyle variables (notebook, headphones, hand sanitizer). 
Similarly, a knife set should include your kitchen essentials. However, it should also have pieces you prefer to keep on hand, even though not everyone requires them. A good knife set prepares you for everything you expect to accomplish in a day and the unexpected. It is your daily carry for the kitchen. 
Required Utensils
Each component of your knife set should serve at least one distinct purpose in the kitchen. Otherwise, it simply occupies space. Most chefs and home cooks agree that three knives are indispensable in the kitchen. These knives include a chef's knife, a paring knife, and a serrated knife. 
Chef's Knife
A chef's knife has been described as one of the most versatile knives, a crucial foundational piece, and the most indispensable kitchen tool. In other words, your cutlery set is incomplete without one. 
If you've spent much time in the kitchen, you're aware that every cook multitasks. The chef's knife is a versatile tool, ideal for slicing artichokes and zucchini. With its curved blade, sharp tip, and compact size (an 8-inch chef's knife is ideal for home cooks), it can be used for everything from preparation to plating. It can be used to create nearly every dish, making it a truly versatile item. 
Paring Knife
This is the ideal companion for a chef's knife. The paring knife is the smallest in most kitchen knife sets. It is typically smaller (2-4 inches), lighter (less than 100 grams), and more agile than other knives. 
Its curved, sharp, and precise blade makes it ideal for small tasks such as peeling garlic, paring apples, and slicing cheese blocks. Use a paring blade for functions that a chef's knife may find too small or intricate. 
Serrated Knife
In the rare instances where a chef's knife is inadequate, a serrated knife will suffice. These tasks may not occur frequently, but a serrated knife is superior for specific tasks. When slicing soft cake layers, crusty bread, or any food with varying textures — pineapples, tomatoes, large sandwiches — the serrated knife is a great kitchen tool that makes quick work of these tasks. 
Knife Considerations
Knives for the kitchen are available in various weights, lengths, and overall designs, depending on the manufacturer. There are heavier, more robust designs from Germany and lighter styles with Japanese sensibilities. 
Buying a set of knives ensures that all your cutlery will be in the same style. Before making a purchase, take the time to research the company and the quality of the knives it produces. 
In addition to the knives, a set typically includes kitchen shears, a knife sharpener, a knife holder, a wooden block, or a plastic stand. Do you want these items in your kitchen? Perhaps you already possess a superior storage method. These are important factors to consider when searching for a knife set with essential pieces, high quality, and ergonomic design. 
How does a knife set consist of? — Buying Guide
Knife sets come in a variety of configurations. Variable between two and eight knives per set. Without a knife block or with one. Inclusion of sharpening steel and scissors. There are numerous options to choose from. This purchasing guide will explain how to assemble your preferred knife set. 
The basic set
There are numerous types of kitchen knives, each with a distinct purpose. Consequently, one of the most frequently asked questions regarding kitchen knives is, "Which knives do I need?" Let us reassure you: nobody in the world could require dozens of different knives. We believe that a good starter set should include four blades. The set consists of a chef's knife, bread knife, turner, and paring knife. Each knife added to that collection is an addition. 
For culinary school
A good knife is essential for any chef in training. However, what kind of knife? We believe a good knife set for an apprentice chef consists of four knives. The set includes a chef's knife, paring knife, bread knife, and carving knife. Each knife added to that collection is an addition. 
Knife set with a knife block
Do you want to be prepared for anything and store your knives safely and orderly? Choose a knife set that includes a knife block. Knife blocks look fantastic on countertops. It will also allow you to keep your knives close and store them securely—a stunning addition to your kitchen. 
The fish enthusiast
There is no greater offense to a fish lover than ruining a deliciously fresh fish with the incorrect knife. Because of this, we will highlight the best knives in this lineup so that you can prepare fish with care. From filleting to finishing touches. 
The meat lover
Do you cherish meat? If so, only use a razor-sharp knife to cut raw and cooked meat. Thus, you prevent the blade from tearing the meat while attempting to cut it. Ultimately, you can fully appreciate a delicious piece of meat with a good knife. 
The Knife Sets That Made the Cut
In addition to the three knives described above, a quality knife set may include other specialized pieces. Here are some of the best knife sets for equipping a kitchen. The Cuisinart 15-Piece Stainless Steel Hollow Handle Block Set is the best knife block set. 
As the best-selling knife set on Amazon, this set includes cutlery for the entire kitchen. It contains fifteen pieces, twelve of which are knives. In addition to an 8-inch chef's knife, two 3-1/2-inch paring knives (regular and bird's beak), and a 5-1/2-inch serrated knife, this set includes an 8-inch slicing knife, a 7-inch santoku knife, six steak knives, 8-inch sharpening steel, kitchen shears, and a stylish black block. 
If you or members of your household cook frequently and require a variety of cutlery, this is an excellent option to consider. All knives are crafted from high-carbon stainless steel for a sleek, contemporary appearance and simple maintenance. 
Best Knife Set Without Block: Misen Essentials Knife Set
For one of the lowest prices on the market, this knife set is ideal for those who want a straightforward collection of high-quality blades. Without the block (which can collect dirt and germs), the shears, and the steak knives — just every day-use piece of superior quality. This Misen set includes three essential knives, a chef's knife measuring 8 inches, a paring blade measuring 3 inches, and a serrated knife measuring 10 inches. If you don't need a serrated knife or want to add paring knife and chef's knife to your kitchen, you can also choose the 2-piece knife set without the serrated blade. 
This set was designed to accomplish your daily cooking tasks with as few pieces as possible. The knives are crafted from premium Japanese high-carbon stainless steel with a razor-sharp edge (honed at a 15-degree angle) and ergonomic handles. 
You can also choose the handle color available in slate blue, black, or dove grey. 
Wüsthof Classic 7-piece Slim Knife Block Set is the Best Investment.
This set of iconic Wüsthof knives is more expensive and contains fewer pieces than the Cuisinart set, but it has only the most frequently used blades. These include an 8-inch chef's knife, a 3-and-a-half-inch paring knife, a 5-inch serrated knife, a 6-inch Kiritsuke prep knife, an 8-inch bread knife, detachable kitchen shears, and a slim wood block. 
Each knife is crafted from high-carbon stainless steel with a forged, full-tang bolster and a triple-riveted handle designed to resist fading and discoloration. This results in sharper, heavier cutlery and nearly self-cutting (rather than resorting to arm strength). 
The slim block is available in various colors, from acacia to walnut, making it ideal for those who prefer a knife set that complements their kitchen. 
Chicago Cutlery Fusion is the Best Budget Knife Set Set of 18 Knife Block Knives
This set is lovely, not only for those on a tight budget. (However, at $149 for 18 pieces, it's a reasonably priced option.) The 18-piece set includes a 7 3/4-inch chef's knife, 3 1/4-inch paring knife, and 7 3/4-inch bread knife, as well as a 7-inch santoku, 3-inch peeler, 5-inch utility knife, 8-inch slicer, 5-inch partoku, 8 steak knives, an 8-inch stainless sharpening steel, and a wood block. 
The black poly handles provide a comfortable grip, while the high-carbon stainless steel blades resist stains and are easy to sharpen. However, contrary to popular belief, these knives are not made in Chicago; they are manufactured in China, which may explain their low price. 
Paring knives are indispensable for small, precise kitchen tasks and should be included in every knife set. A quality knife set is to be ready for any kitchen situation. This does not imply that it must be expensive or from a luxury brand. You should be prepared to begin cooking if you have the three essential knives — a chef's knife, a paring knife, and a serrated knife.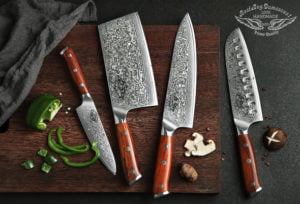 A chef's knife made of Damascus steel is far more...
Read More
A high-quality chef's knife is one of the essential elements...
Read More
Why Trust Us
You will find what you are looking for at Jody's Bakery. From classic to luxury brands, you'll find both. We will help you to select appliances that fit your needs, budget and lifestyle. Whether you want to stop by to learn more — or plan to make a major purchase — we'll treat you like family and assist you every step of the way. Shop with us today to receive friendly and experienced help along the way.