After much searching and trying different recipes, I have finally have found a hummus recipe my family likes.  I have tried to make hummus without tahini and oil and used water or lemon juice instead and did not really care for it. It was never eaten.  I found I was buying the heavily oiled versions from the store instead of trying to make it. Not necessarily a habit I wanted to create.
My concern was the oil in hummus, but it's not that great without it. Sesame seeds are high in calcium,magnesium, copper, iron, fiber among many other minerals. It is also thought to be an anti-cancer food too, according to Dr. Joel Fuhrman's Disease-Proof Your Child.  He does not nesissarily mention it in the form of tahini, so if anyone knows anything about tahini, please inform me.
I am convinced olive oil is not the best food for my family and as a result I have either completely taken it out of my recipes, substituted or done with out that recipe.  This recipe is no exception. I replaced the oil with extra lemon juice and it all worked out perfectly.
To this recipe you can add ingredients such as roasted red bell peppers, salsa, and even cranberries. I have not tried cranberries yet but have tasted it in Sabra Hummus. They have lots of great ideas for spicing up your basic hummus. Try some and let me know what works and what does not.
Parsley is a good for digestion and often used in bean dishes. A very nutritious herb. Can be used dried or fresh in this recipe. If using fresh, add add a bit more.
I believe this recipe originally came from the South Beach Diet book. I have adapted it to fit our own tastes and diet.
Basic Hummus Recipe
1 can (15 oz.) chickpeas
2 Tablespoons fresh lemon juice (plus some extra for blending smooth – I usually have on hand 2-4 lemons for juicing)
1/3 cup Tahini (or less)
1/4 cup yellow onion (or 1-2 Tablespoons dried minced onion)
2 tsp ground cumin
1/8 tsp ground red pepper (I use pepper flakes)
1/2 tsp salt
1-2 cloves garlic (or 2-3 teaspoons garlic powder)
1/4-1/3 cup dried parsley
Directions
Drain and rinse chickpeas.
Combine all ingredients in your blender.
Blend until smooth adding extra lemon juice to thin.
Refrigerate 3-4 hours before serving to blend flavors.
I served this for lunch with homemade whole wheat rolls, baby carrots and celery sticks. Add a green smoothie and you have a power packed simple lunch!
Try spreading this hummus on a pita along with some left-over, roasted veggies. Then stick it in the toaster  oven for a few minutes and you have a quick nutritious lunch.
All Post

Air Fryer

Baby Food Maker

Best Lists

Blender

Bread Maker Machine

Bread Slicer

Cake pop maker

Cooking Tips

Deals

Electric Mixer

food dehydrator

Food Processor

Food Slicer

Food Steamer

Grain Mill Grinder

Guides

Instant Pot

Kitchen Gadget

Knive

Meat Slicer

Microwave Oven

Pasta Maker

Recipes

Reviews

Slow Cooker

Toaster

Toaster Oven

Waffle maker
This vegan hummus pizza is a quick meal that, like any pizza, can hold an unlimited amount of toppings. The…
There is no need to purchase barbecue sauce from a store when you can make it at home using a…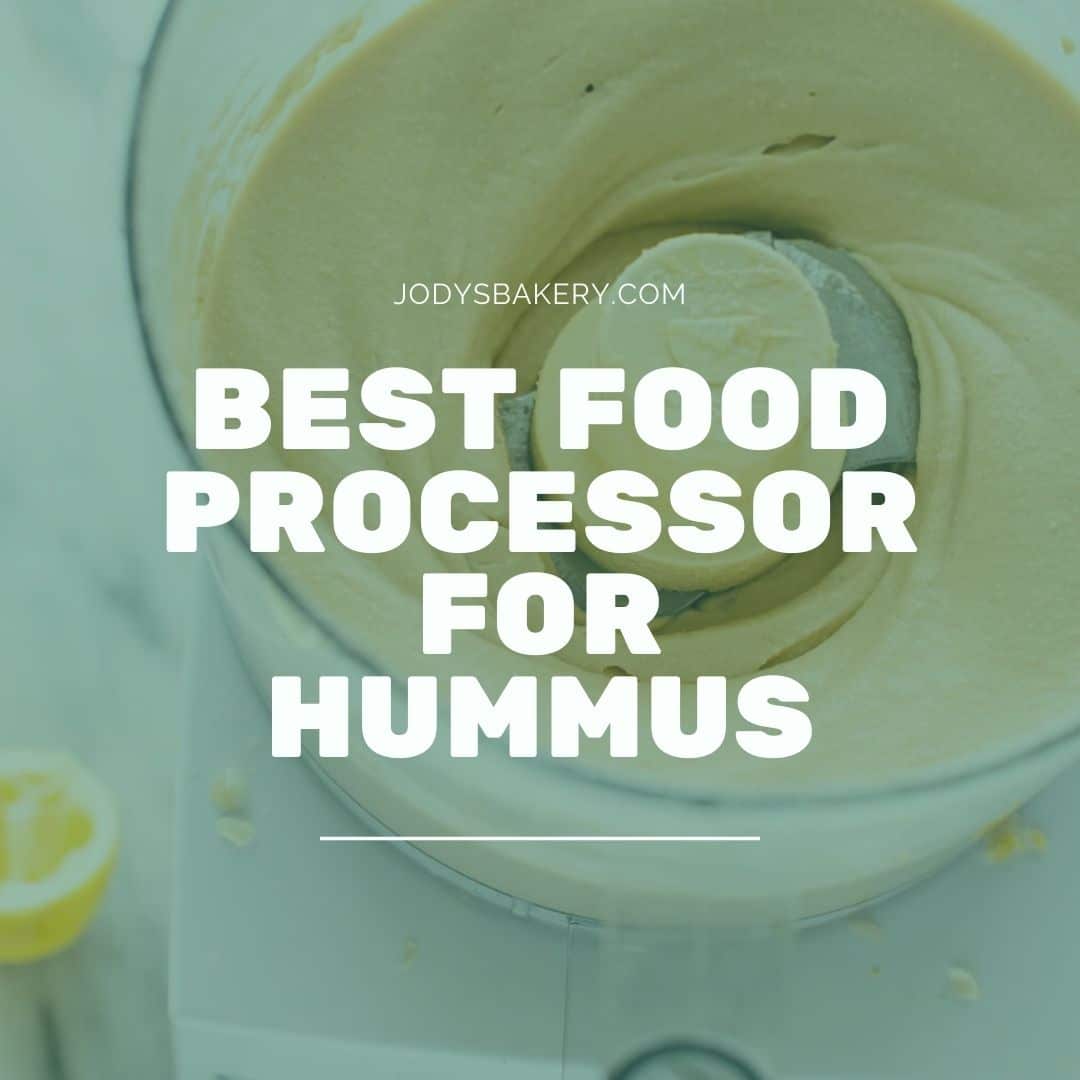 Making hummus is a breeze with the best food processor for the job. Not only does a food processor do…
Why Trust Us
You will find what you are looking for at Jody's Bakery. From classic to luxury brands, you'll find both. We will help you to select appliances that fit your needs, budget and lifestyle. Whether you want to stop by to learn more — or plan to make a major purchase — we'll treat you like family and assist you every step of the way. Shop with us today to receive friendly and experienced help along the way.