Who doesn't enjoy a bowl of hearty, flavorful beef stew? It is a classic Autumn and Winter comfort food. I've worked on slight variations of this recipe for years, and this version is, without a doubt, the best.
Each ingredient in this recipe complements the others, and their proportions are just right; none overpowers the others.
Ingredient
2 1/2 lbs. Stew beef; 2″ cubes
8 Carrots 1 (cut diagonally in 2 "pieces)
3 medium Idaho potatoes; chunked
2 large Onions; (use Spanish or Vidalia onion for great taste)
1 can Italian stewed tomatoes
1 Tomatoes; (14-1/2 oz can)
2 TB Flour
1 Seasoned pepper; to taste
1/4 ts Thyme
1/4 ts Basil
1/4 ts Oregano
1 TB Worcestershire sauce
---
Directions
Place half of veggies in the pot, add beef cubes.
Mix flour, pepper and spices and sprinkle over beef. Add rest of veggies and top with the stewed tomatoes and their juice.
Sprinkle with Worcestershire sauce.
Cover and cook on LOW 8 to 10 hours, or until meat is very tender and veggies are done.
Serve with large macaroni cooked separately.
Yield: 4 Servings Leftovers can be refrigerated all in the same pot and reheat in bowls in the microwave at 50% power.
All Post

Air Fryer

Baby Food Maker

Best Lists

Blender

Bread Maker Machine

Bread Slicer

Cake pop maker

Cooking Tips

Deals

Electric Mixer

food dehydrator

Food Processor

Food Slicer

Food Steamer

Grain Mill Grinder

Guides

Instant Pot

Kitchen Gadget

Knive

Meat Slicer

Microwave Oven

Pasta Maker

Recipes

Reviews

Slow Cooker

Toaster

Toaster Oven

Waffle maker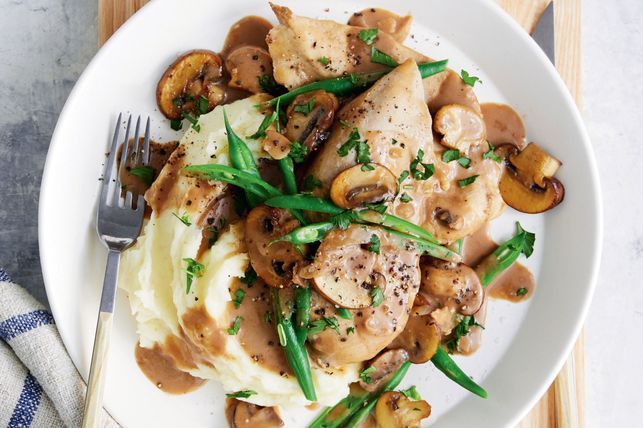 Is it even winter without a multitude of chicken slow cooker recipes? From chilis and soups to pasta and casseroles,…
As a parent, caring for a baby is the most rewarding activity. It requires complete responsibility and dedication to meeting…
We all lead hectic lives, which is why slow cookers' "set it and forget it" feature is so appealing. To…
Why Trust Us
You will find what you are looking for at Jody's Bakery. From classic to luxury brands, you'll find both. We will help you to select appliances that fit your needs, budget and lifestyle. Whether you want to stop by to learn more — or plan to make a major purchase — we'll treat you like family and assist you every step of the way. Shop with us today to receive friendly and experienced help along the way.