You have probably watched some old movies or video clips about baking and have seen those people who were kneading dough with such difficulty (and you won't wish it for yourself, would you?). Imagine that sweat flowing on your face and laboring over a pile of bread dough, not mentioning flouring the wooden board, and then rolling and kneading the dough before adding yeasts for it to rise. Thanks to technology – we can all rely on the best food processor with dough blade.
This modern appliance makes things easier for home and professional bakers out there. Such a unit with a dough blade can do the mixing and kneading for us, and all we need is to set a timer to avoid over kneading the dough. Now before we could even get our hands on a good food processor with a dough attachment, let's check on some important shopping tips and top picks to compare. For the meantime, see below for factors we've considered in this review.
Price
Capacity
Function & Performance
Attachments/Accessories
Ease of Use
Price
Choosing an appliance, you should consider its price apart from its brand. It is a good thing that our three featured products are from varying price ranges to suit your needs.
Breville BFP800XL: If the price of a new appliance, like a commercial food processor, isn't a big deal, then you may want to check out this high-quality food processor from our favorite Breville .
Braun FP3020: This food processor for dough is more affordable than the Breville BFP800XL, so it can be a good choice if you are looking for a middle priced yet top performing machine for your food processing needs, especially if you're constantly baking.
Cuisinart DLC-8SY: The brand is one of the most trusted on the market, yet it is also one of the most promising when it comes to offering affordable products. This unit is the most affordable in the group versus Breville BFP800XL and Braun FP3020 . It can be for you if you don't want to compromise quality for the price. After all, Cuisinart already has a proven reputation when it comes to producing top-edge kitchen appliances without breaking the bank.
Our Top Choice for PRICE: Cuisinart DLC-8SY
Capacity
Capacity is another factor to look into when shopping around. Consider the size of your family as well as whether you are using the food processor for home or a restaurant. The capacity can make the big difference when it comes to a satisfying experience.
Cuisinart DLC-8SY: If you need not just a versatile kitchen appliance for shredding cheese, slicing vegetables, mincing herbs, emulsifying ingredients and mixing batters, but also one with a large capacity, then you may want to take a look at this unit. It has an 11-cup workbowl, which is big enough for your food processing needs. It also has an extra large feed tube that lets you process large food slices and is also useful in kneading bread with so much ease.
Braun FP3020: I find this unit better than the Cuisinart DLC-8SY when it comes to capacity. Aside from its versatile uses in the kitchen for most food preparations, including whisking, chopping, slicing and kneading, you can depend on its large capacity to accommodate your family's needs. The product has a 12-cup capacity that you can rely on as well if you have a food business. It can process 12 cups for dry ingredients or 9 cups for wet ingredients or liquid products.
Breville BFP800XL: This product outshines both Cuisinart DLC-8SYb and Braun FP3020 for its capacity. It is an ideal food processor for bakeries and restaurants with its 16-cup workbowl and its 2.5 mini cup workbowl, which you can select for a big or a small job. It also comes with a dough blade that works perfectly for combining ingredients and kneading. So with this multifunctional kitchen appliance, you may not have to spend on separate ones for your food preparation needs.
Our Top Choice for Capacity: Breville BFP800XL
Function & Performance
Using your food processor must be convenient, and for that, looking for one with essential functions we want must be carefully considered. For that matter, take a look below for the functions and performance features of our three products in the spotlight.
Breville BFP800XL: Just like when looking for a milkshake blender, you may also want to look into the function and performance of a new food processor for your kitchen, and this is a department where this unit shines. It includes an LCD display and a timer for ease of use and convenience. It also comes with a small and large food pusher that gives you total control of processing for small or big jobs. The appliance also lets you choose the thickness size of your sliced foods between 0.3 mm and 8 mm.
Cuisinart DLC-8SY: When talking about performance and function, this appliance may be a better choice as compared to the Breville BFP800XL. It performs powerfully with 625-watt that lets you forcefully process foods with precision, speed, and ease. This feature also gives out consistency in chopping, slicing, shredding, pureeing and mixing – and oops, don't forget about kneading. It also includes an extra large feed tube for holding large chunks of fruits and vegetables, eliminating the need for pre-cutting. And when it comes to efficiency and speed, you can also depend on its included discs for slicing and shredding.
Braun FP3020: This unit is what every cook needs in the kitchen for shredding, slicing, and dicing, among other food preparation tasks for its multiple functions. It works best when compared to Breville BFP800XL and Cuisinart DLC-8SY . The unit comes with pre-set function, eliminating the guesswork, and it has a rated 600-watt motor that can deliver up to 900 watts of peak power. The product is also best for its Dual Control system with 11 different speeds for an even better performance.
Our Top Choice for Function and Performance: Braun FP3020
Attachments/Accessories
Do you need your food processor for slicing, cutting, chopping and emulsifying? Or do you need it for dough making, too? Considering the accessories or attachments of a food processor must also be reviewed before buying one. We've compared them below.
Breville BFP800XL: For kneading dough, you don't have to worry about manually doing it. This time around, you don't have to stress and sweat to come up with perfect dough all the time. The product comes with a dough blade for kneading as well as combining a wide range of ingredients. It also includes a mini blade that you can use with the small bowl included in every purchase. This unit also includes a large workbowl and a mini 2.5-cup processing bowl; thus, you can easily select the one that fits the job. The product also comes with a wide mouth chute, making things a bit easier for you.
Braun FP3020: This unit may be better than the Breville BFP800XL regarding accessories and attachments. It already includes most attachments that we expect from a food processor, and these include accessories for shredding and slicing, as well as an S blade, a Kugel potato latkes blade, and a juicer attachment. For baking, it also comes with a whipping and kneading accessories.
Cuisinart DLC-8SY: When it comes to finding a food processor for dough, this product may be best among the three when compared to the Breville BFP800XL or Braun FP3020 . For kneading, the product has a four-cup flour capacity, which is just enough for your baking needs. The blades are made of stainless steel, and the discs already include those for shredding and slicing with efficiency and speed. The product also comes with a compact cover, which is easy to clean and is ideal for bottom-of-the-bowl jobs.
Our Top Choice for Attachments/Accessories: Cuisinart DLC-8SY
Ease of Use
Convenience and function – they should come together. Check out below on how each of our products featured work well on the department.
Breville BFP800XL: Ease of use and convenience is another factor to look for when choosing a food processor and this product can provide us with that. It comes with an accessory storage and is made with non-skid rubber feet.
Braun FP3020: The product has a compact design and is easy to use and clean. When it comes to convenience, the product may be better than the Breville BFP800XL.
Cuisinart DLC-8SY: The product includes a spatula and a recipe collection as well as three pieces of stainless steel discs and a chopping or dough blade. It shines best in the category as compared to the Breville BFP800XL and Braun FP3020 . So if you're looking for a product to provide you with ease of use aside from top performance features, you may want to take a look at this product from Cuisinart .
Our Top Choice for Ease of Use: Cuisinart DLC-8SY
Final Thoughts
Refer to this guide when shopping around for the right food processor that will help you in the kitchen, especially when it comes to baking. Just like when finding a blender food processor combo, study your options and compare your choices well. Consider its capacity, price, and ease of use, among other factors. 
Also, think of the number of people in your family to determine the proper size that your food processor should have. For this review, what stands out is Breville BFP800XL for its top performance, technology, and overall function. Nevertheless, all the featured products above are top raters and high-quality ones that you may consider. Study your options well, and soon you will be on your way to getting the best food processor with dough blade.
All Post

Air Fryer

Baby Food Maker

Best Lists

Blender

Bread Maker Machine

Bread Slicer

Cake pop maker

Cooking Tips

Deals

Electric Mixer

food dehydrator

Food Processor

Food Slicer

Food Steamer

Grain Mill Grinder

Guides

Instant Pot

Kitchen Gadget

Knive

Meat Slicer

Microwave Oven

Pasta Maker

Recipes

Reviews

Slow Cooker

Toaster

Toaster Oven

Waffle maker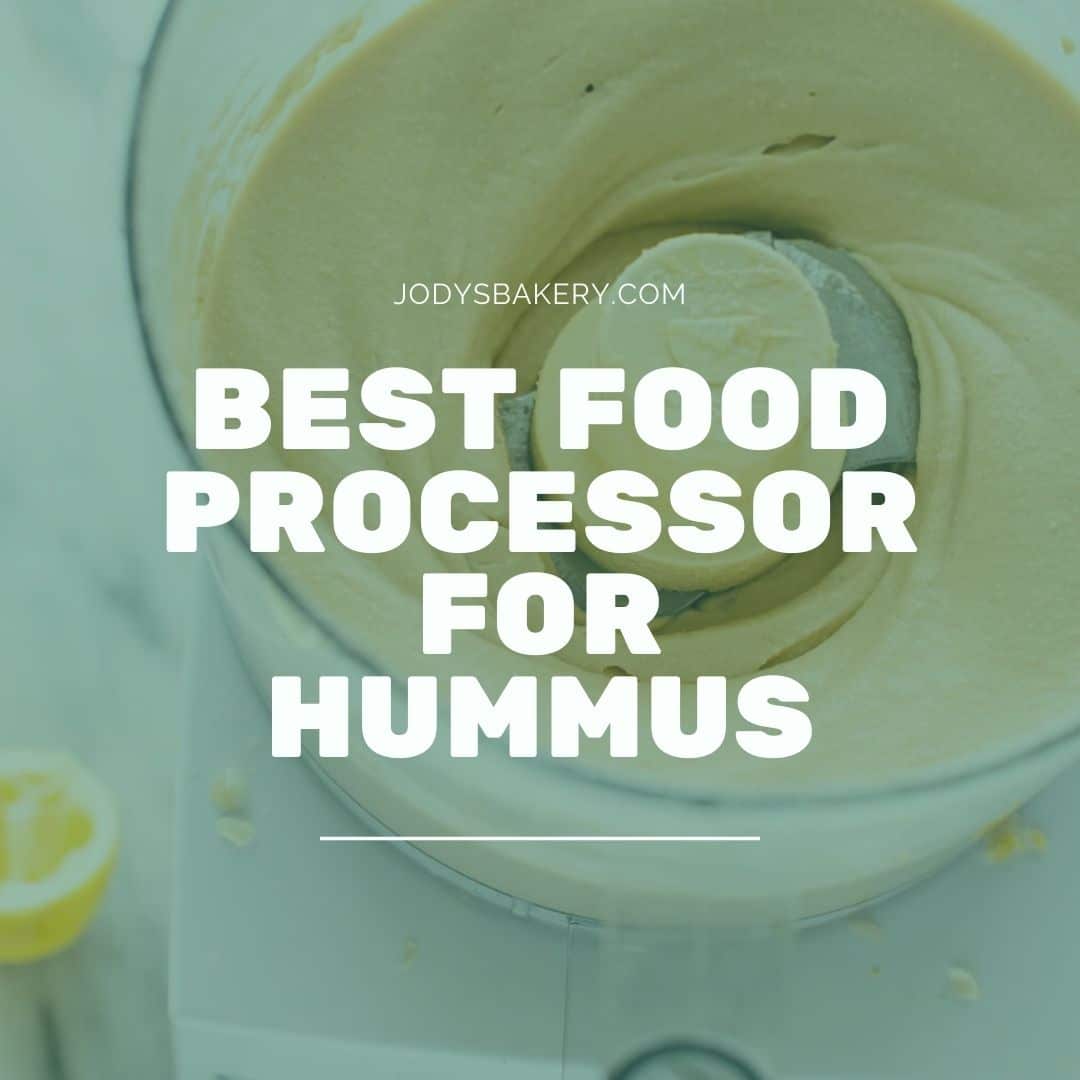 Making hummus is a breeze with the best food processor for the job. Not only does a food processor do…
Anyone who has ever tried to make dough by hand knows that it can be a real pain. Not only…
There are a lot of reasons why you might want to make your own nut butter. You're trying to avoid…
Why Trust Us
You will find what you are looking for at Jody's Bakery. From classic to luxury brands, you'll find both. We will help you to select appliances that fit your needs, budget and lifestyle. Whether you want to stop by to learn more — or plan to make a major purchase — we'll treat you like family and assist you every step of the way. Shop with us today to receive friendly and experienced help along the way.