A stand mixer is necessary for any home chef who aspires to expand their culinary expertise. For novices, the fundamental requirements for a stand mixer are high performance and precise speed, according to the opinions of its users. Users also expect this countertop appliance to have an attractive appearance and design. For the dough, pasta, and ice cream mixing, a stand mixer with a wattage range of 330 to 550 is more than adequate, according to reviews of stand mixers for beginners. 
A complete novice to these kitchen appliances would expect the mixer to handle heavy-duty tasks without sacrificing speed or performance. According to users, the maximum capacity of the stand mixer is approximately 4.5 quarts, which can provide the desired volume when starting. In addition, a small stand mixer is favored over larger countertop models, which frequently include unnecessary features for a complete beginner. 
Even if you enjoy baking bread at home, there is no need to spend a fortune on a premium stand mixer. Users agree that the most appropriate models for beginners are mid-range and cost between $150 and $300. 
How to choose the best kitchen mixer for beginners
Although it is possible to cook or bake most items without a mixer, why bother? With a mixer, you can save time on many of your everyday go-to recipes, and you'll likely find yourself preparing foods you would never have considered. And unless you are particularly careful when stirring by hand, a mixer will almost certainly result in better textures and consistency for many of the foods you prepare. 
For anyone who frequently bakes (and many who don't), kitchen mixers are the type of item that you don't realize you need until you have one. Once you become accustomed to having one, manually mixing everything seems absurd. 
Consequently, there are two primary types of consumers for mixers: 
Those who have never purchased a mixer are unsure what to look for.

 

Those are searching for a replacement for a beloved mixer that recently stopped functioning (RIP).

 
Regardless of which category you fall into, our mixers buyer's guide should help you understand the types of options available on the market and which one is right for you. 
Types of Mixers
The first decision you must make to select the ideal mixer is between the two primary types. 
Hand Mixers
Hand mixers are likely to meet your needs if cost-effectiveness and compactness are your primary considerations. They have a more straightforward design than stand mixers, typically fit in a kitchen drawer, and can be purchased for less than $20. 
Hand mixers come in two varieties: electric hand mixers and rotary hand mixers (sometimes called eggbeaters). With rotary models, mixing is accomplished via a lever. With electric hand mixers, all that is required of the user is to hold the mixer in place while the motion is performed automatically. 
Hand mixers fall squarely in the middle of the spectrum of how much easier a mixer can make your life. They are quicker and easier than mixing dough by hand but require more effort and time than a stand mixer. 
Benefits:
Hand mixers are less expensive.

 

These kitchen mixers require no countertop space.

 

The cleanup is simple and quick.

 

You may utilize any bowl.

 

Portable.

 
Note:
Hand mixers require some manual labor.

 

Typically, slower and less thorough than stand mixers.

 

These mixers are typically somewhat untidy.

 
Stand Mixers
When someone says they cannot live without their mixer, they refer to stand mixers. Stand mixers make the process of baking or mixing virtually anything much simpler. They are beneficial for any baking involving thick dough, such as bread or pizza dough, or for recipes requiring more difficult mixing tasks, such as making meatballs. 
Stand mixers typically include a large mixing bowl and a variety of attachments designed for specific types of mixing – for example; you would use a different attachment to make meringue than bread. Because they are stationary, you can begin a mixture and leave it while you gather additional ingredients. They make the process a breeze for recipes that require adding ingredients while mixing, which is nearly impossible for a single person to do without a mixer. 
The size and weight of a stand mixer are one of its primary drawbacks. If you don't have room to store it on the counter, you may dislike the process of putting and removing a heavy stand mixer from a kitchen cabinet. 
Advantages
Stand mixers are more effective than hand mixers.

 

These units will mix more quickly and thoroughly.

 

Since it is stationary, you can begin mixing and move on to other tasks.

 

Stand mixers typically come with (or can be purchased with) various attachments designed to achieve optimal results for different types of mixing.

 

Some stand mixers enable the preparation of pasta, ravioli, juice, sauce, ice cream, and even milled grain.

 
Note
This type of mixer is more expensive than hand mixers.

 

It utilizes a great deal of counter space.

 

It utilizes additional kitchen storage space.

 

These are occasionally difficult to clean.

 
There is no reason why a dedicated baker should have to choose between the two. Even if you have decided to purchase a stand mixer, you can easily afford a hand mixer. So, you won't have to pull out and clean the stand mixer for every recipe, but you can rely on the smaller tool for minor mixing tasks. 
9 Considerations When Purchasing a Kitchen Mixer
Before beginning your search for the ideal kitchen mixer, you should consider your primary needs and preferences. Here are nine factors to consider during the purchasing procedure. 
1. Your Cooking Needs
Think carefully about how you'll use this mixer, both in terms of the recipes you'll prepare and the amount of food you typically require. If you make bread gifts for all your friends during the holidays or like to bake large quantities of cookies for parties, you should invest in a mixer with a large capacity. 
Pastries and desserts are not the only applications for stand mixers. With the proper attachments, you can use them to make pasta, ravioli, meatballs, tamales, butter, and a variety of other previously complicated recipes. Consider what you currently make frequently, what you'd like to try making, and what quantity you'd prefer to work with. 
This will help you determine the type of mixer, its size, and the attachments you should prioritize purchasing. 
2. Price Range
There are a variety of hand mixers available for less than $100 (some are closer to $20). If you're ready to purchase a stand mixer, most models cost between $200 and $600. Some commercial models cost more than $1,000, but you would only need one of those if you intend to prepare vast quantities of food (and you would likely also need a commercial oven). 
For the majority of home cooks, a mixer priced between $200 and $300 will suffice, but the higher-end mixers may be ideal for those who: 
Make numerous recipes that require intensive mixing (like regular bread makers). 
It would help to have a large enough mixing bowl to prepare huge quantities. 
Desire numerous precise setting options for preparing various types of food. 
3. Weight
You should probably choose a hand mixer that is lightweight and easy to hold for an extended period. Remember that the longer you have, the more components you must combine. This could be a deal-breaker for some individuals. 
For a stand mixer, you should aim in the opposite direction. The sturdier a stand mixer is as it mixes, the heavier it is. On the one hand, it should be sturdy so that it does not move around on the counter. On the other hand, you must be capable of handling it. 
The weight may not be a significant concern if you intend to store your stand mixer on the countertop. If you remove it from a cabinet each time you use it, you should choose a model that is not too heavy to lift. If removing the mixer is a significant hassle each time, you may not use it enough to justify the purchase. 
Mixers weighing at least 20 pounds are typically the most stable when mixing dense dough. With lighter models, you run the risk of general counter movement, so you'll need to keep a closer eye on it. 
Speed Settings
Different types of foods require different mixing speeds. Most hand and stand mixers offer a range of rates, typically between three and twelve. 
All mixers should have a "slow start" option, making adding ingredients such as flour simple without creating a huge mess. Most models should also include a setting for making meringue. Many bakers will get by with three-speed settings, but if you're particularly ambitious and want to bake with absolute precision, a model with more speed settings could be advantageous. 
5. Size
There are two primary factors to consider in terms of size: 
How much available space do you have in your kitchen? 
Typically, how much food do you intend to prepare in your mixer? 
Hopefully, the answers to both questions will be compatible, and you will not have to choose between them. 
You can find a variety of sizes on the market, and as you might expect, the prices increase as the heights increase. If you frequently bake for large groups and have the space, purchasing a giant kitchen mixer will likely make your life easier, at least enough to justify the additional expense. If you are primarily cooking for your small family, a small-to-medium-sized model should suffice. 
6. Attachments
With the addition of attachments, the capabilities of a stand mixer begin to increase. Look no further than the list of available extensions for a stand mixer if you're looking for culinary inspiration. 
Most kitchen mixers include the following three attachments: 
Dough Hook:

 This is the attachment, typically in a c-shape or spiral, used for making dough-based foods, such as bread and pizza dough.

 

Wire Whip:

 Sometimes referred to as a balloon whisk, the wire whip is used for whipping cream, frosting, and meringue.

 

Flat Beater:

 The flat beater is the attachment most frequently used by bakers, as it is ideal for cake batter, cookie dough, and mashed potatoes.

 
Many also include a pouring shield that facilitates the addition of new ingredients during mixing without creating a mess. 
For more ambitious cooks, a variety of attachments are available, including: 
Pasta roller Ravioli maker

 

Slicer/shredder

 

Juicer and sauce accessory

 

Ice cream producer

 

Food grinder

 

Sausage stuffer

 

Fruit and vegetable strainer

 

Flour Mill

 
If you anticipate adding attachments in the future, it is essential to purchase a mixer that is compatible with all the attachments you are interested in. Attachments are widely available online, making comparison shopping a breeze. 
7. Look
You can stick with a basic white or black mixer or purchase one with a splash of color. 
Whatever your aesthetic preferences, you should have no trouble locating a mixer in various colors. Numerous leading brands offer a variety of colorful options. Some KitchenAid models are available in more than forty colors. Empire Red, which follows the new trend of red kitchen appliances, is one of the most popular colors for KitchenAid mixers. 
8. Cleaning Convenience
In this category, hand mixers earn points because they are much simpler to clean than stand mixers. With stand mixers, you are left with many different parts to clean. Some attachments are dishwasher-safe, while others must be hand-washed after every use. Depending on the mixer you purchase, you may also need to hand-wash the mixing bowl. And you'll need to wipe down the remainder of the machine with a damp cloth after each use to maintain its cleanliness. 
You should anticipate a similar level of maintenance for most stand mixers, though some may be slightly more challenging. From the reviews, it is often possible to determine which mixers are more challenging to clean than others. 
9. Noise Level
Kitchen mixers are loud no matter how you slice them. All electric hand mixers will be loud, but rotary hand mixers will be relatively quiet. However, some models are noisier than others, so if you're particularly sensitive to noisy appliances, you should seek out models that reviewers have deemed quieter than average. 
What Customers Have to Say About Well-Known Brands
There are a handful of dominant brands in the kitchen mixer market. To give you a better idea of what to expect, we've investigated what people are saying online about the products offered by each brand. 
Cuisinart
Cuisinart is one of the largest mixer manufacturers on the market. They offer a variety of hand mixers in various price ranges and with variable speed options. And they provide a single model of a stand mixer in two sizes. Their many satisfied customers become brand advocates, but some reviewers (especially regular bread makers) have complained that the mixers burn out too quickly for the price. 
Hamilton Beach
Hamilton Beach is widely regarded as the most cost-effective option for consumers unwilling to spend as much as they would on premium brands and willing to sacrifice some functionality and durability in exchange. Many reviewers are pleased with the price-to-value ratio, but many admit that another brand would be preferable if money were no object. 
KitchenAid
KitchenAid is virtually the benchmark for stand mixers. They offer a variety of mixers in numerous sizes and colors, as well as a sizable selection of attachments and accessories. 
Their Artisan series models are frequently ranked among the best mixers on the market, not only because of their user-friendliness but also because of their aesthetic design and sturdy construction. Customer reviews are nearly uniformly positive and enthusiastic, with "love" appearing frequently. This seems to be the best purchase if you can afford a KitchenAid mixer. 
Sunbeam
Sunbeam is a famous brand of inexpensive mixers that perform well for basic tasks such as making meringues and cookies but not as well for heavier-duty tasks such as mixing bread dough. Their plastic mixers are, therefore, not as durable as metal models. Many reviewers are pleased with the price-to-value ratio, but there are some complaints about the durability of the mixers. 
Regarding kitchen mixers, the familiar adage "you get what you pay for" appears to hold, according to our analysis of online reviews of various models. If your needs are simple and affordability is more important than power and durability, a cheap hand or stand mixer will likely be your best option.
Investing in a high-quality stand mixer will pay off; however, if you plan to make recipes requiring more intensive mixing or want to be more creative with the things you create with your mixer.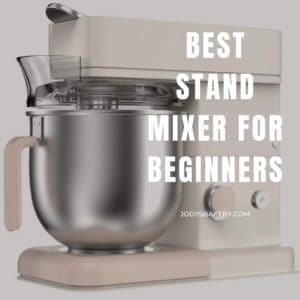 Stand mixers are an essential tool for the modern kitchen....
Read More
Why Trust Us
You will find what you are looking for at Jody's Bakery. From classic to luxury brands, you'll find both. We will help you to select appliances that fit your needs, budget and lifestyle. Whether you want to stop by to learn more — or plan to make a major purchase — we'll treat you like family and assist you every step of the way. Shop with us today to receive friendly and experienced help along the way.