All-purpose flour, baking powder, sugar, salt and cardamom stirred together in a large bowl. Melted butter, milk and eggs whisked together in small bowl. Wet and dry ingredients whisked together.
White sugar, water, orange blossom water, and fresh lemon juice simmered in saucepan to thicken. Pancake batter poured onto hot griddle and cooked golden brown on both sides. Pancakes served with warm orange blossom syrup and garnished with pistachio pieces.
Ingredients 
1 cup Milk
1-1/2 cups Flour
2 Large Eggs
1/2 cup Butter, melted
2 tablespoons Sugar
2 teaspoons Baking Powder
1 teaspoon Salt
1 Cardamom Pod, pounded should yield a generous pinch
Syrup:
1/2 cup Water
1 cup Sugar
1 tablespoon Lemon Juice
1 tablespoon Orange Blossom
Water (found in any Middle Eastern specialty store)
1/4 cup Pistachio Pieces
Preparation:
Combine the flour, baking powder, sugar, salt and cardamom in a large bowl.
Stir to combine.
Whisk together the butter, milk and eggs in a separate bowl.
Combine the wet and dry ingredients and whisk until smooth.
Set the mixture to the side for 15 minutes.
Place a cast iron skillet over a medium flame.
Add the sugar, water, orange blossom water, and lemon juice.
Bring to a gentle boil, then simmer stirring often for approximately 20 minutes or until the sauce begins to thicken.
Remove the skillet from the flame and set to the side.
Place another heavy-bottomed pan on medium heat and spread lightly with butter.
Pour 1/2 cup of batter per pancake and cook to golden brown on both sides.
Serve with butter, orange blossom syrup and sprinkle with pistachios.
Serve and enjoy.
Pancake Making Tips – Heart-Healthy Pancakes
To make heart-healthy pancakes, substitute all-purpose flour with healthier choices.
Use whole-wheat flour, soy flour or corn meal and add a little ground flaxseed and wheat germ to increase the nutritional value.
Replace the oil or butter with equal amounts of applesauce to decrease the fat content in the pancakes.
All Post

Air Fryer

Baby Food Maker

Best Lists

Blender

Bread Maker Machine

Bread Slicer

Cake pop maker

Cooking Tips

Crepe maker

Deals

Deep Fryer

Electric Mixer

food dehydrator

Food Processor

Food Slicer

Food Steamer

Grain Mill Grinder

Grill

Guides

ice cream maker

Instant Pot

Kitchen Gadget

Knive

Meat Slicer

Microwave Oven

Pasta Maker

Recipes

Reviews

Sandwich maker

Slow Cooker

Toaster

Toaster Oven

Waffle maker
Batter prepared from amaranth flour, egg substitute and water. Banana slices are place on hot pancakes as they cook on…
Ground pecans, cornmeal, whole wheat flour, baking powder and sea salt are whisked together in mixing bowl. Whole milk, vegetable…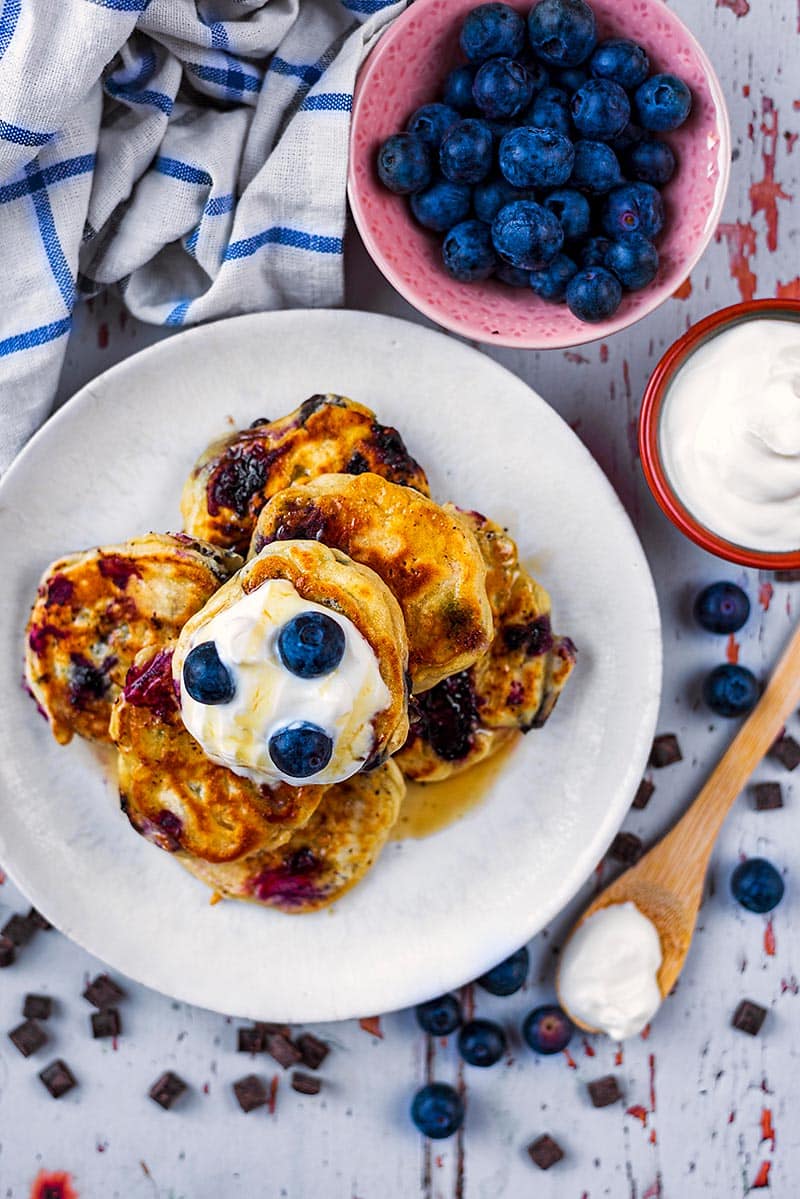 Blueberries pureed with sour cream and sugar, and set aside. Whole milk and ginger heated together and cooled. Egg and…
Why Trust Us
You will find what you are looking for at Jody's Bakery. From classic to luxury brands, you'll find both. We will help you to select appliances that fit your needs, budget and lifestyle. Whether you want to stop by to learn more — or plan to make a major purchase — we'll treat you like family and assist you every step of the way. Shop with us today to receive friendly and experienced help along the way.