Whether you've tried it or whether you haven't, hummus is certain to be part of your food future. Hummus is currently a $350 million dollar-a-year industry, and there is no reason to think that number will go anywhere but up, given its significant health benefits as well as its delicious diversity. Save yourself some money and make your own delicious hummus.
Health Benefits
Hummus is packed with protein and helps provide needed energy while curbing your body's cravings for snacks and balancing your blood sugar levels. The primary ingredient in hummus is chickpeas, also known as garbanzo beans, something that can lower your cholesterol as well as reduce your risk of cancer, particularly colon-cancer. Beans are a part of the Mediterranean diet, a diet which promotes heart health and reduces the risk of cardiovascular problems. Hummus also provides a great energy boost, something all of us could use.
Simple but Delicious
There are only five basic ingredients in hummus: chickpeas, olive oil, tahini, garlic and lemon juice. With these simple ingredients and a food processor, you can make hummus in just a few minutes and enjoy it all day. Hummus can be used for all kinds of things, not just as a tasty dip. Consider using hummus as a low-fat replacement for cream cheese on a bagel or substituting it for the mayonnaise in deviled eggs, potato salad or chicken salad. Any sandwich can also be made with hummus as a spread, and hummus makes an excellent soup, as well.
How to Make Homemade Hummus
This basic hummus dip recipe is so easy to make and so healthy you'll want to keep some on hand at all times, both for snacking and for meal preparation. While you could use a blender, a food processor is the ideal kitchen tool for hummus, as it is better suited to processing solid items, such as chickpeas.
Ingredients:
1 can of chickpeas (15-ounce), drained and rinsed
1/3 cup of tahini
1 small clove of garlic, smashed
1 tablespoon of fresh lemon juice
Olive oil
Instructions
Combine the chickpeas, tahini, garlic and lemon juice in a food processor and puree them until the mix is chunky.
After scraping down the sides of the bowl, add several tablespoons of olive oil and puree the mixture until it's smooth.
If you prefer a thinner consistency, simply add a little water until the hummus is exactly how you like it.
You may want to add a little kosher salt or a pinch of sweet smoked paprika to add a little something to the dip. Serve it with pita chips, carrot sticks, or whatever else suits your taste or the occasion.
Flavor Flair
This is the classic hummus dip recipe, but the variations are endless. For example, if you want a Greek-inspired hummus dip, substitute feta cheese for the tahini and add some spinach and a touch of cinnamon. For a Southwestern flavor, substitute black beans for the chickpeas and add a chipotle pepper, some cilantro and some cumin.
If you're feeling adventurous, try adding some of your favorite flavors to your hummus. Ingredients like artichoke, avocado, basil pesto, chipotle, curry, green chile, lemon, olive tapenade or spinach can make your hummus sing with the flavors you most enjoy. Add a little heat or a little zest to suit your taste.
For an even greater change of pace, you can substitute cooked beets or cooked, shelled edamame for the chickpeas, and nearly any flavorful herbs or ingredients you like can be added to this healthy dip. Whatever you choose, you really can't go wrong with hummus.
All Post

Air Fryer

Baby Food Maker

Best Lists

Blender

Bread Maker Machine

Bread Slicer

Cake pop maker

Cooking Tips

Crepe maker

Deals

Deep Fryer

Electric Mixer

food dehydrator

Food Processor

Food Slicer

Food Steamer

Grain Mill Grinder

Grill

Guides

ice cream maker

Instant Pot

Kitchen Gadget

Knive

Meat Slicer

Microwave Oven

Pasta Maker

Recipes

Reviews

Sandwich maker

Slow Cooker

Toaster

Toaster Oven

Waffle maker
After much searching and trying different recipes, I have finally have found a hummus recipe my family likes. I have…
This vegan hummus pizza is a quick meal that, like any pizza, can hold an unlimited amount of toppings. The…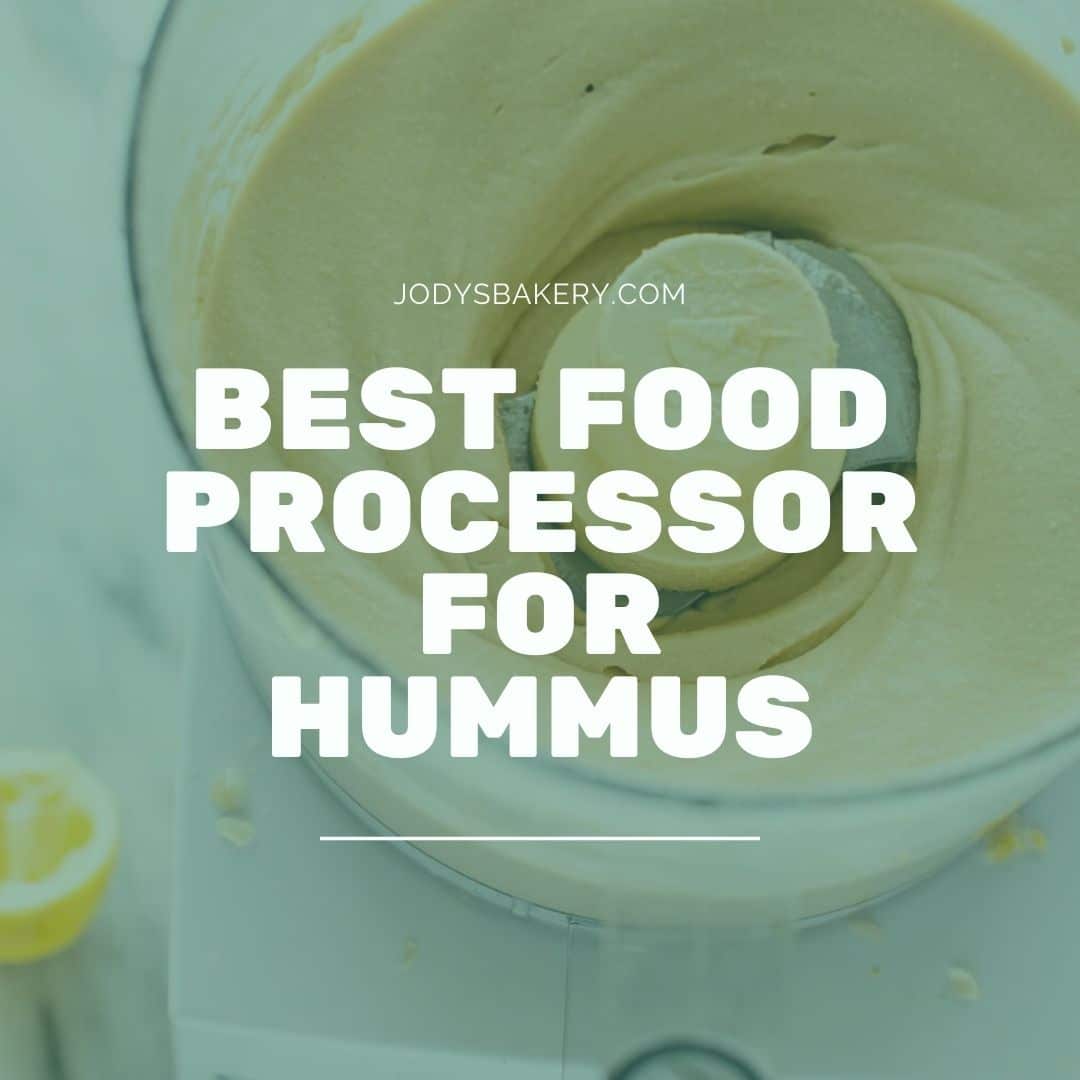 Making hummus is a breeze with the best food processor for the job. Not only does a food processor do…
Why Trust Us
You will find what you are looking for at Jody's Bakery. From classic to luxury brands, you'll find both. We will help you to select appliances that fit your needs, budget and lifestyle. Whether you want to stop by to learn more — or plan to make a major purchase — we'll treat you like family and assist you every step of the way. Shop with us today to receive friendly and experienced help along the way.