There are more reasons to celebrate if you have delicious meatballs at the table, and that's possible by learning the best ways on how to make meatballs, which are tender and juicy like Turkey cooked on a pellet grill. Meatballs also let us pick our blend of meat and ingredients depending on our preference. In fact, we can also make use of beef, chicken, pork or Turkey as well as serve them as the dish itself or together with our pasta.
The problem is in the preparation.
So if you're new to cooking Italian, Asian or basic meatballs, to name some, you may want to stick around as I share some great ways in making meatballs, along with valuable tips and tricks. Additionally, we'll cover important blogger advice on how to make them better as well as ways in correcting common problems we encounter when making meatballs.
Ways To Make Meatballs
1. Using A Convection Oven
There are many ways on how to make yummy meatballs, and this is one of them. If you have this appliance, then cooking meatballs will be a breeze! All you need to do is to follow the steps below.
| | |
| --- | --- |
| Step 1 | Mix your ground meat, water, breadcrumbs, garlic, parsley, and basil as well as the egg together. You may use other ingredients of your choice, like those shared in the recipes shared later in this guide. |
| Step 2 | Form your meatballs according to your size of preference, and then put them in a microwave-safe dish. |
| Step 3 | Then, you can cover them with your sauce and some parmesan cheese. |
| Step 4 | Cover it with plastic wrap, throw in the microwave at 70 percent power and cook for 12 minutes. |
| Step 5 | Take it out the microwave, and then add more cheese if you want. |
| Step 6          | Get it back inside the appliance and then cook for two minutes more. |
2. Using Skillet
In this method, we'll be frying the meatballs using a skillet on a high heat on your electric stove. It is also one of the easiest ways if you're short of time in preparing your meatballs.
| | |
| --- | --- |
| Step 1 | Sear them in the pan coated with some oil on a high heat for a few minutes, if you plan on adding them to the sauce later. If you do, you can add them to the sauce to complete the cooking process. |
| Step 2 | If you are planning to fry the meatballs completely, you should cook using medium heat and do not overcrowd them in the pan so that they will cook evenly. |
| Step 3 | Cook for five minutes on one side, and then roll them over carefully to cook the other side. You should continue turning them until they are thoroughly cooked. |
| Step 4          | Another alternative is to deep-fry your meatballs to a medium to high temperature. You can roll them in breadcrumbs or flour before frying them. |
---
3. Using An Oven
If you want to use an oven for meatballs instead of a frying pan or skillet, you can! It is another simple method for those who may want to limit the oil that they had to use if they would cook in a skillet on their gas range. You can reduce the fat by baking. Also, this is easier if you don't want to stay in front of your stove to fry them.
| | |
| --- | --- |
| Step 1 | Preheat your oven to 350 degrees Fahrenheit. |
| Step 2 | Add your meatballs but make sure that you space them about an inch apart each to avoid overcrowding them on the baking sheet, which should be lightly greased, and preventing unevenly cooked meatballs. |
| Step 3            | Take note of the cooking time, as it may vary depending on your meatballs' size and type of meat used. Commonly, it will take between 15 and 25 minutes. |
---
4. Using A Steamer
If you want to serve tasty dishes in your party, aside from grilled meat cooked in a propane smoker, you may also want some meatballs cooked in a healthier option – using a steamer.
| | |
| --- | --- |
| Step 1 | Mix your ingredients, including ground beef, two eggs, grated beef, and herbs, one-half cup of breadcrumbs, salt, and pepper. Mix them using your hands, and then shape them into small balls. |
| Step 2         | Cook them in your steamer for about 40 minutes or until they're cooked. |
Bonus Tricks
1. There are many ways on how to make delicious meatballs, and this tip from Savory Experiments is one of them. According to the contributor, we shouldn't be afraid of overcooking meatballs for simmering them for long hours in your anodized cookware, let's say, because you will have to do this on low heat. Also, they are not overcooked when put in the sauce, so you don't have to worry about overcooking at all.
Thanks to the contributor at Savory Experiments for enlightening us about the concern.
2. You can add some twist in the taste of meatballs by adding some grated parmesan cheese or parsley chopped with a knife. You can also swap out meat if you want and then try fish instead of it for another protein-loaded and healthy option when cooking meatballs.
Thanks to a contributor at JamieOliver.com for sharing these tips!
3. Based on these tips and tricks, the protein in your meat will shrink when it cooks, squeezing out some moisture; thus, it will lead to tough meatballs, especially if you have overcooked yours. Thus, you will need ingredients that can keep the moisture, or you can cook them in the sauce as well. You can also add enough fat to avoid the problem. Additionally, you can make use of binders, such as breadcrumbs and eggs to keep your meatballs moist. Learning of such tips is necessary for the best results, just as when making French toast.
Thanks to Dr. John Anderson for sharing these tips!
4. According to contributor Matt, the spices can make the difference when cooking meatballs. So if you want to make better-tasting recipes, you may want to be creative and mix and match ingredients that will complement each other excellent meatballs or check out the source for complete tips in cooking meatballs, whether using a copper cookware or not.
Thanks to Matt Preston for sharing these tips!
5. If you want to make great meatballs for your spaghetti or just about any dish with it, you should first consider the fat content of your meat. You should not use those labeled "lean meat." You should also use good quality meat for the best results, just as you should find high-quality potatoes for your potato recipes. Finally, don't overcook your meatballs! If you want to check out the entire list of tips and tricks, you may want to check out the post of the blogger on the site today!
Thanks to Caro de Waal for sharing these tips!
6. Before cooking your meatballs in a convection microwave, let's say, think of the binder, like the breadcrumbs. You should stay away from those available in the cardboard can. Did you know that you could make your breadcrumbs using your day-old bread at home? But then if you don't have the time or you don't have leftover bread, you can choose Panko breadcrumbs that have a better texture. Check out the entire list of tips in the link shared above.
Thanks to SCOTT REITZ for sharing these fantastic ideas!
7. Just like learning how to cook gravy, you should also learn the proper method of cooking meatballs. According to this source, you may want to cook them in the sauce directly for about thirty minutes, or until they are succulent. He also prefers not to fry, roast or bake but instead cook it directly in the sauce as stated earlier.
Thanks to Mario Batali for sharing these tips!
Pro Tips from Other Bloggers
You can check out the website if you want fantastic tips and tricks via Jodi Buttarazzi in cooking and baking. It is one of my favorites when it comes to preparing meatballs. One of the tips I learned here is not to add raw meatballs in the sauce because they will fall apart. Instead, you might want to brown them so that they can stay together and absorb better flavor, whether you'd simmer them later in a rice cooker or not.
Another website for cooking tips and tricks, Good Food via blogger Richard Cornish shares that you can keep the balls from falling apart. You can do it by mixing meat with some squeeze using the hands, and then kneading it for up to 10 minutes. Finally, you should now stop until the mixture becomes sticky.
The website via blogger Brooke McLay shares 14 amazing meatball recipes that you can choose from and make at home for mouthwatering lunch or dinner and serve with other dishes, including grilled meat cut to perfection by a sharp knife. They are all easy to prepare, and ingredients aren't hard to find. Some options include sweet and sour, Asian, meatball soup and so on. You may want to check out the source for complete details on the recipes.
The website is one of the richest sources of information on how to make meatballs, especially on how to avoid common mistakes. One of which is using lean meat. By using it, you will need to compensate with other ingredients due to reduced fat content. Another common cause of a problem for dry meatballs is overcooking it as well as not cooking them gently.
Another tip from the site includes about meatball nutrition via blogger Jill Corleone. She said that the typical serving size is up to 5 meatballs (or three ounces) and that beef meatballs contain 343 calories/serving. On the other hand, there are only 73 calories for every ounce of Turkey meatballs. If you're serious about counting calories, you may want to check out the complete information about calories per serving as well as serving size for meatballs.
You can check out the site if you are looking for healthy food tips, especially on how to make your meatballs healthier if you're diet conscious. One of the tips I have learned from one of the contributors is that we should use plenty of herbs and spices in cooking, especially if you're using lean meat in which there is reduced fat, and less fat may mean less flavor. So to compensate for it, you may want to use some herbs and spices in your recipe, regardless you're cooking in a rice cooker or microwave.
If you're looking for tips on how to cook pre-cooked meatballs, then you may want to check out this source with tips from Christine Skopec. She said that we have to be careful when choosing precooked meatballs, as they can be loaded with more "soy" than meat as well as with preservatives. The same goes for buying precooked meats to cut with a meat slicer – you should choose high-quality ones for the best tasting recipes.
Correcting Common Problems
1. Pasta With Spinach and Meatballs from Real Simple
This is a mouth-watering recipe that you can make at home and in any occasion. It makes use of easy to find ingredients and use only simple steps. This recipe website is indeed one of the most valuable sources when it comes to cooking and baking, so I really love it! I tried this recipe myself and I must say it became the instant star on my table last Christmas. You may want to check out the source for the entire list of ingredients and the preparation steps so that you can also cook it for your family.
---
2. Easy Slow Cooker Meatballs from All Recipes
This recipe is by HUNNIE0913, and it is also one of my favorite recipes for meatballs. They can be made in a slow cooker for a hot meal or they can be served with pasta. If you're also excited to make it yourself, you may want to check out the website for the entire list of steps to follow in cooking it today!
---
3. Spicy Meatballs on Toast from Taste
This recipe adds a new twist to our traditional meatballs in our spaghetti. This time around, we can make these meatballs and have them on toasts. What a great idea, isn't it? So if you are a fan of spicy foods, then this is a great addition to your recipe collection. You may want to head over to the site to find out how to make these meatballs, which might have made you interested today!
---
4. Basic Meatballs from Food.com
This recipe can be made in a snap with its easy steps and basic ingredients. It can also make up to 30 meatballs, depending on the size you'll make. For this recipe, you will be using Worcestershire sauce as one of the seasonings. I have tried it, and I must say that it is one of the tastiest meatballs I had. Check out the website for the complete instructions on how to make these simple but delicious meatballs now!
---
5. Malmö Meatball Subs from BBC Good Food
Preparing the recipe is easy, and it makes 16 pieces of mouthwatering meatballs. The recipe calls for cranberry juice, chopped dill, and cucumber, to name some. If these ingredients made you curious, you may want to visit the website now to find out how to make them at home.
---
6. Authentic Italian Meatballs from Food.com
Are you looking for Italian style meatballs? If so, then this recipe is for you! You can prepare it for 20 minutes and cook it for three hours. The recipe calls for parsley, garlic powder, milk, and eggs, to name some. Go to the site and see the full list of ingredients that you need to prepare the Italian meatballs.
---
7. Beef And Pork Meatballs from Jamie Oliver
These are amazing, yet they are healthy! You don't need to be a chef to prepare the meatballs in which you will need only basic ingredients. I have tried cooking them myself, and I love the results!
---
8. Cocktail Meatballs from Once Upon a Chef
Do you want to add some twist in your traditional meatballs? Well, I found an interesting recipe here that you could make in 15 minutes or less. They also don't have to be served only at parties, as they can also be for dinners! Check out this site and read the entire list of ingredients and steps to follow to make them now.
---
9. Slow-Cooker Party Meatballs from Delish
These small meatballs are rich with flavor, yet they can be made using basic ingredients, including ground beef, breadcrumbs, Worcestershire sauce, and eggs. If you want to know more about how it is cooked, you may want to check out the website now.
---
10. Buffalo Chicken Meatballs from Food Network
These meatballs are covered with blue cheese sauce that makes them more interesting. You will need butter, breadcrumbs, celery, egg, ground chicken and hot sauce, to name some of the ingredients. Get the recipe by visiting the source now!
Conclusion
There you have our guide on how to make meatballs that you can make use of if you want delicious, moist and tender meatballs for your family. Also, remember not to commit the common mistakes as well as you may want to follow some tips and tricks from brilliant bloggers. Finally, you can prepare your meatballs by using some of the best recipes we've featured here today!
All Post

Air Fryer

Baby Food Maker

Best Lists

Blender

Bread Maker Machine

Bread Slicer

Cake pop maker

Cooking Tips

Crepe maker

Deals

Deep Fryer

Electric Mixer

food dehydrator

Food Processor

Food Slicer

Food Steamer

Grain Mill Grinder

Grill

Guides

ice cream maker

Instant Pot

Kitchen Gadget

Knive

Meat Slicer

Microwave Oven

Pasta Maker

Recipes

Reviews

Sandwich maker

Slow Cooker

Toaster

Toaster Oven

Waffle maker
When it comes to making delicious and healthy meals, a food processor is an essential kitchen appliance. But with so…
When it comes to slicing meat, a good quality meat slicer can make the process much easier. If you're in…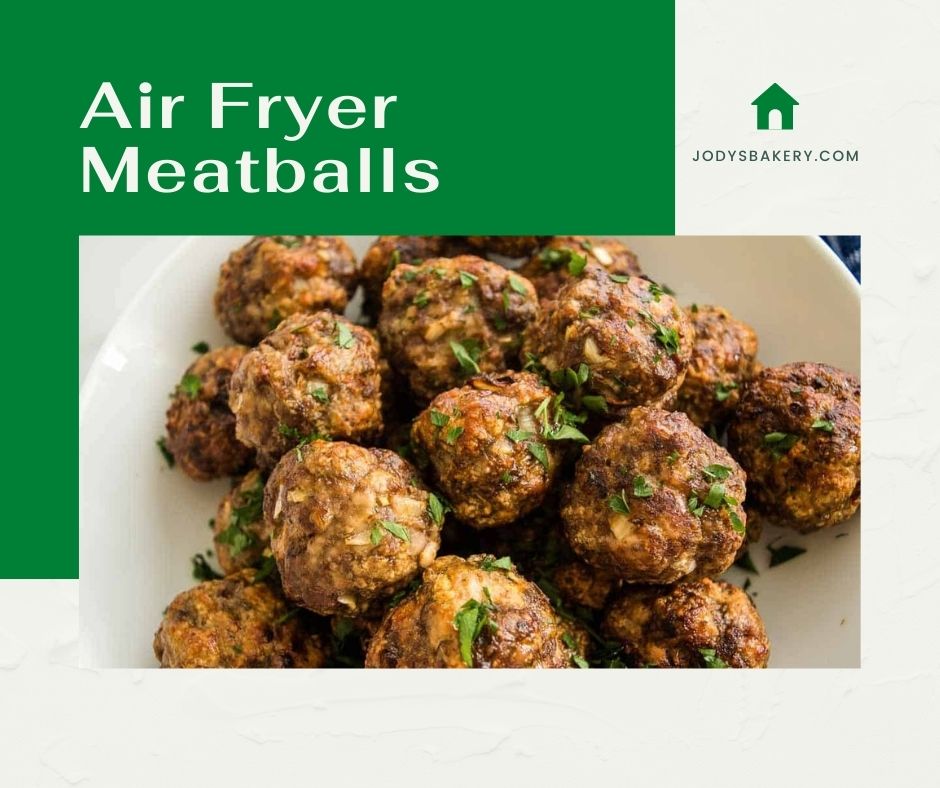 Quick and Easy Air Fried meatballs that the insides stay nice and tender while the outsides get a slight crisp…
Why Trust Us
You will find what you are looking for at Jody's Bakery. From classic to luxury brands, you'll find both. We will help you to select appliances that fit your needs, budget and lifestyle. Whether you want to stop by to learn more — or plan to make a major purchase — we'll treat you like family and assist you every step of the way. Shop with us today to receive friendly and experienced help along the way.