Lemon meringue fridge cake is a delicious and refreshing dessert that combines the tanginess of lemon curd with the lightness of meringue and the creaminess of a biscuit base. It is a no-bake recipe that is easy to make and perfect for warm weather.
The dessert is made by layering the biscuit base, lemon curd, and meringue mixture in a dish and then chilling it in the fridge. It is a great dessert to make ahead of time and serve to guests or enjoy as a sweet treat for yourself. Making this dessert with a hand mixer makes it quick and easy to prepare.
What does lemon meringue fridge cake taste like?
Lemon meringue fridge cake is a delicious dessert that typically has a sweet and tangy lemon flavor. The crust is usually made of crushed digestive biscuits or graham crackers, while the filling is a creamy, tangy lemon curd. The top layer is a light and fluffy meringue that adds a sweet and airy texture to the dessert. Overall, the combination of sweet, tangy, and creamy flavors makes lemon meringue fridge cake a popular and tasty dessert option.
Why should you make lemon meringue fridge cake with hand mixer?
Using a hand mixer for making lemon meringue fridge cake is convenient because it allows for easy and efficient mixing of the ingredients, especially for the meringue component. Additionally, it gives the baker more control over the mixing process and helps to create a smooth and consistent texture. Using a hand mixer also allows for quick and easy clean-up.
How to make lemon meringue fridge cake by hand mixer
Here's a recipe for making Lemon Meringue Fridge Cake using a hand mixer:
Ingredients:
200g digestive biscuits
100g unsalted butter
1 can (397g) condensed milk
Zest and juice of 2 lemons
3 eggs, separated
100g caster sugar
Instructions:
Crush the digestive biscuits into fine crumbs using a rolling pin or food processor.
Melt the butter in a saucepan over low heat and add the biscuit crumbs. Stir until the mixture is fully combined.
Pour the biscuit mixture into a lined 20cm square cake tin and press down with the back of a spoon. Chill in the fridge for 20 minutes.
In a mixing bowl, whisk together the condensed milk, lemon zest, lemon juice and egg yolks until smooth.
Pour the mixture onto the chilled biscuit base and smooth the surface with a spatula. Chill in the fridge for 30 minutes.
Preheat the oven to 180°C/160°C fan/gas mark 4.
In a clean mixing bowl, whisk the egg whites using a hand mixer on high speed until stiff peaks form.
Gradually add the caster sugar while continuing to whisk until the mixture is thick and glossy.
Spoon the meringue onto the chilled lemon mixture and spread it out with a spatula, making sure to seal the edges.
Bake in the preheated oven for 10-12 minutes, or until the meringue is lightly golden.
Allow the cake to cool before slicing into portions and serving.
Enjoy your delicious Lemon Meringue Fridge Cake made with a hand mixer!
What can lemon meringue fridge cake be used for?
Lemon meringue fridge cake can be served as a dessert after a meal or as a sweet treat for a special occasion. It's also great for bringing to potlucks or parties.
How long does it take to make slemon meringue fridge cake with hand mixer?
The total time it takes to make lemon meringue fridge cake with a hand mixer will depend on the recipe you are using and your level of experience.
However, it typically takes about 30 minutes to make the lemon filling and the meringue topping, plus additional time for assembling and chilling the cake.
The chilling time can vary, but most recipes recommend letting the cake chill in the fridge for at least 3-4 hours, or preferably overnight, to allow it to set properly.
Tips for lemon meringue fridge cake with hand mixer
Here are some tips for making lemon meringue fridge cake with a hand mixer:
Use fresh lemons: Freshly squeezed lemon juice and lemon zest will give your cake a bright, fresh flavor.
Prepare the cake pan: Make sure to grease and line the cake pan to prevent the cake from sticking.
Whip the meringue until stiff peaks form: It is important to whip the egg whites until they form stiff peaks to ensure that the meringue holds its shape.
Chill the cake: The cake needs to be chilled for at least 4 hours or overnight to set properly.
Use a sharp knife: When cutting the cake, use a sharp knife dipped in hot water to get clean, even slices.
Serve with whipped cream: Serve the cake with a dollop of whipped cream on top to balance the sweetness of the meringue.
Store in the refrigerator: Keep the cake in the refrigerator until ready to serve, as it is a fridge cake.
All Post

Air Fryer

Baby Food Maker

Best Lists

Blender

Bread Maker Machine

Bread Slicer

Cake pop maker

Cooking Tips

Deals

Electric Mixer

food dehydrator

Food Processor

Food Slicer

Food Steamer

Grain Mill Grinder

Guides

Instant Pot

Kitchen Gadget

Knive

Meat Slicer

Microwave Oven

Pasta Maker

Recipes

Reviews

Slow Cooker

Toaster

Toaster Oven

Waffle maker
A hand mixer is a small kitchen appliance that is used for blending, mixing, and whipping ingredients. It is a…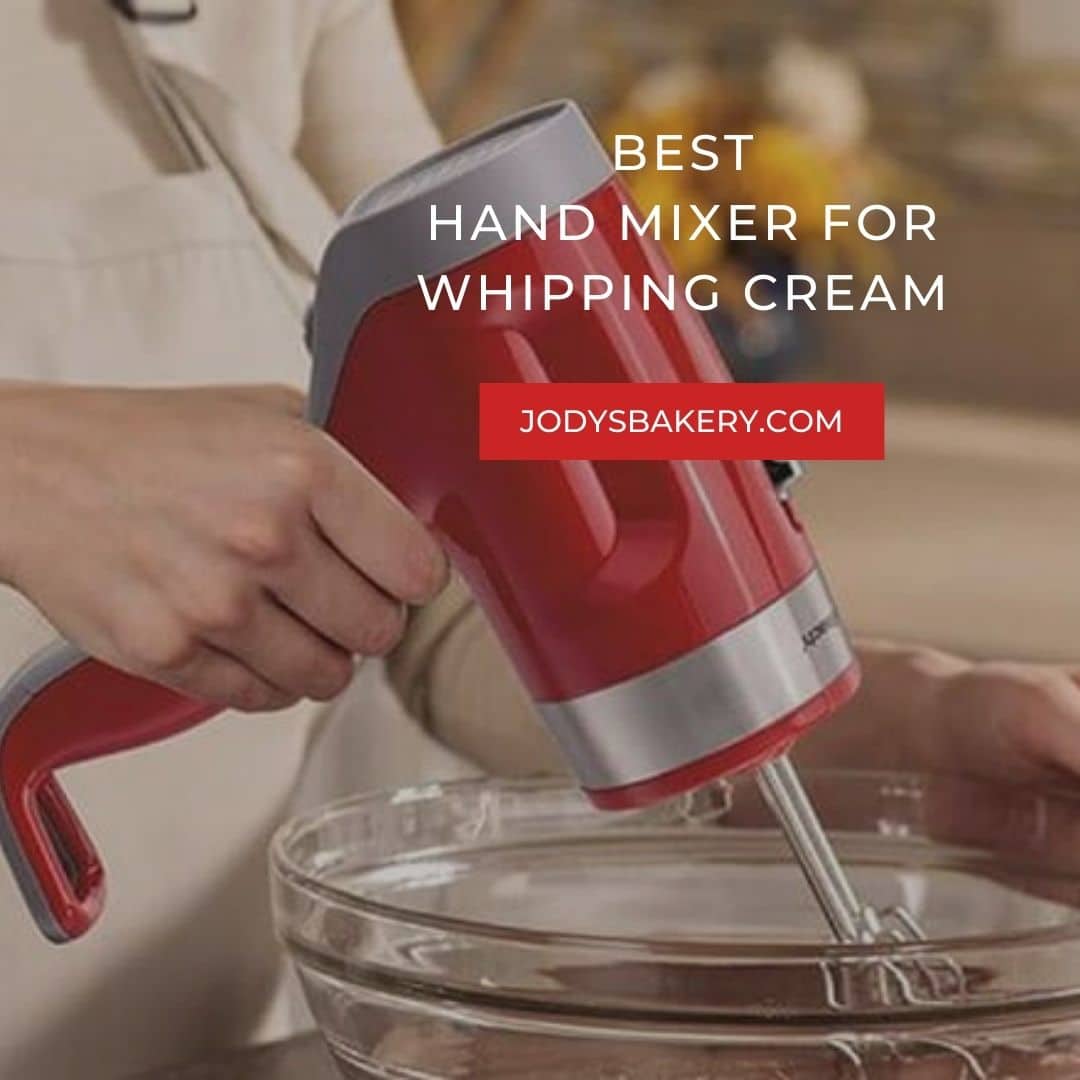 Americans love their whipped cream. Whether it is on a piece of pie, stirred into coffee, or dolloped on top…
In the kitchen, our hand mixer is our most helpful and convenient accessory. The best hand mixer for cakes can…
Why Trust Us
You will find what you are looking for at Jody's Bakery. From classic to luxury brands, you'll find both. We will help you to select appliances that fit your needs, budget and lifestyle. Whether you want to stop by to learn more — or plan to make a major purchase — we'll treat you like family and assist you every step of the way. Shop with us today to receive friendly and experienced help along the way.