Dish: Tasty Lemon Chicken
Yield: 4 servings
Cooking Time: 30 minutes
If you're looking for a pressure cooker chicken breast dish that is not only healthy but also tastes great, then you've come to the right place. I have searched through dozens of chicken breast pressure cooker recipes to find one that's absolutely perfect and I think I've found one that you'll really like. I like to call it Tender Lemon Chicken because that's exactly what it is. It's a chicken breast with a nice lemony zing and is really tender.
I'm not really sure who gave me this recipe. I originally thought that it was given to me by one of my sisters—that essentially, it was passed down from our grandmother. However, I recently found out that is not the case, so I don't really know who gave me the original recipe.
One thing I do know, however, is that I had to alter the recipe so it could be made in a pressure cooker because the original one was intended for the oven. When I tried to cook the original recipe in my pressure cooker unaltered, everything came out too soft. Which really isn't that big of a surprise. Most stove top or oven chicken recipes have to be changed a little bit so they become the perfect pressure cooker chicken breast recipes. A few alterations in cooking times and adding an ingredient or two usually does the trick. Now, let's get to making this recipe, shall we?
Ingredients:
4 bone-in chicken breast halves (no skin)
4 garlic gloves (minced)
1 medium white onion (chopped)
2 tablespoons olive oil
1 cup chicken broth
1/4 cup water
1/4 cup lemon juice
3/4 cup minced fresh parsley
1/2 cup celery with leaves (chopped)
1/4 teaspoon rosemary (dried)
1/2 teaspoon thyme (dried)
1/4 teaspoon oregano (dried)
1/4 teaspoon black pepper
1/2 teaspoon basil (dried)
1/2 teaspoon sea salt
4-1/2 teaspoons cornstarch
3 tablespoons cold water
Lemon wedges (garnish)
Instructions:
Start your pressure cooker and set it to the Saute or Browning mode. Once it has reached temperature, saute the onions and the garlic in olive oil until the onions are tender and translucent. When this happens, use a slotted spoon and remove the onions and garlic from the pressure cooker. Set them in a glass bowl and set them aside.
Now place the bone-in chicken breast in pressure cooker and make sure it is browned on all sides. When it's browned, return the onions and garlic back to the pan. Now you can add the chicken broth, the lemon juice, the parsley, the celery, the rosemary, thyme, oregano, basil, black pepper and sea salt to the cooker. Place the lid on the pressure cooker and lock it down.
Set your pressure cooker to High Heat and wait for it to reach temperature. Once it has reached temperature, reduce the heat to Medium-High and then cook for 8 minutes. Once this time has elapsed, quick release the steam and remove the lid as soon as it is safe to do so. Remove the chicken from the cooker and keep warm.
Remove the juices from the pressure cooker and then return about 1-1/2 cups to pressure cooker. In a bowl, mix together the cold water and the cornstarch. Mix it until it is smooth. Then add this mixture to the juices in the pressure cooker. Bring the cooker up to a boil and cook this mixture, uncovered, for about 2 minutes or until it has thickened. This sauce can now be used as a gravy over the chicken.
Take 2 lemons and quarter them, add the chicken to the plate and use the lemon wedges as a garnish on the side. Pour the sauce over the Tender Lemon Chicken and it's ready to be served with your favorite side dish and vegetable.
Final Thoughts
This pressure cooker chicken recipe is best paired with a nice white wine—something like a Sauvignon blanc or Chardonnay. It is also a dish that pairs really well with pasta dishes. I like to pair mine with cream based pasta dishes such as Fettuccine with peas, Parmesan Baked Ziti, Italian Sausage Tortellini or Spaghetti Carbonara. All of these kinds of pasta are excellent side dishes for this dish.
However, if you don't want to serve pasta with Tender Lemon Chicken, then you might want to try serving it with rice. I've found that this dish goes really well with risotto or even with a nice jasmine rice.
And if you want to serve a vegetable with this dish, you might want to try one of these options: roasted potatoes with oregano (Psites Patates), green beans two ways (simmered in garlic and chicken broth), Potato salad, garlic mashed potatoes, roasted asparagus with Asiago cheese and butternut squash. Any of these sides will add a little extra pop to this dish.
---
Dish: Garlic Tuscan Chicken
Yield: 4 servings
Cooking Time: 15 minutes
I have a real treat for you today. I've gone through all of my chicken breast pressure cooker recipes and ran across one that's sure to make your family happy. It's a chicken breast dish with an Italian flair and it's called Pressure Cooker Garlic Tuscan Chicken. It's a recipe that my family made for many years but one that I just recently converted for use in a pressure cooker.
It's also a dish that can be served up in the blink of an eye. It only takes about 15-20 minutes, prep and cooking time combined. That's quick by anyone's standards. And by the end of your cooking session, you'll end up with a restaurant quality dish that's sure to really impress all of your friend's and family.
Ingredients:
2 pounds of boneless and skinless chicken breast (halved)
1 cup fresh spinach (chopped)
3/4 cup heavy whipping cream
1/2 cup chicken stock (low sodium)
1/2 cup Sun Dried Tomatoes
1/2 cup Parmesan cheese
2 cloves garlic (minced)
2 tablespoons olive oil
2 tablespoons cream cheese
2 teaspoons Italian seasoning
1 teaspoon special seasoning (see below)
1/4 teaspoon sea salt
Special Seasoning Ingredients:
1 tablespoon salt
2 tablespoons celery salt
1 teaspoon celery seed
4 tablespoons sugar
1 teaspoon paprika
1/2 teaspoon onion powder
1/2 teaspoon garlic powder
1/2 teaspoon cornstarch
1/2 teaspoon turmeric
1/2 teaspoon oregano
1/2 teaspoon rosemary
Instructions:
The first thing that you want to do for this pressure cooker chicken breast is to take your 2 pounds of skinless and boneless chicken and slice them into quarters. Once that's been done, use a meat hammer and pound them until they're a little bit thinner. Just don't get carried away and pound them until they are paper thin. That would be way too thin. You just want to tenderize the meat a little bit and not pound them into oblivion.
Place the chicken breasts into a mixing bowl and then add the olive oil, the Italian seasoning, the salt and the garlic. Massage the oil, spices, and salt right into the chicken. Set it aside. Wash your fresh spinach and finely chop it. Place it into a bowl and set aside.
Make the Special Seasoning by combining all of the ingredients listed into a glass bowl. Add the Special Seasoning to your cream. Set the cream aside.
Okay, now that you've assembled all of the ingredients together, now you'll want to turn on your pressure cooker and set it to Saute or Browning. Allow it to reach temperature and then add the chicken and its marinade into the cooker. Brown the chicken on both sides.
When the chicken has browned sufficiently, pour in the low sodium chicken broth and deglaze the pot. Make sure to take a spatula and use it to get all of the little burnt pieces up from the bottom of the cooker. This will add flavor to the dish.
Place the lid on the pressure cooker, lock it down and turn it on High Pressure (High Temperature). When it reaches High Pressure, set a timer for 3 minutes and wait. When the timer goes off, use the quick release method to release the steam.
Once it's safe to do so, carefully remove the lid and pour the cream mixture into the cooking pot of the cooker. Now you can add the 2 tablespoons of cream cheese as well. The cream cheese makes the sauce very thick and creamy—which is what I like. However, if you find that you want a thinner sauce, then you can always omit this cream cheese. It won't affect the final taste of this dish one bit.
Set your pressure cooker back to its Saute or Browning mode and allow it to come to temperature. Simmer for 5 minutes. After the 5 minutes, add in the Parmesan cheese and mix together well. Now add in the sun-dried tomatoes and the spinach and simmer the mixture until the spinach wilts.
Now your are ready to serve your Pressure Cooker Garlic Tuscan Chicken. I perfected this recipe after I found that many of the other pressure cooker chicken breast recipes had a fatal flaw. All of them were way too salty. Which is why I cut down the salt and switched to low sodium broth for my recipe. However, if you feel that it's not salty enough, you can adjust the salt levels to match your tastes.
Final Thoughts
Pressure Cooker Garlic Tuscan Chicken is a dish that's best served with garlic bread and maybe a little side salad. If you want to serve a wine with it, I usually go with a nice white wine—preferably something a little bit fruity. It's also a great dish to serve with a nice pasta as a side dish. After all, you can use sauce from this recipe as a white sauce.
All Post

Air Fryer

Baby Food Maker

Best Lists

Blender

Bread Maker Machine

Bread Slicer

Cooking Tips

Deals

Electric Mixer

Food Processor

Food Slicer

Food Steamer

Grain Mill Grinder

Guides

Instant Pot

Kitchen Gadget

Knive

Meat Slicer

Microwave Oven

Recipes

Reviews

Slow Cooker

Toaster
Yield: 8 servingsCook Time: 30 minutes If you ask people what their favorite comfort food is, then you are likely to get…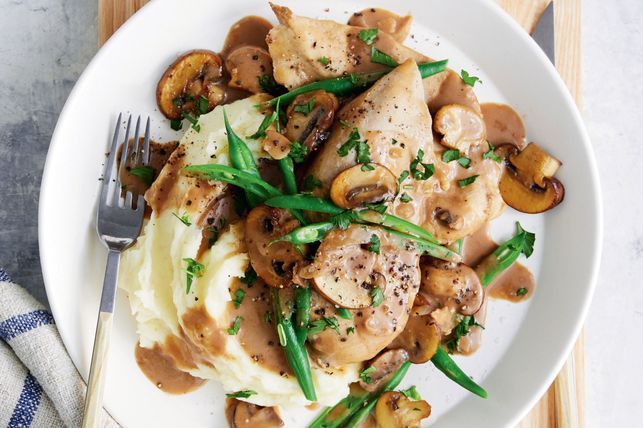 Is it even winter without a multitude of chicken slow cooker recipes? From chilis and soups to pasta and casseroles,…
If you are looking for an easy, delicious way to cook a whole chicken, then look no further than an…
Why Trust Us
You will find what you are looking for at Jody's Bakery. From classic to luxury brands, you'll find both. We will help you to select appliances that fit your needs, budget and lifestyle. Whether you want to stop by to learn more — or plan to make a major purchase — we'll treat you like family and assist you every step of the way. Shop with us today to receive friendly and experienced help along the way.