Every evening, supper seems to sneak up on us unexpectedly. It's not so much that it surprises us, but that after a long workday, it can be difficult to muster the energy to prepare a substantial dinner. It can take so much time to prepare food items. 
We must cram so many tasks into the brief period between the end of the workday and bedtime. Why make it more challenging than necessary? We recommend that you use tools that simplify the process for this reason. What about a pressure cooker or slow cooker to assist with meal preparation? 
What is the distinction between a slow cooker and a pressure cooker? Even though both serve similar purposes, they operate very differently. The slow cooker is designed to simmer food, typically over several hours. This enables you to forget about it. In contrast, a pressure cooker is intended to cook food quickly. Rather than baking it for hours, a whole chicken can be cooked in mere minutes. 
This article will explain the differences between a slow cooker and a pressure cooker. We hope that you will appreciate the value of each tool in its way and be able to employ them effectively. We will also list our favorite product options for each category. 
Continue reading for a comparison of the pressure cooker versus the slow cooker. 
Understanding Pressure Cooker Vs. Slow Cooker 
Both slow cookers and pressure cookers serve valuable purposes. They can significantly facilitate dinner preparation by performing most of the necessary tasks. When using one of these small kitchen appliances, you only need to prepare the food for cooking and then serve it! 
If you are looking for a good option, we will share some of our favorites and explain how they differ from one another. Then, for your convenience, we will conclude the guide with a brief comparison review. 
Let's commence, shall we? 
What is a Pressure Cooker? 
Almost certainly, you've heard of Instant Pot. In recent years, this phenomenon has swept the globe. It is one of our preferred pressure cookers, which we will discuss in greater detail shortly. It has been around for a long time, but the Instant Pot revolutionized the art of pressure cooking. 
A pressure cooker uses steam pressure to function. The food-containing pot is sealed, and steam builds up to create pressure. This helps to cook the food inside efficiently and quickly. 
Many pressure cookers have a variety of settings and can cook virtually any type of food. You can cook entire meals at once and significantly reduce your cooking time. Additionally, since you only use the pressure cooker's pot, there are fewer dirty dishes and less mess! 
The concept underlying the pressure cooker is not new. This device has existed since the 1600s. It took considerable time to perfect the concept and make it safe for use. As a result of the buildup of steam pressure, pressure cookers have been known to explode when improperly managed. 
How a Pressure Cooker Works 
We've already discussed steam-powered pressure cookers, but how does this expedite the cooking process? The liquid must also be added when placing items in a pot. As the liquid is heated in the cooker, it becomes steam. Steam pressure is regulated by a valve on the pressure cooker's lid. 
Essentially, the steam pressure raises the boiling point of the water or liquid inside the pot, allowing it to reach up to 250 degrees Fahrenheit. The high temperature accelerates the cooking process. 
In addition, the increased pressure of the steam accelerates the liquid absorption rate into the food. This forced liquid not only tenderizes the food but also speeds up its cooking. Your food comes out fully cooked and even caramelized, not merely steamed. Typically, the flavor is deep and robust. 
Recipes for a Pressure Cooker 
Before the invention of revolutionary pressure cookers such as the Instant Pot and other brands, pressure cookers were primarily used for food preservation. 
If you are familiar with pressure canning, you know it takes place in a pressure cooker. Some of you may have grown up in households where fruits, vegetables, and other foods were regularly canned. You may have assisted in the loading and operation of the pressure canner. 
Numerous delicious meals can be prepared in a pressure cooker. You can most likely cook anything you desire in them. Some pressure cookers include a slow cooker function. 
Here are some of the most common foods prepared in pressure cookers. Remember that you can prepare various foods. 
Pot Roast 
Fried chicken 
Creamed potatoes 
barbecue ribs 
Thanksgiving turkey breast 
Beef brisket 
Fluffy rice or quinoa 
Pasta dishes 
Orange chicken 
Several soups and stews 
Hard-boiled eggs 
These are merely a handful of the most popular pressure cooker recipes. If you can name it, it can likely be cooked in a pressure cooker. 
What is a Slow Cooker? 
A slow cooker slow-cooks food. It utilizes a heated bowl with a lid instead of steam pressure. Crockpots are a common term for slow cookers. There is also a branded slow cooker. 
The food in a slow cooker is simmered at a low temperature for an extended period. This allows you to set the temperature, place the food inside, and let it cook for hours without your intervention. 
You can forget about it. 
This allows you to place your food inside, set the timer, and return home to a fully cooked meal. Some meals take longer than others, but the benefit of this tool is that you don't need to monitor the duration. You can do what you must while the food cooks. 
At one time, slow cookers were primarily used for soups and stews, but people have become increasingly inventive, and there are so many delicious things that can be made with a slow cooker. 
How slow cookers Function 
We have already mentioned that a slow cooker simmers food for an extended period. The food is not boiled, fried, or baked. These types of cookers utilize moist heat for simmering food. Slow cookers steam food, whereas pressure cookers are typically used for quick cooking. Both have a heating element that accommodates a pot and is covered by a lid. 
A ceramic or porcelain pot is placed on the heating element of these cookers. Depending on the model, how the pot is heated (i.e., on the bottom or the sides) varies. They also come in various sizes. 
Most slow cookers have only high and low settings, with no temperature adjustment. Typically, the low temperature is 200 degrees Fahrenheit, and the high temperature is 300 degrees Fahrenheit. Many slow cookers feature a warm setting. 
When on, these cooks cook continuously. Some models feature timers that allow you to cook for a predetermined number of hours before the appliance turns off or warms. 
Occasionally, you can even program them to begin cooking at a specific time if you're feeling particularly sophisticated. 
Recipes for the Slow Cooker 
Intriguingly, slow cookers and pressure cookers can be used to prepare various identical foods. It is only a matter of how they are cooked during the process. 
Soups and beans have always been cooked in slow cookers because they are simple and taste better the longer, they cook. However, a great deal of ingenuity has been applied to the slow cooker, and you can prepare a wide variety of dishes. Here are some suggestions for popular slow cooker dishes that you may want to try. 
Several soups and stews 
Cheese dip 
Macaroni and cheese 
The recipe for beef stroganoff 
Baked chicken and stuffing 
Ribs 
Orange chicken 
Meat shreds for tacos 
Butter chicken 
Lasagna Roast (of any kind) 
shredded pork 
Meatballs 
Brownies 
These are just a few common slow cooker-friendly ingredients. Don't let these limit you. There are so many possible creations! 
Pressure Cooker vs. Slow Cooker: A Comparison 
It's fascinating how pressure cookers and slow cookers can operate differently but achieve similar results. In either case, the result is a meal you do not need to monitor from beginning to end. It's a factor of convenience and simplicity designed to facilitate meal preparation. 
The primary distinction between these kitchen tools is the method of food preparation. The pressure cooker uses steam pressure, whereas the slow cooker uses low heat to simmer food. 
The pressure cooker cooks food quickly, whereas the slow cooker requires several hours. Both offer a variety of configurations and functionalities for managing the tool's features. 
Many modern pressure cooker models include a slow cooker option. This does not imply that the food will be cooked in a slow cooker but that the cooking process will be slowed. Slow cookers do not possess any pressure cooker functionality. 
We hope you find this guide helpful in understanding the differences between slow and pressure cookers. Please review the question-and-answer section for additional information.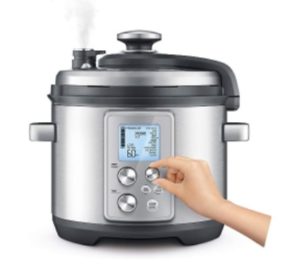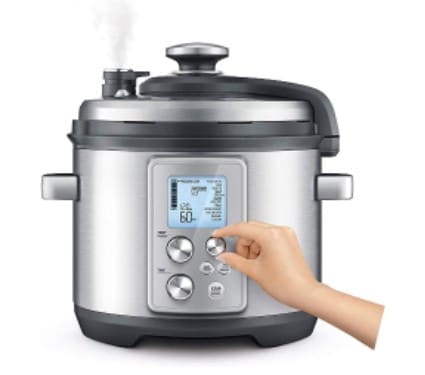 The Breville Fast Slow Pro is a stylish multicooker with...
Read More
Advanced Microprocessor Technology is integrated into the Instant Pot Aura...
Read More
Why Trust Us
You will find what you are looking for at Jody's Bakery. From classic to luxury brands, you'll find both. We will help you to select appliances that fit your needs, budget and lifestyle. Whether you want to stop by to learn more — or plan to make a major purchase — we'll treat you like family and assist you every step of the way. Shop with us today to receive friendly and experienced help along the way.