Smoothies are an excellent method to incorporate a large amount of nutrition into a single drink. They are an excellent method to incorporate additional greens.
This purple passion green smoothie is both delectable and healing It contains wild blueberries, one of the most healing foods available, as well as pineapples, mango, banana, and spinach. Fresh or frozen pineapples and mangoes are both acceptable.
The glucose in the fruits and the mineral salts in the greens form an ideal therapeutic combination. Spinach has almost little flavor, making it great for green smoothies and those interested in experimenting with a green smoothie diet. This quick and easy smoothie recipe tastes great and is perfect for a hectic morning!
We created this gorgeous Purple Passion Green Smoothie a few weeks ago and have enjoyed it every day since! We're completely smitten with it, and we hope you will be as well!
Why should you drink healthy Purple Passion Green Smoothie
A straightforward superfood breakfast. Pair it with a protein source like almonds or coconut yogurt and a healthy fat source like avocado or nut butter for a balanced meal.
A potent purple after-dinner snack. For a quick snack, sip this smoothie and nibble on almonds.
A delicious way to vary your normal meals or snacks. Purple superfoods are mood-enhancing meals; after all, who can resist a vibrant, purple smoothie?!
What are ingredients included in this Purple Passion Green Smoothie?
Acai berries: vitamin C, chromium, zinc, iron
Blackberries: vitamin k, vitamin C, iron
Grapes: vitamin C, vitamin K, copper, thaimine
Goji berries: vitamin C, iron, vitamin A, zinc
It's sweet and creamy, thanks to the ripe banana, you can use whichever greens you prefer — we like spinach, kale, or a combination of the two!
How To Make Purple Passion Green Smoothie
Are you ready to learn how to make this Purple Passion Green Smoothie? Let's do it!
Step 1: Blend all ingredients in a blender.
To begin, in a blender, combine the banana (for smoothness), frozen acai puree (we prefer unsweetened), blueberries, and goji berries, as well as ice (if using).
Add your preferred milk. You may always add additional milk later if the smoothie becomes too thick, so we recommend starting with an amount and gradually increasing.
Note: You may also use skim milk.
Step 2: Blend, pour, and add toppings
When adding the smoothie ingredients and milk to the blender, blend at high speed until entirely smooth (about 30 seconds, depending on your blender).
Step 3: Blend till smooth and enjoy!
Then, pour the smoothie into a glass (we use frozen drinks to keep the smoothie cool) and garnish with goji berries or any desired toppings. Finally, have fun!
Reduce the number of ice cubes required by using a frozen banana, which results in a smoother (less frosty) texture.
Utilize this smoothie recipe to create your next smoothie bowl. Sprinkle with vibrant superfoods such as strawberries, coconut, goji berries, and bee pollen.
Increase the satisfying power of this superfood snack by adding oats, chia, or a protein source such as yogurt or protein powder, along with a healthy fat source such as nut butter.
This straightforward smoothie recipe can be prepared ahead of time and frozen until serving time. However, depending on your freezer, it may get hard after being frozen for an extended period.
If smoothies make you feel too cold, let the frozen fruit defrost on the counter.
Alternatively, you can store frozen fruit in the refrigerator for 2-3 days before eating.
Smoothies served at room temperature are critical for maintaining a healthy fruit intake in colder climes!
In a blender, combine the acai berries, grapes, blackberries, banana, and ice cubes (if using).
Blend ingredients for about 30-60 seconds, or until smooth, adding additional ice or plant-based milk as needed to attain desired consistency.
Pour the smoothie into a fantastic glass and garnish it with goji berries.
Nutrition
calories:

317 |
total fat:

9g |
saturated fat:

2g |
trans fat:

0 | g
unsaturated fat:

6g |
cholesterol:

10mg |
sodium:

78mg |
carbohydrates:

57g |
fiber:

11g |
sugar:

30g |
protein:

 8g
Purple was historically associated with royalty, and as you can see, purple foods are also potent!
Savor the sweetness of the strawberries and blueberries in this delectable smoothie. All tastes work well together, and the product has a creamy consistency and a lovely purple hue. Take this nutritious smoothie with you on the move for an instant energy boost that also cleanses and nourishes your system.
Hello there, everyone! Here is a recipe for a fat-burning...
Read More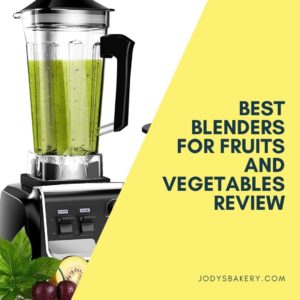 Fruits and vegetables are a delicious and exciting way to...
Read More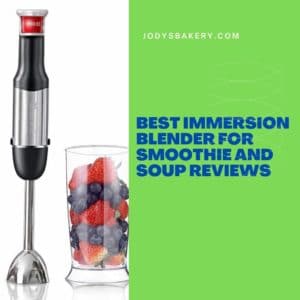 An immersion blender is a little bit of a misnomer...
Read More
Why Trust Us
You will find what you are looking for at Jody's Bakery. From classic to luxury brands, you'll find both. We will help you to select appliances that fit your needs, budget and lifestyle. Whether you want to stop by to learn more — or plan to make a major purchase — we'll treat you like family and assist you every step of the way. Shop with us today to receive friendly and experienced help along the way.