Hello there, everyone! Here is a recipe for a fat-burning detox smoothie that can help accelerate your weight reduction while naturally detoxifying your system.
There is an art to producing an excellent detox smoothie, whether you believe it or not. To begin, avoid adding too many fruit sugars since this can cause your blood sugar levels to increase, leaving you hungry again quickly.
When making a smoothie, stick to using no more than one serving of fruit (such as one frozen banana or half a frozen banana plus half a cup of frozen berries). Fruit isn't always necessary, either. For a creamy texture, try avocados or frozen pre-steamed cauliflower.
Second, you want to include leafy greens and vegetables to increase your fiber intake, which will help cleanse your colon and offer your body much-needed nutrients.
Finally, you want to incorporate healthy fats into your diets, such as avocados, ground flax or chia seeds, or almond butter, because these fats will help you feel full between meals.
This detox smoothie recipe is ideal for substituting meals to begin your weight loss and cleanse your body.
Why should you drink fat-burning detox smoothie?
Detoxifying, fiber-rich, and nutrient-dense smoothies are an excellent way to keep menopause cravings at bay in between meals. Even better if you're replacing a meal with a smoothie.
Adding a lot of nutrients and fiber to a smoothie is incredibly simple. As a disclaimer, I must stress that smoothies are not a magical weight-loss supplement. Don't fall for the bogus promises of fast weight loss and detoxification!
What are ingredients included in this fat-burning detox smoothie?
Avocado adds a creamy texture, while greens like kale and spinach provide antioxidants, fiber, and vitamins.
Unsweetened almonds, cashew, coconut milk or water, and coconut water are excellent substitutes for milk and yogurt.
Any protein powder added should be unsweetened or sweetened with a natural sweetener such as Xylitol or stevia.
Chia and linseed, and psyllium husk will add a nice thickening effect to your smoothie while also providing incredible health benefits such as Omega 3 fatty acids and soluble fiber. Additionally, cacao nibs, matcha, maca, raw nuts, cacao powder, super greens powder, cinnamon, and coconut yogurt are available (unsweetened).
Natural Fat-Burning Foods
Nuts – whole, raw, and unblanched (almonds, walnuts, pecans) or activated (almonds, walnuts, pecans); high in healthy fats and protein; almonds contain L-arginine (an amino acid) that, when taken pre-workout, can assist the body in burning more fat; therefore, almonds are a must-have for any belly fat burner smoothies.
Berries – particularly raspberries – are naturally low in sugar, impart a pleasant tanginess, and are high in fiber and antioxidants.
Tea – contains caffeine for an energy boost, and high-quality teas, particularly matcha, contain antioxidants.
Avocado – packed with healthy fats that satisfy you until your next meal. High in fiber and vitamins, particularly B6, which can help balance the effects of cortisol, a stress hormone that plays a significant role in midlife women's weight gain.
Flaxseed – this is one of the best health foods on the planet, in our opinion—omega 3 fatty acid-rich and high in fiber and protein.

Cinnamon:

Cinnamon's potent antioxidant properties stimulate metabolism. This is a spice that I adore and use liberally in both sweet and savory dishes.

Dark Chocolate:

 Contains at least 70% cocoa. If sugar is the first ingredient, the cocoa content is insufficient. Cocoa's polyphenols aid the body in fat burning.

Olive oil:

 This monounsaturated fat does not pose the same health risks as saturated fats and is packed with beneficial nutrients if it is extra virgin. Additionally, it will keep you satiated. Extra virgin olive oil has a strong flavor, but you can grow accustomed to it.
How To Make Fat-burning detox smoothie
Making your own smoothie gives you complete control over the ingredients and ensures that you know exactly what went into it. Thus, here are our tips for creating the healthiest belly fat-burning smoothie possible.
A balanced smoothie should contain protein and fiber to help maintain satiety, aid in digestion, and provide antioxidants, vitamins, and minerals, which are typically found in fruits and vegetables.
Step 1: Remove the skin from the avocado and peel the banana.
In a smoothie, combining banana and avocado is a winning combination. Apple, orange, pineapple, mango, and blueberries are also excellent fruit choices!
Step 2: Combine the avocado slices, banana, baby kale, almond milk, and optional protein powder in a blender.
Step 3: Blend until smooth and serve or freeze for later!
Instead of adding ice to your smoothie recipes, try using frozen fruit (i.e., frozen bananas) and frozen avocados. It is the most noticeable change in terms of texture. Additionally, ensure that your bananas and avocados are fully ripe before freezing them for the most pleasing smoothie flavor.
Grind them beforehand to get the most out of flax and chia seeds in smoothies. Ground seeds are easier to digest, so using ground seeds ensures you get as many nutrients as possible from the seeds in your smoothies. Using a coffee grinder, you can grind your flax or chia seeds at home if you so desire.
This green avocado smoothie freezes beautifully! Combine all ingredients in a blender, pour into mason jars, seal with lids, and freeze for up to 3 months. When you're ready to drink the smoothie, either defrost it in the refrigerator for two hours (or overnight) or heat it for about a minute in the microwave.
In a blender, combine all ingredients.
Blend until smooth, adding additional water as required to reach desired consistency.
Serve immediately and thoroughly clean your blender to avoid sticking.
Nutrition
Calories: 
203
kcal
 | 
Carbohydrates: 
40
g
 | 
Protein: 
3
g
 | 
Fat: 
5
g
 | 
Sodium: 
172
mg
 | 
Potassium: 
578
mg
 | 
Fiber: 
7
g
 | 
Sugar: 
22
g
 | 
Vitamin A: 
780
IU
 | 
Vitamin C: 
19.6
mg
 | 
Calcium: 
168
mg
 | 
Iron: 
1.1
mg
If you attempt this metabolism boosting green smoothie or any other recipe on our website, be sure to review it and leave a comment below to let us know how it went; we love hearing from you!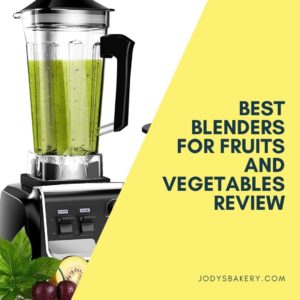 Fruits and vegetables are a delicious and exciting way to...
Read More
Why Trust Us
You will find what you are looking for at Jody's Bakery. From classic to luxury brands, you'll find both. We will help you to select appliances that fit your needs, budget and lifestyle. Whether you want to stop by to learn more — or plan to make a major purchase — we'll treat you like family and assist you every step of the way. Shop with us today to receive friendly and experienced help along the way.