Metabolism-improving components are included in this smoothie to help you maintain a healthy weight and a strong metabolism. Fruit juices, excess fruit, and sweeteners all contribute to smoothies' sugar content. One of the most remarkable ways to lose weight is to consume whole food ingredients, and this smoothie certainly fits the bill.
Spinach has almost little flavor, making it great for green smoothies and those interested in experimenting with a green smoothie diet. This quick and easy smoothie recipe tastes great and is perfect for a hectic morning!
This nutritious, metabolism-boosting smoothie is the ideal way to begin the day. It's simple, quick, and delicious, and packed with antioxidants and fat-burning goodies! A fantastic smoothie for weight loss!
Why should you drink healthy Metabolism Boosting Blueberry Smoothie?
Metabolism boosting green smoothies are enjoyable and filling, and they're portable! We consider smoothies to be a necessary component of our morning routine because:
It's simple to prepare.

It kick-starts your metabolism.

It establishes an apparent, healthy eating habit for the remainder of the day.
What are ingredients included in this Metabolism Boosting Blueberry Smoothie?
Almond Milk – it has a creamy texture and a slightly nutty flavor. We prefer unsweetened vanilla almond milk, but you can use any flavor you choose. It is acceptable to use ordinary milk or other non-dairy milk.
Frozen Blueberries — double-check to ensure the variety you purchase contains no added sugar.
Spinach — this superfood adds nutritional value to your smoothie without altering its flavor.
Banana — while the recipe contains no extra sugar, a banana will bring some sweetness.
How To Make Metabolism Boosting Blueberry Smoothie
Utilize this straightforward three-step technique to ensure you always combine a metabolism-boosting breakfast!
Step 1: What to use in your Metabolism Boosting Blueberry Smoothie
We prefer wild blueberries due to their high nutrient content, but any brand would suffice.
To begin, start with the Core Smoothie Ingredients.
1–2 Scoops of a high-quality protein powder. Your powder should have between 15 and 25 grams of protein, fewer than 6 grams of carbohydrate, less than 2 grams of sugar, and preferably more than 2 grams of dietary fiber. Our preferred protein sources are whey or pea. Two of my favorites are as follows: Protein powders made with whey and vega.
1 tsp Chia or Flaxseed: This choice provides beneficial omega-3 fatty acids and fiber to your smoothie. (optional)
4–8+ oz. Liquid without dairy. You can use a single liquid or a mixture of two separate liquids (i.e., half water and half unsweetened almond milk). You can use less liquid if you prefer a thicker smoothie. Add additional liquid if you like a shake with a thinner consistency. Water, coconut milk, or unsweetened plain or vanilla almond milk are all dairy-free liquid options.
Note: You may also use skim milk.
Step 2: Choose Some Add-Ins
The add-ins will supply you with some excellent nutrition throughout the day. By using potent nutrients in the form of fiber or fat, you can maintain a feeling of satiation and satisfaction for several hours!
No more empty-calorie snacks! We propose picking 1-2 products from the following list:
1⁄2 ripe avocado
1 tbsp coconut flakes, unsweetened
1 scoop of Green SuperFood or Reds powder
1 Tbsp chia seeds
1 Tbsp flaxseed Oil
1 Tbsp Hempseed
1/2–1 oz. Nuts (almonds, cashews, walnuts) or 1 oz. nut or seed butter (i.e., almond butter or cashew butter)
Cinnamon, if desired, to bring all the tastes together.
Step 3: Blend till smooth and enjoy!
To prepare a great smoothie, we always have fruits in our freezer. Additionally, we like to freeze greens such as spinach always to have them on hand.
If you'd instead not utilize a supplement, other protein-boosting options include hemp seeds and chia seeds. Both are excellent vegan protein sources, are easily digestible, and provide protein and fiber in addition to omega-three fatty acids.
Prepare a single serving by freezing blueberries, sliced bananas, and spinach. To use, place the contents of the container in a blender and then add the remaining ingredients.
If you want to add yogurt to your breakfast smoothie, simply substitute yogurt for all or part of the milk. (Traditional, Greek, coconut, soy, and so forth.) Plain, vanilla or blueberry flavors are all acceptable.
In a blender, combine all ingredients.
Blend until smooth, adding additional water as required to reach desired consistency.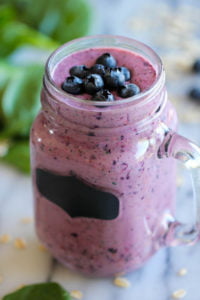 Serve immediately and thoroughly clean your blender to avoid sticking.
Nutrition
Calories: 
203
kcal
 | 
Carbohydrates: 
40
g
 | 
Protein: 
3
g
 | 
Fat: 
5
g
 | 
Sodium: 
172
mg
 | 
Potassium: 
578
mg
 | 
Fiber: 
7
g
 | 
Sugar: 
22
g
 | 
Vitamin A: 
780
IU
 | 
Vitamin C: 
19.6
mg
 | 
Calcium: 
168
mg
 | 
Iron: 
1.1
mg
If you attempt this metabolism boosting green smoothie or any other recipe on our website, be sure to review it and leave a comment below to let us know how it went; we love hearing from you!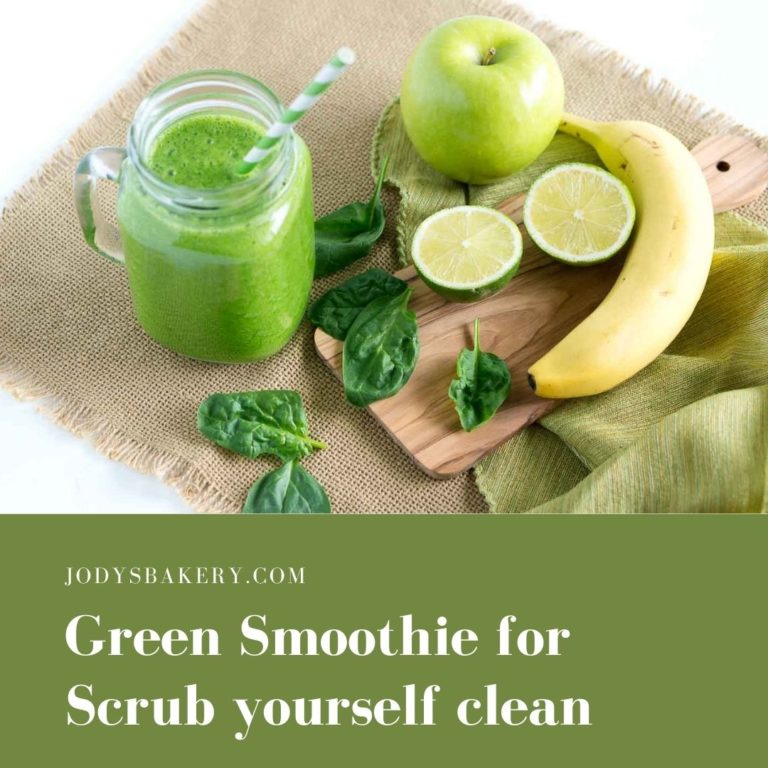 If you've never tried this dish, you've never tried this...
Read More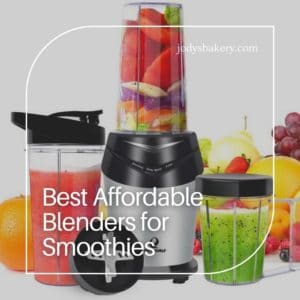 No matter if you're blending bananas and berries for smoothies...
Read More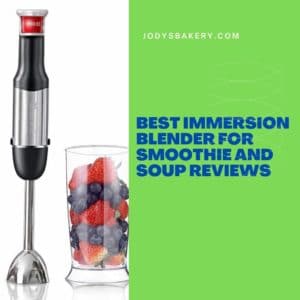 An immersion blender is a little bit of a misnomer...
Read More
Why Trust Us
You will find what you are looking for at Jody's Bakery. From classic to luxury brands, you'll find both. We will help you to select appliances that fit your needs, budget and lifestyle. Whether you want to stop by to learn more — or plan to make a major purchase — we'll treat you like family and assist you every step of the way. Shop with us today to receive friendly and experienced help along the way.