For many people, discovering new ways to improve their health is a common goal. However, determining the appropriate diet changes that are beneficial to our bodies and enjoyable to consume is challenging.
That is why we recommend blending up a few recipes to see if you can find one you enjoy! This can open up a world of incredible ways to nourish your body while also discovering the flavor combinations you want.
The information in this article is perfect for anyone interested in experimenting with weight-loss smoothies.
Below, we'll look at ten too-good-to-be-true smoothie recipes for weight loss. Surely there will be one that is ideal for all types of weight loss journeys!
10 Vegetable Smoothie Recipes For Weight Loss
To better accommodate your smoothie requests, diet restrictions, and weight loss goals, we've divided our ten most popular recipes into subcategories.
Each will include a list of smoothie recipes tailored to your specific goals, such as green smoothie recipes, low-calorie smoothie recipes, and meal replacement smoothie recipes. Enjoy!
This article on the green smoothie diet contains the following information:
Green Smoothie: What Is It?
The Benefits of a green smoothie.
How to make a green smoothie?
The 10 Best Weight Loss Green Smoothie Recipes
Green Smoothie: What Is It?
A green smoothie recipe is a blended beverage made primarily of vegetable greens, fruit, or a combination of the two. They are a simple way to cleanse your body of toxins, refuel with nutritious foods, and lose weight quickly.
Green smoothies are frequently green or bright green and may not appear to be the tastiest meal, but if prepared properly, you will not only enjoy but crave these simple green smoothies!
As with green juice, a green smoothie recipe incorporates a variety of vegetables and fruits. Green smoothies, on the other hand, provide more fiber and help you feel fuller for longer.
The Benefits of a green smoothie
Green smoothies are better for you than fruit or vegetable juices because they include the entire plant, not just the juice. The fiber portion of plants is removed during the juice extraction process. Moreover, green smoothies are high in water, which aids in increasing your metabolism.
When you consume fruits and vegetables raw, you receive twice the amount of nutrients, as cooking food destroys half of the vitamins and nutrients.
Green smoothies are incredibly simple to make. No special equipment is required; a standard kitchen blender will suffice. If you're serious about making green smoothies every day, you can invest in a Vitamix blender.
Moreover, green smoothies are inexpensive (if you make them at home). Vegetable smoothies sold at juice bars can cost up to $7, but you can make your own for as little as $2 – $3. You'll save money and get the freshest produce by shopping at your local farmer's market.
If you're not a fan of "green" beverages, start with baby spinach in all of your green smoothies. A spinach smoothie recipe has a mild flavor and will naturally increase your vitamin intake and metabolic rate. You won't even taste it; all you'll taste is the fruit. Substitute half of the spinach for kale or chard over time.
How to Make a Green Smoothie
Green smoothie recipes are straightforward to prepare. Create your recipe or choose one of the ten weight loss smoothies listed below.
Directions:
Step 1: In a blender, combine all green smoothie ingredients.
Step 2 – puree your green smoothie for weight loss until smooth.
Step 3 – serve immediately after taking your blender out of the freezer, and enjoy
If you prefer a colder green smoothie, you have two options:
Freeze fruit or purchase frozen fruit.
1/2 cup ice
All you need to make a green smoothie is a blender, and it doesn't have to be an expensive one; I've been using my $50 blender for years and haven't broken it yet!
Special Tip: If you're committed to green smoothies, we recommend perusing our list of the best smoothie blenders. A good smoothie blender will motivate you to consume more green smoothies, and the health benefits are well worth the investment.
The 10 Best Weight Loss Green Smoothie Recipes
Here are ten healthy smoothie recipes for losing weight. Continue reading for two green smoothie diet ideas if you want to start a green smoothie diet.
Below you'll find some of our favorite green smoothie recipes. Drinking these green smoothies regularly is the goal, so don't be afraid to experiment with different ingredients and discover which ones you prefer.
1. Green smoothie that boosts metabolism
Make your own version of a traditional green smoothie with these tasty additions to it! Using spinach as the base, it's flavored with strawberries and oranges, making for an incredible smoothie (always a yummy combination). We love spinach smoothies because they're one of the healthiest options for a green smoothie.
Almond milk, with its extra protein and creaminess, is the key to speeding up your metabolism. Since protein requires more calories to digest than other nutrients, it increases food's thermic effect (TEF). Your metabolic rate goes up as a result of this. Get the receipt here
2. Cleanse your body with a green smoothie
This is one of our favorite detox smoothie flush recipes. Not only does it taste incredible, but it also aids in metabolism stimulation!
Broccoli is a nutrient-dense vegetable that is frequently referred to as a "super veggie." Numerous nutrients are abundant, including vitamin C, vitamin K, fiber, potassium, and iron. Additionally, broccoli contains more protein than the majority of other vegetables, providing an added metabolic boost.
This green smoothie detox recipe is ideal for someone new to weight loss smoothie recipes. The flavors are subtle, and the nutrition content is excellent. Click here to get the recipe. 
3. Green Smoothie for Fat-Burning Detox
As the name implies, this smoothie can aid in fat loss and detoxify your system! You can find the recipe here.
4. Purple Passion Green Smoothie
This recipe for Purple Passion Green Smoothie is a spinach smoothie packed with antioxidants, thanks to the strawberries and blueberries. The flavors combine perfectly to create a truly delectable, mellow, creamy weight loss smoothie with a fun purple color.
Strawberries are vitamin C-rich, which boosts metabolism naturally. Additionally, they are an anti-inflammatory, making them ideal for consumption following a workout, as they help alleviate muscle soreness, open up breathing passages, and decrease bloat.
5. Delicious Strawberry Banana Green Smoothie
It's a great recipe to try if you're new to green smoothies.
Because spinach smoothies tend to be milder tasting, you won't taste any of the spinach in this one. Banana, strawberry, and a smidge of vanilla are the only flavors you'll notice. Recipes for fruit smoothies tend to taste primarily of fruit, whereas this one is among the best green smoothies we've ever had.
Bananas are packed with nutrients and taste great, too. They're a good source of many nutrients and can help with digestion, heart health, and weight loss, among other things.
Kale has been dubbed a weight-loss and superfood powerhouse because of its numerous health benefits. This leafy green's inclusion in a wildly earthy but delectable smoothie is a no-brainer. You can find the recipe right here.
7. Apple Pie Green Smoothie
This is a genuinely nutritious vegetable smoothie recipe with a unique flavor courtesy of the apple pie spices and vanilla. It's one of my favorite Fall desserts to make because it reminds me of apple pie.
Apples are an excellent source of fiber, vitamin C, and antioxidants. Additionally, they are pretty filling and contain few calories. Apples have a plethora of health benefits, according to studies.
This is a delectable green smoothie recipe that is a vibrant shade of green. It's vitamin C-packed, courtesy of the double dose of pineapple and oranges.
Pineapples contain a variety of nutrients, including vitamin C, manganese, copper, and folate. Additionally, pineapples contain a plant compound called bromelain, which has been linked to various health benefits, including increased immunity, cancer prevention, faster wound healing, and improved gut health.
9. Crisp Mango Cucumber Green Smoothie
This is a delicious fruit smoothie with a light creamy texture and an incredible flavor. It is packed with antioxidants and other health-promoting nutrients.
This green smoothie recipe for weight loss will assist in boosting metabolism and reducing bloat!
Mangoes are high in soluble fiber, antioxidants, vitamin A (from beta-carotene), and vitamin C.
10. Green Tropical Sunrise
This is another incredible recipe packed with antioxidants and vitamins. The flavor is slightly sweet, with a hint of tanginess from the pineapple and orange.
Carrots are loaded with health benefits. They are high in beta-carotene, fiber, vitamin K, potassium, and antioxidants and have been linked to decreased cholesterol and improved eye health.
Green smoothie weight loss recipes can assist you in eating healthier, losing weight, and even resetting your cravings! Beginning a new weight loss program or diet plan does not mean you will have to give up your favorite foods.
The most effective smoothies for weight loss are those that you genuinely enjoy! Therefore, do not be afraid to choose one that you can enjoy on a daily basis and do so!
We hope you've discovered a recipe or two that you can't get enough of! We wish you the best of luck on your weight loss journey and blending success!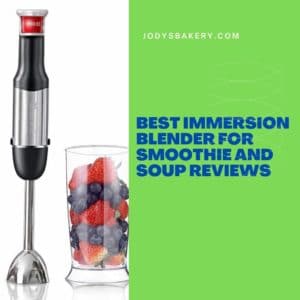 An immersion blender is a little bit of a misnomer...
Read More
Why Trust Us
You will find what you are looking for at Jody's Bakery. From classic to luxury brands, you'll find both. We will help you to select appliances that fit your needs, budget and lifestyle. Whether you want to stop by to learn more — or plan to make a major purchase — we'll treat you like family and assist you every step of the way. Shop with us today to receive friendly and experienced help along the way.