Green smoothies are our favorite way to consume raw fruits and vegetables because they are quick to prepare, take less than 5 minutes, and taste great. They're the ideal snack or breakfast item.
If you enjoy the taste of apple pie, you're going to adore this green apple pie smoothie. It's apple pie in a glass! This smoothie is easy and delectable due to the classic mix of apple and cinnamon.
We adore apple smoothies. They contribute excellent texture, thickness, and fiber. To maximize the nutritional value of apples, avoid peeling them and opt for organic. Apples are high in pectin, a type of soluble fiber that helps decrease cholesterol. Additionally, they include a high water content, which allows you to feel full.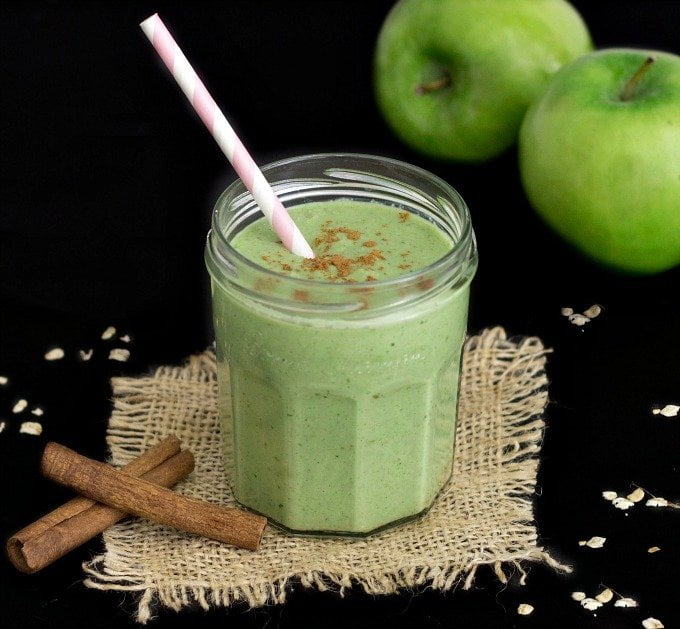 This apple pie green smoothie tastes exactly like apple pie! It's simple, silky, creamy, and delectable and only contains 214 calories!
Why should you drink healthy Apple Pie Green Smoothie?
What prompted me to use spinach in an apple pie smoothie? Spinach is a superfood that is packed with antioxidants, vitamins, and minerals. It is a good source of vitamin A, C, E, and K. We swear you will not taste the spinach at all! Cinnamon and nutmeg act as a disguise for the flavor.
Right now, lovely apples are in season, so whip up a green apple pie smoothie! As the proverb goes, an apple a day keeps the doctor away…:)
What are ingredients included in this Apple Pie Green Smoothie?
Apple:

 For this apple smoothie, we recommend Granny Smith apples. This is my favorite apple, and it has the perfect balance of sweetness and tartness. 

Spinach: spinach is a favorite in our smoothies. It turns them a lovely shade of green, but the flavor is fragile.
Vanilla almond milk is not required, but we enjoy adding vanilla almond milk to my smoothies to add flavor. If you use different dairy, you might substitute a splash of vanilla essence.
Almond butter: boosts the protein and bulk of your smoothie!
Cinnamon is the star of this smoothie and a must-have for us!
How To Apple Pie Green Smoothie
Utilize this straightforward three-step technique to ensure you always combine an Apple Pie Green Smoothie!
Step 1: Combine the apple, banana, and remaining ingredients in a blender.
Add your milk to the bottom of a high speed blender. By adding the milk first, the blender will have an easier time blending the difficult ingredients.

Chop the apple in cubes, unpeeled.

Slice the banana into small pieces.
Step 2: Choose Some Add-Ins
There are various methods to incorporate additional protein into this smoothie recipe.
Protein Powder: we would suggest vanilla. Before blending, add a scoop!

Cottage cheese:

 That may sound strange, but take it seriously! Adding 1/4 cup of cottage cheese to your smoothie is a simple way to boost your protein intake without using protein powder.

Greek yogurt:

 We enjoy using a small amount of vanilla yogurt in my smoothies. You could also use plain Greek yogurt, but the smoothie may need to be slightly sweetened to taste.

Chia seeds:

 While these do not provide a significant amount of protein, they do contribute some.
Step 3: Blend till smooth and enjoy!
To prepare a great smoothie, we always have fruits in our freezer. Additionally, we like to freeze greens such as spinach always to have them on hand.
We use frozen bananas in many of my smoothie recipes to achieve the ultra-creamy texture of ice cream.
If you'd instead not utilize a supplement, other protein-boosting options include hemp seeds and chia seeds. Both are excellent vegan protein sources, are easily digestible, and provide protein and fiber in addition to omega-three fatty acids.
If washing the spinach at home is necessary, before preparing the smoothie, allow it to dry completely before freezing.
If you want to add yogurt to your breakfast smoothie, simply substitute yogurt for all or part of the milk. (Traditional, Greek, coconut, soy, and so forth.) Plain, vanilla or blueberry flavors are all acceptable.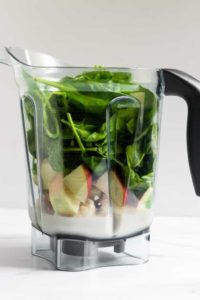 In a blender, combine all of the ingredients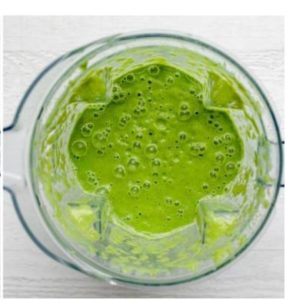 Process until smooth and creamy. Taste and, if required, adjust the sweetness.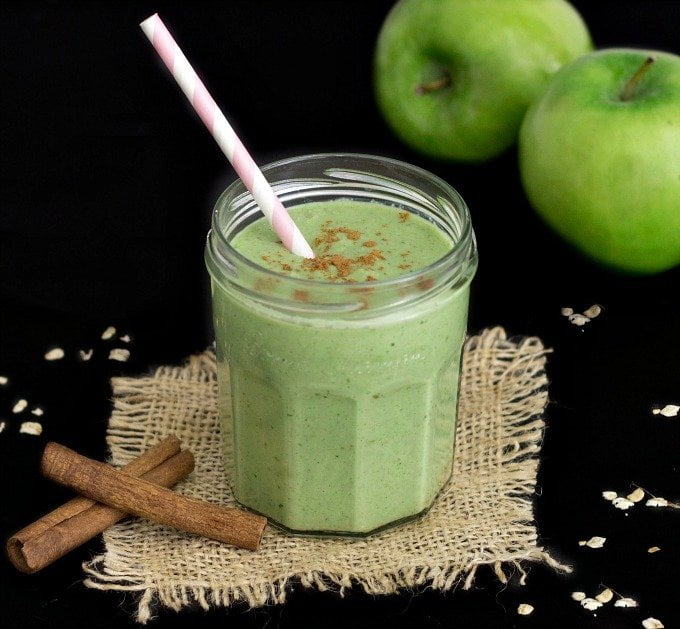 Pour into a glass or mason jar and top with cinnamon. Enjoy!
Nutrition
Serving: 
331
g |
Calories: 
214
kcal |
Carbohydrates: 
45.6
g |
Protein: 
8.7
g
, 
Fat: 
1.3
g |
Sodium: 
34
mg |
Fiber: 
6.2
g |
Sugar: 
30.3
g
Apple Pie Green Smoothie - FAQs
You most assuredly can! This recipe is, by definition, vegan!
Nope! Toss it on in its entirety, peel and all. We cut it into large parts, but you don't have to have a powerful blender. We've already sliced the apple away from the core and put the large chunks right in!
With this thick and creamy Apple Pie Green Smoothie, you may enjoy one apple a day. Spinach, apple, cinnamon, and a few more ingredients combine to create this delectable smoothie that will get you in the mood for all of this year's apple picking!
Cinnamon, nutmeg, allspice, ginger, and cardamom are all possible ingredients in this spice blend. Although it contains no sugar, apple pie spice has a natural sweetness and a sweet aroma.
This smoothie is excellent for both children and adults who want a tasty way to get their greens. We hope you enjoy our apple pie green smoothie!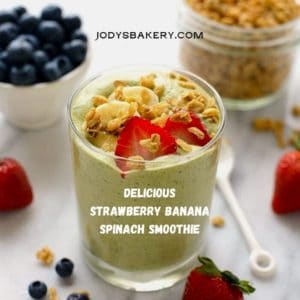 All of the macronutrients (fats, carbohydrates, and proteins) and micronutrients...
Read More
Why Trust Us
You will find what you are looking for at Jody's Bakery. From classic to luxury brands, you'll find both. We will help you to select appliances that fit your needs, budget and lifestyle. Whether you want to stop by to learn more — or plan to make a major purchase — we'll treat you like family and assist you every step of the way. Shop with us today to receive friendly and experienced help along the way.