This is the kale smoothie that started it all! And, last, to conclude all green smoothies. It's prepared with nutritious ingredients like banana, pineapple, kale, and peanut butter, is high in protein and fiber to keep you full, and (most importantly) tastes nothing like kale.
Even if you're not a fan of green smoothies, loathed previous kale smoothie attempts, or are dubious of anything green before 11 a.m. in general, you'll struggle to resist this kale pineapple smoothie recipe.
Smoothie made of green kale, pineapple, banana, and Greek yogurt. Filled with nutritious protein and nutrients, this snack will keep you satisfied for hours!
Why should you drink healthy Kale Smoothie?
If the thought of incorporating a vegetable as furiously green as kale into your breakfast routine makes you nervous, I implore you to try this kale pineapple smoothie recipe.
I've prepared many green smoothies over the years, and this one is, without a doubt, the finest of all healthy green smoothies.
This nutritious morning smoothie has received scores of rave reviews.
It's refreshing, creamy, and incredibly delectable.
It is pretty compelling! Start your morning with a glass, and the rest of the day will feel strangely invincible.
This healthy breakfast smoothie is sweet and creamy, with a subtle kale flavor, including pineapple, banana, and honey.
Apart from the noticeable green color, you'll have no idea it's made with kale. (Another excellent option to sneak in some greens is with this Green Smoothie.)
What are ingredients included in this Kale Smoothie?
This kale smoothie is INCREDIBLY BENEFICIAL TO YOUR HEALTH. It's high in fiber and protein, as well as a variety of vitamins, antioxidants, and other minerals!
The ingredients you'll need to create it are listed below, along with a brief description of their nutritional value.
Kale. It is packed with vitamins and minerals, including fiber, antioxidants, and calcium. Vitamin C and iron are also included in this food. Raw kale offers more vitamin C per serving than an orange! In a smoothie, kale can be eaten uncooked (no need to cook it first). This dish has a strong kale flavor on its own, but the other components help to mask it.
Pineapple. Kale's flavor can be tamed and practically undetectable using our secret ingredient! Pineapple completely masks the taste of greens in a smoothie whenever I add it to one. Pineapple is also a good source of vitamins and minerals, making it a healthy choice. Vitamin C and manganese are found in abundance in this food. Antioxidants are found in pineapple, which is a good source of them.
Banana. Another component that helps to control the raw kale. Bananas are an excellent source of fiber, antioxidants, and other minerals. Bananas may also aid in weight loss due to their low calorie and high fiber content. Banana adds richness, thickness, and creaminess to the kale smoothie while also naturally sweetening it.
Honey. A touch of natural sweetness. Honey is packed with antioxidants, aids digestion, and may help ease a sore throat. To make the kale smoothie vegan, use maple syrup for honey.

Peanut Butter

. Healthy fat adds added satisfaction to the smoothie. You could also use almond butter or sun butter instead of peanut butter, though we prefer the peanut butter flavor (it pairs so well with the banana and honey).

Greek Yogurt. A generous spoonful of fat-free Greek yogurt adds additional protein and bulks up the kale smoothie. Use a non-dairy yogurt to make the kale smoothie vegan.

Almond Milk

. Our preferred milk for all smoothies (we adore its flavor and texture), though any milk will suffice.
How To Make Kale Smoothie
The secret to this smoothie is to use a tropical blend of fruits, including pineapple, banana, and almond milk, to get a pleasing balance of sweet and sour flavors. We avoid pairing kale with anything too weak in flavor; otherwise, you would notice the kale too much!
Step 1: In a high-speed blender, combine all of the ingredients.

If you lack a powerful blender, we recommend combining the liquid and kale leaves first to assist in their breakdown before adding the frozen fruit.

Step 2: Blend on high speed until completely smooth. You may need to scrape down the blender's top and sides to ensure that everything blends evenly.
Step 3: Serve immediately after pouring into a glass!
Although this kale smoothie is best served immediately after blending, it can be chilled for up to 4 hours (with sound effects) or up to 1 day (less optimal results).

While a high-powered blender such as a Vitamix produces the smoothest results, you can also create this banana kale smoothie in a standard blender. Here are some of my recommendations:
If you have a powerful blender, combine all items in it and blend until smooth! It's that simple.
We do not advocate including the kale stems in the kale smoothie since they can be excessively rough and fibrous, even with a powerful blender.
If you're using a conventional blender, we recommend blending the kale and almond milk until the kale is completely smooth. From there, add the other ingredients.
If you prefer a thinner smoothie, add additional almond milk. Add a couple of ice cubes for a more decadent smoothie.
Without pineapple on hand but in need of kale taming? Mango has a similar impact, so you can substitute it in this recipe if you have on hand.
In the order given, combine all ingredients (kale, almond milk, banana, yogurt, pineapple, peanut butter, and honey) in a blender.
Blend until smooth, adding additional water as required to reach desired consistency.
Serve immediately and thoroughly clean your blender to avoid sticking.
Nutrition
SERVING: 
1
(of 2) |
CALORIES: 
228
kcal |
CARBOHYDRATES: 
29
g |
PROTEIN: 
11
g |
FAT: 
10
g |
SATURATED FAT: 
2
g |
CHOLESTEROL: 
1
mg |
POTASSIUM: 
702
mg |
FIBER: 
3
g |
SUGAR: 
14
g |
VITAMIN A: 
6731
IU |
VITAMIN C: 
95
mg |
CALCIUM: 
247
mg |
IRON: 
1
mg
Kale, like broccoli and cauliflower, is a cruciferous vegetable that contains a chemical called glucosinolates. These include another chemical called thiocyanates, which has raised concerns about consuming raw kale.
It's OK to make this smoothie ahead of time and store it for up to 24 hours in an airtight container, but we think it tastes best when consumed the same day it's prepared.
Frozen kale is another alternative to make your life easier. Before freezing the kale leaves, be sure to remove the bitter stems, which will alter the flavor of your smoothie. The whole leaves can be kept in the freezer for up to three months and used as needed.
This Kale Smoothie recipe is one of my favorite methods to increase my intake of dark leafy greens throughout the day. While kale can be overbearing in smoothies, this combo works like magic! Our children refer to it as green "ice cream" and eagerly consume it.
Please leave a comment below if you attempt this dish, and let me know what you think! Additionally, if you make any substitutions, please let me know how they turn out. Your experience can benefit us all!
Smoothies are an excellent method to incorporate a large amount...
Read More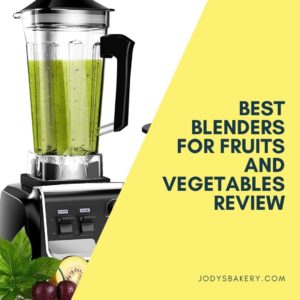 Fruits and vegetables are a delicious and exciting way to...
Read More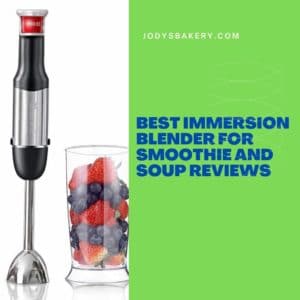 An immersion blender is a little bit of a misnomer...
Read More
Why Trust Us
You will find what you are looking for at Jody's Bakery. From classic to luxury brands, you'll find both. We will help you to select appliances that fit your needs, budget and lifestyle. Whether you want to stop by to learn more — or plan to make a major purchase — we'll treat you like family and assist you every step of the way. Shop with us today to receive friendly and experienced help along the way.