Vitamix blenders are among the most popular home appliances available, and for a good reason. It delivers excellent results while remaining simple to use in your kitchen. If you're new to the Vitamix world, you're probably impressed by the stories of delectable smoothies, steaming soup, and chopped veggies all prepared in one durable device.
On the other hand, your initial reaction to the blender may change when you see the price tag. Yes, a Vitamix blender is not your typical $50 appliance that lasts fewer than five years.
While the ability to create an unlimited number of recipes in one blender is astounding, is the high price tag justified? Yes, in our opinion! There are various reasons for this blender's higher price, and not all of them are obvious.
We'll explain Why do Vitamix blenders come at such a high price and why we believe it's worth your hard-earned money in the article below.
Although we've already said it, this blender excels at adaptability. It offers a plethora of capabilities and features; the amount of recipes that may be created is staggering. Not only can you chop, mix, and combine, but the food processor attachment also allows you to slice.
We have compiled this list to give you an idea of what you can do with the Vitamix.
Ice cream
Almond butter (and other butter)
Hummus
Salsa
Chopped veggies
Crushed ice
Grind coffee
Smoothies
Blend meat for meatballs and meatloaf
Sauces
Juices
Almond milk
This is only a sampling of what this mixer is capable of producing. It is a juicer, blender, chopper, mixer, and even a food processor in one. Even better, you can use your Vitamix alone to prepare the hot soup.
Combine the ingredients and set the timer for seven minutes. Not only will the blades chop, blend, and mix everything, but they will also heat everything so that it is immediately ready to eat after the Vitamix is turned off.
The motor is one of the disadvantages of a standard blender. They are typically compact and susceptible to overheating if used for an extended period. However, this is not the case while using a Vitamix. The two-horsepower (HP) motor is one of the primary attractions of its design. It is long-lasting, reliable, and efficient.
It's also not simply the two-horsepower motor. Vitamix's thermal cooling technology prevents the engine from overheating. Consider that heat is a bad thing in any mechanical design. The heat will gradually deteriorate the various components and gears.
Additionally, it will cause it to overheat, which will result in a short circuit of the blender. In the case of Vitamix, the thermal protection keeps the system cool even when the blender is operating at full speed.
Not only does this preserve the blender's internal components, but it also enables you to use it continuously for up to 10 minutes. This also prolongs the life of the Vitamix.
Another factor to consider is the blade quality of the Vitamix blender. Again, the blades on a standard blender are often not very robust. They are prone to bending, breaking, and, at the absolute least, dulling over time. Vitamix carefully researched the shape of their blades to ensure they stood out from the competition.
Blades made of aircraft-grade stainless steel ensure that this blender's blades are tough, durable, and never dull. They will maintain their sharpness without your intervention. Not only that, they are strong and sharp enough to cut through some of the toughest fruits and vegetables, including carrots, onions, cabbage, and even turnips.
The blades are laser cut to a thickness (while remaining razor-sharp), enabling the Vitamix to handle even the most difficult foods. Apart from vegetables, you can also crush ice, grind coffee beans, make nut butter, and prepare other dense recipes that require multiple appliances.
The appeal of any blender is the ability to create delectable recipes such as smoothies. Regrettably, cleaning up after specific recipes is not as enjoyable. Consider cookie dough. Attempting to clean the container of remaining dough from the sides and beneath the blades can be quite a chore, not to mention that you risk cutting your fingers on sharp blades.
Fortunately, this is not an issue with the Vitamix, as it self-cleans. All you need to do is add some warm water and a few drops of dish detergent to the blender and turn it on for approximately 30 seconds. Some models even include a cleaning mode to make life even more straightforward.
In addition, a blade scraper is included to make removing any batter or dough stuck under the blades a cinch! Instead of buying more Band-Aids, you'll save money.
Reduction in Noise Pollution
There is nothing quite like a peaceful Sunday morning before the children awake. Whether you enjoy this quiet time with a hot cup of coffee or a fruit smoothie, nothing disturbs the quiet quite like the grating sound produced by some blenders.
Another fascinating feature of the Vitamix is its self-detect function, which automatically corrects itself when necessary. For instance, this blender is compatible with a variety of container sizes. When you replace it, the base automatically adjusts to ensure proper blend and balance. It behaves similarly depending on the recipe's weight.
It's critical to keep in mind that many blenders are top-heavy. Depending on the weight, the container's size, and the pace at which you're mixing, it's possible that the entire container will end up on the floor, causing not only a mess but also a potentially broken device.
In the same vein, you can also set the timer automatically for those hectic days when multitasking is required. As previously stated, the Vitamix may be run on high for up to 10 minutes, and hot soup in seven minutes is a popular choice for many people. After the allocated time has passed, you can use the blender's timer to turn it off.
Vitamix are well-known for their variable speed control. This blender features ten speeds for chopping, mixing, and blending. This is critical when it comes to fine-tuning the texture of your ingredients.
The faster the speed, the more refined the texture. You can prepare smoothies, butter, hummus, and juice at the most significant level. Slightly lower levels are ideal for coffee grinding. The surface becomes coarser as you descend.
The extras that come with the Vitamix add to the benefits of purchasing the blender.
Base
Container
Cookbook
CD with recipes and How-To guide
Tamper
Lid with small measuring cut attachment
Blade scraper
Apart from that, there are more products you may purchase to complement your blender. Additionally, there is a food processor attachment, extra container sizes, a tamper holder, additional cookbooks, stainless steel smoothie cups, and a personal cup adaptor. Additionally, there are various styles of blenders to pick from.
When determining why the Vitamix blender is more expensive than others, our final point is the guarantee that comes standard with all models. Each blender comes with a seven-year warranty. When you consider that a blender of ordinary to low quality will only survive around five years, this is rather astounding.
Additionally, it is critical to remember that the average Vitamix blender runs optimally after ten years of operation. Numerous owners of these appliances have reported lifespans of ten to fifteen years or longer, depending on their care. Regardless, it's reassuring to know that your investment is secured for seven years if something goes wrong.
Best Vitamix blenders for your choice
The more expensive blender will likely be more cost-effective when you consider the cost and longevity of a conventional blender. However, the amount of money produced is not the only factor to consider.
The Vitamix is well worth the additional expense because of its high overall performance, durability, features, and adaptability.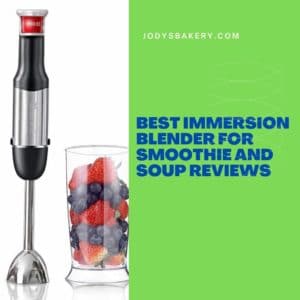 An immersion blender is a little bit of a misnomer...
Read More
Blenders can be workhorses in the kitchen of the home...
Read More
Why Trust Us
You will find what you are looking for at Jody's Bakery. From classic to luxury brands, you'll find both. We will help you to select appliances that fit your needs, budget and lifestyle. Whether you want to stop by to learn more — or plan to make a major purchase — we'll treat you like family and assist you every step of the way. Shop with us today to receive friendly and experienced help along the way.