Use these tips to get the perfect loaf from your bread machine.
Getting Started
Whether you're making bread by hand or with a bread machine, you need only four ingredients:
yeast (or a starter )
flour
liquid (such as water or milk)
salt (for flavor and to control fermentation)
Once you have these basics, you can add any number of other ingredients to make a great variety of breads.
Making bread with a bread machine follows the same process as making bread by hand. The only difference is that the mixing, rising and baking all take place within the machine. Below are some great tips to ensure you're getting a nice golden loaf out of your bread machine.
---
Give It a Little Lift–With Yeast!
Yeast feeds on sugars and starches in the dough and when it grows, it produces carbon dioxide that makes your dough rise. Yeast is a living organism with a finite life expectancy; it's also very sensitive. Too much heat (at the wrong time), sugar or salt can kill it.
If you want to check whether your active-dry yeast is still usable, you need to proof it. To proof yeast:
Place 1 cup of warm (110 degrees F) water in a bowl.
Add 2 teaspoons of sugar; stir to dissolve.
Sprinkle a packet of yeast (2 ½ teaspoons) on top. 
Let it sit for a few minutes, then stir until it dissolves. 
Cover the bowl with plastic wrap and set it in a warm, draft-free place (inside your turned-off oven, for example).
Within 5 to 10 minutes the top of the mixture should have turned creamy and foamy, which means the yeast is working. If there is no activity, throw the yeast away and buy a new supply.
Know Your Yeasts
Bread machine yeast and rapid-rise yeast are specially formulated for the bread machine. They also become active more quickly than active dry yeast. 
Active dry yeast should be dissolved in water before being used, but bread machine yeast can be mixed in with other dry ingredients. This is particularly important when using the timed mixing function on your machine. For more about yeast and yeast conversions, see our Baking Yeast Breads article.
---
The Skinny on Flours and Gluten
Gluten, a protein in wheat flour, is what provides the structure in bread. Strands of gluten are woven together by mixing and then inflate as the yeast multiplies. 
High-protein flours help to give yeasted bread a chewy texture, so look for flour ground from hard wheat with 13 or more grams of protein per cup (hard wheat yields the highest amount of protein, or gluten).
If you want to add more stability to your bread, you can add a product called "vital wheat gluten." This is especially important if 25% of the total flour in your recipe is a low- or no-gluten variety such as whole wheat flour, cornmeal, rye flour, soy flour or oatmeal. 
The rule of thumb is to add 1 tablespoon of vital wheat gluten for every cup of low- or no-gluten flour that is being used in your recipe. Bagels and pizza dough also benefit from the added elasticity of high-gluten flour.
---
The Lowdown on Liquids
Yeast needs a warm (but not hot) environment to grow in, and for this reason, all liquids added to the bread machine (including eggs) should be at room temperature. 
Water is a common liquid ingredient, but since many people use the timer on their bread machines, most recipes call for non-fat dry milk or powdered buttermilk. 
However, if you are mixing your dough right away, you may certainly use fresh milk. Simply replace the water with milk or buttermilk and omit the powdered milk.
---
Sizing Up the Bread Machine
When reading bread machine recipes, remember that all bread machines are not created equal. Some machines make 1-pound loaves; others make 1½- or 2-pound loaves. 
Some machines have a variety of settings while others simply have an on/off button. Make sure you read your machine's manual and follow its guidelines.
When trying a new recipe, compare the amounts of ingredients to the recipes you usually use in your bread machine. It's important to not exceed the capacity of your bread machine pan. 
Use only recipes with the appropriate quantities of ingredients for your machine, or adjust the amounts accordingly.
Small loaf machines generally use about 2 cups of flour, while large loaf machines use 3 cups. It's also very important that you measure ingredients correctly. Be exact. Even a teaspoon more or less of water could make a difference.
First Things First
Make sure you check the instructions for your machine regarding the order of loading ingredients. In some machines the wet ingredients go first, in others, the dry ingredients. And some machines have a separate yeast dispenser.
When trying a new recipe, remember that yeast will activate when it contacts water or any other moist ingredient, including eggs, fruit, cheese, vegetables or butter.
That Perfect Climate
After you've got all your ingredients measured out, don't be too quick to load the bread machine. Ideally, ingredients should be at room temperature when they go into the pan. Due to potential health risks, eggs should be used as soon as they're at room temperature.
Helpful Hints
"Bread machine bread flour" is the same thing as bread flour. Both contain more gluten than all-purpose flour.
Eggs should be refrigerated, so to bring them to room temperature quickly and safely, place the whole (uncracked) egg in a cup of hot tap water for four or five minutes.
If your recipe calls for milk you should not use a delayed mix cycle.
Cut butter or margarine into small pieces before adding it to the machine.
All Post

Air Fryer

Baby Food Maker

Best Lists

Blender

Bread Maker Machine

Bread Slicer

Cake pop maker

Cooking Tips

Deals

Deep Fryer

Electric Mixer

food dehydrator

Food Processor

Food Slicer

Food Steamer

Grain Mill Grinder

Grill

Guides

ice cream maker

Instant Pot

Kitchen Gadget

Knive

Meat Slicer

Microwave Oven

Pasta Maker

Recipes

Reviews

Sandwich maker

Slow Cooker

Toaster

Toaster Oven

Waffle maker
Once you've mastered the basics of bread machine baking, you can start experimenting! Want to use a standard bread recipe…
People often ask what bread machine yeast is. Simply put, bread machine yeast is a specific type of yeast that…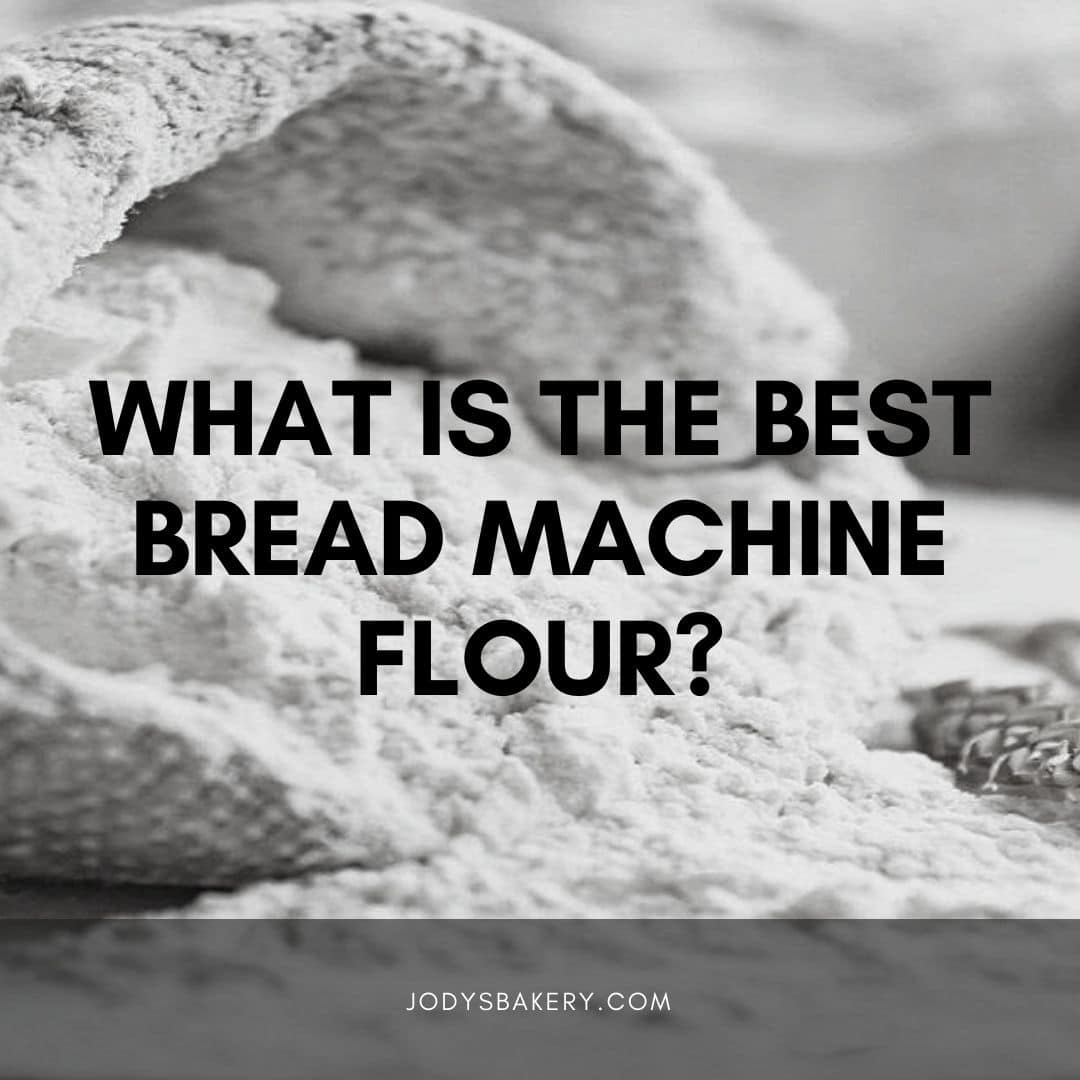 If you are in the market for a bread machine, you may be wondering what type of flour to use.…
Why Trust Us
You will find what you are looking for at Jody's Bakery. From classic to luxury brands, you'll find both. We will help you to select appliances that fit your needs, budget and lifestyle. Whether you want to stop by to learn more — or plan to make a major purchase — we'll treat you like family and assist you every step of the way. Shop with us today to receive friendly and experienced help along the way.