For too many people, kneading pie dough by hand is a tedious and time-consuming process, but with the aid of a food processor, it is now considerably easier to make delicious pie dough. 
This article is for you if you're looking for a food processor but don't know what size food processor is appropriate for pie dough. The appropriate size depends on the number of people you typically cook for and the dishes you intend to prepare. 
Let's have a clear understanding of this article's concept. 
What Size Food Processor Is Necessary For Pie Crust? 
When determining the size of a food processor to purchase for your home, you must consider the foods you'll be preparing, the amount of food you'll be designing, and the length of time you'll be using the machine. 
A food processor with a three-cup capacity can easily handle enough pie crust or dough for one to two pies. Consequently, recommendations for the size of food processors vary across families. 
The Suggested Dimension For Pie Crust 
When determining the actual size of a food processor, it is crucial to remember that the cups indicated do not correspond to the machine's capacity. Instead, it relates to the food processor's bowl size. 
A nine-cup food processor typically produces approximately four cups or less than half of the specified bowl size for liquid foods. Use up to 75% to 90% of the bowl capacity for dry ingredients in a 9-cup food processor or approximately 6 to 8 cups. 
Depending on your preferences and needs, you can choose from various sizes. Let's see. 
3-Cup Food Processor 
If you live alone or only need to prepare a small amount, you can use a three-cup food processor. A food processor with a 3-cup capacity can easily accommodate enough pie crust for one or two pies. 
7-Cup Food Processor 
A bowl with a capacity of seven cups is not necessarily capable of holding seven cups of food. It can handle half of that volume of liquids and three-quarters of that volume of solids. 
Consider upgrading to the next bowl size if you serve a large household; this will save you money because it will retain all these incredible features and be large enough to meet your needs. 
11-Cup Food Processor 
If you're looking for a medium-sized classic processor that can handle heavier foods such as pizza dough or any large-batch dish, then the 11-cup processor is for you. 
12-Cup Food Processor 
It is a food processor with a standard 12-cup capacity. This indicates that it can accommodate a substantial amount of dough. Certainly, kneading dough for pies or pizzas is effective, but not for oversized items. 
14-Cup Food Processor 
The food processor will be helpful if you intend to prepare food for a large group. This is due to the food processor's 14-cup capacity. The enormous capacity enables you to process vast quantities of food while still having sufficient space to knead pie dough without making a mess. 
This is it if you need a large, powerful food processor to knead pie dough and make pies. Choose a more extensive food processor than 12 cups, such as a 14-cup model, for kneading dough. As dough recipes serve numerous individuals, additional space is required. To knead, the dough also necessitates additional space for its formation. 
Cautions 
When selecting the size of a food processor, you must consider the following: 
There should be sufficient room to knead the dough until it forms perfectly. 
Larger sizes alone will not provide sufficient capacity; choose a model with a more powerful motor. 
Consider bowl size as opposed to machine size 
Final Reflections 
As food processors with more than 12 cups are preferable for kneading pie dough, you may choose a 14-cup food processor or any other according to your needs. 
If you want to avoid the challenges of cleaning a large bowl, you can choose a small one. This is a philosophical viewpoint. I hope you clearly understand what size food processor to use for pie dough. 
Grab the appropriate one and enjoy the pie! 
All Post

Air Fryer

Baby Food Maker

Best Lists

Blender

Bread Maker Machine

Bread Slicer

Cake pop maker

Cooking Tips

Deals

Deep Fryer

Electric Mixer

food dehydrator

Food Processor

Food Slicer

Food Steamer

Grain Mill Grinder

Grill

Guides

ice cream maker

Instant Pot

Kitchen Gadget

Knive

Meat Slicer

Microwave Oven

Pasta Maker

Recipes

Reviews

Sandwich maker

Slow Cooker

Toaster

Toaster Oven

Waffle maker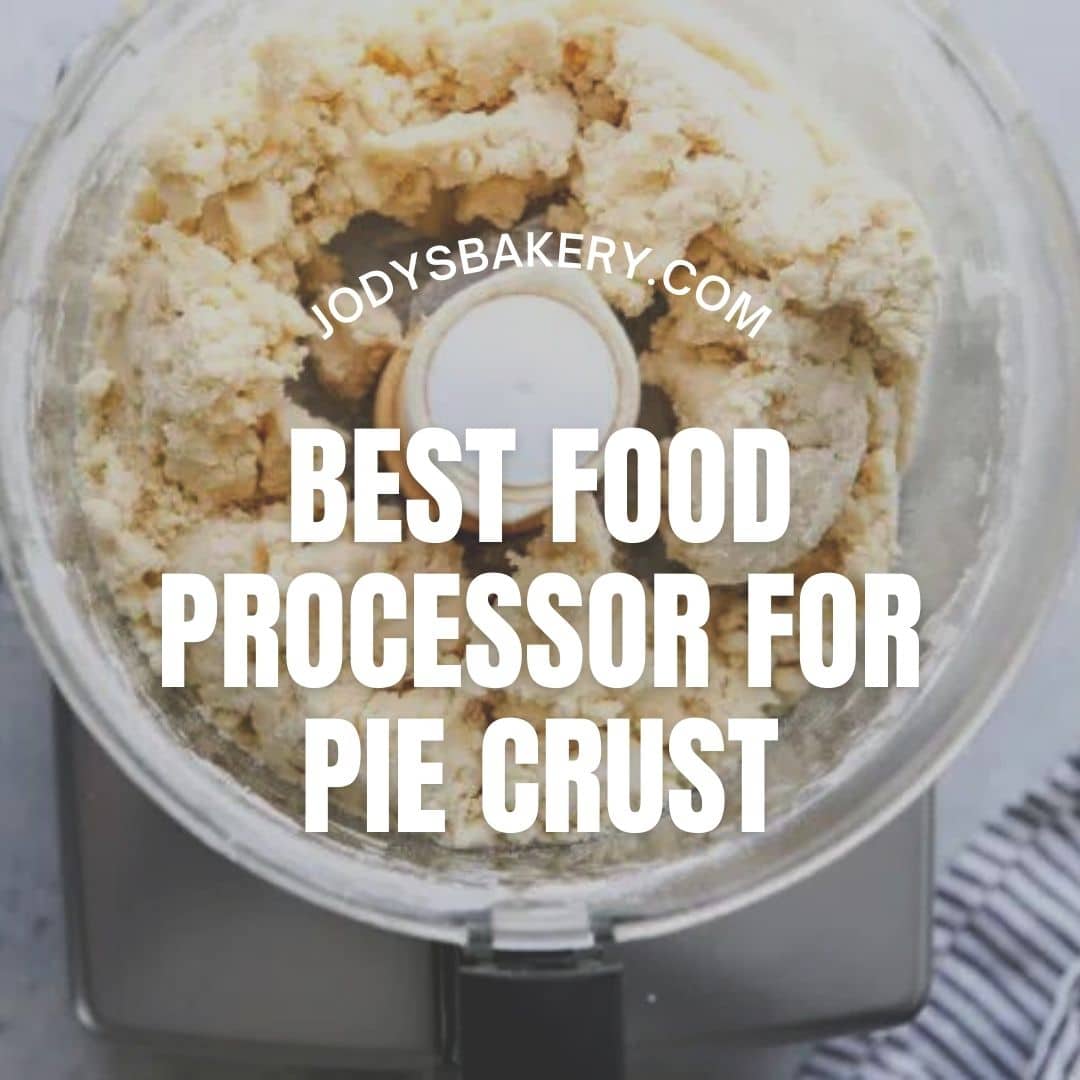 Pie crusts are one of the most important components of pies. They provide a sturdy foundation for the filling and…
Anyone who has ever tried to make dough by hand knows that it can be a real pain. Not only…
There are a lot of reasons why you might want to make your own nut butter. You're trying to avoid…
Why Trust Us
You will find what you are looking for at Jody's Bakery. From classic to luxury brands, you'll find both. We will help you to select appliances that fit your needs, budget and lifestyle. Whether you want to stop by to learn more — or plan to make a major purchase — we'll treat you like family and assist you every step of the way. Shop with us today to receive friendly and experienced help along the way.