1. Tiramisu by Food Network UK
Enjoy the mouth-watering goodness of tiramisu. I have tried this recipe one time in summer, and I can't help but making it repeatedly. The particular recipe I found from Food Network is basically easy. It only takes 20 minutes to prepare, and it can serve for people. You only need two large eggs, an egg yolk, sugar on the level of sweetness desired and vanilla extract, among other ingredients.
I suggest checking out the link I have shared above for the complete recipe instructions and ingredients to start making the lovely, beautiful dessert with or without an occasion. Turn an ordinary day into a super fun-filled one by sharing some conversations over a cup of coffee and a slice of tiramisu for everyone.
2. Coconut Whipped Cream by All Recipes
If you love whipped cream but not its whole bunch of fat, you can try a healthy, dairy-free alternative using this simple recipe from All Recipes. You will surely enjoy your whipped cream without the guilt involved. But worry not, as you can also do it at home without any hassles. You can just visit the link I have shared above and see the complete instructions on how to make a coconut whipped cream using some basic kitchen ingredients. Just take note that you need to use the organic coconut milk for the best results – and of course superb consistency. Avoid variants with the added guar gum because that could inhibit the whipping, according to the site.
3. Whipped Cream & Cream Cheese Frosting by All Recipes
I fell in love with this lovely recipe at first sight! It does not only look good, though. It is also very easy to prepare, and you don't need a degree in culinary arts to perfect it. Just follow the easy steps from All Recipes, and you will be okay. You can add this on top of a cake and decorate it with this awesome treat.
4. Drunken Honeyed Figs with Lemon Mascarpone Whipped Cream by Food 52
This recipe by the Wimpy Vegetarian, as published on the site, is a delicious goodness that will be loved by everyone! You can just follow the simple steps provided, and you will have your dose of lemon mascarpone to satisfy your delicate palate in less than an hour. The recipe can make eight lovely tarts, enough to serve a small group of friends. Just like you, I am so excited to try this recipe myself and impress everyone including myself!
5. Stabilized Whipped Cream Icing by All Recipes
If you are baking a cake, then make it more exciting by making this icing and glazing it on your baked goodie. You can it is on a pie, too. The recipe takes only 25 minutes to prepare and it contains only 55 calories. Yum, yum – that's all you can say after having a taste of this simple icing from All Recipes.
6. Grilled Pound Cake with Espresso Chocolate Sauce
Do you love grilled pound cake? Sure, you do! I am thrilled when I found this great pound cake with whipped cream and espresso and chocolate sauce. But hey, neither of us should be an expert to bake it, as it is pretty straightforward and let us create a wonderful treat for everyone in the family in less than an hour. So go on and check out the site for the complete details on how to make this grilled pound cake.
7. Bourbon Whipped Cream by All Recipes
To those of you who would love some spice on your whipped cream, just head over the site and see how to make bourbon whipped cream that you can use for a pumpkin pie or a pecan pie. And did you know that all it takes is five minutes of your time and you can serve this 61-calorie cream to your guests? Head over the site and discover how bourbon can make your regular whipped cream more thrilling with a splash of bourbon!
8. Nut Torte by Midwest Living
Oh my, oh my, who wouldn't love a dessert that looks and tastes this good! You will be surprised on how you can become an expert baker with this gorgeous lovely that takes only 25 minutes to prepare and 40 minutes to bake. Midwest Living is truly an awesome source, and they are great people in helping us creating new, fantastic recipes out of our simple whipped cream.
9. Chocolate Whipped Cream by All Recipes
If you're in a hurry, then get things a bit easier for you! Make this chocolate whipped cream that takes only five minutes of the time, and you'll be in for a surprise to know that your beloved chocolate is more than just for a chocolate bar goodness. You can make use of it in pies and stuffed chocolate biscuits. Go to the site to check out for simple instructions and easy to find ingredients.
10. Waffle Recipe with Delicious Coconut Whipped Cream by Two Peas and Their Pod
Turn your ordinary afternoon into an exciting one! Load up your family's emotions as they fall in love with the unique taste of your regular waffles added with coconut whipped cream. Oh, things have just gotten started, doesn't it? Turn minutes into moments by spending a quality time with your family and kids with these sumptuous waffles by Two Peas and Their Pod. Go to the site and see how you can make some by yourself now.
11. Mango Cream Tart by Food 52
A mango cream tart deserves a mango whipped cream, and that's what you'll get if you'd make this excellent dessert from Food 52. You can easily make your summer more fun and alive by incorporating some summer flavors and fruits in your baking. So, don't wait! Go to the website and see full instructions on how to make cream tarts now.
12. Apricot-Custard Pie by BHG
Do you love fruits and pies at the same time? Enjoy a treat! The marriage of the flavors in this recipe will explode in your mouth. You don't have to worry about anything or even about preparation. I was amazed to know how this recipe can be that easy to make. So go on, have that apricot preserve ready, and prepare the other ingredients to start making your apricot custard pies now! Did you know that you only need eggs, sugar, vanilla, salt and cardamom in your filling? Well, I bet you are already excited to know how to prepare this sumptuous treat. Check out the link I have provided above for the full recipe guide. When done, serve one with a glass of chilled wine dispensed by a wine aerator.
13. Belgian Waffles by Family Circle
Combine a fusion of flavors from the berries and nectarines and complete the recipe with whipped cream! You will be in for a pleasant surprise when you find out how easy this recipe to prepare is. It adds life to our ordinary Belgian waffles, which can bring merriment to our taste buds for trying something different. Plus, the whipped cream spice things up a bit, but of course, have it in moderation if you're on a diet. Go to the link I have given above to check out the recipe and start making sumptuous afternoon snacks today!
14. Dark Chocolate Mousse by the Brown Eyed Baker
I always love chilled chocolate mousse! I must say that this recipe is one of the best finds I have today. I was thrilled knowing that it is not hard to make this recipe. I thought it was. It is so good that even amateur bakers like us can prepare this easy mousse recipe from the Brown Eyed Baker.
15. Rhubarb Fool With Whipped Cream & Gingersnaps Recipe by Cookin Canuck
Evoke wonderful memories in your minds! Try this excellent recipe from cookincanuck.com. I love its flavor and texture, and sure, you would, too. I am glad this recipe made it in today's list, and I hope you can prepare it, too. Head over the site and check out how you can turn that ordinary dessert you've used to make into something more intricate to show some more loving.
Conclusion
Turn that lazy afternoon into a perky one with a fun snack, such as cheese cupcakes topped with whipped cream (using a cheese slicer), Perfect Yeast Doughnuts filled with cream (using a donut fryer), freshly made juice out of the juicer or great-tasting coffee straight from the kettle.
Plus, we can serve the desserts shared above on a Sunday family gathering when we love to make some grilled meat cooked in a pellet grill and then sliced with a sharp knife.
To learn the ways on how to make whipped cream matters as much as finding the best appliances, such as an ice machine or a grinder for our homes. So what are you waiting for? Start experimenting in the kitchen and make use of the ways and recipes with whipped creams to bring out the baker in you today!
All Post

Air Fryer

Baby Food Maker

Best Lists

Blender

Bread Maker Machine

Bread Slicer

Cake pop maker

Cooking Tips

Deals

Electric Mixer

food dehydrator

Food Processor

Food Slicer

Food Steamer

Grain Mill Grinder

Guides

Instant Pot

Kitchen Gadget

Knive

Meat Slicer

Microwave Oven

Pasta Maker

Recipes

Reviews

Slow Cooker

Toaster

Toaster Oven

Waffle maker
Do you know how to make whipped cream? This one is a huge question I've been receiving in my inbox lately.…
Most people who want to whip cream from scratch at home end up attempting to figure out how to do…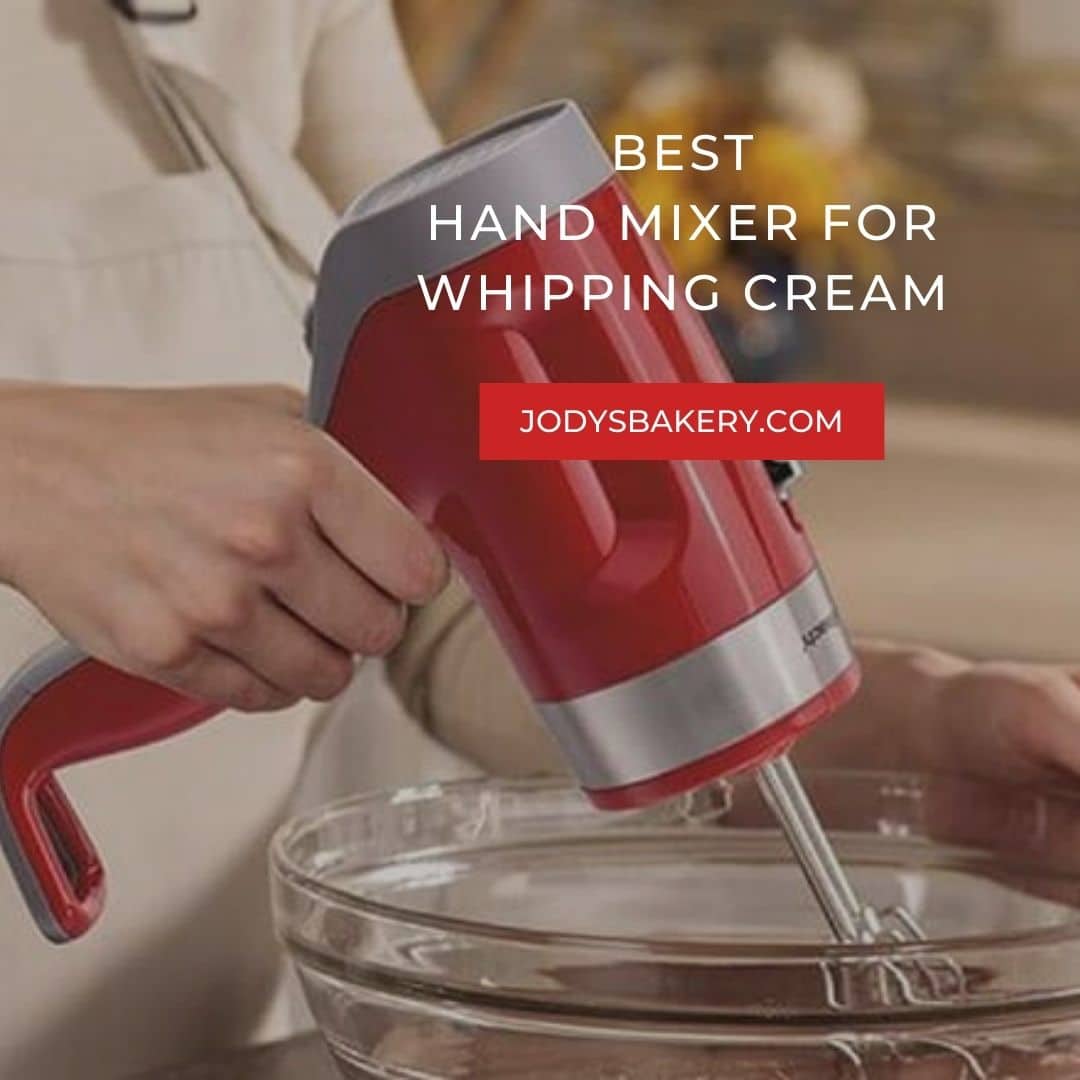 Americans love their whipped cream. Whether it is on a piece of pie, stirred into coffee, or dolloped on top…
Why Trust Us
You will find what you are looking for at Jody's Bakery. From classic to luxury brands, you'll find both. We will help you to select appliances that fit your needs, budget and lifestyle. Whether you want to stop by to learn more — or plan to make a major purchase — we'll treat you like family and assist you every step of the way. Shop with us today to receive friendly and experienced help along the way.