Bread machines give busy people the capability to make homemade bread. However, simple mistakes can ruin the finished product and cause disappointment and frustration. If this is your first bread machine bread, then avoid making the following mistakes to ensure you end up with a perfect loaf.
Add Hot Or Cold Liquid To The Mixture
You will find that bread recipes call for warm liquid. When heating up your liquid to add to the machine, do not let it heat for too long. Yeast needs the right temperature of water. If the temperature is too high it can kill the yeast. Alternatively, if the temperature is too cold, the yeast will not activate.
The temperature should be between 105 degrees Fahrenheit to 135 degrees Fahrenheit. If you do not have a thermometer, then use your finger to determine if it is the right temperature. The water should feel like warm bath water.
Use The Wrong Yeast
Yeast is yeast; however, yeast goes through various stages of life, and if it is not activated when you put it in the bread machine with the other ingredients, you will not have good results with your bread. Your bread will not rise, and it will end up short and dense.
Your bread machine requires bread machine yeast (instant yeast) that already contains a higher concentration of live yeast. If you only have regular yeast, then ensure you activate your yeast in warm water with a tiny bit of sugar before you add it to the machine.
Set It And Forget It
In the instructions, you will find the exact measurements of ingredients to use in the exact order, and most people think that this should be enough to turn out a perfect loaf of bread. However, it doesn't take long to realize that flour can fluctuate in absorbency, measurements are varied for certain bread machines, and sometimes you may need to adjust the ingredients to ensure your loaf doesn't come out too dense, too short, too doughy, or completely collapsed.
If you wait too long to adjust, and your loaf starts to bake, then you are going to be out of luck. To ensure that you have a good loaf of bread, that is not too dry or too wet, you have to peak at it while the kneading process is occurring. The dough should look soft and smooth.
If the dough looks too hard, then you need to add more liquid in one tablespoon increments until the dough looks more pliable. If the dough looks to wet, then adding flour in one tablespoon increments can help to stiffen it up. It is very important to add it in increments because you can quickly go past the point you want.
Leave The Bread In The Machine Too Long
Even though it is fun to walk away and let the bread work its magic once it is the right consistency, you cannot just leave the bread inside the machine until you are ready to eat it. It is best to remove the bread from the machine after the bake cycle is complete and let it cool on a rack. Doing this prevents the crust from becoming too thick.
In the end, bread machines offer us a convenient way to enjoy fresh homemade bread; however, there are some mistakes that can produce unwanted results. Use the above tips to ensure your bread comes out perfect the first time and every time after.
All Post

Air Fryer

Baby Food Maker

Best Lists

Blender

Bread Maker Machine

Bread Slicer

Cooking Tips

Deals

Electric Mixer

Food Processor

Food Slicer

Food Steamer

Grain Mill Grinder

Guides

Instant Pot

Kitchen Gadget

Knive

Meat Slicer

Microwave Oven

Recipes

Reviews

Slow Cooker

Toaster
People often ask what bread machine yeast is. Simply put, bread machine yeast is a specific type of yeast that…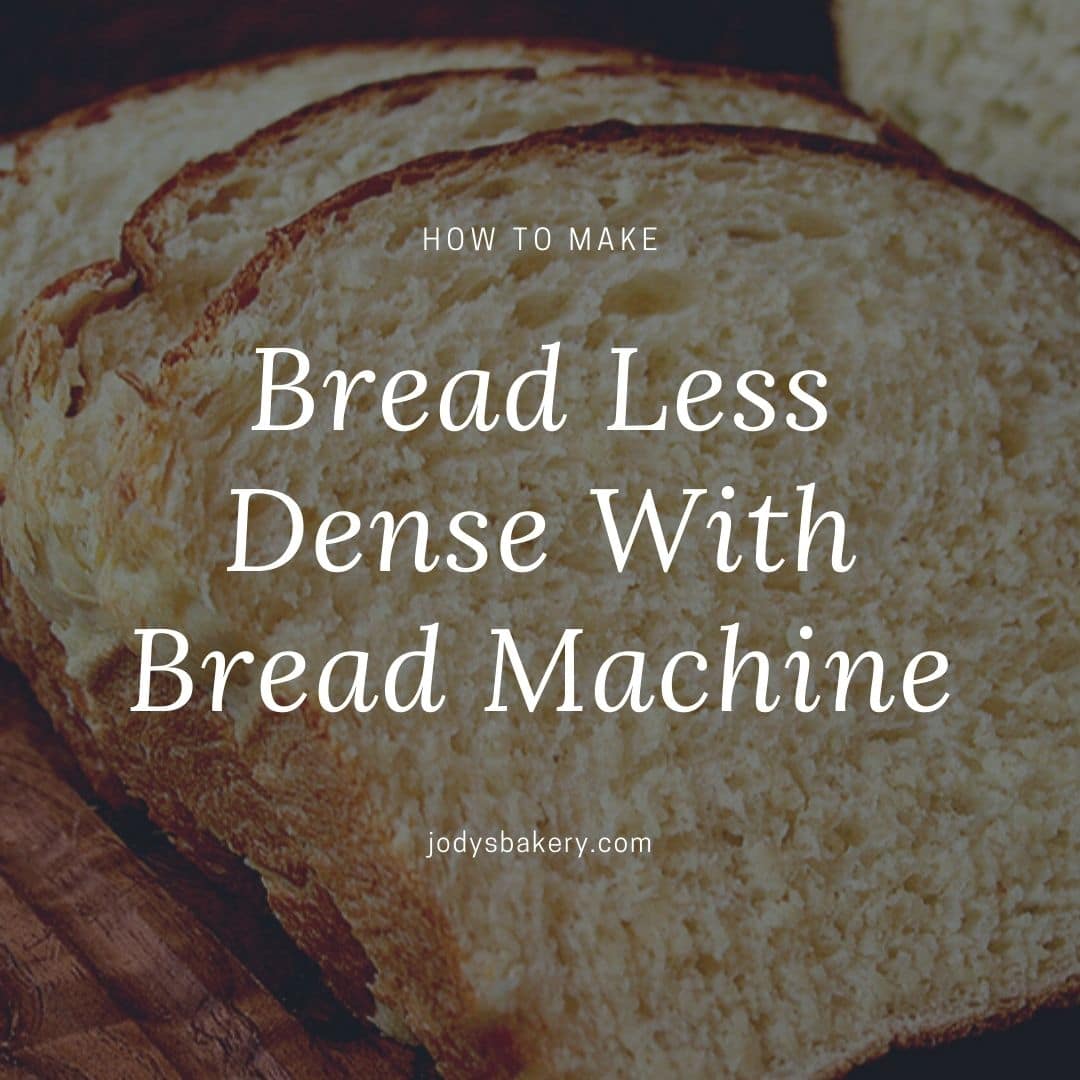 Is your bread coming out too dense? There are a few things you can do to fix this. First, check…
When it comes to baking bread, there is a lot that goes into it – from the ingredients you use…
Why Trust Us
You will find what you are looking for at Jody's Bakery. From classic to luxury brands, you'll find both. We will help you to select appliances that fit your needs, budget and lifestyle. Whether you want to stop by to learn more — or plan to make a major purchase — we'll treat you like family and assist you every step of the way. Shop with us today to receive friendly and experienced help along the way.