Making your baby food at home is a simple, quick, and cost-effective process if you have the proper equipment. Surprisingly, not all food processors are suitable for making baby food, so before you purchase any machine, look at our list. 
Several options are available, including food processors, stick blenders, and baby food makers. Whichever is the best depending on your needs, budget, storage requirements, and how versatile you want your appliance to be. 
How Do Food Processors, Blenders, and Baby Food Makers Differ? 
We've compiled a list of various excellent options for making baby food. Some are baby food makers, others are travel-friendly stick blenders, and others are good old-fashioned multi-purpose food processors. 
Blender vs. Food Processor 
Has your blender ever failed to blend anything because the food clings to the sides, preventing the blades from doing their job? This is because most blenders are designed for wetter, liquid-rich foods like smoothies. 
Food processors typically have wider-reaching blades and a more ergonomic shape, making it easier to blend dryer or more solid foods like steamed vegetables and cooked meat.  
Additionally, you can better control your baby food's consistency and "chunkiness." Moreover, food processors make adding ingredients, liquids, and seasonings while blending, as they include a chute. 
Additionally, most food processors can process hot ingredients, whereas many blenders are not. If you're rushing to finish your baby food, you don't want to waste time waiting for hot meats and vegetables to cool. I'd opt for the food processor in terms of versatility for baby food. 
Food Processor vs Baby Food Maker 
Generally, baby food makers include a steaming function and a puree function. Food processors are designed exclusively for blending, pureeing, chopping, and pulverizing foods into a variety of different consistency. 
To be completely candid, you do not need to feel compelled to purchase a baby food maker, even if they are affordable. Numerous excellent food processors on the market will do the job just as well. The distinction is that you must first cook the food before pulsing it. While this may sound like additional work, steaming food in a steamer basket or even the trusty old microwave is quite simple. 
Food processors are excellent for long-term use because they can be used long after your child begins eating "big kid" meals. 
However, baby food manufacturers have their advantages. Baby food makers are ideal for busy parents who prefer to complete all processes in one machine. Additionally, they are typically relatively compact and easy to store. If you have many small children or anticipate having more in the future, a baby food maker may be an excellent choice for you. 
As you can see, there are no hard and fast rules; it all depends on your individual needs and which appliance will make your life easier. 
Is it Better to Make Baby Food in a Food Processor? 
Food processors typically have wider-reaching blades and a more streamlined design that makes it easier to blend dryer or more solid foods. You can also have a little more control over your baby food's consistency and "chunkiness."  
Additionally, they have a larger capacity than blenders, allowing you to make larger batches of baby food at once. If you require something that can handle hot, cold, dry, and wet foods, then a food processor is a wise investment. Suppose you choose the right one. That is where we come in. 
Best Food Processor For Baby Food 
We've compiled a list of the best food processors for baby food to get you started. We've also included a manual food mill in case you're looking for a quick option to take with you on the go. 
Last updated on September 28, 2023 5:05 pm
1. Best Overall: Babymoov Duo Meal Station Food Maker 6 in 1 Food Processor
Duo Meal Station Food Maker 6 in 1 Food Processor with Steam Cooker, Multi-Speed Blender, Baby Purees, Warmer, Defroster, Sterilizer (Nutritionist Approved)
as of September 28, 2023 5:05 pm
The Duo Meal Station is a 6-in-1 multifunctional food processor that will assist you throughout your child's development, from pregnancy to food diversification and beyond. 
The Duo Meal Station has a central control panel with one button for each function to facilitate the preparation of nutritious meals while preserving all vital nutrients in a time-efficient manner. The machine's steaming and blending baskets can be used concurrently: steam, cook, blend, warm, and sterilize baby bottles simultaneously! 
Due to the Duo Meal Station, preparing food is healthier, more cost-effective, and more straightforward. It is not surprising that it has become a favorite among parents and child nutrition experts so rapidly! 
It has an LCD display with one button for each function: steam, blend, bottle warming, sterilize, reheat, and defrost. It can be disassembled for easy cleaning in the dishwasher. The independent steamer conserves space—makeup to 25 portions per preparation (9 cups of food at once). 
Key Features
500 watts

 

6 Easy To Use Functions

 

Safe And Easy To Clean

 

Small Appliance – XL Capacity

 
PROS
The steam tank can be opened completely for easy cleaning
Features an easy-to-use control panel that makes operation convenient
Built-in steam technology that allows to cook food in a gentle and safe way
CONS
Lid does not fit properly that may cause leakage
2. Most Reliable: BEABA Babycook Solo 4 in 1 Baby Food Processor
BEABA Babycook Solo 4 in 1 Baby Food Maker, Baby Food Processor, Steam Cook and Blender, Large Capacity 4.5 Cups, Cook Healthy Baby Food at Home, Dishwasher Safe, Cloud
as of September 28, 2023 5:05 pm
This is an excellent option for parents with limited time and counter space. It can steam, blend, reheat, and defrost. Peruse the negative reviews, as a few people have encountered problems with this model. However, it is a reasonably priced baby food maker that is excellent. 
The Beaba Solo 4 In 1 is a complete kitchen module that allows you to prepare, cook, and serve your baby's food quickly and easily, with flavor and texture to suit your baby's tastes. With four primary functions: steam cook, blend, defrost, and reheat. 
The steaming feature the blender will steam-cook vegetables and fruits in 15 minutes without overcooking them or making them soggy while preserving their flavor, vitamins, and minerals. 
The blender has a twist switch that allows you to twist and leave it to blend or manually control a pulse to blend food to the desired consistency. 
The reheat and defrost functions incorporate the steamer function to heat the baby's food to the optimal temperature gently. 
This Babycook Solo, with a capacity of 1.1 liters, also includes an auto-off function, a sound signal after the cooking cycle, a backlit display, and a descaling indicator. 
The blender comes with a steamer basket for pasta and more miniature vegetables, a spatula with a long and thin design for gaining access to the jug, and a recipe booklet to help create the perfect healthy meal for your baby. 
The BEABA babycook is a delight to operate. This small appliance won't take up much space on your counter, but it's still large enough to cook and freeze multiple portions. The defrost function is handy. Blending and cooking power is sufficient to produce highly smooth purees. Use caution when cleaning the blades, as they are incredibly sharp! 
If you want a baby food steamer and blender that is straightforward to use, this is the one for you. It can process most fruits and vegetables, as well as meat. 
You'll be surprised at how well the Beaba baby food maker works with adult foods like jam and hummus and organic baby food! 
Key Features
The very first and best-selling baby food maker in the world! 1 machine operation – no pots, pans, blenders, microwaves or clean up. On many lists of baby registry must haves!

 

Steam cooks raw chicken, fish, fruits or veggies to any stage baby food and toddler food in under 20 mins. 4-in-1 function (steam cooks, blends, defrosts, reheats healthy food). Unique blend feature lets you control consistency from fine to chunky puree.

 

Auto shut-off cooking timer, no need to watch over the machine! Patented baby food steamer cooking system with unique, one-handed operation (designed so you can hold baby in one hand and make organic baby food with the other).

 

Great for weekly meal preps and then storing baby food in baby food containers. Make any stage baby or toddler food from purees to solids. Add to your list of baby essentials and don't forget to pair with our BEABA baby food containers, baby bowls, baby spoon and baby food freezer tray.

 

Large 4.5 cup bowl with graduation markings. Stainless Steel Water Reservoir. Dishwasher safe steam basket & cooking bowl. BPA, Lead & Phthalate Free.

 
PROS
Elevated steam basket allows stream cooking that helps keep nutrients in the food
Features an auto shut-off function that helps save power
Made of high-quality BPA and lead-free material that makes it safe to use
CONS
Water reservoir may be difficult to clean
3. Best for Puree: BEABA Babycook Neo
BEABA Babycook Neo, Glass Baby Food Maker, Glass Baby Food Processor, 4 in 1 Baby Food Steamer, Glass Baby Food Blender, Baby Essentials, Make Fresh Healthy Baby Food at Home, 5.5 Cups (Midnight)
as of September 28, 2023 5:05 pm
The Beaba Babycook Neo is one of the best baby food makers of 2022, including a stainless steel steam basket and a glass bowl. 
This machine eliminates the need for a blender, microwave, and pots, making meal preparation for your baby incredibly simple. You can tailor the consistency of your baby's meals to their needs, from chunkier purée to fine purée. 
It has an automatic shut-off feature to ensure safety if you are not nearby. This also prevents overcooking of the baby's food. 
There are four ways to use the Beaba Babycook Neo: blend, cook, steam, defrost, and reheat. The material of the baby food maker is free of Phthalates, Lead, and BPA. 
Key Features
The only baby food maker with a glass bowl & a stainless steel steam basket

 

Intelligently designed with four settings: steam cook, blend, reheat or defrost

 

Easily accessible reservoir

 

Unique blend feature to control consistency

 

Steam cooking system

 

5.2 cup dishwasher safe bowl

 

BPA, Lead & Phthalate free

 

Made in France

 
PROS
This baby mixer is easy to use
No heavy metals, no contaminants, and it is easy to clean and disinfect.
It can steam and blend
Multifunctional property
CONS
Very Pricey
The design makes cleaning challenging as you can't see the tank correctly.
4. Best Mini Baby Food Maker: QOOC 4-in-1 Mini Baby Food Maker
This tiny appliance is ideal for preparing enough food for one to three meals. You can try a small amount of food to see if your baby likes it; if he doesn't, you won't have to throw away a large amount of baby food. If you have a small kitchen and do not intend to prepare baby food bulk, the Qooc 4-in-1 mini baby food maker will revolutionize your baby food preparation. 
We adore how silky and creamy the purees turn out, so if your infant is sensitive to texture, you will too. We also appreciate how quiet it is compared to other baby food makers and how simple it is to clean. 
Key Features
Design: 4 Powerful Functions in one compact appliance. The perfect way for busy moms and dads to steam, blend, reheat, and defrost healthy homemade baby food in just 15 minutes

 

Material: Constructed of safe and innovative materials-premium materials are BPA, lead and phthalate free and shatterproof so you can create healthy meals for your baby with confidence. Power input restriction supports 120v only

 

Features: Innovative one-handed controls plus quiet motor, you won't even need to put baby down to use this baby food maker. It's quiet and easy to cook and store food with just one hand

 

Standard Precision: Prep blade-makes it fast and easy to quickly chop/puree everything from fruit to nuts to veggies with the press of a button. Pulse every 5 seconds to grind. In just 3 rounds, you'll have a delicious puree

 

Compact Size: Convenient mini size means it stores conveniently out of the way and it's easy to clean. All components are dishwasher safe and BPA free

 
PROS
Features 4 powerful functions that makes it easy to steam, blend, heat and defrost food in just 15 minutes
Made of high-quality BPA, lead and phthalate free material that makes it safe to use
The removable parts are dishwasher-safe that makes it easy to clean and maintain
CONS
The water reservoir may not resist rust adequately
5. Best with Glass Bowl: Baby Brezza Glass One Step Baby Food Maker
Baby Brezza Glass Baby Food Maker – Cooker and Blender to Steam and Puree Baby Food for Pouches in Glass Bowl – Make Organic Food for Infants and Toddlers – 4 Cup Capacity
as of September 28, 2023 5:05 pm
Consider the Baby Brezza Glass Baby Food Maker if you require a food processor with a glass bowl that is simple to clean. Glass is ideal for those who prefer to avoid plastics (even BPA-free plastics) and choose more eco-friendly appliances in general. 
The baby food maker has three settings: steam, blend only, and blend automatically after steaming. The sizeable 4-cup capacity makes it simple to prepare large batches of purees in a matter of minutes with minimal mess and stress. Alternately, you may use the steam-only function if you also incorporate self-feeding food pieces. Because the bowl and blade are dishwasher-safe, cooking, blending, and cleaning are all simple tasks. 
Although steaming and puréeing baby food is relatively straightforward, the Baby Brezza Food Maker food processor can make the process even easier. The set-it-and-forget-it machine makes life easier, which is exactly what every new mother needs. 
One of my earliest memories as the mother of three younger siblings was assisting my mother in preparing homemade baby food for the newest child. When I gave birth to my first child nearly seven years ago, I followed in her footsteps by preparing homemade baby food before abandoning purees in favor of baby-led weaning. If you want to learn more about how the Baby Brezza food maker can help you make homemade baby food at home, continue reading. 
Key Features
AUTOMATICALLY STEAMS AND BLENDS IN 1 STEP: Steam and automatically blend foods with the push of a button in one bowl. No transfer after cooking required

 

Makes Homemade Baby Food in as Little as 10 Minutes ; BPA-FREE ; LCD control panel

 

Only Food Maker with a Glass Bowl; Large 4 Cup Capacity.Wattage Output: 220 watts per sec

 

EASY TO CLEAN: Steam tank can be opened completely for easy cleaning. Bowl and blade are dishwasher-safe

 

EASY TO USE: Includes easy to use control panel and removable water tank for easy filling

 

3 SETTINGS: Steam only, blend only or automatically blend after steaming

 

Blends baby food with precision using the stainless steel blade which has a plastic housing. For optimal steam and blending, we recommend cutting food into ¼" pieces.

 

1 Year Limited Warranty

 
PROS
Makes healthy eating easier
Dishwasher safe
Convenient
CONS
Expensive
Storage can be a hassle
Limited use
6. Best Multi Baskets Baby Food Maker: Homia Baby Food Processor for Toddlers
Baby Food Maker Chopper Grinder – Mills and Steamer 8 in 1 Processor for Toddlers – Steam, Blend, Chop, Disinfect, Clean, 20 Oz Tritan Stirring Cup, Touch Control Panel, Auto Shut-Off, 110V Only
as of September 28, 2023 5:05 pm
The Homia, baby food maker has an 8-in-1 sterilizer, juice, warm, cook, steam, chop, puree, and defrost features, making it one of the best food processors of 2022. 
This baby food steamer and blender allows you to steam three different foods simultaneously, which is a huge time saver for busy parents, especially those with two or more children.  
The three food baskets are of adequate size, and food placed in the top container steams just as well as food in the bottom container. We love that it is an all-in-one device that can be very useful for traveling because it includes a steamer, food processor, bottle warmer, and sterilizer. 
The water tank of the Homia baby food maker is significant, and it can be checked without having to remove the lid. In addition to the lid, it has an additional protective cover that helps prevent accidents. 
The material of the stirring cup is Tritan Plastic, free of Phthalate, lead, and BPA, providing additional protection for the infant. The stirring cup can be cleaned in a dishwasher, so cleaning the apparatus is unnecessary. 
In addition, parents praise the excellent customer service! Therefore, you can purchase this item with your eyes closed. 
Key Features
8 IN 1 Steam, Sterilize, Cook, Juice, Warm, Defrost, Puree and Chop – All You Require From a Food Processor for Babies. A 3 tier basket design allows you to cook 3 separate meals at once

 

EASY TO USE Intuitive Touch Control Panel Interface is All You Need to Prepare Healthy and Safe Food for Your Baby – Simply Press One Button to Steam the Food and Then Press Another Button to Chop it. Baby Food Maker Does All That With Ease

 

SAFETY FIRST Stirring Cup is Made of Tritan Plastic, Which is BPA, Phthalate and Lead Free, ETL Safty Certification (UL982 and UL1026 Standards for Safety)

 

EASY TO CLEAN Stirring Cup is Dishwasher Safe. Don't Waste Your Precious Time Cleaning the Device When You Can Spend it With Your Family

 

STYLISH This Cute Baby Food Processor / Steamer / Blender / Chopper Fits any Kitchen Interior with Style. It's the Perfect Time Saver for Moms to Be with their Families. Compatible with 110V power network ONLY.

 
PROS
It auto cleans
Dishwasher safe
Saves time
Wide tank opening
CONS
The bottle warmer option only works if all the components are aligned correctly.
It may releases an irritating plastic smell.
7. Best with Smart Feature – Grownsy Baby food Processor
Baby Food Maker | Baby food Processor | Puree Blender Multi-Function Steamer Grinder Blender, Baby Food Warmer Mills Machine, Constant Temperature 24h, Auto Cooking & Grinding
as of September 28, 2023 5:05 pm
The Grownsy baby food maker is a steamer, blender, and food processor, making it incredibly simple to steam, heat, stir, and maintain the temperature of your baby's food. 
This Grownsy baby food processor can be used to process vegetables, fruits, and meats, as well as heat and warm milk in a baby bottle. 
The Grownsy baby food maker offers automatic and manual mixing modes based on your preferences. It also has an intelligent water shortage reminder that alerts you when your infant's steamer is running low on water. 
Key Features
Smart Touch LCD Panel

 

Automatically Steams & Blends With ONE Button

 

Custom your Baby Food Stages

 

Blend Food Easily

 

24-hour heat preservation

 

Ultra-large capacity

 
PROS
Portable Baby food maker
It is easy to clean and easy to use.
Keeps food warm for long
Smart Touch LCD Panel
Water shortage smart reminder feature
CONS
The product contains lead
It doesn't puree well.
8. Elechomes Digital Baby Food Processor with Steam Timer
Digital Baby Food Maker Machine – 2-in-1 Steamer Cooker and Puree Blender Food Processor with Steam Timer – Steam Blend Organic Homemade Food for Newborn Babies, Infants, Toddlers – NutriChef PKBFB18
as of September 28, 2023 5:05 pm
The Elechomes baby food maker is ideal for parents who wish to prepare nutritious meals with their children. This device will accommodate all dietary restrictions due to its user-friendly interface, which allows you to select the cooking time and meal consistency that will best meet your needs, be it steamed vegetables or tenderloin. The capacity tank holds 200ML, which means that one delicious dish could serve up to two people (or more) simultaneously—also, cleaning? You decide when they're ready: a quick rinse in the dishwasher OR disassembly as with any other cooking utensil. 
The 3000-rpm processor ensures maximum blending efficiency while maintaining even heating throughout, ensuring no ingredients are lost during perfectly timed processing. Even if you're limited on space, you can always rely on this machine because it has all its best features in a compact, affordable package. 
The Elechomes baby food maker has a high-quality stainless-steel pot with a guard against overheating. Additionally, it has an automatic shut-off feature so that you can rely on it in any kitchen. In addition, its modern design complements all types of kitchens and makes preparing the perfect meal in less than ten minutes a breeze. 
Key Features
Digital Baby Food Maker Food Processor

 

2-in-1 Food Steamer Cooker + Puree Blender

 

Elegant Modern Kitchen Countertop Style

 

Simple Electric Plug-in Design

 

Hassle-Free Control Settings

 

Adjustable Steam Timer

 

Soft Touch Button Activated 'Pulse' Blending

 

Achieve the Perfect Food Consistency as Desired

 

Create Delicious Puree, Ground & Soft Chopped Meals

 

Integrated Easy-Fill Water Tank for Steaming

 

Auto Power-Off Safety Function

 

Removable Dishwasher Safe Parts

 

Laboratory Tested, Food Grade Safe Construction

 

Safe for Placement on Any Kitchen Table or Countertop

 

Serves Newborn Babies, Infants & Toddlers of All Ages!

 
PROS
Easy to use
Shut off function
Large capacity
Dishwasher safe parts
CONS
No self-cleaning function
9. Tommee Tippee Quick Cook Blender & Food Processer
Tommee Tippee Quick Cook Blender & Food Processer | Steam, Blend and Puree | Homemade Baby Food Maker
as of September 28, 2023 5:05 pm
Every moment you spend with your child is priceless, so cooking and cleaning may not be at the top of your priority list. The Tommee Tippee Baby Food Steamer Blender makes it extremely simple and less messy to prepare nutritious meals. This baby food blender steams fruits, vegetables, and meats while preserving their nutritional value and flavor.  
And it blends to a variety of textures (all weaning stages), making it suitable for all stages of your baby's development – from small amounts of pureed food to chunkier textures and more significant portions for the adventurous toddler. 
Observing your infant's expression as you introduce solid foods is an exciting adventure. However, it can be a time-consuming mess. The Tommee Tippee Baby Food Steamer Blender promises to simplify weaning to the greatest extent possible. 
The concept is that combining steaming and blending allows you to create baby foods with the desired texture. In contrast to premade purees, you will know exactly what ingredients are going into your meals when you make them from scratch. 
Tommee Tippee has received numerous accolades for its innovative baby products, which explains why it was named a Superbrand in 2013 and every year since. 
The brand has existed for over fifty years and has recently introduced a new line of Ultra bottles designed to mimic the flow of breast milk. 
Tommee Tippee manufactures a selection of weaning products. All these are BPA-free, so you need not worry about your child meeting harmful chemicals. 
I appreciate the aesthetic design of the Tommee Tippee Baby Food Steamer Blender. It is sleek and fashionable and fits in well with my other kitchen appliances. 
Key Features
Be an amazing chef for your baby—steam, blend, and puree fresh home-made baby food in minutes

 

Steam in steamer basket, blend in jug, or combine both for a range of textures from smooth purees to chunky meals

 

Suitable for all stages of weaning. Great for fruit, vegetables, meat and fish up to 7oz max capacity

 

Automatic timer to set steam and blend times

 

Safe to use, easy to clean, and includes bonus spatula stored in the handle

 
PROS
Easy to use
Stylish design.
CONS
Pricey
Need to weigh and measure food quantities.
10. Proctor Silex Durable Mini Food Processor
Proctor Silex Durable Electric Vegetable Chopper & Mini Food Processor for Chopping, Puree & Emulsify, 1.5 Cup, White
as of September 28, 2023 5:05 pm
This mini food processor's bowl has a capacity of 1.5 cups. The detachable gearbox is quite large, but it does not affect the overall weight of this machine. Instead, it serves as the ideal foundation for the device. 
It is too small for whole foods, so tomatoes and large onions require some preparation. If you intend to chop, you must only pulse the food processor a few times to avoid liquefying it. Based on the evaluation, it works best with sauces and hummus-like spreads. 
Despite its diminutive size and 70-watt motor, it is a highly efficient worker. It quickly shreds and chops, albeit noisily. 
There are only three removable components: the bowl, the blade, and the lid. Both the container and lid are constructed of BPA-free plastic and are dishwasher safe. 
Reviewers appear to appreciate its affordable price and sturdy base. However, they wish it had standard on/off switches so that you could leave it running while you do other things. Currently, it would be best if you held it down continuously. 
Key Features
The perfect size to for everyday use — holds 1.5 cups

 

Efficiently chop, puree and emulsify with stainless steel blades

 

Prepare foods to the ideal texture with simple pulse speed control

 

Easy to clean

 

Saves space in the kitchen — small enough to leave on the countertop

 
PROS
Features dishwasher-safe parts that offers easy cleaning and maintenance
Made of stainless steel blades that ensures efficiently chopping, pureeing and emulsifying
Comes with powerful 300 watt motor that offers quick and convenient operation
CONS
The cord may be short in length
How To Choose The Best Baby Food Processor 
Utilizing a food processor for baby food preparation lets you quickly and easily create flavorful and nutritious blends for your baby at home.  
A food processor eliminates the need for extensive prep work—cut harsher ingredients to size and slightly cook them before tossing them into the food processor. Puree until desired consistency is achieved and serve immediately or freeze for later use. 
The Functions Available 
Most food processors for baby food feature multiple functions, allowing busy parents to prepare nutritious meals in a matter of minutes. The more functions it includes, the more time you'll save over time! Therefore, consider which functions you'll require and utilize the most considering the meals you're planning to prepare for your baby. 
Safe materials 
Ascertain that the baby food processor is constructed of durable and safe materials free of BPA, phthalates, and lead. This ensures that it does not contaminate the ingredients contained within or pose any health risks to you or your family. 
Cleaning Ease 
A good baby food blender should also save you time cleaning from freeing up your hands while cooking. Choose one that is simple to clean and be sure to read the specifications for each model, as they may include special cleaning instructions. 
Dimensions And Cost 
The amount of counter space available will determine the size of this kitchen appliance. Multifunctional, all-in-one models are typically larger and heavier, whereas models with fewer functions may be more compact and concealable. In terms of price, there are a variety of baby food makers available, ranging from budget to premium. 
The best baby food processor should be durable, portable, and simple to use. Additionally, it should include a variety of attachments and the power necessary to grind whole foods into smooth purees.
We hope you found this information beneficial. If you'd like additional tips on how to improve your kitchen skills or would like to learn more about our company, please visit our website today.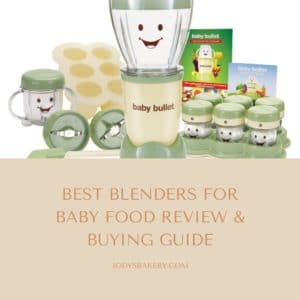 Become a new parent is often be bewildered, and you...
Read More
Why Trust Us
You will find what you are looking for at Jody's Bakery. From classic to luxury brands, you'll find both. We will help you to select appliances that fit your needs, budget and lifestyle. Whether you want to stop by to learn more — or plan to make a major purchase — we'll treat you like family and assist you every step of the way. Shop with us today to receive friendly and experienced help along the way.