Shredded chicken appears in many recipes, from the ever-popular chicken enchiladas to chicken tacos, pulled BBQ chicken sandwiches, and a variety of casseroles.  
We enjoy it in simple chicken enchiladas with homemade enchilada sauce, as well as in our all-time favorite chicken & spinach enchiladas. However, there are many ways to enjoy it. 
Continue to come across recipes that call for shredded chicken and are at a loss for what to do? Shredded chicken is quite simple to make! Follow these effortless steps for shredding chicken breast with a hand mixer. 
Preparation Step Before Shredding 
Never be afraid. It is simple to prepare this versatile recipe staple. With the hand mixer, you will be able to whip up a quick pile of shredded chicken. 
However, before shredding chicken, it must be cooked. Because raw chicken does not shred well, it is critical that it is fully cooked before shredding. 
Any cooking method is acceptable, including baking, boiling, or slow cooking. Pan simmering boneless chicken breasts or thighs is my preferred method, as it results in tender, moist chicken that shreds beautifully. 
And pan simmering is simple, which I adore. 
Simply heat a couple of tablespoons of canola or vegetable oil in a sauté pan over medium heat to pan-simmer your chicken.  
Season both sides of boneless chicken breasts or thighs liberally with salt and pepper.  
Then brown both sides in a hot sauté pan. You want the chicken pieces to be a nice golden color. 
Following that, add hot water until halfway up the chicken pieces.  
Cover the sauté pan and cook the chicken for approximately 8 to 12 minutes, depending on the size of your chicken pieces. (When the chicken is done, it should register 160 degrees on a meat thermometer.) 
After that, fill the pan with hot water until it comes halfway up the chicken pieces. Cover the sauté pan and cook the chicken until it is cooked through.
According to package directions, it takes about 8 to 12 minutes, depending on the size of your chicken pieces. 
After that, it is time to shred! 
Note: 
Allow for a brief cooling period before shredding the cooked chicken. 
While it is still hot, shredding chicken will release an excessive number of delicious juices, resulting in dry shredded chicken. And cold chicken is difficult to shred. Your best bet is to keep warm! 
Shredding Chicken with a Hand Mixer 
Are you serious? A hand mixer can shred chicken as well. 
To shred boneless chicken with a hand mixer, start by tearing the cooked chicken into large pieces with your hands and placing the pieces in a large mixing bowl with a whisk attachment.  
To avoid overcrowding the bowl, limit the number of chicken breasts or thighs in your bowl to no more than two per batch. 
Turn your hand mixer on to low speed and let the beaters pull the chicken through them, shredding it as they go. 
Continue pressing the beaters into the chicken and shredding it until it is completely shredded. 
Rep with any remaining boneless chicken breasts or thighs, working with no more than two breasts or thighs at a time. 
That is all that is required to shred chicken! 
Whichever method you use, the result is beautifully shredded chicken that can be used in various delectable family dinners. 
Therefore, get shredding and whip up that pan of chicken enchiladas, or freeze some shredded chicken for later use. It freezes exceptionally well and will be available when you require it. 
Who knew such a versatile recipe staple could be prepared so quickly and easily? And with a hand mixer, you can whip up a batch in no time. 
Hand mixers are a must-have in every kitchen, but they...
Read More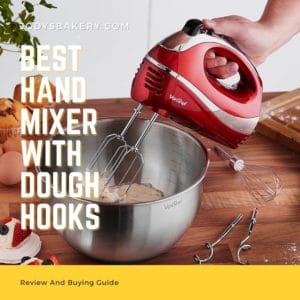 Dough hooks can make a big difference when it comes...
Read More
Why Trust Us
You will find what you are looking for at Jody's Bakery. From classic to luxury brands, you'll find both. We will help you to select appliances that fit your needs, budget and lifestyle. Whether you want to stop by to learn more — or plan to make a major purchase — we'll treat you like family and assist you every step of the way. Shop with us today to receive friendly and experienced help along the way.