If you are looking for alternatives to immersion blenders, you have come to the right place. Without an immersion blender, you can blend, mix, and puree food using a variety of kitchen appliances and implements. 
Immersion blenders are ideal for small tasks such as quickly and easily blending dressings and sauces. They are small, easy to use, and popular among home cooks. However, what if you lack one? 
This article describes the best alternatives to immersion blenders and how they can be used in the kitchen. In addition to some of the most popular options to hand blenders that people use. 
What is an Immersion Blender? 
A hand blender or immersion blender is a small, stick-shaped kitchen appliance used to blend soups and other foods directly in the cooking vessel. The blades may be detachable or integrated into the blender's handle to create a simple device to store when not in use. 
Immersion blenders have two primary uses: pureeing food by slowly pushing it down into the blades while the motor is running and mixing ingredients. 
To use an immersion blender, activate the appliance and place it in the food you wish to blend or mix until the desired consistency is reached. Then stop blending when you feel that good blending has occurred. Some people prefer their soup to be completely smooth, while others prefer chunks of vegetables for texture. 
Due to the sharp, exposed blades moving at high speeds, you must handle this device with care, as improper handling could result in the user sustaining cuts. 
Do I need a blender with immersion in my kitchen? 
Immersion blenders are popular small kitchen appliances used by amateur and expert chefs. When not in use, they are simple to use, inexpensive, and simple to store in a cabinet or drawer. 
In addition, they are easier to clean than most of the other appliances on this list, making them even more desirable. However, immersion blenders have limitations and are only ideal tools for some tasks. If you want to chop a large amount of food or require more power than an immersion blender can provide, you should probably use a different appliance. 
The food is not contained in a container with a lid, so if you're not careful, it can splatter and get everywhere. 
Immersion Blender Substitutes 
There are numerous alternative kitchen appliances and tools to the immersion blender. Depending on the type of food you are preparing, you may already possess a suitable option. 
These are some of the most common substitutes for hand blenders. 
Countertop Blender 
A high-powered countertop blender, such as a Vitamix or Blendtec, can be used for soups, smoothies, and more. If you already have one at home, you can substitute it for immersion blenders and many other appliances. 
The size difference is the primary distinction between a countertop and an immersion blender. Due to their size, these appliances cannot fit into the pot or bowl you use like an immersion blender can. Instead, you will need to use a ladle to pour food into the blender before blending to the desired consistency. 
There are many different price points for countertop blenders, so there is one for every home cook's budget. In addition to being suitable replacements for immersion blenders, they also have a distinct function that sets them apart from other appliances. 
Food Processor  
As with countertop blenders, a food processor can be used as an alternative to an immersion blender because the two appliances serve similar purposes! A food processor can make soups with a velvety texture, blend sauces, chop vegetables, and grate cheese. 
A food processor is an excellent addition to any kitchen because it can quickly perform various tasks. A food processor has numerous blades inside its bowl, where all the chopping occurs, whereas an immersion blender has only two short prongs that touch the surface they are immersed in while blending. A food processor might be a better option if you're not particularly interested in the difference between these two devices. 
Dressings, mayonnaise, and salsa are easy to prepare with a food processor. Those interested in making nut butter can also benefit from its use. 
Stand Mixer 
If your home already has one of these appliances, it can also serve as an immersion blender substitute! A KitchenAid stand mixer can mix the dough and whip egg whites, cream butter and sugar, knead bread dough, mince vegetables or meats, and whisk batters. 
If you regularly use your immersion blender for any of these tasks, then this appliance can replace the other kitchen tools. The primary difference between a stand mixer and an immersion blender lies in its size, as its blades are much larger and more powerful. 
Handheld Electric Whisk 
An electric hand whisk can also be used as a substitute for an immersion blender. It has various attachments for mixing, whipping, blending, and pureeing, just like the conventional appliance. 
This device is compact, so it will only take up a little space on your counter or in storage. If you already own one of these, they are ideal for small tasks such as making sauces or whipping cream because they have fewer watts of power than other appliances on the market. 
Hand whisks are ideal for combining eggs and whipping cream and have the added benefit of incorporating more air into the food, resulting in a lighter texture. 
Chopper Bowl 
Another small appliance that can be substituted for an immersion blender is a chopper bowl. It consists of a large cup with blades inside; you manually press down on the top to chop ingredients. 
This device is ideal for chopping vegetables, nuts, and more, but it cannot blend liquids or make sauces due to its lack of power. This item will take longer than an immersion blender, but it may be precisely what you need if you're looking for a pure chopper. 
Chopper bowls take up little counter space, so this could be a great option if your kitchen has limited storage space. They come in various sizes and shapes, and some even include additional features such as bottles for storing chopped ingredients until they are ready to be consumed. 
Potato Masher 
The potato masher is the least sophisticated alternative to an immersion blender on this list. This manual device can mash food similarly to a mixer or blender but requires a bit of elbow grease. 
This item has a flat surface for placing potatoes, carrots, yams, and other vegetables before repeatedly pressing down with the handle until the desired consistency is achieved. It is not nearly as powerful as other available appliances, so if this is not the intended use of an immersion blender, it is no point in wasting energy. 
A potato masher fits easily in most kitchen drawers, making it easy to store. When it is necessary to mash soft ingredients, they are very inexpensive tools every home cook should have. Additionally, a potato masher is the most straightforward implement to clean; rinse it under the faucet and place it in the dishwasher. 
Alternatives to Immersion Blenders – Final Thoughts 
Numerous kitchen appliances and tools can assist you in blending, mixing, or puréeing food without using a hand blender. Immersion blenders are one of the most popular small appliances in American kitchens due to their ease of use for small tasks such as blending sauces quickly. However, what if you lack one? 
It is essential to keep your culinary ambitions a secret! Fortunately, there are a variety of safe alternatives to accomplishing these tasks with comparable outcomes; all that is required is some forethought. 
This article has provided some helpful alternatives ideal for novice cooks who don't own an immersion blender but still want their dishes to be thoroughly blended. 
All Post

Air Fryer

Baby Food Maker

Best Lists

Blender

Bread Maker Machine

Bread Slicer

Cake pop maker

Cooking Tips

Deals

Electric Mixer

food dehydrator

Food Processor

Food Slicer

Food Steamer

Grain Mill Grinder

Guides

Instant Pot

Kitchen Gadget

Knive

Meat Slicer

Microwave Oven

Pasta Maker

Recipes

Reviews

Slow Cooker

Toaster

Toaster Oven

Waffle maker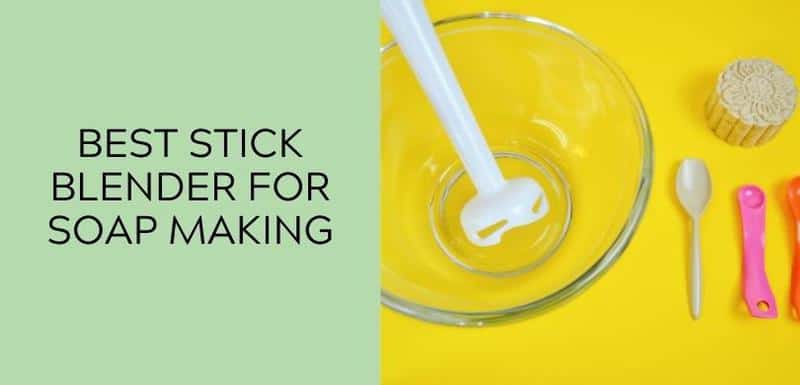 Soap making is enjoyable and straightforward if you have the proper equipment. What are these instruments, you may ask? Well,…
When it comes to saving space, cordless immersion blenders are one of the most effective options. A cordless immersion blender…
An immersion blender is a little bit of a misnomer because it is not designed to be used in the…
Why Trust Us
You will find what you are looking for at Jody's Bakery. From classic to luxury brands, you'll find both. We will help you to select appliances that fit your needs, budget and lifestyle. Whether you want to stop by to learn more — or plan to make a major purchase — we'll treat you like family and assist you every step of the way. Shop with us today to receive friendly and experienced help along the way.