Bread machine apple bread is a type of bread that is made using a bread machine and fresh apples. This bread is a delicious and nutritious way to enjoy the flavor of fresh apples in a baked good. It typically contains ingredients such as flour, yeast, sugar, salt, cinnamon, nutmeg, and diced apples.
To make bread machine apple bread, the dough is typically prepared in the bread machine and then baked in a conventional oven. The bread can be enjoyed as a breakfast treat, a snack, or as a dessert. It is often served warm with butter or honey, and can also be toasted for a crispy texture.
Bread machine apple bread is a versatile recipe that can be customized to suit individual tastes. For example, some people like to add raisins or nuts to the recipe for added flavor and texture. Additionally, the type of apples used can also be varied to achieve different flavors and textures.
Overall, bread machine apple bread is a delicious and healthy way to enjoy the taste of fresh apples in a baked good.
Why you should make apple bread in bread machine?
Making apple bread in a bread machine has several advantages that make it a popular choice for many home bakers. Here are a few reasons why you should consider making apple bread in a bread machine:
Convenience: A bread machine takes the hassle out of making bread. You simply add the ingredients to the machine and let it do the work for you. This saves time and effort compared to making bread by hand.
Consistency: Bread machines are designed to mix and knead the dough evenly, which helps to ensure consistent results every time. This is especially important for recipes like apple bread, which require a specific texture and consistency to turn out well.
Control: Bread machines allow you to control the baking process, including the size and shape of the loaf, the crust color, and the baking time. This means you can customize your apple bread recipe to suit your preferences and taste.
Health benefits: Making bread at home allows you to control the ingredients, including the type of flour, sugar, and fat used. This can help you make a healthier version of apple bread that is lower in calories and higher in nutrients.
Overall, making apple bread in a bread machine is a convenient, consistent, and customizable way to enjoy this delicious baked good. It also offers the added benefit of being able to control the ingredients and make a healthier version at home.
How to make apple bread in bread machine
Here's a simple recipe for making apple bread in a bread machine:
Ingredients:
2 cups all-purpose flour
2 teaspoons active dry yeast
1/4 cup granulated sugar
1/2 teaspoon salt
1/2 teaspoon cinnamon
1/4 teaspoon nutmeg
2 tablespoons butter, softened
2/3 cup warm milk
1 egg
1 cup peeled and diced apples
Instructions:
Add the flour, yeast, sugar, salt, cinnamon, nutmeg, and butter to the bread machine pan in the order recommended by the manufacturer.
Add the warm milk and egg to the pan.
Select the "dough" cycle on the bread machine and start the cycle.
After 5 minutes of mixing, add the diced apples to the dough.
Let the bread machine complete the dough cycle, which should take around 1 hour and 30 minutes.
Remove the dough from the bread machine pan and place it on a floured surface. Knead the dough for a few minutes to remove any air bubbles.
Shape the dough into a loaf and place it in a greased loaf pan.
Cover the pan with a clean cloth and let the dough rise for 30 minutes.
Preheat the oven to 350°F (180°C).
Bake the bread in the preheated oven for 35-40 minutes, or until the bread is golden brown and sounds hollow when tapped on the bottom.
Remove the bread from the oven and let it cool in the pan for 5 minutes.
Remove the bread from the pan and let it cool completely on a wire rack before slicing and serving.
That's it! You can enjoy your delicious homemade apple bread made using a bread machine.
Tips for making apple bread in bread machine
Here are some tips to help you make the perfect apple bread in a bread machine:
Use the right apples: For the best flavor and texture, use firm, tart apples such as Granny Smith, Honeycrisp, or Pink Lady. Avoid using soft or overripe apples, as they will make the bread too moist and dense.
Cut the apples into small pieces: Be sure to dice the apples into small pieces so that they mix evenly throughout the dough. If the pieces are too large, they may not cook properly and can create air pockets in the bread.
Add the apples at the right time: Add the diced apples to the dough after the initial mixing phase, usually around 5 minutes into the dough cycle. This allows the dough to come together before the apples are added, which helps to distribute them evenly.
Check the dough consistency: After the dough has been mixing for a few minutes, check its consistency. If the dough is too dry or too wet, adjust the ingredients as needed. Add more flour if the dough is too sticky, or more liquid if it's too dry.
Let the bread cool before slicing: Allow the bread to cool completely before slicing it. This allows the bread to set and makes it easier to slice without it falling apart.
Store the bread properly: Store the bread in an airtight container or wrapped in plastic wrap at room temperature for up to three days. You can also freeze the bread for up to three months by wrapping it tightly in plastic wrap and placing it in a freezer-safe bag.
All Post

Air Fryer

Baby Food Maker

Best Lists

Blender

Bread Maker Machine

Bread Slicer

Cake pop maker

Cooking Tips

Deals

Electric Mixer

food dehydrator

Food Processor

Food Slicer

Food Steamer

Grain Mill Grinder

Guides

Instant Pot

Kitchen Gadget

Knive

Meat Slicer

Microwave Oven

Pasta Maker

Recipes

Reviews

Slow Cooker

Toaster

Toaster Oven

Waffle maker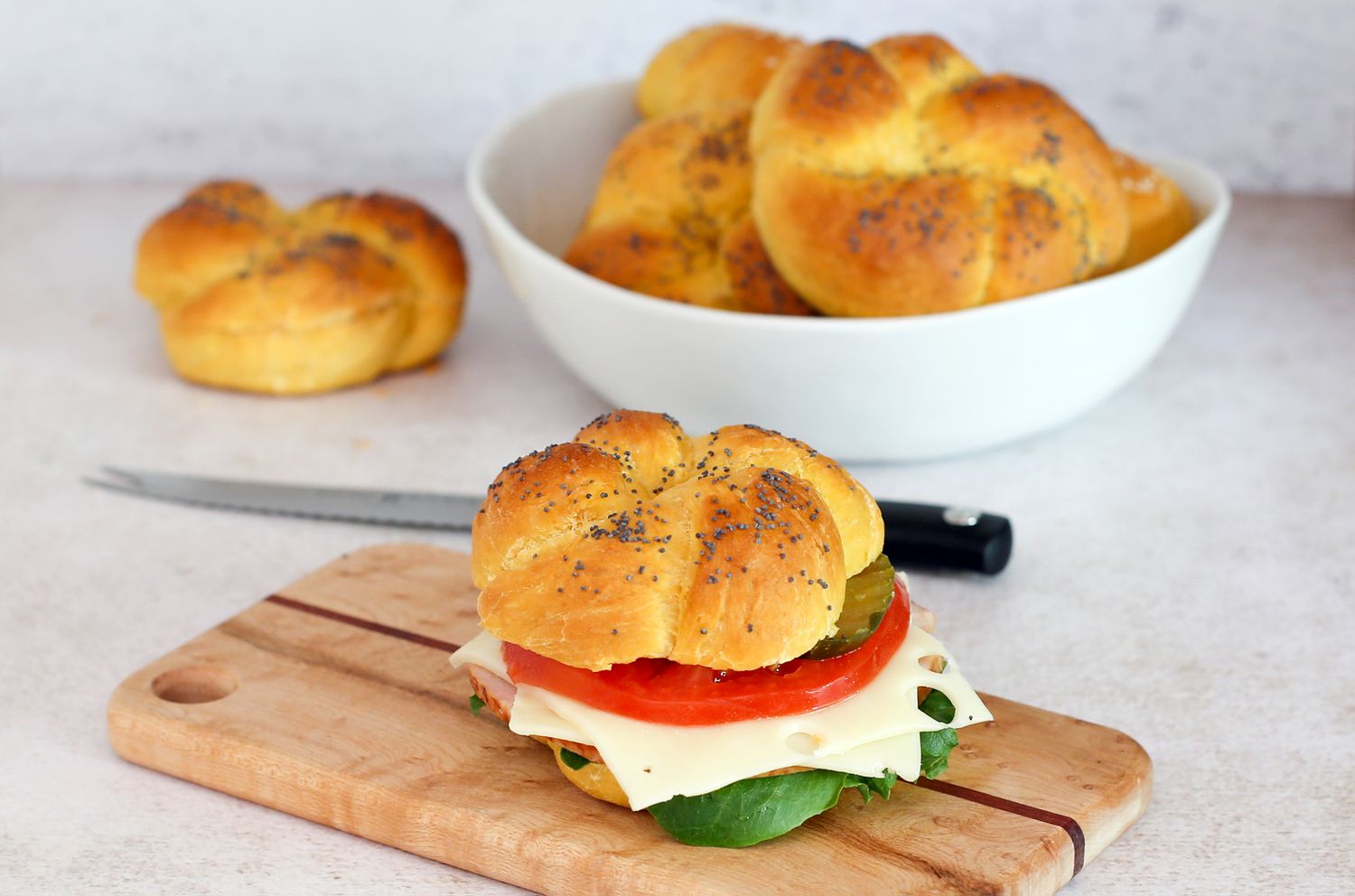 Bread machine sweet potato sandwich rolls are a type of bread roll that is made using a bread machine and…
Bread Machine Pumpkin Yeast Bread is a delicious and healthy bread recipe that combines the flavors of pumpkin and warm…
This bread machine recipe for banana bread helps you to create delicious banana bread easily! Also, since you are using…
Why Trust Us
You will find what you are looking for at Jody's Bakery. From classic to luxury brands, you'll find both. We will help you to select appliances that fit your needs, budget and lifestyle. Whether you want to stop by to learn more — or plan to make a major purchase — we'll treat you like family and assist you every step of the way. Shop with us today to receive friendly and experienced help along the way.