Bread machine cranberry walnut bread is a delicious and nutritious type of bread that is made using a bread machine. It typically features a combination of tart cranberries and crunchy walnuts mixed into a soft, fluffy bread dough. The bread machine simplifies the process of making bread, as it kneads the dough and allows it to rise automatically, freeing up time and effort in the baking process.
Cranberry walnut bread is a popular variety of bread that can be enjoyed for breakfast, as a snack or as a dessert. It is rich in fiber and healthy fats from the nuts, making it a satisfying and wholesome option. The tangy sweetness of the cranberries pairs well with the nutty flavor of the walnuts, creating a delicious and unique taste. With a bread machine, making this bread at home has never been easier, allowing you to enjoy freshly baked bread without the hassle of kneading and rising the dough by hand.
Why you should make cranberry walnut bread in bread machine?
There are several reasons why making cranberry walnut bread in a bread machine is a great idea:
Convenience: Using a bread machine simplifies the bread-making process and saves time and effort. The machine kneads and mixes the dough for you, allows it to rise, and bakes it to perfection, all while you attend to other tasks.
Consistency: The bread machine ensures that the dough is kneaded and risen uniformly, resulting in a consistent texture and flavor throughout the loaf. This eliminates the risk of unevenly baked bread or under-kneaded dough.
Customization: Bread machines allow for easy customization of recipes, allowing you to adjust the ingredients and quantities to suit your taste preferences. For example, you can increase or decrease the amount of cranberries or walnuts in your bread to your liking.
Health benefits: Cranberry walnut bread is a healthy and nutritious option for breakfast or snacks. It contains fiber, healthy fats, and antioxidants that are beneficial to your health. Making it at home with a bread machine ensures that you can control the quality of ingredients, making it even healthier.
Freshness: Bread machines allow you to bake bread fresh at home, ensuring that you can enjoy the delicious aroma and taste of freshly baked bread. This is especially important for cranberry walnut bread, which tastes best when it is freshly baked and still warm.
How to make cranberry walnut bread in bread machine
Here is a simple recipe for making cranberry walnut bread in a bread machine:
Ingredients:
1 cup warm water
1/4 cup honey
2 tablespoons olive oil
1 teaspoon salt
3 cups bread flour
2 teaspoons active dry yeast
1/2 cup dried cranberries
1/2 cup chopped walnuts
Instructions:
Add the warm water, honey, olive oil, and salt to the bread machine pan.
Add the bread flour to the pan, making sure it covers the liquid mixture.
Make a small indentation in the center of the flour, and add the yeast.
Select the dough setting on your bread machine and start the machine.
When the dough has mixed and risen once, add the dried cranberries and chopped walnuts to the dough.
Allow the bread machine to complete the dough cycle, and let the dough rise once more.
Once the dough has risen, remove it from the bread machine pan and place it on a floured surface.
Preheat your oven to 350°F (175°C).
Shape the dough into a loaf and place it in a greased loaf pan.
Let the dough rest for 10-15 minutes while the oven heats up.
Bake the bread for 30-35 minutes, or until the bread is golden brown and sounds hollow when tapped.
Remove the bread from the oven and let it cool on a wire rack for 10-15 minutes before slicing and serving.
Enjoy your freshly baked cranberry walnut bread!
Tips for making cranberry walnut bread in bread machine
Here are some tips for making delicious cranberry walnut bread in a bread machine:
Use good quality ingredients: High-quality ingredients will result in a better-tasting bread. Make sure to use fresh and high-quality cranberries and walnuts for best results.
Adjust the liquid ingredients: Depending on the humidity in your area, you may need to adjust the amount of water used in the recipe. If the dough seems too dry, add a little more water, and if it seems too wet, add a little more flour.
Add ingredients at the right time: It is important to add the cranberries and walnuts to the dough during the second rise, so they don't get crushed during the kneading process.
Don't overmix the dough: Overmixing the dough can result in a dense and tough bread. Follow the bread machine instructions and let it do the kneading and rising for you.
Grease the bread pan: Grease the bread pan with oil or butter to prevent the bread from sticking to the sides.
Preheat the oven: Preheat the oven to the correct temperature before placing the bread inside, so it will bake evenly.
Let the bread cool: Allow the bread to cool on a wire rack for 10-15 minutes before slicing. This allows the bread to settle and prevents it from becoming gummy.
By following these tips, you can make a delicious cranberry walnut bread in your bread machine.
All Post

Air Fryer

Baby Food Maker

Best Lists

Blender

Bread Maker Machine

Bread Slicer

Cake pop maker

Cooking Tips

Deals

Deep Fryer

Electric Mixer

food dehydrator

Food Processor

Food Slicer

Food Steamer

Grain Mill Grinder

Grill

Guides

ice cream maker

Instant Pot

Kitchen Gadget

Knive

Meat Slicer

Microwave Oven

Pasta Maker

Recipes

Reviews

Sandwich maker

Slow Cooker

Toaster

Toaster Oven

Waffle maker
Prep:20 mins Cook:3 hrs 30 mins Total:3 hrs 50 mins Servings:6 to 8 servings Yield:1 loaf Bread machine Quinoa Oatmeal…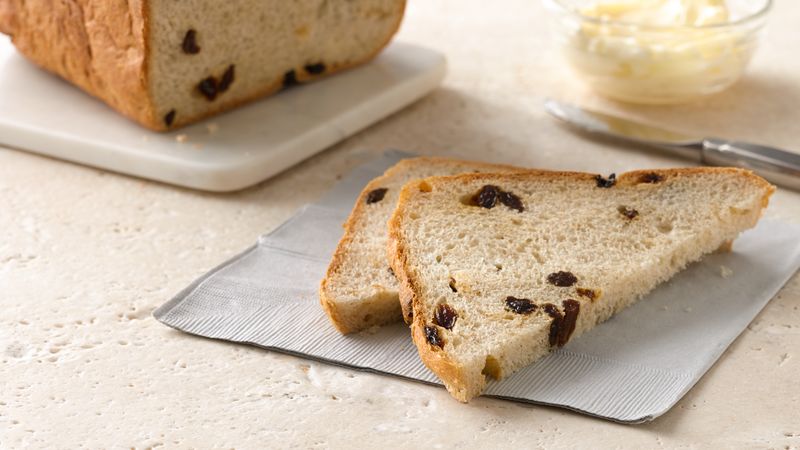 The cinnamon raisin loaf is a mildly sweet yeast bread with cinnamon studded with plump dried fruits. This recipe calls…
Bread machines are a wonderful way to make homemade bread without all the work. If you are looking for a…
Why Trust Us
You will find what you are looking for at Jody's Bakery. From classic to luxury brands, you'll find both. We will help you to select appliances that fit your needs, budget and lifestyle. Whether you want to stop by to learn more — or plan to make a major purchase — we'll treat you like family and assist you every step of the way. Shop with us today to receive friendly and experienced help along the way.