Prepare time: 10 min
Cook: 10 hours
Ready in: 10 hours and 10 min
Slow Cooker Greek Lamb Kleftiko is one of the traditional Greek food that the lamb tastes tender and delicious. It produces the rich flavor from the herbs used in the cooking process, like oregano, cinnamon stick, thyme leaves, and much more. Moreover, you can make this at home by merely following the easy recipe explained below.
How to cook Slow Cooker Greek Lamb Kleftiko
Here, in seasoning the lamb you may or not use the anchovy paste. Besides, the garnish also varies. You may pick your favorite kind of garnish. Now, read and follow this recipe from the beginning until the end.
Ingredients:
30 gr olive oil
2 and a half pounds lamb shoulder
One kilo baby potatoes with the skin on
A peeled onion, chopped
Three cloves of garlic, crushed
30 ml lemon juice
Two lemon wedges
A teaspoon red wine vinegar
A teaspoon anchovy paste
80 ml white wine
80ml lamb or chicken stock
A pinch dried oregano
A pinch dried thyme
A half cinnamon stick
salt and pepper
For the garnish:
lemon wedges
45 gr crumbled feta
fresh oregano and thyme leaves
Directions:
First, prepare the lamb and give seasoning by rubbing it with salt and pepper. If you have anchovy paste, then you can use it as well.
Then, prepare a large non-stick frying pan and heat it on with olive oil in it. Put the lamb on top of the pan and cook until all parts of the lamb turn brown. Next, set aside for a while.
After that, you can add the baby potatoes along with the chopped onion and crushed garlic to the frying pan.
Cook the ingredients over high heat or until the color of the potatoes turns slightly brown. Next, don't forget to add salt and pepper as the seasoning.
In the slow cooker, put the potatoes mixture at the bottom with the lamb on top. Also, add the cinnamon stick and lemon wedges to the slow cooker.
Then, combine the wine, vinegar, stock, lemon juice and herbs until completely mixed and pour it over the lamb.
Cook over low heat until around 9 and a half hours or until the lamb can be easily separated from its bones.
Next, it's time to serve. Take the lamb shred into plates and some baby potatoes. Finally, you can give the garnish ingredients to your lamb.
One of the best ways to serve this meal is by cooking the potatoes within the lamb like the recipe above, or you can also enjoy it with tzatziki sauce and Greek salad. Simply choose the one that your family like the most and have a satisfying and amazing dinner.
All Post

Air Fryer

Baby Food Maker

Best Lists

Blender

Bread Maker Machine

Bread Slicer

Cake pop maker

Cooking Tips

Deals

Deep Fryer

Electric Mixer

food dehydrator

Food Processor

Food Slicer

Food Steamer

Grain Mill Grinder

Grill

Guides

ice cream maker

Instant Pot

Kitchen Gadget

Knive

Meat Slicer

Microwave Oven

Pasta Maker

Recipes

Reviews

Sandwich maker

Slow Cooker

Toaster

Toaster Oven

Waffle maker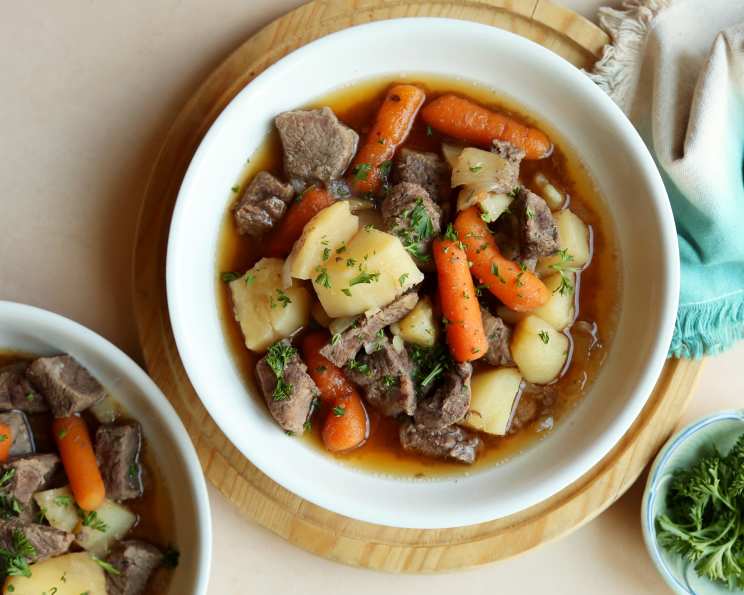 Ingredient 2 lbs beef stew meat 1 cup water 1/2 cup Japanese sake (dry white wine) 1/4 cup sugar 1/4 cup soy…
Slow Cooker Beef Stew with Herby Dumplings: This hearty stew topped with herby dumplings is THE ultimate comfort food. This simple…
Who doesn't enjoy a bowl of hearty, flavorful beef stew? It is a classic Autumn and Winter comfort food. I've…
Why Trust Us
You will find what you are looking for at Jody's Bakery. From classic to luxury brands, you'll find both. We will help you to select appliances that fit your needs, budget and lifestyle. Whether you want to stop by to learn more — or plan to make a major purchase — we'll treat you like family and assist you every step of the way. Shop with us today to receive friendly and experienced help along the way.