You have several recipes for green smoothies, but you lack the proper blender. Choosing the best blender for green smoothies depends on the unit's design features and component specifications rather than its price. It is true, as with many other home and kitchen appliances, that a higher price can indicate superior functionality. Still, the most important thing for you, the consumer, is understanding the specific design elements that make a blender excellent or bad for green smoothies. 
Green smoothies are tasty, nourishing, and filling. The fresh, explosive flavors released by the regenerative ingredients in green smoothies can be appreciated by anyone. Smoothies offer excellent nutritional value, less cleanup, and a faster process than juicing.  
However, not all blenders are created equal regarding their food-processing capabilities. Nevertheless, do not despair. If you don't have $1000 or more to spend on one of the best high-speed blenders on the market, you don't have to abandon your green smoothies' ambitions. 
The Green Smoothie Wave
You may have only heard of green smoothies or be a die-hard fan. Those who have tried a green smoothie can attest to the undeniable fact that they are delicious. But the reason that people all over the world have adopted green smoothies as part of their daily routine is that they are also incredibly healthy in addition to tasting delicious. From the kitchen to the grocery store to the gym, a wave of green smoothies is sweeping the nation. A serving of dense, nutrient-dense raw foods is the best way to set yourself up for success, and it's no secret why green smoothies make people feel like superheroes. 
What's In It?
It begins with dark, fibrous leafy greens, such as romaine lettuce, kale, collard greens, Swiss chard, and dandelion greens. As a liquid medium, it frequently employs almond milk, coconut milk, and fresh fruit such as mangoes, pineapples, bananas, and strawberries. Some people even add an avocado to the mixture for healthy, natural fats. Protein is frequently added as peanut butter, chia seeds, or protein powder, and it is typically sweetened with natural sugars such as honey, agave, or stevia. 
What's the Catch?
Green smoothies tend to damage blenders that are not designed to process fiber-rich biomass or are of inferior design and construction. Many inexpensive high-speed blenders purchased online or in stores may be suitable for almost all other culinary tasks. Still, they are not designed to withstand the power requirements or motor stress of regularly chopping fibrous vegetables. The most challenging aspect of incorporating homemade green smoothies into your daily routine is locating a suitable blender. 
How to choose the best blenders for green smoothies
Quality blenders are created for a particular purpose, as with any other tool. The task may or may not be multidimensional. As it pertains to blenders, there are a variety of applications for which a given product may be intended, as well as several services for which a unit is unequipped. Determining the essential characteristics will ensure that you obtain the proper tools for the job. 
Blade Type
Blenders feature one of three distinct types of blades. There is a dry blade for dry products such as grains, nuts, and beans. A dry blade is angled to push the blender's contents to the bottom of the container. This ensures that the processed contents do not escape into a cloud of dust when the container is opened.  
Wet blades are significantly more common than dry blades and are designed to throw the contents of the blender's container against the container's walls to ensure an evenly processed mixture. A hybrid of dry and wet blades is present in the most inexpensive blenders. These combination blades have a dry edge placed beneath a damp edge to increase the unit's versatility. The blades of most blenders are detachable, making cleaning a breeze. 
Blender Usage
Making a large batch of kale, spinach, and strawberry smoothies for five individuals differs significantly from making a large batch for fifty individuals. Similarly, your blender needs will be different if you make smoothies regularly instead of making milkshakes or purees occasionally. The more frequently a unit is utilized, the quicker it will experience technical issues and require maintenance. Due to its power output, serving size capacity, or decibel level, a blender that functions well and reliably for individual use may not be suitable for commercial use. 
There is a blender for every purpose, but if you only need a home kitchen blender, there is no need to spend over $800 on a commercial blender. Similarly, caterers shouldn't save a few dollars on a high-performing consumer blender, as they will wear out the appliance in months. 
Smoothie Blender Variations
Because not all blenders are created equally, and each unit is designed for specific usage parameters, your blender selection will depend on the unit's usage features, volume capacity, and budget. There are four primary types of smoothie blenders, each with advantages and disadvantages. There are high-performance, conventional, personal, and immersion blenders among these types. 
High Performance
High-performance blenders are comparable to Rolls-Royce. Most people neither need nor can afford a Rolls Royce, which is perfectly acceptable. Numerous more affordable options are suitable on the market. However, high-performance blenders are the best option for commercial use and those requiring the highest quality blending capabilities. 
Most of these blenders make it simple to prepare green smoothies. High performance implies that they will likely be equipped with over 2-horsepower, peak-performance motors that reduce logs to sawdust, let alone thick, leafy green smoothies. Many of these containers feature sound-dampening shells and are ideal for everything from juices to hot soup. Vitamix is arguably the best green smoothie blender brand on the market. Vitamix blenders are typically priced between $400 and almost $1000. In addition to being superior in quality, consistency, and durability, they are much quieter than most of the competition's high-performance blenders. 
Conventional
Most kitchens around the globe contains a conventional blender. However, a select number of products from some of the most recognizable brands fall into the high-performance category; these are the blenders most associated with private home use. The price range for these devices is as diverse as their capabilities. The cost of the best conventional blender for green smoothie's ranges from less than $100 to approximately $500 or $600. 
Most of these blenders are unsuitable for blending hot soups or thick smoothies. There are, however, a few conventional blenders that stand out in terms of quality. Typically, they have a top plastic container, limited settings, and low to medium output power. Investing in a powerful and versatile blender that can be used for various purposes typically requires paying a higher price. A unit that costs less than $100 is unlikely to have the ability to efficiently slice and dice raw fruits and vegetables for a silky-smooth green smoothie. 
Hamilton Beach, Blendtec, and Ninja are among the best and most recognizable brands within this category of blenders. Blendtec is superior to standard blenders and deserves to be regarded as an industry leader. Typically, their units cost between $300 and $500. Priced between $200 and $400, Hamilton Beach is one of the market's most popular mid-range smoothie blenders. Ninja, the infomercial wunderkind, is famous for its distinctive blade design and affordable price. Ninja blenders typically perform admirably for moderate use in the kitchen. 
Personal
Green smoothies are not a task that personal blenders can accomplish. Typical characteristics include a small jar that doubles as the blending container and a low-powered motor. These are designed for moderate usage but not for raw vegetables. Their poor little engines will be exhausted in no time. However, they are suitable for use in protein shakes and light sauces. 
Immersion
Immersion blenders are handheld, low-powered, low-intensity appliances. They are handy for beating eggs and whipping cream. They can even work adequately for milkshakes made directly in the glass but cannot process fibrous plants. You will only create a mess and waste a perfectly functional immersion blender. You could use it to make your pre-blended green smoothie frothier, but you'd better hope that all the chunks have been removed. 
Principal Attributes of Green Smoothie Blenders
There are several important factors to consider when selecting the best blender for green smoothies. The motor of a blender explicitly designed for making nutrient-rich, high-fiber green smoothies must be potent. The power output will cause the unit's blades to reach a high speed, which is required for the smoothie's silky texture. With a high-powered motor that spins the edges at an incredibly high speed comes the capacity to produce more at once. 
Personal blenders can adequately chop ice and frozen fruits due to their small capacity requirements. Less material equals less resistance for the blades and motor. For lovers of green smoothies, a blender must also be dependable and consistent when used daily. Therefore, the most essential features to look for in a blender designed for making green smoothies are: 
A powerful motor.

 

A durable construction.

 

A variety of speed settings.

 

A large pitcher capacity.

 
Strong Motor
The minimum power output recommended for a green smoothie blender's motor is at least one thousand watts. The wattage of conventional blenders ranges from approximately 300 to 1200 or more. However, greater wattage does not always result in a better blend. The torque of a blender's motor also plays a significant role in determining the quality and dependability of a heavily used appliance. Immersion blenders are an exception because they encounter fewer pounds per square inch of resistance, resulting in a consistent blend without requiring much torque. 
Speed Settings
Most conventional and high-performance tabletop blenders have at least three-speed settings. Low-end blenders with more than five or six-speed settings are probably too large for their britches. The unit's motor is unlikely to have sufficient power variation to produce a discernible difference in the final blend. Most high-end blenders have approximately ten-speed settings. Some blenders have pre-programmed speeds for smoothies, ice cream, juices, and hot soup. Variable speed can be the difference between a blender that lasts a lifetime and an expensive paperweight when blending raw vegetables. 
Quality and Consistency
Choosing a blender may seem like a minor decision; however, a well-informed choice, no matter how small, becomes a worthwhile investment over time. Blending is an art, and artisans require high-quality tools. Consequently, your kitchen should be equipped with the finest appliances you can afford. If you want to create delectable, silky-smooth blends consistently, there is no point in using the wrong equipment. Even a product of average quality will eventually require maintenance and replacement if it is constantly subjected to heavy use. Do not sacrifice your green smoothies because you lack the proper equipment. Choosing the best green smoothie blender is a decision to make a long-term investment in a healthy lifestyle habit, and a high-quality unit will provide you with daily smoothie delicacies for years. 
What are the best blenders for green smoothies?
Vitamix produces the best blenders for smoothies overall. Unrivaled in product quality, they create high-performance blenders for commercial and residential use. Blendtec is an additional high-performance brand that offers high-performance blenders like Vitamix. Whether you choose Vitamix or Blendtec, you will receive a premium machine, and your kitchen will be grateful. 
Breville, Hamilton Beach, and KitchenAid are all premium brands of conventional blenders that offer a variety of high-quality products for moderate use. Ninja, a suitable blender for occasional, low-intensity green smoothies, provides cost savings but not durability. Below, we list the best blenders for green smoothies, from the most expensive to the least costly. 
Choosing the best blender for green smoothies will allow you to maintain your daily routine without mechanical complications or additional costs. Vitamix has the highest quality and performance standards, whereas Blendtec, Breville, and Hamilton Beach offer more affordable alternatives without sacrificing functionality.  
Besides positive user feedback, Ninja does not assure long-term consistency or dependable operation. Therefore, if you must use a Ninja to prepare green smoothies, cut everything into small pieces beforehand. Our recommendation: avoid the hassle and choose a blender that will be a worthwhile investment in your future health. 
Feel free to leave comments and questions, and don't forget to practice safety precautions when blending tasty smoothies.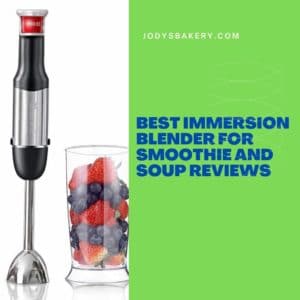 An immersion blender is a little bit of a misnomer...
Read More
Why Trust Us
You will find what you are looking for at Jody's Bakery. From classic to luxury brands, you'll find both. We will help you to select appliances that fit your needs, budget and lifestyle. Whether you want to stop by to learn more — or plan to make a major purchase — we'll treat you like family and assist you every step of the way. Shop with us today to receive friendly and experienced help along the way.