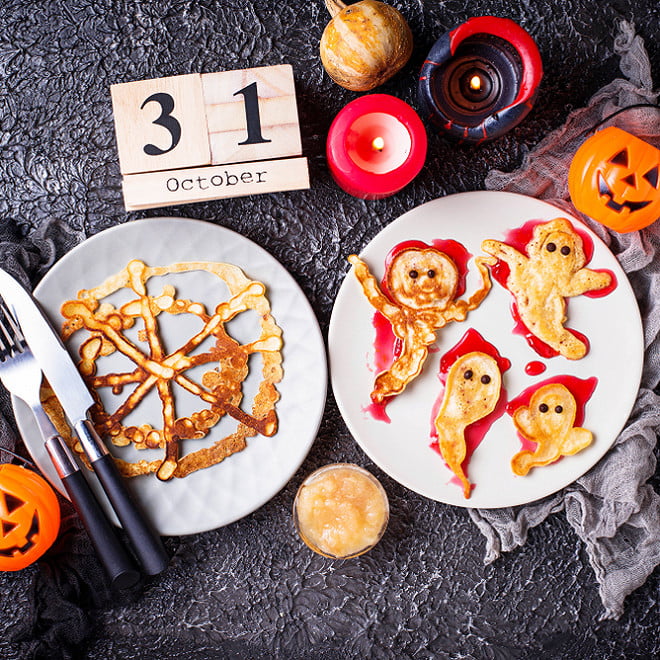 Halloween crepes are a delightful and spooky twist on the classic French pancake. These thin, delicate pancakes are perfect for incorporating a Halloween theme into your breakfast or dessert menu. They can be filled with a variety of sweet or savory fillings, making them versatile and enjoyable for both kids and adults during the Halloween season.
Whether you're crafting ghost-shaped crepes for a haunted breakfast or creating pumpkin-filled crepes for a festive dessert, Halloween crepes are a creative and delicious way to celebrate the holiday.
What equipment is used in Halloween crepe?
To make Halloween crepes, you can use basic kitchen equipment along with some creative tools to add Halloween-themed designs to your crepes. Here's a list of essential equipment and some optional items for making Halloween crepes:
Last updated on December 8, 2023 1:45 am
Essential Equipment:
Crepe Maker or Non-Stick Crepe Pan: To cook the crepes evenly and prevent sticking.
Batter Spreader: Helps spread the crepe batter thinly and evenly on the cooking surface.
Thin Spatula: For flipping and removing the crepes without tearing them.
Mixing Bowls: For preparing the crepe batter.
Whisk or Blender: To mix the crepe batter until smooth.
Measuring Cups and Spoons: For accurate measurements of ingredients.
Ingredients: Flour, eggs, milk, salt, butter (for the batter).
Fillings and Toppings: Nutella, whipped cream, fresh fruits, chocolate sauce, powdered sugar, etc.
Optional Halloween-Themed Equipment:
Stencil Templates: Halloween-themed stencils can be placed on the crepe while cooking to create spooky shapes or patterns.
Food Coloring: Add food coloring to the crepe batter to create vibrant Halloween colors like orange, green, or purple.
Piping Bags: Use piping bags to draw intricate Halloween designs with sauces or fillings on the crepes.
Cookie Cutters: Use Halloween-shaped cookie cutters to cut out crepe shapes after they are cooked.
Edible Eyes, Candy, or Sprinkles: Use these decorations to add eyes, faces, or other spooky elements to your crepes.
With these basic and optional tools, you can create delicious and creatively designed Halloween-themed crepes for your celebrations.
Can you make Halloween crepe by crepe maker?
Absolutely, you can make Halloween crepes using a crepe maker! In fact, a crepe maker can make the process even easier and more efficient. Here's how you can create Halloween-themed crepes using a crepe maker:
Ingredients:
Crepe batter (prepared using your favorite recipe)
Whipped cream
Nutella or chocolate spread
Halloween-themed toppings (candy eyes, colored sprinkles, chocolate chips, etc.)
Syrup or caramel sauce for drizzling
Instructions:
Prepare the Crepe Batter:

Mix your crepe batter according to your favorite recipe or using pre-made crepe mix.

Preheat the Crepe Maker:

Preheat your crepe maker according to the manufacturer's instructions. Most crepe makers have an indicator light that shows when it's ready.

Cook the Crepes:

Pour a small amount of crepe batter onto the hot crepe maker and spread it evenly using the provided spreader tool.
Cook the crepe until the edges start to lift and the bottom is golden brown. This usually takes about 1-2 minutes.
Carefully flip the crepe using a spatula and cook for another 1-2 minutes on the other side until golden brown.

Assemble the Crepes:

Place a cooked crepe on a flat surface.
Spread a layer of Nutella or chocolate spread over the crepe.
Add a generous dollop of whipped cream in the center.
Fold or roll the crepe into your desired shape.

Decorate for Halloween:

Use candy eyes to create spooky faces on the whipped cream.
Sprinkle colored sprinkles or chocolate chips on top for added decoration.

Drizzle and Serve:

Drizzle the crepes with syrup or caramel sauce for an extra touch of sweetness and presentation.
Serve your Halloween crepes warm and enjoy your spooky and delicious treat!
Using a crepe maker ensures that your crepes are perfectly thin and cooked evenly, providing a great canvas for your Halloween-themed decorations. Have fun experimenting with different toppings and designs to create the spookiest and most delicious Halloween crepes!
What is the best size crepe maker?
The best size for a crepe maker depends on your specific needs and preferences. Crepe makers come in various sizes, ranging from small, compact models to larger, professional-grade ones. Here's a breakdown to help you choose the best size for your situation:
Small Crepe Makers (6-8 inches):

Ideal for home use and small kitchens.
Perfect for making individual crepes.
Easy to store and portable.
Suitable for occasional crepe-making.

Medium Crepe Makers (10-12 inches):

Versatile size suitable for both home and commercial use.
Can make medium-sized crepes, suitable for serving one or two people.
Offers a balance between compactness and versatility.

Large Crepe Makers (13-16 inches):

Suitable for commercial use or large gatherings.
Ideal for making multiple crepes quickly.
Allows for the preparation of larger crepes, making them perfect for filling with various ingredients.

Extra-Large Crepe Makers (Over 16 inches):

Mostly used in commercial settings, such as restaurants or catering businesses.
Designed for high-volume crepe production.
Not typically necessary for home use unless you frequently host large events or gatherings.
When choosing the best size, consider the following factors:
Kitchen Space: If you have limited counter space, a smaller crepe maker might be more practical.
Usage: For personal use or small family meals, a medium-sized crepe maker is usually sufficient. For entertaining guests or commercial purposes, consider a larger model.
Storage: If storage space is a concern, opt for a smaller crepe maker that can be easily stored in a cupboard or drawer.
Ultimately, the best size for your crepe maker depends on your specific requirements and how often you plan to use it.
Best Halloween crepes ever
Creating the best Halloween crepes involves combining delicious flavors with creative and spooky designs. Here's a unique and tasty recipe for Halloween-themed crepes that will impress your guests:
Pumpkin Spice Halloween Crepes:
Ingredients:
1 cup all-purpose flour
1 1/2 cups milk
2 eggs
2 tablespoons melted butter
1/4 teaspoon salt
1/2 teaspoon pumpkin spice
Orange food coloring (optional)
Cooking spray or extra melted butter for greasing the pan
For Filling:
Whipped cream
Chocolate chips or Nutella
Assorted Halloween candies and sprinkles
Maple syrup or caramel sauce for drizzling
Instructions:
Prepare the Crepe Batter:

In a mixing bowl, whisk together flour, milk, eggs, melted butter, salt, and pumpkin spice until well combined.
If you want orange crepes, add a few drops of orange food coloring to the batter and mix until the color is even.
Let the batter rest for 15-20 minutes to allow the flour to absorb the liquid fully.

Cooking the Crepes:

Heat a non-stick crepe pan or skillet over medium heat. Lightly grease it with cooking spray or melted butter.
Pour a small ladle of batter into the center of the pan and quickly swirl the pan to spread the batter thinly in a circular shape.
Cook the crepe for 1-2 minutes until the edges start to lift and the bottom is lightly golden. Flip the crepe using a spatula and cook for another minute on the other side.
Remove the crepe from the pan and repeat with the remaining batter. Stack the cooked crepes on a plate.

Assembling the Crepes:

Lay a crepe flat on a serving plate. Spread a layer of whipped cream and sprinkle some chocolate chips or spread Nutella over the crepe.
Place another crepe on top and repeat the process, creating a layered stack.

Decorating the Crepes:

Drizzle the top crepe with maple syrup or caramel sauce.
Decorate the crepes with Halloween candies, sprinkles, and any other spooky decorations you like.

Serve:

Serve the Halloween crepes immediately while they are warm and enjoy the delightful flavors and festive presentation!
These Halloween crepes are not only delicious but also visually appealing, making them a perfect treat for your Halloween celebrations. Enjoy your spooky and tasty creations!
Crepe, a thin, delicate pancake originating from France, has become...
Read More
Why Trust Us
You will find what you are looking for at Jody's Bakery. From classic to luxury brands, you'll find both. We will help you to select appliances that fit your needs, budget and lifestyle. Whether you want to stop by to learn more — or plan to make a major purchase — we'll treat you like family and assist you every step of the way. Shop with us today to receive friendly and experienced help along the way.