Everyone loves bread; some like store-bought bread while some like to bake their own. There is nothing quite like waking up with the smell of freshly baked bread that fills your entire room. 
Do you love bread, but do not have the time to make it from scratch? Do you wish you could make multiple loaves at once and save yourself sometime in the kitchen?
If so, a horizontal bread machine may be just what you need. In this blog post, we will discuss what a horizontal bread machine is, how it works, and some of the pros and cons of using one. We will also give you some tips on how to choose the best horizontal bread machine for your needs. So read on to learn more about this handy appliance! 
Best Horizontal Bread Machine You Can Buy Now
There are so many different bread machines on the market these days that it can be hard to decide which one is right for you. If you are looking for a horizontal bread machine, we have you covered! We have compiled a list of the best horizontal bread machines available, based on factors such as price, features, and customer reviews. 
Image
Product
Details

Best Overall

Zojirushi BB-PDC20BA

2 Pounds
700 watts
Double Kneading Blades

Check Price

Best Customization

Zojirushi BB-CEC20

2 Pounds
700 watts
10 pre-programmed settings; 3 crust shades; LCD control panel; 13-hour delay timer

Check Price

Best for Home Use

Cuisinart CBK-200

2 Pounds
680 watts
16 preprogrammed menu options, 3 crust colors, and 3 loaf sizes.

Check Price

Best Budget

Hamilton Beach 29882 2 lb

2 Pounds
12 cycles including jam and cake
Two Kneading Paddles Included

Check Price

Best Horizontal Bread Maker

Breville BBM800XL Custom Loaf Bread Maker

830 watts
Automatic fruit and nut dispenser
13 automatic settings, 3 crust colors, and 4 loaf sizes

Check Price
Hamilton Bread Maker Machine 29888

2 Pounds
450 watts
Automatic fruit and nut dispenser

Check Price
Breadman 2 lb Professional Bread Maker BK1050S

2 Pounds
850 Watts
Perfect Bake Technology
Collapsible Kneading Paddle

Check Price

Best Features Bread Maker

Secura Bread Maker Machine

2.2 Pounds
650 watts
19 preset menu settings

Check Price
What Is Horizontal Bread Machine And Benefits Of Using It?
A horizontal bread machine is a type of bread maker that bakes dough horizontally instead of vertically. This design results in a loaf of bread with a more even texture and crumb than traditional vertical machines. Additionally, the horizontal machine takes up less space on your countertop, making it a good option for small kitchens. 
If you are considering purchasing a bread maker, be sure to consider a horizontal model. Here are some of the benefits of using a horizontal bread machine: 
Even baking: A horizontal machine bakes dough more evenly than a vertical one, resulting in a loaf of bread with a more consistent texture and crumb.
Smaller footprint: A horizontal machine takes up less space on your countertop than a vertical one. This is especially important if you have a small kitchen.
Versatile: A horizontal machine can be used to make a variety of breads, including traditional loaves, rolls, and pizza dough
Easy to use: Horizontal machines are typically extremely easy to use, with few buttons and settings to worry about.

 
So if you are looking for a great bread maker that bakes evenly and takes up less space, consider a horizontal machine. You will not be disappointed! 
What is the best horizontal bread machine?
When it comes to the best horizontal bread machine, you can't consider looking at a few parameters. While it is difficult to say which is the best horizontal bread maker in this competitive market, you can somehow still suggest it according to your requirements and budget.
The best horizontal bread machine will make larger horizontal loaves that supply to the whole family. They also create good quality bread that you can easily slice. If you love to explore new recipes, then this machine is the best choice for you.
We have experts who are constantly researching several bread machines, and according to their suggestions, we will recommend you 5 of the best horizontal bread machines to meet your requirements. So let's start with more details.
How Does Horizontal Bread Machine Work?
Horizontal bread machines are a type of bread machine that makes horizontal loaves of bread. These bread machines work by kneading the dough and baking it in a horizontal pan.  
Horizontal bread machines can be either automatic or manual, and they typically have a viewing window so you can watch the progress of your bread as it bakes.  
There are several advantages to using a horizontal bread machine, including the fact that they produce evenly shaped loaves of bread, and they allow you to add ingredients mid-cycle without disrupting the baking process.  
If you're looking for a bread machine that will give you perfect results every time, then a horizontal bread machine is a great option. 
How To Use Horizontal Bread Machine
Horizontal bread machines are becoming increasingly popular, as they offer several advantages over traditional vertical models. Here are some tips on how to use your horizontal bread machine to get the best results: 
Make sure that the ingredients are properly measured. Overfilling the bread pan can result in a loaf that is too dense, while underfilling it will produce a loaf that is too light. Follow the recipe to the letter to ensure perfect results every time.

Pre-heat the oven if necessary. Some recipes will call for preheating the oven, while others will not. If you are unsure, it is always better to err on the side of caution and pre-heat the oven just in case.

 

Use the delay timer if possible. This is a great way to ensure that your bread is perfectly fresh when you want it. Simply add all the ingredients to the machine, set the timer, and go about your day. The bread will be ready when you are, with no need for you to be around to monitor it.

 

Be careful not to over-knead the dough. Over-kneading can result in a tough loaf of bread, so only knead the dough until it forms a smooth ball.

 

Let the bread cool completely before slicing it. This will help to prevent it from crumbling and falling apart.

 
With these tips in mind, you should be able to get perfect results from your horizontal bread machine every time. Be sure to experiment with different recipes to find the ones that you like best. And, most importantly, enjoy the fresh bread that you have made! 
How To Make Bread In Horizontal Bread Machine
Making bread in a horizontal bread machine is not as difficult as it may seem. With a little patience and practice, you can produce perfect loaves of bread with ease. Here is a step-by-step guide on how to make bread in a horizontal bread machine: 
Start by adding the ingredients for the dough into the bread pan according to the order specified in the recipe or manual. Make sure that all the ingredients are well combined before moving on to the next step.

 

Place the pan into the bread machine and close the lid. Select the "Dough" cycle on your machine and press "Start."

 

Depending on your model of machine, the dough cycle will take between 45 minutes to 1 hour and 30 minutes to complete.

 

Once the dough cycle is finished, open the lid of the bread machine and remove the pan.

 

Turn the dough out onto a lightly floured surface and shape it into a loaf. Place the loaf on a greased baking sheet and let it rise in a warm place for 30 minutes.

 

Preheat the oven to 350 degrees Fahrenheit before baking the bread for 30-40 minutes, or until golden brown. Remove the bread from the oven and let it cool on a wire rack before slicing and serving. Enjoy!

 
Tips For Making Bread In Horizontal Bread Machine
Make sure the ingredients are well-mixed before adding them to the bread machine.

 

Add the wet ingredients first, followed by the dry ingredients.

 

Be careful not to overfill the bread pan. The dough should only come up to about an inch from the top of the pan.

 

Bake the bread on the basic or white cycle.

 

Let the bread cool completely before slicing it. This will help prevent it from crumbling.

 
With these tips, you should be able to produce delicious, homemade bread from your horizontal bread machine with ease! 
What Else Can You Make In A Horizontal Bread Machine?
Aside from bread, horizontal bread machines can also be used to make a variety of other dishes. Here are some ideas: 
Pizza dough

 

Cake

 

Cookies

 

Muffins

 

Quiche

 

Scrambled eggs

 

Omelette

 

Macaroni and cheese

 

Stuffed peppers

 

Chicken pot pie

 

Meatloaf

 

Rice pudding

 
With so many possibilities, a horizontal bread machine is a versatile addition to any kitchen. Get creative and experiment with different recipes to see what you can come up with! 
#1 - Best Overall Horizontal Bread machine - Zojirushi BB-PDC20BA

Zojirushi Home Bakery Virtuoso Plus Breadmaker, 2 lb. loaf of bread, Stainless Steel/Black BB-PDC20BA
Shop now at Amazon.com
Zojirushi BB-PDC20BA reached first place in the horizontal bread maker list, and it is one of the best and widely used horizontal bread makers. It comes with dual kneading blades that thoroughly knead the dough for superior results and allow you to enjoy the delicious horizontal bread made by this machine.
PROS
Dual blades for thorough kneading
Heated lid
Printed settings on the lid
Recipes, many accessories included
Easy to use and clean
Homemade function
Built-in battery
12-hour clock
CONS
Annoying beep sounds
Takes large kitchen space
Paddles wear out
Overview
Specification
Features
Overview
Design
Zojirushi BB-PDC20BA bread maker is a stunning blend of modern and rustic design. The bread maker's top has a black finish that is easy to clean and difficult to scratch. The sides are adorned with brushed stainless steel, which exudes luxury.
Because most of us have black or stainless steel major and small appliances, this bread maker definitely blends in with the rest of your kitchen's decor. On top, there is a large, functional, and long-lasting viewing window and an LCD display that is bright and large enough to feel modern rather than outdated.
Capacity
Zojirushi BB-PDC20BA enables you to create a two-pound loaf of any bread type you desire.
Unlike other bread makers, you will not select a different size and will be limited to a two-pound loaf. However, this isn't necessarily a disadvantage because that amount is ideal for making large batches to feed a large family or freezing for later use.
As a bonus, you have complete control over the crust; go for light, medium, or dark as desired.
Performance
This Zojirushi bread machine has 15 settings, allowing you to prepare a delicious horizontal loaf or accommodate dietary restrictions.
Multigrain, white, European, whole wheat, gluten-free, salt-free, sugar-free, and even vegan options are available.
While many bread machines offer a gluten-free option, models with vegan or low-sodium diet options are uncommon. Cake, jam, and pizza dough can all be made in the same machine.
Zojirushi BB-PDC20BA has a timer that can be set to 12 hours. There is, however, a 13-hour delay timer for when you need the bread maker to begin working while you are not present.
For example, if you need to hold a dinner party, work late, or wake up to fresh bread, this machine can help.
You can set it to 13 hours or less, go about your day (or night), and enjoy the delicious result when you're ready.
In other words, you could say this is an intelligent bread machine that sets the correct temperature for the ingredients used in the bread itself.
This bread machine can also remember three different bread recipes. Simply enter your preferred bread setting and save the recipe to the device's memory.
When you're ready to tackle that recipe again, all you have to do is press a single button and let it do the work.
Bread dough is a sticky, gummy concoction that tastes fantastic when baked, but it's a pain to knead.
With this in mind, the Virtuoso Plus is equipped with two kneading blades, ensuring that ingredients are thoroughly incorporated.
Gluten won't have to work as hard to develop properly, and flour won't clump together. The double blades cover every inch of the bread pan and knead the dough until it's perfect.
The reason we choose it as our top pick is the heaters on the bottom and lid of the bread maker that promote even baking and browning. That's what sets this machine apart from the rest.
Cleaning
Fortunately, you won't be worried about cleaning the Virtuoso Plus. Since this machine's kneading blades and bread pan are coated in nonstick material, ensuring that your bread does not stick. As a bonus, any crumbs that are left behind can be easily wiped away.
Simply wash the accessories with soap and water and proceed to make another loaf right away. You won't have to waste time scrubbing a dirty pan or difficult-to-clean utensils. With this bread maker, you can quickly get on with your day and other recipes.
Specification
Features
Should I buy Zojirushi BB-PDC20BA?
After going through all the positive and negative aspects, we believe the Zojirushi BB-PDC20BA is the best option for home bakers.
Even if you've never baked bread before, it's straightforward to use, and the instruction manual is extremely clear. It's also a good option if you're health-conscious and prefers to make your bread with healthier ingredients. Other bread machines do not produce high-quality, healthy bread like the BB-PDC20.
There are many settings, and it is pretty convenient with the 13-hour delay timer, which leaves cleanup relatively simple. In this way, many bakers will find it difficult to find anything negative about this bread machine.
For as long as you can afford the price tag and are willing to wait for your bread to finish (even if it takes slightly longer than with some other machines on the market), this is a worthwhile machine to look into. It may turn out to be your new favorite kitchen appliance!
#2 - Best Customization Horizontal Bread machine - Zojirushi BB-CEC20

Zojirushi BB-CEC20 is a delightful bread-making machine known as the Home Bakery Supreme. It is equipped with a panel with buttons and an LCD to select the crust shade, time delay, bread, cake, jam, dough, or homemade programmable course.
It's costlier than most bread machines, but the high price tag may well be worthwhile. Here is an overview of its characteristics, questions, pros, and cons.
PROS
Easy to clean
Dual blades
Three customized settings for new recipes
Measuring spoon, cup, recipes included
Sourdough starter function
CONS
Poor customer service
Flake off coating
Overview
Specification
Features
Overview
Design
The Zojirushi BB CEC-20 is 17 x 12 14 x 8 12 inches in size. It is made of stainless steel and will blend in seamlessly with your existing kitchen appliance family.
Despite its size, the appliance is relatively light at 17 pounds. If you don't have enough counter space, you can easily move it to the kitchen or store it away. However, the machine is heavy enough to stay stable while you're adding ingredients, inserting or removing the pan, setting the time and temperature, and so on.
The Zojirushi bread maker is available in three colors: white, black, and gray. It lacks the nice retro feel that some appliances possess.
The unit has a large lid that allows for plenty of operating space. A large glass window on the lid allows you to monitor the baking process.
The Home Bakery Supreme package also includes an 8-ounce measuring cup and a double-ended teaspoon/tablespoon measuring tool. These items will not make or break your purchase decision, but they are nice additions to the fine bread machine.
Capacity
This machine produces the traditional rectangular 2-pound loaves similar to those found in supermarkets. It is a good size for people who only want to cook a few days of bread once or twice a week and those with big families or prepare for a party.
We wish the BB-CEC20 could make a smaller loaf as well. Unlike most other bread machines, it does not have a loaf size button. On the contrary, for making 1 pound bread loaves, we recommend the Zojirushi BB-HAC10 mini bread maker. Please see the full review here.
Performance
This brand will not let you down as they have put enough thought and effort into their horizontal bread machine, reflecting in their product. The older Zojirushi BB-PDC20 model works the same way. This model makes you part of the process. The BB-CEC20 has all of the standard features of a high-quality bread maker and is simple enough for beginners to use.
Delay timers are excellent features in bread makers, and Zojirushi has a 13-hour delay timer. This is a good solution for those who would like to be awakened in the morning or returned home from work to the pleasant aroma of freshly baked bread.
With Zojirushi, customers can select from a long list of pre-programmed baking settings tailored to meet a variety of appetites. This includes the following ingredients: Basic, Quick, Wheat, Dough, Jam, Cake, Sourdough Starter, and three personal home menus.
In this sense, the wide variety ensures you can get much value out of this machine, and the Home Made setting provides an excellent setting for bakers who want to take their skills to the next level of expertise.
Within the Home Made setting, there are three "memory settings," which allow you to save up to three of your recipe settings to the machine. Fantastic!
Because it has two paddles for thorough kneading, the Zojirushi BB-CEC20 bread maker guarantees an even loaf. The additional kneading that your dough will receive in this machine also contributes to the bread's high rise.
You won't be late or distracted by your favorite book because Zojirushi has included an automatic warming mode that will keep your bread warm for up to 30 minutes after baking.
This is ideal for those who use the delay timer for cooking while sleeping or at work. And no need to worry about getting stuck in rush-hour traffic on the way home from work because your loaf will still be warm from the oven when you get there. The disadvantage here is that the "keep warm" function can occasionally cause the bread to dry out.
One of our best things about the Zojirushi BB-CEC20 Supreme 2-Pound Breadmaker is how simple it is to use, regardless of your level of baking ability.
Part of this is due to the machine's large and easy-to-read LCD control panel on the front. It is simple to select your desired settings because it is intuitive and user-friendly.
Given that bread makers must be left running for hours at a time, often unattended, so "Auto Shut–Off" function is considered an excellent built-in safety setting.
After the 30-minute 'Keep Warm' period has expired, it will turn off automatically.
There's also a 10-minute power failure backup, which is helpful if the power goes out in the middle of a bake cycle!
Cleaning
This bread maker is simple to clean, which is a big plus for any kitchen appliance.
It is also a reliable, well-built machine. Luckily, this also comes with a baking tray, dual kneading blades, stainless steel body, and a removable nonstick bread pan for easy maintenance and ensuring that no food particles are left behind.
Specification
Features
Should I buy Zojirushi BB-CEC20?
You should not expect the Zojirushi BB-CEC20 bread maker to be flawless in every way simply because you paid a high price for it. It has a few minor flaws, such as uneven browning of the top crust and a slightly crooked appearance. You may need to even out the top crust of the bread dough with your hands just before the baking cycle begins to ensure that it is completely level and not lopsided.
If the uneven and light browning of the top crust bothers you, you might prefer the Zojirushi BB-PAC20 bread maker. To address the issue of uneven crust color, it has a small heater built into the lid.
Nonetheless, the construction quality is excellent. It may last a few years of frequent baking. The kneading paddles and baking pan are not challenging to clean, but they should not be washed in the dishwasher or immersed in water. To clean the baking pan inside, use a soft sponge, water, and liquid detergent.
#3 - Best for Home Use Horizontal Bread machine - Cuisinart CBK-200

#3 Best for Home Use
Cuisinart CBK-200 Convection Bread Maker, 12" x 16.5" x 10.25"
Shop now at Amazon.com
Third on the list, none other than Cuisinart CBK-200 itself. It is one of the best horizontal bread maker machines for those who want a solid horizontal bread machine and do not believe in fancy features.
Here favorite features refer to those found in Zojirushi. This machine is perfect for small families as it can produce 1 pound of small bread, which is also ideal for a family that requires a 2 pound bread capacity.
PROS
Sleek design
Many baking options with its 16 programs
Easy to use
CONS
A bit bulkier
Some find loaves small for 2-pound size
Overview
Specification
Features
Overview
Design
The design of the Cuisinart bread machine is handy – boxy, brushed stainless steel with chrome detailing. The CBK-200 has a simple design that isn't too striking. While the appliance's overall style and appearance aren't as visually appealing as those of the competition, the appliance is nevertheless quite modern and stylish, due to its stainless steel build. Overall, the machine appears to be constructed of sturdy and well-built materials.
It measures 16 12 x 10 14 x 12 inches. It is a large enough size for larger bread-making projects. It makes the CBK 200 a nice middle-ground unit in terms of weight; however, at 14 lbs, it seems on the heavy side. Thanks to the black handles on the sides, the weight is distributed evenly, making it light enough to be moved but not too light to be affected during the bread-making process.
If you have enough space, you can leave the appliance on the counter rather than storing it in a storage cabinet.
Capacity
The CBK-200 can bake loaves weighing one, 1.5, or two pounds. The unit bakes a 2-pound loaf by default.
When baking with the low-carb or gluten-free menu options, you cannot select a 1-pound loaf size. Furthermore, the bake-only program does not allow you to specify the size of the loaf.
Performance
The Cuisinart CBK-200 has so many features, but some are supreme. One of the best features of this bread maker is its 16 different pre-programmed options, which exceed many of its competitors.
Being a programmable bread machine, you'll get to extract the maximum value out of your eating time and family functions. Within this bread maker, there is a convection fan that allows you to adjust the timing and speed to have great results every time.
To accommodate various dietary restrictions, the preset options for this bread maker include choices for those with gluten-free needs, low-carb needs, and those with other dietary restrictions. If you're searching for artisan dough, this bread maker has everything you need.
You'll enjoy that three different colors, together with three different loaf sizes, are available to those who don't like the darkest crust. You can use your imagination and create more than one hundred different combinations of jam, dough, and cake.
This bread maker also has an audible tone that sounds when the ingredients are ready to be mixed. With this, you can walk away without having to watch it bake. So, you will be able to focus on other things that you need to do.
One feature that makes this appliance unique is the beep signal; it will beep ten times to let you know when the bread maker has finished baking. It now keeps the bread warm for 60 minutes, after which twelve beeps indicate that it is finished.
The keep-warm cycle keeps the bread from becoming too soft from moisture, but it is best to remove it as soon as possible and cool it on a baking rack. If you leave the bread in for too long, the crust will probably darken.
This feature is an excellent addition that reminds you to remove the kneading paddles to avoid appearing the ugly hole in the bottom of loaves like made in other bread makers.
If you're going to be too busy setting aside time to make bread, you should be able to select the 12-hour delay start-timer on this bread machine so you can assure that it gets done and you can focus on other things.
Thanks to the composition and the circulation of air superior to the competition, you can make a better texture and crust when baking bread on this machine.
The more features that a product has, the better it will serve customers. In addition to the features mentioned above, there is an abundance of additional features useful for anyone and include power failure back-up, a small viewing window, and LED screens with buttons that make sure you're making an informed decision when choosing settings.
And also, the product manual included is very detailed! It includes instructions for using the bread machine and information about its features and the types of bread that can be baked. Bread program timetables, troubleshooting tips, bread-making tips, and information on gluten-free ingredients are also available.
Cleaning
Many people dislike the cleaning process following baking, but this bread maker features a removable cover and nonstick pan. Both of these may be removed from the bread machine and washed without difficulty.
Specification
Features
Should I buy Cuisinart CBK-200?
Even compared to other competing models, the Cuisinart CBK 200 bread machine is outstanding. It's modern, sleek, and consistently produces high-quality bread.
A Cuisinart bread maker is simple to use and can bake excellent loaves. The affordable fee of this wonderful home appliance makes it all the more desirable. Do not forget to get the cookbook when buying the Cuisinart CBK-200. Make use of the book to create and record different recipes.
#4 - Best Budget Horizontal Bread machine - Hamilton Beach 29882 2 lb

#4 Best Budget
Hamilton Beach Bread Maker Machine 2 Lb Capacity Digital, Programmable, 12 Settings + Gluten Free, Dishwasher Safe Pan + 2 Kneading Paddles, Black (29882)
Shop now at Amazon.com
With a price point of around $100, the Hamilton Beach 29882 is a reliable and affordable bread machine that also features gluten-free and whole-grain settings that most customers are satisfied with. This unit's excellent price-to-performance ratio certainly merits buying.
PROS
Two non-stick paddles included
Tall non-stick pan
Dishwasher-safe
Easy to use
Beeps to remove the paddle
CONS
Not effective heating element
Paddle comes out into the bread loaf
Overview
Specification
Features
Overview
Design
This Hamilton Beach digital bread maker is made in a semi-shiny black finish. The exterior shell is constructed from a durable plastic commonly found in coffee makers and food processors.
For keeping the body cool during cooking, they use this type of material rather than metal to keep all of the heat inside. Since your kids are likely to accidentally bump into it while it's cooking up some loaves, you won't feel a thing!
This device's classic black exterior will blend seamlessly into any kitchen décor, leaving a strong impression on anyone who walks into the room.. Furthermore, the foot is manufactured from non-slip rubber is as functional as it is aesthetic to ensure that even if you bump in your machine and loaf of bread.
Capacity
The device's capacity is 2 pounds, so that you can bake 1.5 to 2 pounds of a loaf. This advantage means that the unit is suitable for usage in family or single-person use. Regardless of which method you use, make sure to store the bread properly to keep it fresh.
This one is smaller than another bread makers when it comes to size, but it still can deliver large loaves. It measures approximately 10.4 inches long, 14.1 inches wide, and 12.2 inches tall. It weighs 11.86 pounds, making it one of the lightest options on the market.
Performance
Let us now discuss the bread maker's usability. This bread maker is designed with ease of use in mind, with simple controls and an easy-to-read display. It means you don't need to be a baker to use this bread maker. On the contrary, even if you are completely new to baking, you will use this bread maker with ease (see manual and recipes).
Furthermore, the controls are located on top of the unit, making it easy to access baking modes and a timer.
In terms of the delay timer, you can set it to your preferred time so that you and your family can eat warm and fresh bread at your leisure. You can set the ideal time before going to bed and enjoy the new and delicious bread first thing in the morning. It is especially useful in the winter. Imagine waking up to the familiar aroma of homemade bread while it is snowing outside and your loved ones are still at home. Don't you think it's pretty fantastic?
Bread making is a multi-stage process. First, you must mix and knead; then there is rising and proofing; then finally baking. How does the Hamilton HomeBaker bread machine help with this?
It has 12 pre-programmed settings, allowing you to bake a variety of bread. The bread maker does the rest after you select the setting on the control panel. You can choose from whole grain, French, sweet, or gluten-free options.
There are two express settings on the Hamilton Beach Bread Maker. In just 58 minutes, it can bake a fresh loaf of bread. You can also choose between 1.5 lbs and 2 lbs.
The crust is the first part of the loaf that you see and therefore plays a significant role in deciding the taste of bread. Hamilton Beach bread machine features three different crust options, so you can choose light, medium, or dark, by simply pushing a button.
You can also add different ingredients to make your bread more fascinating, such as fruit, almonds, chocolate chips. The only question is, when? Don't mind, as this Hamilton Beach bread machine will notify you of the ideal time with an audible reminder.
Using the Keep Warm feature will ensure your bread remains warm for an extra hour, thus allowing you to enjoy fresh-baked bread whenever you like.
Also, this bread maker features a removable kneading blade that will do a perfect job of mixing the dough, helping ensure your bread is of excellent quality. As soon as the kneading is complete, you can remove it to allow the loaf to cook with a flat bottom.
The Hamilton Beach HomeBaker, like all other machines, has a viewing window in the lid that allows you to see what's going on without having to open the lid.
Finally, the Hamilton Beach HomeBaker includes a recipe booklet. It consists of a variety of recipes that are all designed specifically for the machine.
Bread is one of the most challenging baking tasks because you have to pay attention to all ingredients and quantities right. An accurate measurement is critical. A wide variety of recipes are included in this booklet, so you will always have something new to try. Additionally, there are also recipes created specifically for people who are gluten-free from Bob's Red Mill.
Cleaning
The nonstick inner pan, which can be washed in the dishwasher, is something you'll appreciate. You won't have to deal with cleaning as a result, which saves you time. The inner pan has convenient handles that make it easy to remove the bread from the pan. However, but take care not to scratch it.
Specification
Features
Should I buy Hamilton Beach 29882 2 lb?
The Hamilton Beach budget bread machine delivers good baking results over and over again. This unit features numerous baking modes, a delay timer, a large capacity, and a nonstick inner pan. With all of this, using and cleaning this unit is quite simple. Don't forget to grab these for your family so you can enjoy the tastiest gluten-free bread ever.
#5 - Best Horizontal Bread machine - Breville BBM800XL Custom Loaf

Fifth on the list is Breville BBM800XL. You could say it's one of the best horizontal bread machines for any person who wants to make the baking process easy. One of the outstanding features is that the automatic fruit and nut dispenser releases ingredients at the right moment during the knead phase, so they are evenly incorporated within the dough.
Another fantastic feature of this bread maker is that it has a collapsible kneading paddle before the bake phase to minimize the hole at the base of the baked loaf. Equipped intelligent LCD display with progress indicator shows 13 automatic settings; you also choose three crust colors and four loaf sizes from 1 pound up to 2.5 pounds. If you want a high-performance bread maker, the Breville BBM800XL is the right choice.
PROS
Large LCD screen with progress indicator
Automatic dispenser
Four loaf size
Collapsible and fixed paddle included
Customization up to nine recipes
Quiet machine
CONS
Sticky paddle
A little pricey
Overview
Specification
Features
Overview
Design
This machine is smooth in terms of its design. The outside shell consists of black accent stainless steel. The rubber legs are a nice touch to your countertop and reduce scratches. The top display has a blue LED light which makes the controls easy to read even if a good angle at the height of nearly 14 inches is challenging to reach. 
The top also has a fruit holder which holds the additional ingredients until they are necessary. The holding of the components may be greater, but it is always a better choice than the loud beep-alert machines when adding the extra elements.
Capacity
It's among the smallest bread makers with a length of only 9.6 inches, making it possible to keep it on the counter for later use. That's a rare size for a machine capable of producing loaves weighing up to two and a half pounds. 
There aren't many bread machines that can bake a 2-1/2 pound loaf. If a size is important to you, the Breville may be a good choice.
Performance
If you've ever used a bread maker, you're familiar with the hole left by the kneading paddle when it's time to remove the loaf. The Breville BBM800XL features a one-of-a-kind collapsible paddle. Once the kneading process is complete, it collapses into the unit before baking to avoid the holes like other machines. The bread maker also has a delay timer that can be set to up to 13 hours.
One unique feature is the ability to customize your options based on the recipe. With the Breville BBM800XL, you can manually set preheat, knead, rise, punch-down, bake, and warming phases, whereas most bread makers force you to choose one of the pre-programmed options. Remember that these settings cannot be stored, so you'll have to re-program them each time.
Like many bread machines, Breville BBM800XL has a lid that can be removed and a large viewing window. The viewing window allows you to monitor the progress while kneading, rising, and baking without having to open the lid. It helps redistribute the dough for smaller loaves, and it adds to the fun of making your bread. To illuminate the inside of the baking chamber by pressing the light button.
The Breville BBM800XL is equipped with an automatic fruit and nut dispenser. Everything happens automatically because it is attached to the lid. The dispenser will add fruit and nuts to the dough at the appropriate time during the kneading phase. This is ideal for people who are too busy to return to their bread machine and manually add extra ingredients.
After choosing the type of bread and loading the ingredients, you select the setting with the simple push-button controls. Timings or temperatures are not needed; the built-in interface sets the optimal cooking program for the perfect loaf.
Surprisingly, this piece of equipment can do more than making bread. There are settings for creating the perfect pizza and pasta dough, and it can also be used to make beautiful jams.
The Delay Start button is one of our favorites. After a quick calculation, you can program the bread maker to start at a specific time, ensuring that your loaf is ready in time for dinner.
Cleaning
It's simple to clean, with soapy and warm water, it all wipes over. If any dough is blocked around the base, simply place a small amount of hot water in the machine, and it will quickly soak away.
Specification
Features
Should you buy Breville BBM800XL Custom Loaf?
The Breville BBM800XL is a well-built bread maker that does everything you'd expect of it. This design is both user-friendly and attractive while also being entirely functional.
The price is higher than most bread machines, but the control over settings and the convenience may be worth it. If you need a lower-priced alternative, consider going ahead with our best cheap bread maker review here.
#6 - Hamilton Bread Maker Machine 29888
#6
Hamilton Beach Premium Dough & Bread Maker Machine with Auto Fruit and Nut Dispenser, 2 lb. Loaf Capacity, Stainless Steel (29888)
Shop now at Amazon.com
Making bread is a skill that many people aspire to master. It is made simple with the Hamilton Beach Premium 29888 Bread Maker. Making fresh handmade bread or dough is now easier than ever.
PROS
Automatic fruit & nut dispenser
Gluten-Free Setting & Artisan Dough mode.
2 lb loaf capacity; 3 loaf sizes
13 hours delay timer
Countdown cooking timer with LCD display -14 cycles for bread, dough, cake, jam & more
Dishwasher safe bread pan & paddle -The kit includes a measuring cup and spoon, a kneading paddle, and a paddle removal tool.
Overview
Specification
Features
Overview
Design
The Hamilton Beach premium 29888 is made of stainless-steel finish looks classy and elegant and measures 9.5 x 13.75 x 13 inches. The buttons have the appearance of freshly polished silver. It will undoubtedly draw attention anywhere you place it. Overall, the Hamilton Beach Premium Dough & Bread Maker has a contemporary design that would look great in any kitchen.
What about the extras? You've got the measuring cup and spoon, as well as the kneading paddle and paddle removal tool. Prepare to bake delicious loaves of bread without even rolling up your sleeves. Making bread has never been easier.
Performance
Because this is a premium model, it includes more bread cycles than comparable items. For example, practically every bread maker has a dough mode, but none contain an extra artisan dough like the Hamilton Beach 29888. There are 14 programs with which you may cook a variety of delectable foods.
It also has 14 pre-programmed cooking options. You may now test all of the recipes, including gluten-free and artisan options. You may also change the size and shape of the crust on the bread to suit your tastes.
Make your bread according to your preferences. With the touch of a button, you may change the crust color and loaf size. You can also make entirely new software for your specific recipe. There are three different crust colors to choose from light, medium, and dark.
The loaf size options are 1, 1.5, and 2 pounds. The fruit and nut dispenser that operates automatically is a fantastic feature. When it comes to adding the nuts to your dough, you don't have to be concerned. For that, Hamilton Beach 29888 features a completely automated system. Add your ingredients and let the bread maker handle the rest.
You can cook your bread in three simple steps while using the 14 pre-programmed cycles. As follows:
Add ingredients
Select a cycle
Press start That's all we have to say about it.
You even have a viewing window that allows you to see what's going on in the cooking. This makes it straightforward to control the baking process.
Of course, it includes a built-in timer. Cooking delay timer, delay start function, and indicator lights are all included. The bread pan and kneading paddle are, of course, removable. However, convection cooking is not included.
Cleaning
Did I mention you can remove your baked bread with ease? A nonstick bread pan is included with the Hamilton Beach 29888. This bread maker also has a bread pan and paddle that are easy to clean. They can be put in the dishwasher. For easy bread removal and cleaning, the nonstick pan may be taken out.
Specification
Features
Should you buy Hamilton Beach premium 29888?
The Hamilton Beach Premium bread maker is the way to go if you don't have any financial constraints. All of the extra features, design quality, and functionality make it well worth the money.
On Amazon, the Hamilton 29888 has a 4.1-star rating. People remark on the machine's excellent design and high-end appearance. This fantastic equipment can bring the aroma of freshly baked goods straight into your home. "Nothing beats a warm slice of handmade bread," they remark.
All of the items in Hamilton Beach 29888 are valuable additions to any kitchen. It will make using your bread maker much easier, and your friends and family will love it!
#7 - Breadman 2 lb Professional Bread Maker BK1050S
Fresh bread is one of life's underappreciated basic pleasures, which is why so many people invest in a bread maker like the Breadman 2-pound Professional Bread Maker. While you may be looking for a bread machine for your kitchen, the last thing you need is another appliance that sits in the cupboard collecting dust because it's too complicated or doesn't provide outstanding results.
We choose the Breadman 2-Pound Professional Bread Maker to the test to see if it could produce beautiful loaves of bread while remaining simple enough to use daily. Please go to figure out more about what we uncovered.
PROS
Affordable
Large viewing window so you can see your bread rise -Multi functional
Easy To Use -Bakes bread evenly
Gluten-free and low-carb settings
CONS
A Bit Noisy
Takes up a lot of counter space
Hard to see into viewing window
Overview
Specification
Features
Overview
Design
The Breadman Bread Maker is rectangular and measures 16.6 x 12 x 15.6 inches. Because of its size, it isn't easy to store in most cabinets, but its stainless steel exterior makes it a lovely addition to the kitchen if you have enough counter space.
Ferformance
There are 14 pre-programmed bread configurations available at the Breadman Bread maker, including white bread, whole bread with wheat, French bread, sweet bread, quick bread, gluten-free bread, low carb bread, dough, and even Jam.
You can control the crust color, select between light, medium, and dark options in addition to the bread type. The 15-Hour Delay Timer and Perfect "Bake Technology" ensure that each loaf bakes to perfection and on time!
Although the Breadman has a maximum load capacity of 2 pounds, it also allows you to make different-sized loaves. We liked that you could choose between 1- and 1.5-pound loaves, which could be helpful if you have a small family or want fresh bread more frequently.
If you want to bake anything like raisin bread, the machine also has an automatic fruit and nut dispenser. Other bread makers require you to add mix-ins approximately 30 minutes into the baking cycle manually. Still, the Breadman lets you fill the dispenser while adding ingredients to the baking pan. We didn't have to go back to the kitchen to add more ingredients because of this.
Finally, the Breadman features options for manufacturing pizza dough, artisan-type doughs, and jam, in addition to regular bread baking.
Included Accessories
Moreover, this bread machine comes with a liquid measuring cup and an adjustable dry measuring spoon to toggle between ½ teaspoon, one teaspoon, and one tablespoon.
The bread machine also came with a spiral-bound handbook with thorough directions for creating bread as well as some troubleshooting advice in case your bread didn't turn out as expected. Eighty-four bread machine recipes are included in the ebook, ranging from basic white bread to low-carb almond bread and even blueberry pineapple preserves. We liked that the recipes had clear instructions and measurement modifications for different loaf sizes.
Cleaning
It has a nonstick bread pan and kneading paddle so that loaves pop out easily after baking, and cleanup is a breeze.
The overall design is understated. The lid has black detailing along the bottom and a small digital screen on top. Underneath the screen is several buttons for controlling the bread maker, including the timer, menu, loaf size, and start/stop. There's also a viewing window on the machine's top so you can keep an eye on your bread as it bakes. While we thought this could be a useful feature, there is no light inside, making it difficult to see what's going on even in a well-lit room.
A baking pan is located inside the bread machine and can be easily removed with a light tug on the handle. One of our favorite features of the design is the collapsible kneading blade at the bottom. After combining the ingredients and kneading the bread dough, the blade should lie flat to avoid getting stuck in the bottom of the loaf. We've had this common issue with other bread machines, so this feature came in handy.
Capacity
One of the best aspects of this bread machine is the variety of options for different-sized loaves. It can produce loaves weighing 1 pound, 1.5 pounds, or 2 pounds.
This is useful because no matter how large a family you're trying to feed, this bread machine can handle it! And, best of all, it can be accomplished simply by pressing a button.
Specification
Features
Shoud you buy Breadman 2-Pound Professional Bread Maker?
Yes, buy it. The Breadman 2-Pound Professional Bread Maker is an excellent addition to any kitchen because it bakes picture-perfect loaves in three sizes, is attractive on the counter, and is reasonably priced.
The Breadman 2-Pound Professional Bread Maker retails for $129.99 in the average bread maker range. While you can acquire a machine for less money, we think the Breadman Bread Maker is worth the extra money because it has pre-programmed gluten-free and low-carb options as well as the opportunity to personalize the loaf size.
#8 - Secura Bread Maker Machine
#8 - Best Features Bread Maker
Secura Bread Maker Machine 2.2lb Stainless Steel Toaster Makers 650W Multi-Use Programmable 19 Menu Settings for Home Bakery (Silver)
Shop now at Amazon.com
When it comes to finding the best horizontal bread machine, it's all about price, convenience, and beneficial rather than unnecessary features.
The Secura bread maker is a compact and powerful appliance that is excellent for use at home. It's a perfect pick for novices because it's one of the most affordable bread makers available. You can learn more about this bread maker's unique features by reading our review.
PROS
19 pre-set menu variations
3 crust settings, 3 size settings
15-hour time delay function
Alarm sounds when time to add extra ingredients
High-quality non-stick
Dishwasher safe
CONS
Limited recipes provided
Measuring instructions could be clearer
Overview
Specification
Features
Overview
Design
The 2.2lb Secura bread maker is made of durable stainless steel, which allows for extended use without any signs of wear. Its streamlined cubic shape allows it to fit into tiny areas, and its modern silver color ensures that it blends in with other appliances of its type.
No matter where you put it, you can count on this bread maker to stay put. This means you won't have to worry about it slipping on the counter, causing chaos, or worse, skipping off the counter, causing a mess.
This machine is perfect for folks who have a limited amount of space. You won't need other appliances because it's flexible and can handle multiple tasks at once.
Its compact design so it won't take up too much counter space, and if you decide to store it, it'll fit easily into closets or cupboards until you need it again.
This bread machine is extremely lightweight, so you won't need to enlist the help of another person to transfer it.
Capacity
The Secura bread maker can handle loaves weighing between 1 and 1.65 pounds and up to 2.2 pounds.
So, whether you have a small household, a large one, or need to create a larger loaf for a special occasion, this machine will suffice.
With a push of a button, choose your loaf size and let it get to work.
Performance
This product was tested, and we can say the Secura bread maker is simple and user-friendly. So you're not going to spend too much time on how to use it. The favorite aspect is that it comes with an auto bread-making feature, which will enable you to cook a delicious loaf of bread quite well. The interesting fact is that it was designed with the help of nutritionists.
The Secura Bread Maker has 19 distinct settings, all of which are pre-programmed within the machine. Just simply touch of a button, you can make everything from white and whole wheat bread to pizza dough, yogurt, and jams.
A gluten-free bread and cake setting is also included, making it simple to create for special occasions or specific diets. Because some recipes are complicated, this bread machine has time and temperature settings for each type of bread, yogurt, dough, and so on, so you won't have to guess.
If this is your first time preparing bread, these options will make the process easier.
There's no need to use a separate timer or risk forgetting when your bread should be done. This machine has a timer built-in into the LCD display that will beep when it's done.
The Secura bread maker's LCD display adds to its user-friendliness. You have complete control over the crust settings (light, medium, dark), the 19 presets, the timer, and any other aspects. The display also indicates how much time is remaining on the timer and the bread size you choose.
There's also a 15-hour delay timer, so if you want the bread maker to start working before you get up or before you go home from work, you can set the delay timer accordingly, put the ingredients in ahead of time, and let it start working when the timer runs out. When you're ready, you'll have freshly made bread!
The Add-In Ingredient Reminder is a unique feature of this bread maker. The machine will alert you when it's time to add ingredients like chocolate chips, almonds, berries, or even sprinkles, as the name implies.
Because it's easy to overlook this phase in the baking process, the machine beeps to alert you. All that's left to do is just open the lid, add your extras, close the cover, and let the machine work its magic.
This bread machine's lid incorporates a window so you can keep track of your baking progress. You won't have to wonder if your bread is done or even if it's to your liking. Without halting the process, you'll be able to see the colors and textures of your loaves. It's a minor feature, but it's nice to have.
Cleaning
Cleaning is a chore that no one enjoys, and bread machines are complicated to keep clean due to their small design.
The bread pan on this Secura, on the other hand, is entirely nonstick and dishwasher safe. You won't even have to clean it! Simply put it in the dishwasher, then you are ready to bake your next loaf in no time.
The nonstick coating also means you won't have to worry about your bread becoming stuck and tearing when you pull it out. It gently glides out, allowing you to concentrate on enjoying your dessert rather than cleaning up the kitchen.
Specification
Features
Should you buy Secura Bread Maker Machine?
The Secura bread maker machine is both stylish and long-lasting. In addition to its fashionable appearance, it can provide you with access to various bread recipes to enjoy at home. We like its cubic shape because it is easier to fit into small spaces. In addition, despite its lightweight, we found that this bread maker is relatively stable and will not move around on the countertop.
If you're on a tight budget, the Secura bread maker is a good option. It has the best features and settings in its price range. It is also appropriate for anyone who doesn't want to spend a lot of money on a new kitchen appliance. Furthermore, this bread maker can produce a high-quality, tasty, and perfect loaf of bread suitable for even the pickiest of eaters.
Features to consider while buying the best horizontal bread machine
Depending on your needs and preferences, it is essential to consider some critical factors to get the perfect machine. Here are some of the factors to keep in mind when buying a horizontal bread machine.
The heating and evenness
The quality of the heating element is one of the first things to consider when buying a horizontal bread maker. Ideally, you should choose a high-quality appliance with a heating element that allows you to cook hundreds of loaves without worry. The evenness of the heating is also essential. Choose a horizontal bread maker like the Cuisinart CBK-200 with a convection fan to ensure even heat.
Capacity
The capacity will most likely depend on the size of the loaf you want or the size of your family. Would you like to make a 2lb loaf? Or you may simply want a bread machine that can serve you and your partner. In general, think about the size of your family and buy a more efficient machine if you have a large family. Breville BBM800XL Custom Loaf Bread Maker is an example of a bread machine with a high capacity of about 2.5 lbs.
Kneading blades
It is an essential part of the bread machine as it mixes all the individual ingredients to create a perfect dough. Many kneading paddles usually subside after a kneading cycle and leave you with a hole in the bottom of the loaf. Some machines like the Breville BBM800XL Custom Loaf Bread Maker have a collapsible kneading paddle to prevent this. Others come with two kneading paddles that let you use one while the other is in the dishwasher.
Display and easy operation
You will not want to use any machine that you cannot operate or challenge to use as it can easily affect the quality of your bread. Most of the bread machines in this review have a clear LCD display that gives you ultimate control over your baking process. 
View windows and automatic add-ins
The viewing window is also a great feature that lets you keep track of the baking process. You should not check the bread's progress by opening the lid. If you do, the temperature inside the machine will drop and leave you with half-baked bread. The automatic add-ins also allow you to add some extra ingredients like nuts and fruits.
Number of programs
The number of programs shows only some features that you can use with your appliance. It would help if you chose a bread maker with many programs to make a variety of bread and doughs.
Working noise
Like most equipment, this device doesn't make a lot of noise as well as a shake when running. 
Power requirements
Warranty is a cushion for your safety even if your machine fails and you do so by mistake. The more extended the warranty, the better because you will feel more secure. The Cuisinart CBK-200 features an impressive 3-year warranty to give you peace of mind.
Price tag
It is one of the key features that affect all of our purchases. Depending on your budget and how you plan to use the machine, you should opt for an affordable bread machine. However, ensure it has all the features you need in a bread machine. If you are willing to spend on a bread maker, look for the top models with the best features.
How to Clean Horizontal Bread Machine
To ensure that your horizontal bread machine continues to operate at its best, it is important to keep it clean. Here are some tips on how to clean your horizontal bread machine: 
Unplug the bread machine from the power outlet.

Remove the baking pan from the machine.

Wash the baking pan in warm, soapy water. Rinse and dry thoroughly.

Wipe down the inside of the bread machine with a damp cloth. Be sure to clean the lid, gasket, and other components as well.

Once all the parts are clean, reassemble the bread machine and plug it back into the power outlet.
By following these simple tips, you can help keep your horizontal bread machine in top condition. Regular cleaning will help to extend the life of the machine and ensure that it continues to perform at its best. 
How To Maintain The Horizontal Bread Machine
If you have a horizontal bread machine, you know that it's a great way to get evenly baked bread every time. But did you know that there are a few things you can do to keep your machine in top shape? Here are some tips on how to maintain the horizontal bread machine: 
Make sure to clean the baking pan and knead blade after each use. This will prevent any build-up of dough or flour and will keep your machine working properly.

If you notice that your bread isn't baking evenly, check the settings on your machine. Often, the setting for "light" bread may need to be adjusted for a more even bake.

If your bread is sticking to the sides of the pan, try greasing the pan with a little bit of cooking spray or butter before adding the dough. This will help to prevent sticking and will also make cleanup easier.

If your machine starts making strange noises, it's time to take it in for service. Horizontal bread machines are durable, but like any other appliance, they can occasionally need repairs.
By following these simple tips, you can keep your horizontal bread machine in top condition and enjoy fresh, evenly baked bread for years to come! 
Best Horizontal Bread Machine - FAQs
So, you are in the market for a horizontal bread machine? In this article, we will answer some of the most frequently asked questions about these machines. 
So, there you have it! Some of the most common FAQs about horizontal bread machines. Now that you are armed with this information, you can shop for the perfect machine for your needs. happy baking! 
After reviewing all the features and my needs, I prefer the Zojirushi Virtuoso Plus, Bread Maker. First, the pan is horizontal with double kneading blades thoroughly knead the dough for superior results. When buying a bread maker, the point to note is to mix the ingredients well and knead the bread dough to achieve a light texture.
Second, the homemade settings can mesmerize three recipes, convenient for adjusting the time to my liking. In short, this bread machine makes soft, spongy white bread that suits my taste.
Let me know what bread maker you most want to own right now.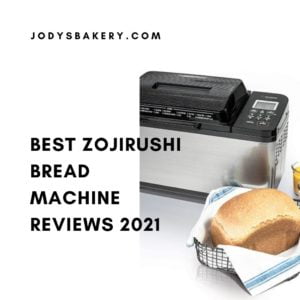 Zojirushi's product is one of the best bread machines on...
Read More
Why Trust Us
You will find what you are looking for at Jody's Bakery. From classic to luxury brands, you'll find both. We will help you to select appliances that fit your needs, budget and lifestyle. Whether you want to stop by to learn more — or plan to make a major purchase — we'll treat you like family and assist you every step of the way. Shop with us today to receive friendly and experienced help along the way.