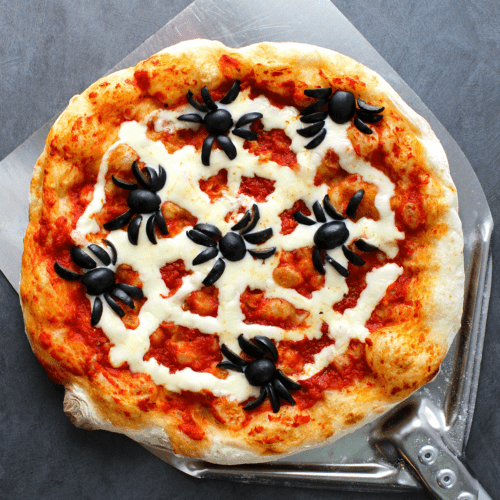 Halloween pizzas are a fun and creative twist on the classic pizza, specially designed to match the spooky and festive atmosphere of Halloween. These pizzas often feature imaginative and creepy designs, making them perfect for Halloween parties or family gatherings. From ghost-shaped cheese to spiderweb-like tomato sauce, Halloween pizzas allow for a wide range of creative toppings and decorations, transforming a simple meal into a festive and eerie culinary delight.
Whether you're making mummy pizzas with olive eyes or using pepperoni slices to create spooky faces, Halloween pizzas are a playful way to celebrate the holiday with delicious and visually appealing treats.
What equipment is used in Halloween pizzas?
To make creative and spooky Halloween pizzas, you can use various equipment and tools to shape, cut, and decorate your pizza. Here are some items that might be useful:
Last updated on December 8, 2023 4:18 am
Pizza Stone or Pizza Pan: An essential tool for baking your pizza. A pizza stone ensures a crispy crust, while a pizza pan is convenient and easy to use.
Pizza Peel: Helps you transfer the pizza in and out of the oven. It's especially useful if you're using a pizza stone.
Pizza Cutter: A sharp pizza cutter or wheel cutter to slice your pizza into portions.
Cookie Cutters: Halloween-themed cookie cutters in shapes like ghosts, pumpkins, bats, or witches can be used to cut cheese, vegetables, or even the pizza dough.
Chef's Knife: A sharp knife for cutting various toppings like vegetables, meats, and cheese into specific shapes.
Food Markers: Edible food markers in different colors can be used to draw intricate designs or faces on cheese slices or other toppings.
Pastry Bag: If you're making pizza with sauces or spreads, a pastry bag can help you create intricate designs on top of the pizza.
Graters and Shredders: For grating cheese or vegetables to use as toppings.
Decorating Tools: Small tools like tweezers can help in precise placement of smaller toppings.
Oven: Of course, you need an oven to bake your pizza to perfection.
Remember, creativity is key when making Halloween pizzas. Don't hesitate to experiment with different toppings and tools to create spooky and fun designs!
How to make Halloween pizzas
Making Halloween pizzas can be a fun and creative activity. Here's a step-by-step guide to making spooky and festive Halloween pizzas:
Ingredients:
Pizza dough: You can use store-bought or homemade dough.
Pizza sauce: Tomato sauce or marinara sauce works well.
Cheese: Mozzarella or any cheese of your choice for the base.
Toppings: Get creative! You can use olives, bell peppers, pepperoni, mushrooms, spinach, etc.
Black olives: For making spooky eyes or other decorations.
Pizza seasoning: Oregano, basil, or any seasoning you prefer.
Instructions:
Preheat the Oven: Preheat your oven according to the pizza dough instructions or around 400°F (200°C).
Prepare the Dough: Roll out the pizza dough on a floured surface to your desired thickness. If you're making individual pizzas, divide the dough accordingly.
Shape the Pizza: Use a knife or a cookie cutter to shape the dough into Halloween-themed shapes like pumpkins, ghosts, or bats. If you prefer a traditional round pizza, you can skip this step.
Add Sauce and Cheese: Spread a layer of pizza sauce over the shaped dough. Leave some space around the edges for the crust. Sprinkle a generous amount of cheese over the sauce.
Create Halloween Designs: Use your selected toppings to create Halloween-themed designs. For example:
Pumpkin Pizza: Use strips of bell pepper to create a pumpkin shape and black olives for eyes and mouth.
Spider Web Pizza: Use cheese or white sauce to create a spider web design, then place an olive or a small tomato in the center as the spider.
Mummy Pizza: Place strips of cheese or dough diagonally across the pizza to resemble mummy bandages. Add olive slices for eyes.
Frankenstein Pizza: Use green bell peppers for the face, black olives for hair, and cheese for the eyes and mouth.
Bake: Carefully transfer the pizza(s) onto a baking sheet or pizza stone. Bake in the preheated oven according to the dough instructions or until the crust is golden and the cheese is melted and bubbly.
Serve: Once baked, remove the pizza(s) from the oven and let them cool for a minute or two. Slice and serve your spooky Halloween pizzas to your guests!
Feel free to get creative and invent your own Halloween pizza designs. It's a great activity for kids and adults alike, adding a festive touch to your Halloween celebrations
Best topping for Halloween pizzas
When it comes to Halloween-themed pizzas, creativity knows no bounds! Here are some spooky and fun topping ideas for your Halloween pizzas:
Spider Web Pizza:

Mozzarella cheese arranged in a web pattern.
Black olives for spiders.

Mummy Pizza:

Strips of mozzarella cheese arranged like mummy bandages.
Olive slices for eyes.

Pumpkin Face Pizza:

Orange bell peppers cut into pumpkin face shapes.
Black olives for eyes and mouth.

Eyeball Pizza:

Mini mozzarella balls (or sliced mozzarella) for eyeballs.
Black olives or sliced black olives for pupils.
Marinara sauce as bloodshot veins.

Haunted Forest Pizza:

Broccoli florets as trees.
Mushroom slices as rocks or additional tree trunks.
Cheese bats cut out using a cookie cutter.

Zombie Pizza:

Green bell peppers cut into brain-like shapes.
Red or marinara sauce splattered to resemble blood.
Optional: Sausage or pepperoni slices for "guts."

Witch's Cauldron Pizza:

Black olives and green bell peppers for the cauldron.
Cheese bubbles around the cauldron.
Pretzel sticks as the witch's broomstick.

Graveyard Pizza:

Rectangular pizza with cheese as the ground.
Pepperoni or sausage slices as tombstones.
Parsley or green bell peppers for grass.
Ketchup or marinara sauce for blood.

Ghostly Pizza:

Mozzarella cheese cut into ghost shapes.
Black olives or edible black food marker for eyes and mouth.
Optional: Use Alfredo sauce instead of tomato sauce for a white base.
Remember, the key to a great Halloween pizza is to have fun and get creative with your toppings. Feel free to mix and match these ideas to create your own spooky and delicious masterpiece!
How to store Halloween pizzas
Storing Halloween pizzas, or any type of pizza, properly is essential to maintain their freshness and taste. Here's how you can store Halloween pizzas:
Refrigeration (Short-Term Storage): If you plan to consume the leftover pizza within 2-3 days, store it in an airtight container or wrap it tightly with plastic wrap. Place the container in the refrigerator. Make sure the pizza slices are not touching each other to prevent them from sticking together.

Freezing (Long-Term Storage): If you want to store the pizzas for a longer period, freezing is the best option:

Flash Freeze: Place the individual pizza slices on a baking sheet lined with parchment paper and flash freeze them for 1-2 hours. Flash freezing prevents the slices from sticking together.
Wrap for Freezing: Once flash-frozen, wrap each pizza slice separately in plastic wrap. Alternatively, you can place the wrapped slices in a single layer in a large freezer bag.
Labeling: Don't forget to label the freezer bag with the date to keep track of how long the pizza has been stored.
Freeze: Place the bag with wrapped slices in the freezer. Frozen pizza can last for about 1-2 months without significant loss of quality.

Reheating Frozen Pizza:

Oven or Toaster Oven: Preheat your oven to around 375°F (190°C). Place the frozen pizza directly on the oven rack or on a baking sheet. Bake for about 10-15 minutes or until the crust becomes crispy and the cheese melts.
Microwave: While a microwave can be used, the crust may become soft. If you prefer a softer crust, microwave the pizza on a microwave-safe plate for 1-2 minutes. For a crispier crust, transfer the pizza to the oven or a hot skillet after microwaving for a short time.
Remember that the quality of the pizza may slightly diminish after freezing, especially in terms of texture. It's always best to consume pizza fresh, but proper storage methods can help preserve its taste and quality when you have leftovers.
Halloween cheesecake is a delightful and spooky dessert perfect for...
Read More
Why Trust Us
You will find what you are looking for at Jody's Bakery. From classic to luxury brands, you'll find both. We will help you to select appliances that fit your needs, budget and lifestyle. Whether you want to stop by to learn more — or plan to make a major purchase — we'll treat you like family and assist you every step of the way. Shop with us today to receive friendly and experienced help along the way.