If you are looking for a recipe for sourdough bread in a bread machine, then this recipe is for you! It is possible to make sourdough bread in a bread machine with some adjustments—a great everyday bread for the sourdough lover.
The feel and smell of the bread from the oven are best when stepping out from the stove. Easier to sourdough with the best bread machine to make sourdough for the freshest and most delicious bread.
There are many different ways to prepare bread, but if you are a lover of sourdough bread, you should consider using a bread machine. It sounds hard to cook if you've never cooked bread, but with the help of thousands of recipes, you absolutely can. Baking your own bread is always better than store-bought bread, which you never know what's inside.
Sourdough bread is a type of bread made by fermenting dough with wild yeast and bacteria, lactobacilli (starter). This symbiotic combination gives the bread a sour taste, helping them retain their natural quality.
The starter is a combination of water, flour, and bacteria. It results in a delicious sandwich with nutritional values and no added chemicals on the regular bread. Another advantage of this homemade bread is that it is easier to digest because it produces lactic acid that makes the nutrients more readily available / absorbed.
Can I make sourdough in a bread machine?
You may be wondering if you can use a bread maker for the sourdough? Depending on the type and model, sourdough bread can be possible or not possible to cook effectively.
The problem with conventional commercial bread machines is that they are designed to cook for a period of rapid and steady rise. It is generally incompatible with sourdough recipes without modification as the sourdough takes longer to float than most other bread. If you have patience, you can prepare sourdough, but the results won't be as great as choosing a well-designed bread maker for sourdough.
If the bread machine has an adjustable increment cycle that can be changed in the middle of the cycle, it can make sourdough bread without any problems.
Why Use Bread Maker for Sourdough?
It is better to use a bread maker with a sourdough setting for the best sourdough bread results. It improves perfection and eliminates test errors that are common in conventional bread machines.
A quality bread machine with lots of customizations for kneading and preparing dough is the ideal choice. You can set the time required for the dough to rise, which gives an advantage and control of the sourdough.
Another option is you can buy a special mix for bread machines. You can purchase sourdough bread maker mixes online, for example, through Amazon!
How To Make Sourdough Bread in Bread Machine?
If you have a bread machine, you may be wondering if sourdough bread in it. Not only is it possible — it's delicious! This recipe is for making sourdough bread in a bread machine from start to finish.
– To make sourdough bread in a bread machine, you will need to use some commercial yeast. I usually use 7g; however, you can experiment, and you can get less. It's interesting to test, isn't it?
– You still need to add your sourdough starter to the mixture when you load the bread machine. Whether you use a fed or unfed starter is up to you.
– Because you are using some of the dried yeast that has been added, using removed is completely fine (and in fact, it's a great way to use it up). I find this bread is a convenient way to add some sourdough goodness to a fast loaf.
Type of Bread Machine for Sourdough Bread
Most bread machines can make sourdough bread without a doubt, but it's best to consider those with a sourdough setting. Sourdough bread takes a long time to rise, unlike regular yeast bread. It means there is a machine designed to handle sourdough requirements.
If you are interested in buying a bread maker exclusively for sourdough, we have 03 options with a sourdough function and can be programmed to match the sourdough rising cycle. This means you won't need to use commercial yeast.
Best Overall
Bakes a large traditional rectangular shaped 2-lb. loaf
Exclusive Home Made Menu function includes 3 memory settings
Additional heater on lid for even baking
Quick baking cycle prepares bread in a little over 2 hours
13-hour delay timer
LCD clock makes it easy to check the completion time and set up the Timer
Includes as easy-to-follow instructional DVD, manual and recipe booklet
Menu settings include: basic bread, wheat bread, gluten free bread, sourdough starter, dough, jam, cake, quick bread and 3 home made menus.
Shop now at Amazon.com
Dual-blade bread machine makes rectangular-shaped 2-pound loaves
10 pre-programmed settings; 3 crust shades; LCD control panel; 13-hour delay timer
Large viewing window; removable nonstick bread pan for easy cleaning
Measuring spoon, measuring cup, and user manual with recipes included.
Measures approximately 9-5/8 by 17 by 12-1/5 inches
Electrical rating:120 volts / 700 watts.
Shop now at Amazon.com
Elite Gourmet Maxi-Matic EBM8103B
MAKING FRESH ARTISAN BREADS
MAKE UP TO A 2-LB LOAF 
INCLUDES 19-PROGRAMMED PRESET MENU for a variety of different types of doughs from basic white bread to even pizza dough.
15-HOUR DELAY TIMER and a 60-minute Keep Warm function.
MANAGE THE NUTRIENTS
INCLUDES EVERYTHING : non-stick bread pan, measuring cup and spoon, kneading blade, metal hook for lifting out kneading blade.
Shop now at Amazon.com
Tips for Making Sourdough Bread in Bread Machine
Bread machines often have difficulty making an extra loaf. However, you can do a few things to make sure you get the best possible sourdough bread in a bread machine.
Add water and other liquid to the pan first, then add the dry ingredients on top. It helps to ensure that the bread machine does not leave any flour that is not mixed. If there are patches of unmixed flour or flour, scrape the sides of the pan with a silicon spoon.
You can use All-Purpose flour for a sandwich loaf; this has a lower protein content, ideal for achieving sandwich texture. Bread dough is also excellent, but you get a softer texture with All Purpose flour.
Don't be afraid to check your dough throughout the process. And don't be scared to add more liquid or powder if you think the dough needs it.
Learn the bread machine's cycle and check the dough's shape before it rises. If the dough looks too loose or can't fill the entire pan, let's take it out, shape it, and put it back in.
You can even add some fancy knobs or score a dough as you learn the machine's timing! Run the engine a few times while you are at home to notice what the machine functions and what length of time it takes in its powder preparation cycle. In this way, you can intervene if you want/need it.
 If possible, remove the paddle from the pan before the bread starts to bake – this will make sure you don't leave holes in the bread where the paddle is located.
When you take the loaf of sourdough out of the bread machine, please remove it from the pan and then put it back inside the device, with the lid slightly open to allow air to circulate. It will ensure your bread machine's sourdough loaf does not have a crumpled crust when it cools. Never let it cool inside the pan with the lid closed.
While this sourdough removal loaf is made with a bread machine that uses fundamental ingredients (flour, water, salt, sugar, and butter) – you can add other flavors and additions to create different loaves of bread:
Honey Oat Loaf: Add 30g of honey to the ingredients (sugar can be removed). Then, when the bread rises, spray the water on top and sprinkle the rolled oats.
Country Grain Loaf: Add 100g of your favorite seeds to the ingredients (nuts like flaxseeds, sunflower seeds, chia seeds, poppy seeds, sesame, and oats work well). It will give you a loaf of light bread.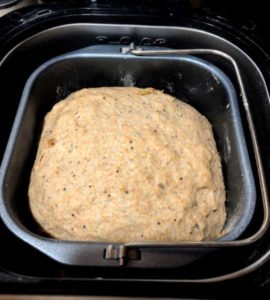 Whole Wheat Loaf: Swap 250g All-Purpose or Bread Flour for 250g whole wheat flour for a soft, whole wheat sourdough sandwich loaf.
Are you tired of staring at the bread machine, waiting to add raisins or nuts to the dough at the right time? Nuts! Consider buying a bread machine with an automatic fruit and nut dispenser. After that, the bread machine can wait while you do other things.
We selected a few examples of a bread machine with a fruit and nut dispenser. We can look at the basic features of these bread machines from brands like Breville, Hamilton Beach, Breadman, and Zojirushi. Here are some suggestions:
Hamilton Beach Bread Machine With Fruit And Nut Dispenser 29888
Automatic fruit and nut dispenser
3 easy steps: add ingredients, select cycle, start.
14 programmed cycles
Customizable size and shade.
Dishwasher safe
Shop now at Amazon.com
Breadman Bread Maker With Nut Dispenser BK1050S
14 pre-programmed bake settings; 3 crust colors; 1lb, 1.5lb and 2lb loaf sizes
15-hour delay start and 1-hour keep warm options
Fruit and Nut dispenser, collapsible kneading paddle
Digital Display and viewing window
Recipe book, measuring cup and adjustable measuring spoon included
Shop now at Amazon.com
Zojirushi Bread Maker With Fruit Dispenser - Zojirushi BB-SSC10
Automatic 1-pound bread maker.
Auto add dispenser automatically dispenses nuts.
Various healthy course settings include.
3 homemade memory settings.
Convenient 24-hour clock with 13-hour delay timer.
50 delicious recipes included.
Shop now at Amazon.com
Sourdough Bread in Bread Machine Recipes
Add all your ingredients to the pan of your bread machine. It is easier to knead the dough if you add the liquid first and then add the dry ingredients, yeast is last.
After kneading for 10-15 minutes, the ingredients will become a smooth ball around the knead. If the dough seems too hard or too soft, add the liquid or flour in increments of 1 teaspoon until the appropriate consistency is achieved. Do not add more than 3 to 4 teaspoons of liquid or flour. The machine cannot make up for wide variations and may not bake larger quantities of batter thoroughly.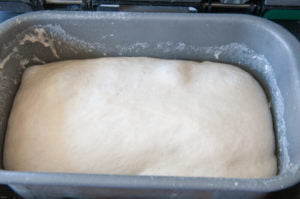 Leave the dough in the machine until finished the dough cycle and it rises double its original size. If possible, remove the paddle from the pan before the bread starts to bake – this will make sure you don't leave holes in the bread where the paddle is located. 
Once your loaf of sourdough has finished baking, take from pan out wire rack to cool before slicing and serving.
Slicing your bread and enjoy!
Standing on top of the "hot" list of today's diet...
Read More
Why Trust Us
You will find what you are looking for at Jody's Bakery. From classic to luxury brands, you'll find both. We will help you to select appliances that fit your needs, budget and lifestyle. Whether you want to stop by to learn more — or plan to make a major purchase — we'll treat you like family and assist you every step of the way. Shop with us today to receive friendly and experienced help along the way.